Location Intelligence
Analysis and Visualization on Digital Maps for Smart Business Decisions
Location Intelligence is an approach to business analysis that focuses on the spatial factor. With location intelligence, location-based data and the associated tools, you not only know how your business is running, but also exactly WHERE and what potential the market has to offer. You can view the analysis results and facts displayed intuitively on a map. This speeds up your decision-making.

Location Intelligence should be part of every company's digitization offensive. This is the only way to carry out business and customer analyses spatially and thus to clearly identify your market situation and areas of hope.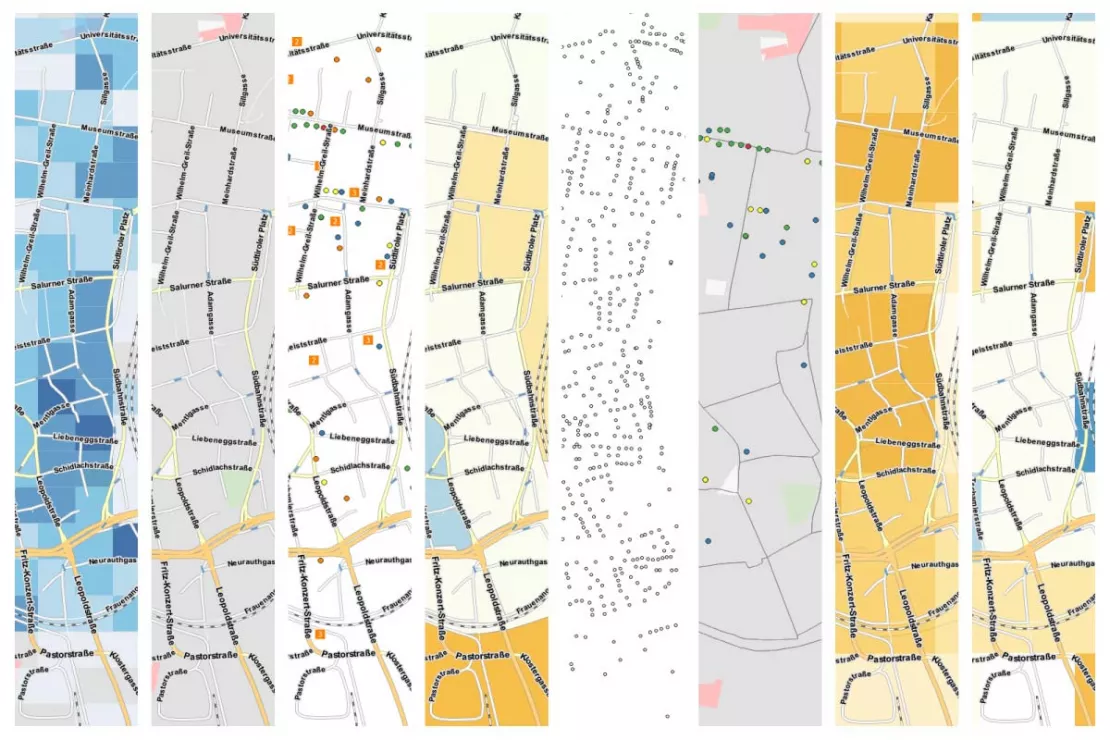 Benefits of Location Intelligence for Businesses
Spatial analyses show relationships that otherwise remain hidden
Understand results intuitively through visualization on maps
Make objective decisions faster
Generate added value from data from different sources

What is Location Intelligence?
Location Intelligence is a software-based method for data analysis and the visualization of data on a map. In contrast to other analysis methods, location includes the spatial factor. This allows insights to be derived from location data, customer addresses, movement data, areas and other geodata that would not be visible without the spatial analysis. With Location Intelligence, companies collect data, enrich it and analyze it not only in terms of content but also geographically. In order to perform Location Intelligence analyses, companies need GIS software. This is available as a desktop software (Desktop-GIS) and an online solution (WebGIS). Location Intelligence is very similar to Geomarketing or Spatial Business Intelligence.
Why Location Intelligence?
By adding the geographic data layer to customer data, market data and competitor data, companies better understand what is happening in the market, recognize potential and problem areas and can make realistic forecasts. This allows them to make faster more informed decisions.
GIS Tools for Intelligent, Spatial Analysis
A GIS (Geographic Information System) is the type of software that enables Location Intelligence. A GIS system combines company data, market data and geodata, and analyzes and displays them as a thematic map. GIS systems are available as a desktop version, as well as a WebGIS in a browser. Desktop-GIS is considered an expert tool. WebGIS software, on the other hand, can be operated and used by employees without prior knowledge of geoinformatics and long training.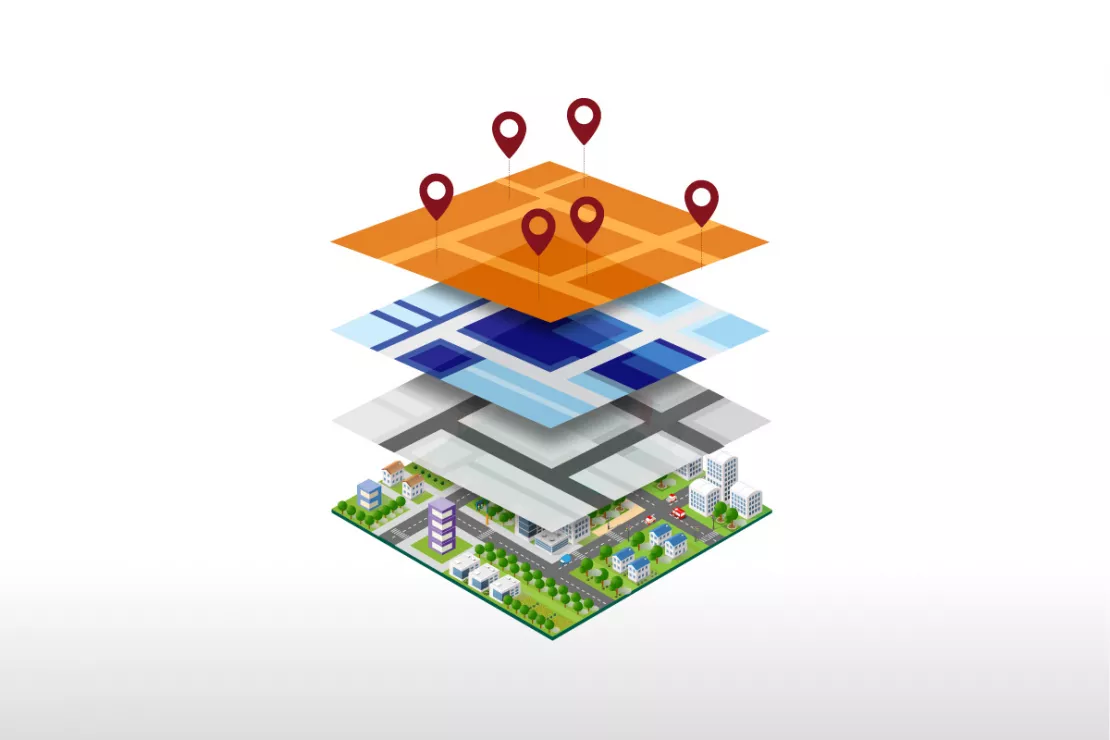 Image: Population density, customers, commercial locations, infrastructure, purchasing power, sales territories and more. Location Intelligence combines data from different sources on digital maps. Companies and organizations from different industries rely on Location Intelligence when it comes to location analysis, area planning, expansion and predictive analytics
What do companies use Location Intelligence for?
Location Analysis and Expansion
| | |
| --- | --- |
| Location Analysis | Location Intelligence tools allows you to assess the potential of a location and its environment based on your individual location factors. The results help you to quickly assess real estate offers and the quality of their location. |
| Assess and Compare Branch Locations | Scoring models with Location Intelligence make locations objectively comparable. The relevant location factors are standardized and a score is created for each location. This allows you to evaluate the profitability and future viability of the branch locations. |
| Optimize and Restructure Branch Networks | Location Intelligence analysis helps you achieve the best possible branch network with an optimal customer branch allocation. The goal is to plan a nationwide network that enables customers to shop without having to travel long distances. |
| Create Sales Forecasts | Gravity analyses in Location Intelligence tools makes location-specific sales forecasts possible based on individual location and attractiveness factors. |
Analyze Markets and Customers
Analyze Market Penetration
Location Intelligence with industry-specific market penetration data allows you to identify strengths and weaknesses of branch locations and sales territories at a glance.

Identify Target Groups
Location Intelligence shows you those areas where your relevant target groups can be found. GIS software visualizes and evaluates the areas on a map.

Visualize Customers and Sales Figures

You will receive answers to the following questions:

How should I distribute my customers and sales?
What is my regional market share?
Where are there opportunities for additional growth?


Competition Analysis
The spatial analysis of the competition is an essential part of any market analysis. Competition analyses help to correctly assess your own sales potential and successfully manage regional sales activities.

If you would like to learn more about Location Intelligence, simply contact us and we will be happy to answer all your questions!
Predictive Analytics and Spatial Forecasting
A great strength of Location Intelligence is spatial forecasts and thus predictive analytics. Based on the analyses, spatial patterns can be identified and forecasts can be derived from them.
What Types of Questions Can Spatial Forecasts Answer?
What-if scenarios
What happens if I only open 3 locations instead of 4?
How can I ideally distribute my locations in my market area if I open 10 new branches?
What happens if a competitor closes their location in my catchment area?
Sales forecasts
How will adding a product group to my product range at location A affect my sales?
How will increasing my sales area affect my sales?
How strong will the cannibalization effect be if I open a second location in the catchment area?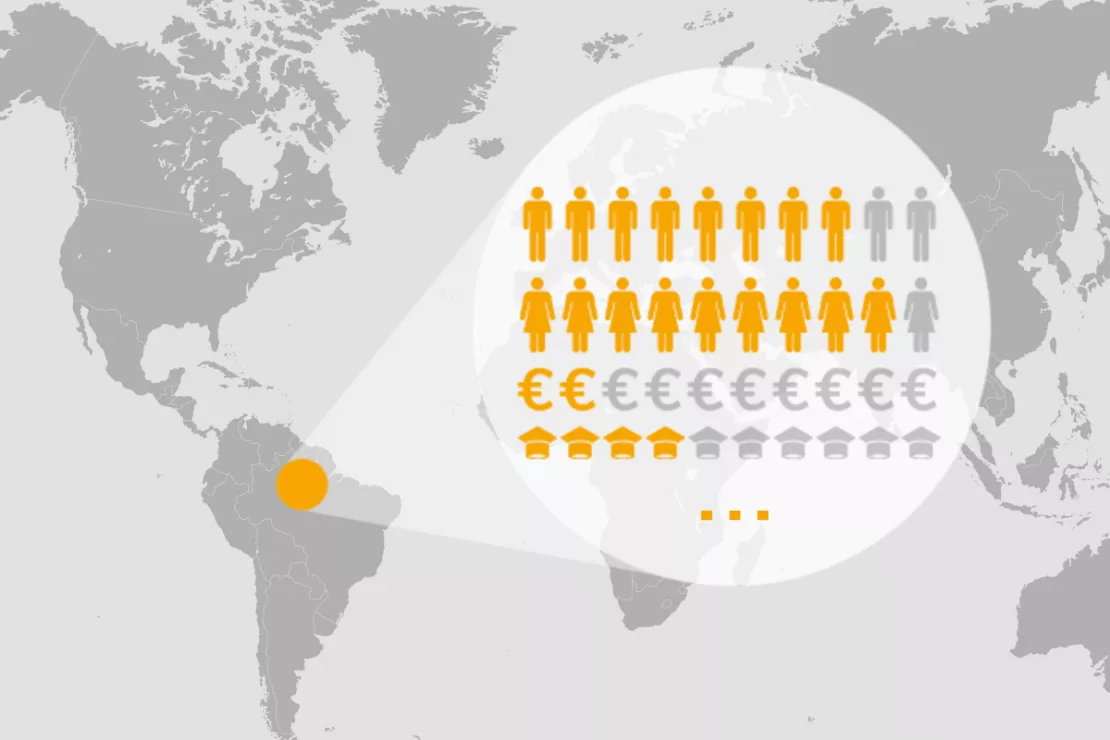 What data do you need for Location Intelligence?
Location Intelligence combines:
in-house company data
customer data
with geodata and analyzes all the information.
This is the basis of all spatial analyses.

Would you like a free initial consultation on Data & Location Intelligence? We will explain how it works and what you will need!
Your Analyses Can Only Be as Smart as the Data You Use
Experience shows that many companies do not have their data under control. They are overwhelmed by the amount of data and it consequently sinks into unsorted chaos.
5 common problems companies face with data in the real world:
Scattered Data: Data is not collected centrally in one place, but is scattered in different applications (e.g. CRM, BI, warehouse), locally with various employees and in different file formats such as Excel or txt.
A does not know what B is doing: There is no uniform knowledge about what data actually exists in the company or is already being recorded or purchased. This leads to the same data being bought or collected multiple times, thus wasting money.
Poor quality company data: Most of the time, company data is incomplete, outdated or incorrect (e.g. typos).
Lack of specialist know-how: With regard to external data, such as market data for B2C and industry data for B2B, there is often a lack of know-how regarding: WHAT data do I need? WHERE can I find this data? HOW can I evaluate the quality of the data?
Unnecessary time waster: This lack of knowledge regarding the data market and data products is the biggest time waster for companies when implementing analysis projects. They spend 30% of their time on a Location Intelligence project just trying to figure out what data they actually need. Another 30% is spent evaluating providers and ultimately buying the external data.

Save time with us and invest this 60% more in analysis and interpretation of the results
We "know" data and can offer you straight-forward and professional support for your specific needs along with expert advice on data and Location Intelligence.
We...
Know what you really need
Know where we can find this data in the best quality and at a good price-performance ratio and with a favorable license model
Already have a lot of data we can deliver quickly
Make recommendations, even for niche data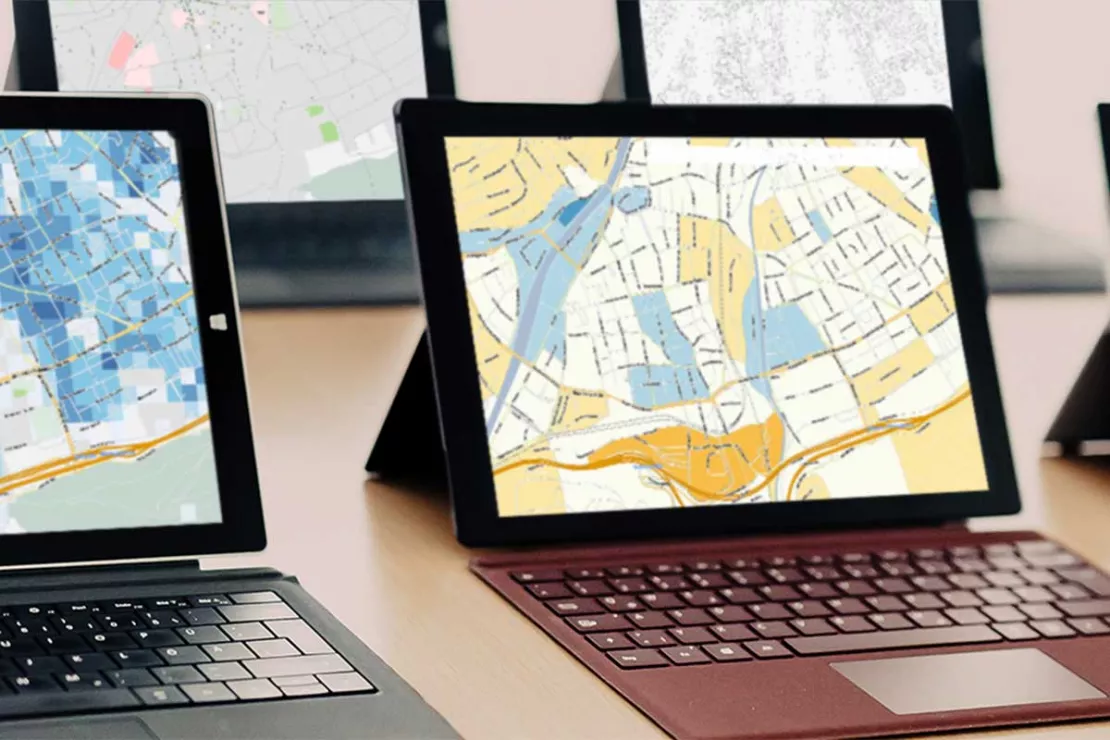 Data Integration: How Your Data is Loaded into the Location Intelligence Tool
WIGeoGIS is an expert in data integration. We use an automated ETL process (Extract - Transform - Load) to load your data into the GIS, where you can use it for Location Intelligence. Professional data integration offers you several benefits:
Time savings
Fewer errors and less editing
Data enrichment
Better integration between the software systems
Curious? We are happy to provide consultation on Location Intelligence!
Our Location Intelligence Offer for You
We have been experts and software developers for Location Intelligence, geo-analysis and geo-marketing for over 25 years. Over 400 customers across Europe use our tools, data and services.
We offer you: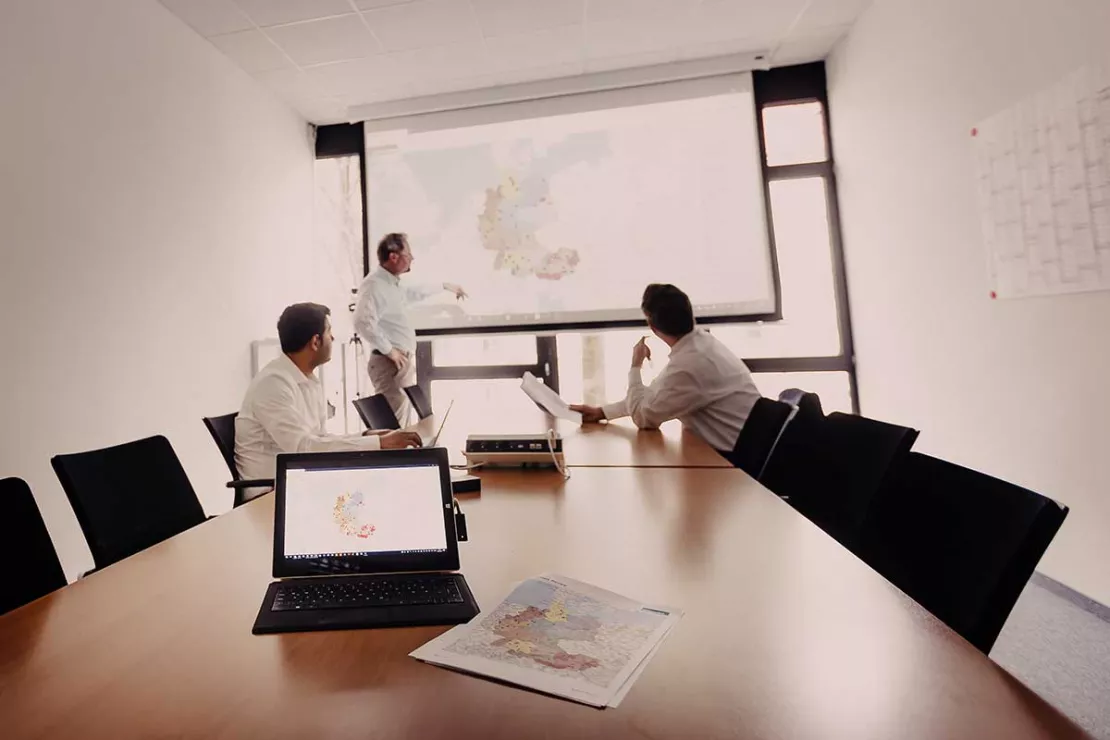 Our customers appreciate our know-how, professionalism and partnership, as well as the flexibility and adaptability of our Location Intelligence tools.

Location Intelligence Case Studies
Our Customers Rely on Location Intelligence for Their Success
Location Intelligence: Request a free initial consultation
FREE initial consultation on Location Intelligence
Non-binding, without further obligations
By telephone or video call
Do you want to use Location Intelligence? I will gladly support you. Please contact me!

FAQ
What are the benefits of Location Intelligence in data analysis?

With Location Intelligence, you can combine different data, from real-time data (e.g. traffic information) to socio-demographic data, on one level and relate them to each other.


What is the basis of Location Intelligence?

The basis for Location Intelligence is always a GIS system and digital maps. These are responsible for the core benefits of Location Intelligence: spatial analysis and clear visualization of data.


What do I have to consider when selecting data for Location Intelligence applications?

Location Intelligence is based on data that can be used on digital maps. The first thing to do is to define the right data for your questions. Then check whether the data has the appropriate spatial reference. The last step is procurement. The data should then be made available in structured processes. This reduces the amount of data maintenance and management required.


Who uses Location Intelligence?

Companies and public organizations use Location Intelligence in planning, operation and administration. Examples are location analysis, sales controlling, planning of infrastructure and retail networks, management and marketing of real estate and the organization of maintenance or repair work.


What are the requirements for good Location Intelligence analyses?

Good data, current data, complete data. We structure the data from different sources ideally for you in order to be able to use them optimally in Location Intelligence tools (=GIS).


How is Location Intelligence used in retail?

Retail can use Location Intelligence for different areas. The most important areas of application are location selection, location management and network optimization.


Can Location Intelligence be coupled with artificial intelligence (AI)?

Yes, you can use learning systems in connection with GIS systems. Examples are automatic systematization and analysis of image or text information in a spatial context. On the other hand, Location Intelligence with AI can lead to new analytical and methodological approaches.