Location Analysis with Location-Allocation Models
Build retail networks, optimize branch networks and ideally design customer allocation.
On the basis of location-allocation analyses, you will achieve the best possible branch and retail network with an optimal location-customer allocation. You will be able to establish a comprehensive network with branches at an optimal distance from your customers enabling them to reach you easily.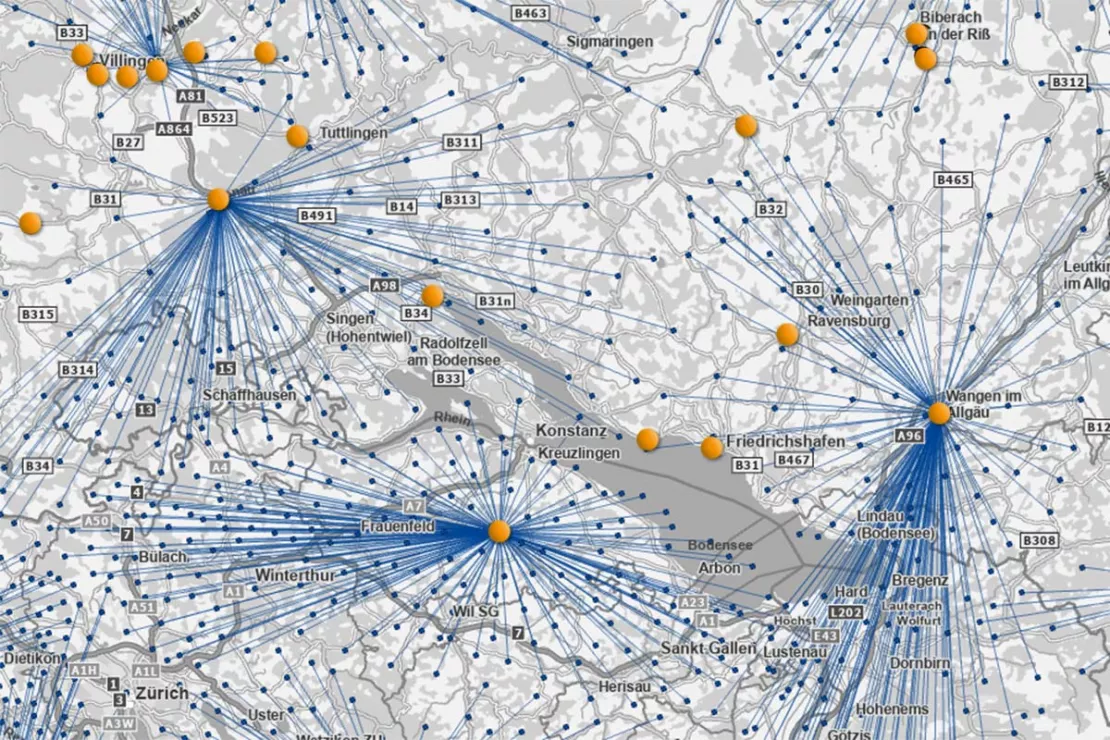 Advantages of Location-Allocation for Retailers and Chain Stores
Location analyses that use the location-allocation method offer important advantages for supply and demand planning:
Ideal level of coverage with a minimum number of locations
Build an optimal retail network
Close branches without losing any sales
Intelligent, cost-saving demand planning for logistics, hubs, warehouses

Location-Allocation Models Answer the Following Questions
How many branches and retail locations are needed?
How do you set up a branch network and a retail network in order to ensure optimal supply to a region?
Are the branches accessible to all the customers within 30 minutes by car?
Where should new branches be opened?
Which branches should be closed?
What is the potential area of the branch location?
For logistics locations, hubs and warehouses: How can I save on transport costs?

Free initial Consultation on Location-Allocation. We will explain how you can do it and what you will need!
Location: Determine Locations. Allocation: Assign Customers
The location-allocation analysis brings together two fundamental factors of functioning branch and retail networks. First: Where do I need locations? Second: How do these locations have to be distributed in my network so that customers and potential customers can always reach a location without having to travel long distances? Thirdly, this results in the opposite question in the area of logistics and demand planning. How do these locations (hubs, factories, operations centers, etc.) have to be distributed in my network so that my employees and my fleet (delivery services, rescue services, social services, etc.) can reach customers without having to travel long distances?
The approach aims to methodically optimize the spatial reference system "supply-demand-distance" and places the focus on this in the analysis.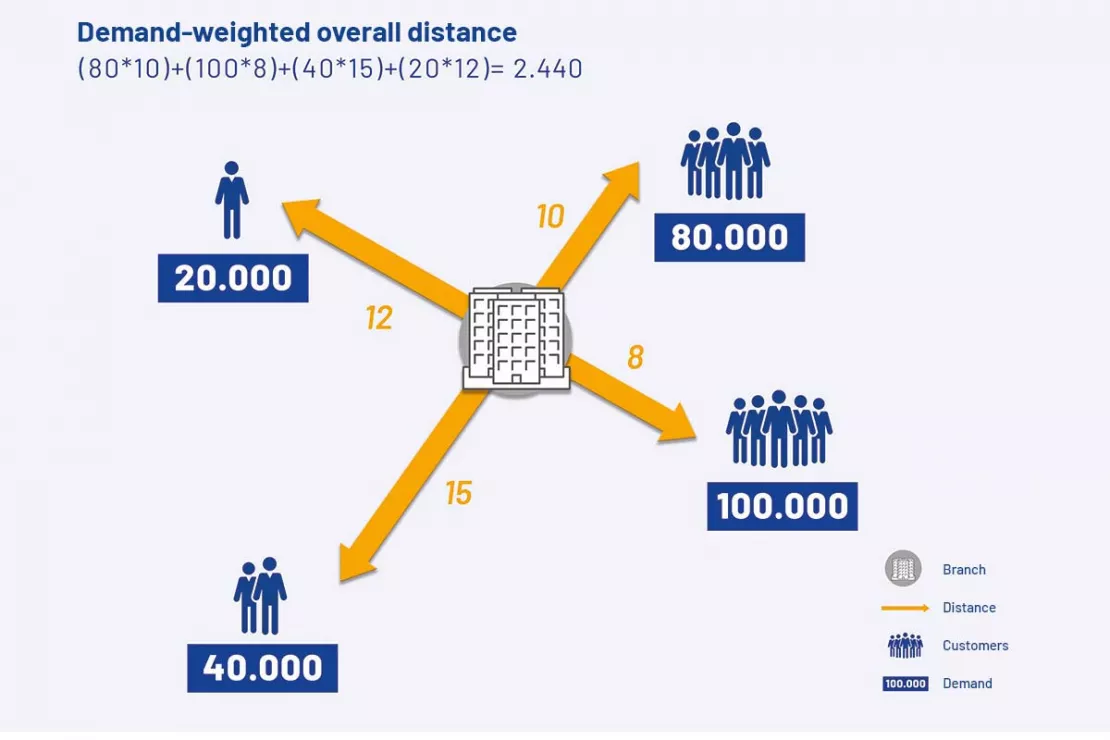 The location-allocation model examines the reference system "supply-demand-distance". It is a proven and effective geomarketing method.
Would you like to know more about location analysis using the location-allocation model?
This is How the Location-Allocation Analysis Works
In the case of a location-allocation analysis, the procedure, shown somewhat simplified, is always as follows.
Define the target area (market) in which the network is located or is to be established.
Determine the spatial unit: Which geographic level is ideal: municipality, ZIP Codes, rasters, geomarkets, etc.?
Define the data of the analysis: 1. Location data and 2. demand-related data, such as customers, population figures, purchasing power etc.
Define criteria and take into account specifications that affect the distance. These can be legal requirements or company-specific targets, such as that customers should be able to reach a location within 15 minutes.
Determine restrictions, for example: Is it not allowed to exceed a certain number of branches? Are certain locations set?
Allocation of customers and potential to the branches and retail locations.
Representation of the distances between the points customers and locations as distance matrices in the analyses.
Running through different scenarios in order to determine the optimal market coverage and ideal location structure with minimal transport costs.
Prime Example Retail: Branch and Retail Networks
The location-allocation model helps retailers to optimally supply customers and potential customers with their branches.
The analysis results give retailers the opportunity to design their branch and retail network in such a way that:
a maximum number of (potential) customers can be supplied with as few locations as possible,
when merging locations, the better location in terms of accessibility for customers and sales can be easily selected,
potential candidates for closure can be identified on the basis of objective data.
Using location-allocation analyses in GIS software and WebGIS especially for location analysis, different what-if scenarios can be simulated that in turn can be used to determine sales forecasts.
What happens if I close location A and leave B open?
What happens if I leave location A open and close B?
What happens if I leave location A open and enlarge it and close B?
What happens if I close both locations A and B and open a new location C in the middle of the two closed locations?


Establish retail networks, optimize branch networks with the location-allocation model. Contact me for more information!
Location-Allocation: Further Examples
Further application examples for the use of location-allocation analysis are:
Electric charging infrastructure: How many are needed and where do charging stations have to be so that electric car drivers can always refuel?
Transport and logistics: Where do warehouses and hubs need to be to have minimal transportation costs?
Supply planning, example rescue services: According to legal requirements, every point on a Bavarian highway must be reachable by the rescue service within 15 minutes. How many rescue service locations are required and where do they have to be in order to meet the requirements?
Whenever you ask yourself: How many locations do I need, where and how big do these locations have to be so that I can ideally serve my target group? Then the location-allocation analysis will help you to find the right answer. And we are here to support you with software and our many years of know-how using the location-allocation method.
We are Experts in Location-Allocation Models for Location Analyses
We have been dealing with location analyses for over 25 years and consult numerous companies from various industries on location-allocation issues. We have supported our customers by using analyses to answer such questions as:
Establishing a network of locations in a new region: Where is the competition located? Where do I open my locations and how many?
Grocery retail: Branch network reduction - which locations should be closed? Which locations should be merged?
Banks: At which locations should services and offers be reduced or converted? Where should only ATMs be placed? Where should financial advice and other services be available?
Get Location-Allocation Analyses
Contact us with your questions and concerns.
You receive a free, non-binding initial consultation. The consultation takes place via video call.
Are location-allocation analyses exactly what you need? Then tell us your requirements.
Together we will determine which data are useful and should be used for the analysis. If required and desired, in addition to your internal data, external market data can also be incorporated into the location-allocation analysis.
We perform the location-allocation analysis for you.
You will receive the analysis results in writing as a presentation. We also make the results available to you as an interactive map in the location analysis tool WIGeoLocation for one month. We are of course available to answer any questions.
Create Location-Allocation Analyses Yourself
Do you need location-allocation and other analyses concerning your locations on a regular basis and would therefore prefer to use a tool? In this case we can offer our location analysis software WIGeoLocation. If required, we can also provide you with the external market data you need for your analyses.
Convinced? We can certainly support you too. Fill out the contact form directly and benefit from the free, non-binding initial consultation.


Location Allocation: Request a free initial consultation
FREE initial consultation on Location Allocation Models
Non-binding, without further obligations
By telephone or video call
Do you want to know more about Location Allocation Models? I will gladly support you. Please contact me!