Geocoder JoinAddress
High-Quality Geocoding of Addresses - Worldwide, Modern, Easy
Convert addresses from Excel files and databases into exact coordinates
Coordinates for Maps & GIS (ArcGIS, QGIS, WIGeoWeb etc.)
Address, reverse and batch geocoding
Local installation and online geocoding
Free trial: register & geocode 400 addresses for free.

TEST IT NOW!
JoinAddress is a modern software for the geocoding of addresses and databases from around the world. JoinAddress offers a holistic approach for different application scenarios. A sophisticated, country-specific logic is at the heart of the geocoder. In just a few steps you will receive exact coordinates for your addresses, which you can further process in all common GIS systems and map applications as well as databases with address references.
JoinAddress is available in two versions: As a geocoder for local installation (On Premise) in your company and via web access for online geocoding in a browser.
Our tip: Test JoinAddress for free and with no obligation. You can then geocode 400 addresses for free. The trial period ends automatically. After registering, you can start right away, upload addresses (for example from an Excel file) and in a few seconds receive exact coordinates for download.

Advantages
JoinAddress is your fast, flexible and easy solution for professional geocoding in your company. JoinAddress is based on tried and true technology and comprehensive data quality. JoinAddress offers advantages for different application scenarios:
✔ Highest geographical accuracy
✔ Very fast geocoding, even with mass data
✔ Modern clients (for ArcGIS, QGIS, WIGeoWeb, Web)
✔ Easy integration with corporate IT and available as a web service
✔ Own geocoder API
Three Highlights
JoinAddress can do a lot! Here are three highlights of its features.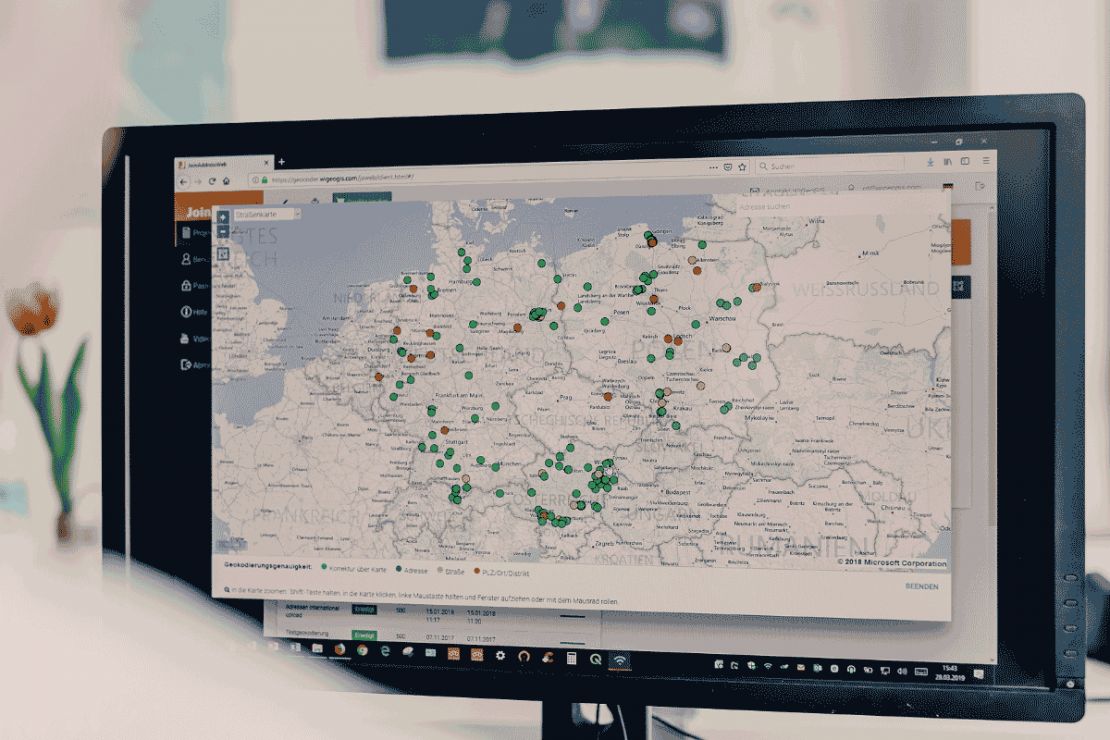 Is it possible to convert addresses from an Excel file into coordinates? Of course!
With JoinAddress you can geocode addresses from Excel files (and CVS or txt) in no time. Upload, create a project, press a button, download the coordinates and you are done.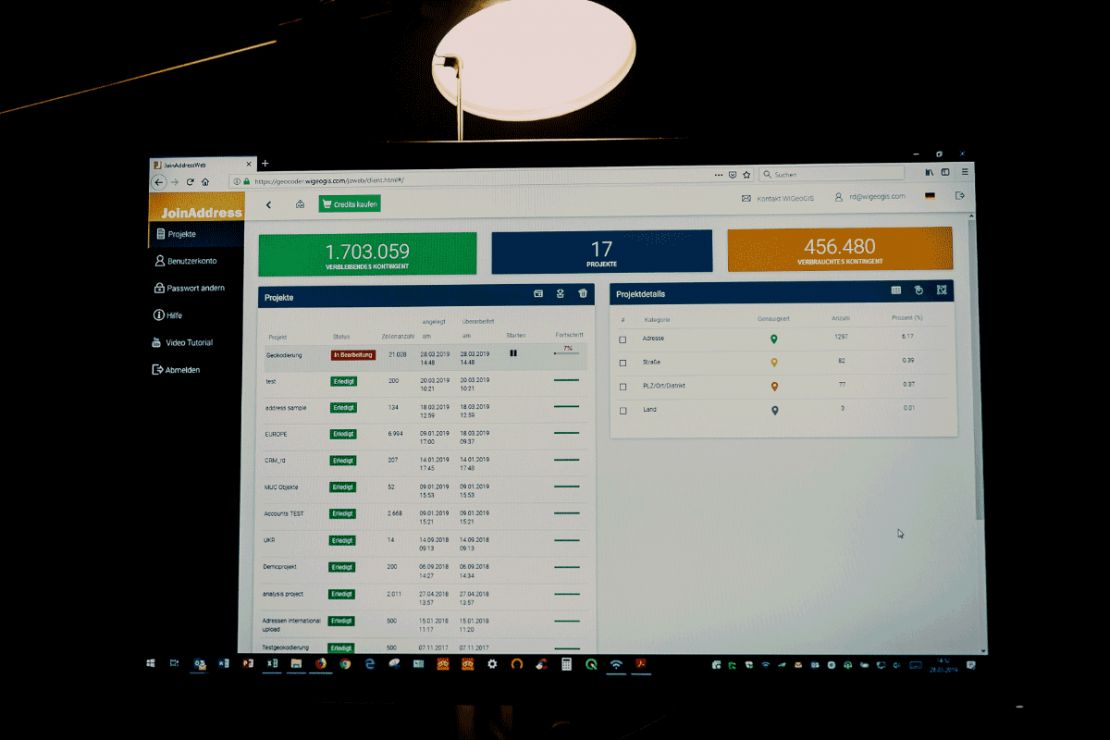 Can I start the geocoder and go to sleep? Of course!
JoinAddress is a batch geocoder, so it automatically processes mass data after you have started the process. As an online version, this can even be done from your home office.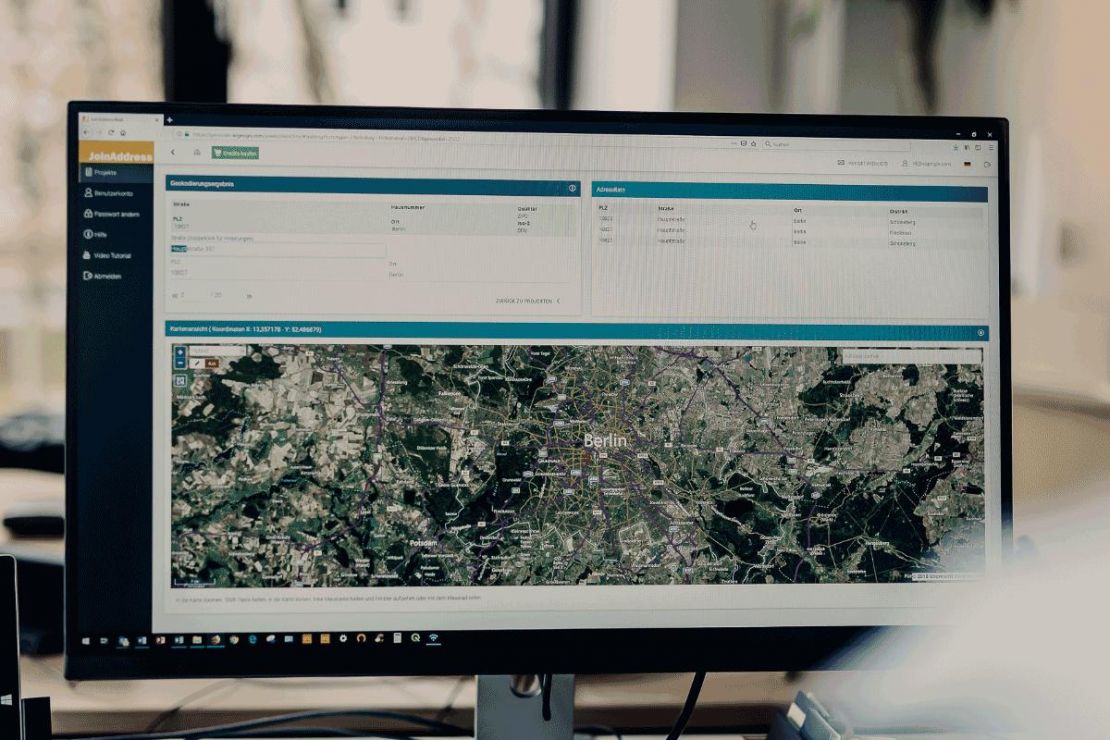 Is it possible to check the quality of the addresses and edit them immediately? Of course!
JoinAddress shows you the quality of the geocoding result for each address and thus the quality of your addresses. You can edit the address directly in the tool by calling up the address directly on the map or from a list.

JoinAddress: The Geocoder and its Features at a Glance
JoinAddress offers all the features that companies need for geocoding.
JoinAddress: The Construction Plan of Our Sophisticated Geocoder
JoinAddress is a very
flexible geocoder
that can be adapted to your specific needs. This is due to its
smart architecture
. We would like to give you a look at the inside of our geocoding solution.
The heart and brain of the geocoder is the JoinAddress server. This is where the geocoding takes place based on an intelligent comparison logic. In addition, worldwide addresses are uniformly converted into exact coordinates. JoinAddress not only accesses its local database, but also uses its intelligence to search external databases, always with the goal in mind of finding the best X/Y coordinates for an address.
JoinAddress is also extremely flexible when it comes to how it is used. You can install the geocoder locally in your company or geocode online using a web client.
Was that too little information for you? Contact us using the form at the bottom of the page. We will be happy to send you all the specifications and technical data for your IT specialists.

Features
✔
Address geocoding
: Convert addresses into coordinates?
✔ Reverse geocoding: Find addresses for coordinates (only with local installation)
✔ Batch geocoding: Process large amounts of data at once
✔ Quality parameters: JoinAddress determines a coordinate for each address and describes its quality
✔ Manual editing: Check addresses after geocoding and edit them manually (from lists, on map)
✔ Automatic uniform correct spelling of streets and cities
✔ Projections: Preparation of various geographic projections (e.g. Gauss-Krüger)

Geocoding Online with JoinAddress (Tutorial): How to Convert Your Addresses from an Excel File into Precise Coordinates
The fastest way to get exact coordinates from your addresses is online geocoding with JoinAddress Web:
Create a project and upload data from Excel
Start geocoding
Look at the results
Download coordinates (e.g. as an Excel file)

Finished!
In the tutorial you can see that it is actually that easy.

JoinAddress as a Local Installation for Everyone Who Regularly Geocodes Large Address Lists
With joinAddress, you are relying on a sophisticated and tried and true geocoding software. We recommend installing the geocoder (On Premise) in the company if you:
✔ Regularly process large amounts of addresses
✔ Geocode highly sensitive data
✔ Want to integrate geocoding functions in an existing application
✔ Want to geocode in your own IT landscape
✔ Want to budget independent of volume

Advantages of Installing JoinAddress Locally
Flexible configuration
Flexible integration with commonly used databases such as MS SQL and Oracle
API interface for integration with internal systems
Extension for ArcGIS
Plugin for QGIS (coming soon)
Reverse geocoding

JoinAddress Web: The Online Geocoder for Everyone Who Wants to Get Started Right Away
Our sophisticated geocoding solution has also been available as a web service since 2017. We recommend online geocoding to everyone who:
✔ Wants to convert addresses into coordinates ad hoc without advance notice
✔ Are new to geocoding
✔ Would like to avoid initial costs and the effort of an IT project
✔ Have no experience with the maintenance and updating of geodata
✔ Want to avoid running costs and maintenance contracts
✔ Only occasionally geocode addresses from regions that are not covered by your in-house solution

Advantages of JoinAddress Web as an Online Geocoder
Available quickly, easily, anywhere and any time
Always up-to-date maps and geodata
No maintenance and updates
Easy to use: from address to coordinates in just 5 steps
Geocoding of addresses from Excel, CSV, txt
Download the coordinates as an Excel file, CSV, txt, shape and file geodatabase
Storage and processing of address data securely on a WIGeoGIS server in Vienna
After geocoding, you can permanently delete the project and all data. Your project and data cannot be reconstructed
Book affordable, scalable volumes online

Test JoinAddress for Free With No Obligation! Geocode 400 addresses for free. The trial period ends automatically, no cancellation required.
Pricing: What Does Geocoding with JoinAddress Cost?
In terms of prices, there are differences between JoinAddress as a locally installed version (On Premise) and JoinAddress as the online version.

Prices for Online Geocoding
Pricing for Online Geocoding with JoinAddress is based on volumes. Depending on how many addresses you want to geocode, choose the appropriate volume. There is no expiry date. If you have purchased a volume, you can redeem it indefinitely.
After registering and the free trial, choose one of the following volumes:


Number of Addresses

Price in €
1.000 adresses
150,-

5.000 adresses




600,-

10.000 adresses
990,-

25.000

adresses




1.290,-

50.000 adresses
1.890,-

100.000

adresses




2.890,-

200.000 adresses
3.390,-

500.000

adresses




6.390,-
The above prices are net prices. Customers and businesses in Austria must pay 20% VAT. Companies from EU countries who provide their UID number do not have to pay any VAT. Private customers from EU countries must pay the applicable VAT for their country of origin. Businesses and private customers outside the EU do not have to pay any VAT.
Prices for a Locally Installed Geocoder (On Premise)
If you install JoinAddress locally in the company, the price depends on your requirements. The following factors contribute to the price:
Internationality of your addresses: Would you like to geocode addresses from just one country or from multiple countries and regions?
Number of licenses/users required
Number of interfaces to databases required
Extension for ArcGIS
Plugin for QGIS
Maintenance contract (if required)
Special requests
Talk to us: We are happy to provide consulting as to which constellation will be best to geocode your address lists effectively and efficiently. Many of our customers have installed JoinAddress locally, but also use the online geocoder. We will help you calculate which solution is best for you. We see this as a service and our duty.

Examples & Case Studies
JoinAddress is used by many companies in different industries. Here you will find selected examples and further information.


Ask the experts!
"With JoinAddress we offer a range of products that provide you with everything you need for your addresses: geocoding, up-to-date databases, software and logic. I will be happy to help you with your geocoding needs."

FAQ
How does geocoding software work?

A geocoder is always a combination of software and geodata. The geocoding software JoinAddress contains the search and match logic. Regional geodatabases contain the exact reference addresses for a country or region including the best available coordinates at different spatial levels. The data is provided by land survey offices or private providers such as Post, TomTom or HERE.

Are language and other country-specific characteristics taken into account?

Definitely! We prepare the data for each country taking into account any address rules and administrative factors. For example, when geocoding US addresses the State must be taken into account. French addresses use different abbreviations than English addresses. When geocoding Russian or Bulgarian addresses Cyrillic characters must be processed.

Can I combine an in-house geocoding solution with an online geocoding solution?

Of course! You can use an in-house solution for your core markets, i.e. where you have many addresses, and our online services for all the other countries.

What happens if an address is not found or if a command yields several possible addresses?

JoinAddress provides a probability value with each response. The software can be set so that if a certain probability is exceeded, the output is automatically accepted or a manual interaction is required.

For which operating systems is JoinAddress available?

For servers, JoinAddress runs on Windows and Linux. For clients, a web client is available (required: a modern web browser) or a Windows client.