Software for Location Analysis
WIGeoLocation: Location Analysis in just 3 minutes
WIGeoLocation is an intuitive WebGIS location analysis software. You receive comprehensive individual location analyses and reports for the retail and real estate sector in just 3 minutes. Your own company data can be easily integrated. The location analysis software is ideal for branch network experts who want to evaluate real estate offers and their location quality ad hoc.

Location Analysis as Easy as One, Two, Three - For Everyone
Location Analysis in Just 3 Minutes

Step-by-Step Instructions in the Tool

Try It for Free
"We are very satisfied with WIGeoLocation." Frank Schilling, Head of Strategic Area Development STIHL

"The biggest advantages of WIGeoLocation are the enormous time savings per analysis and how quickly and easily colleagues can learn to use the tool." Bianca Blunck, Franchise Agreements hagebau
"We conclude long-term rental and franchise agreements for Storebox locations and invest a lot. That is why we want to make rational and data-driven decisions for new locations. The location analysis with WIGeoLocation from WIGeoGIS helps us do exactly that. With this tool, we can easily find the locations that are most profitable."
Berndt Schröding, Head of Marketing & Sales Storebox
Location Analyses and Reports in Just 3 Minutes
WIGeoLocation is a web-based geographic information system for location analysis and assessment. The software makes it possible to analyze a location very quickly and easily.
The WebGIS software guides you through a complete location analysis in three easy steps. It allows you to assess the potential of a location and its environment based on your individual location factors. The results help you to quickly evaluate real estate offers and the quality of their location. When these steps are finished, WIGeoLocation automatically generates a clear and comprehensive report that is provided as a Word, Excel or PDF file. The analysis takes a maximum of 3 minutes for each location.
WIGeoLocation is the ideal location analysis tool for brick and mortar retailers, banks and financial institutions, system catering, franchise systems and all chain stores.
Video: Location Analysis Software for Retail, Real Estate & Retail Networks - WIGeoLocation - it`s that easy!
Our two-minute video shows you step by step how to perform a location analysis with WIGeoLocation.

Try all the WIGeoLocation functions for FREE. Get your free trial access now!
Advantages for your Location Planning and Expansion
Quick and easy location analysis in just 3 minutes
Intuitive and easy to use - your location report in just 3 quick steps
Integration of your company data
Upload data via direct connection or Excel
Avoid unnecessary on-site appointments
Save time
All the relevant information at a glance
Location Analysis With WIGeoLocation - This is How it Works:
The 3-step analysis takes you from address search to a complete location report in just 3 minutes.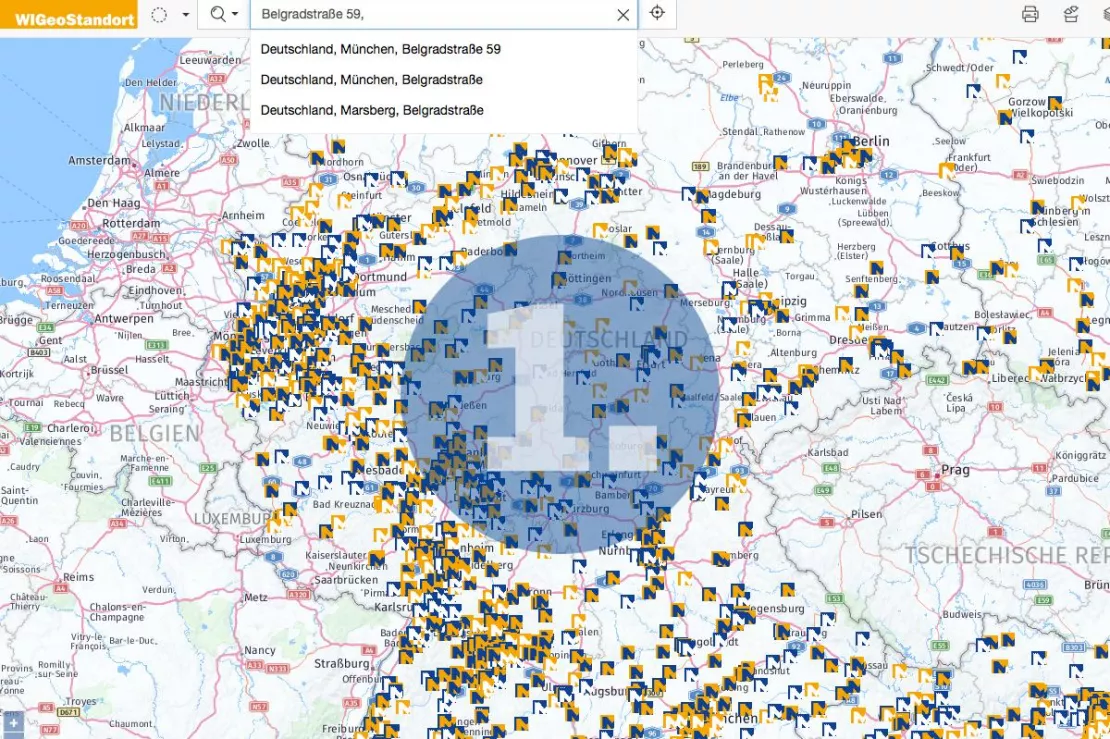 Enter Location
Enter the location by clicking on the map, via GPS or via the address search field. WIGeoLocation has a search logic that automatically completes addresses or corrects misspelled addresses as you type them into the search field.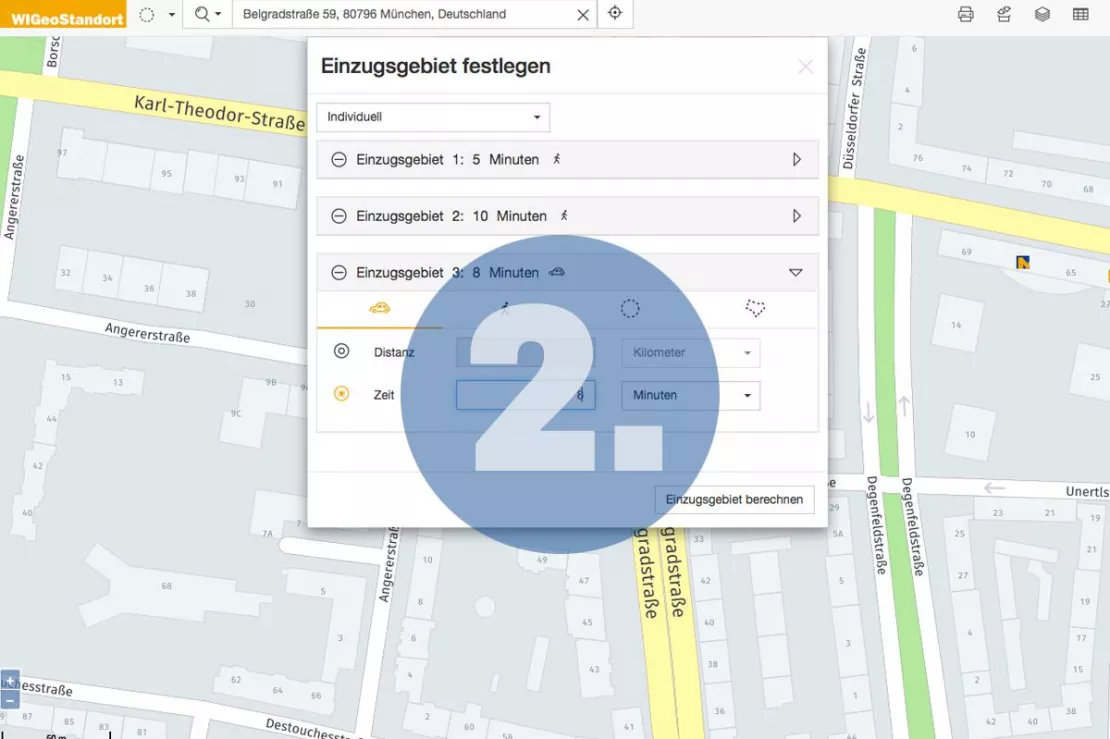 Define the Catchment Area
Define the catchment area. You can choose between a variety of catchment areas or a combination of catchment areas, such as within 10 minutes by car, within 5 minutes by foot or 1 kilometer as the crow flies. You can define the catchment areas based on your specific needs.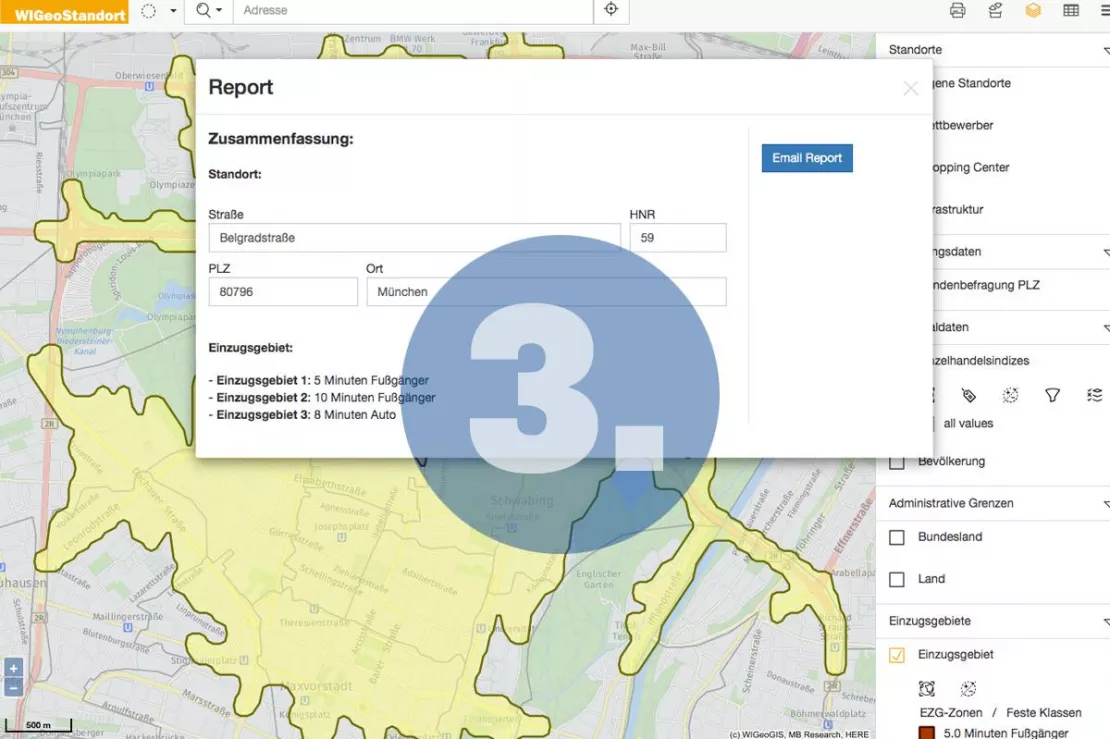 Create the Location Report
In the last step, you simply select the desired report and output format. The program immediately begins a variety of complex, standardized analyses based on the configuration of models and data you have selected. Moments later the report is generated. You can choose to have the report sent to you by e-mail or you can download it directly.


Save Costs with Cloud GIS - Host WIGeoLocation Cost-effectively and Securely in Cloud GIS.
WIGeoLocation is Based on Modern WebGIS Technology
Optimized for tablets as well as desktop PCs
Integrated geocoding solutions incl. the use of GPS
Hosting at WIGeoGIS or local installation on your company servers
Reports via email or download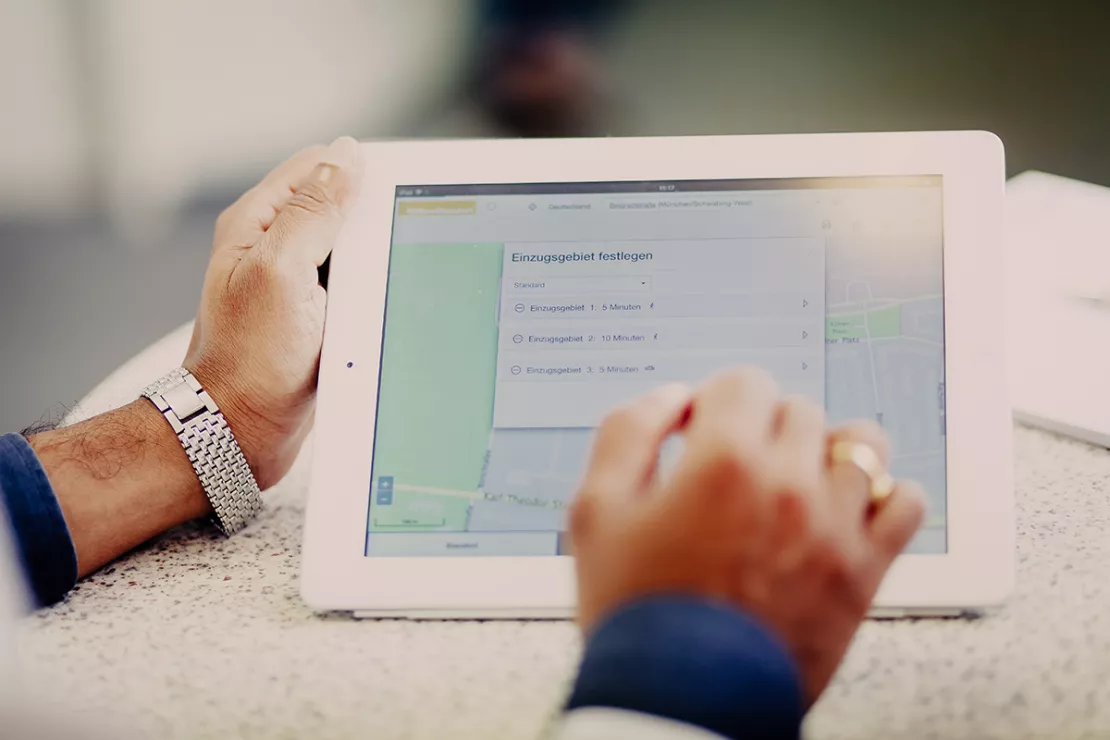 WIGeoLocation is Customizable
Compare and assess any number of locations
Analyze internal and external data (market, competition)
Catchment areas by driving time, distance, mode of transportation or freehand
Upload data via direct connection or Excel
Individually configure classifications, icons, heat maps and color schemes
Create reports as Word, Excel and PDF files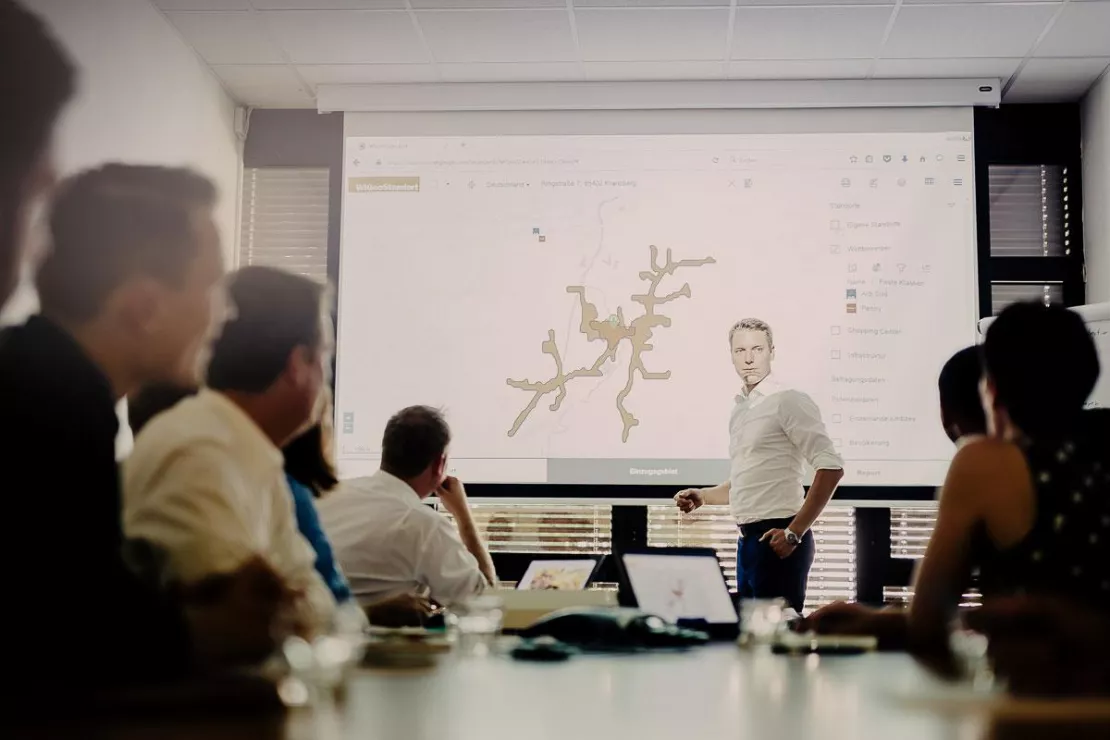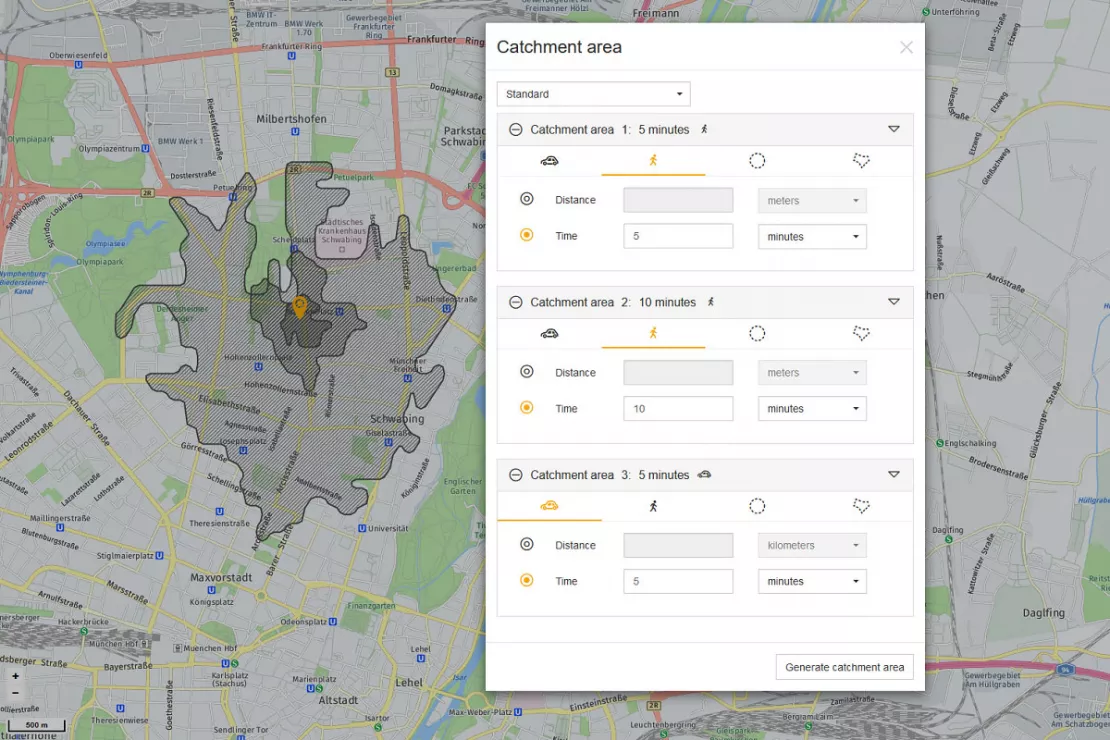 In WIGeoLocation, you can calculate three different catchment areas at the same time. In the example above, you can see catchment areas for 5 and 10 minutes on foot and 5 minutes by car. You can also calculate catchment areas by kilometers, radius and even free hand.

Here's What Users Say About WIGeoLocation
"Location continues to be a key factor for sustainable success in the retail business. With WIGeoLocation, we can offer our member companies very professional, high-quality advice concerning questions about location."
Gregor Bernhart, Head of the Board of Management of ANWR GROUP
"My SWOT analysis includes reports from WIGeoLocation. The goal is to objectively assess opportunities and risks and to obtain basic information about the location."
Melanie Wirkner, Management Consultant SPORT 2000
"If we had purchased all the location reports that we have needed since introducing WIGeoLocation at the standard market prices, the costs would have been much higher."
Hans-Peter Richter, Operations Analysis in the Management Board of ANWR Group
"In order to drive the development of the retail network forward in a targeted manner, we need a suitable location analysis tool that provides us with extensive analyses in order to ensure we make the best possible investment and location decisions (...). We are very satisfied with WIGeoLocation. It provides extensive information and good results quickly and easily. The tool is not a standard solution, but tailor-made for us."
Frank Schilling, Head of Strategic Area Development at STIHL

"An initial assessment of the real estate offers is extremely quick and easy with WIGeoLocation." Bianca Blunck, Franchise Agreements hagebau

"We appreciate the fact that we pay a flat rate with WIGeoGIS, and not a per query fee like with other providers. In addition, WIGeoGIS offers more than just ready-made data sets, so we were able to tailor WIGeoLocation to our needs." Berndt Schröding, Storebox

More Knowledge of the Location Environment
Quickly query purchasing power, competitors, market data and other external information without the need for any training

Knowledge of the environment determines the success of the location, because factors such as purchasing power, competitors, footfall generators, etc. can not be influenced. On the other hand, factors such as shopfitting, display windows and category management are easier to control.
Thus, a comprehensive evaluation of all the relevant information about the environment is essential. WIGeoLocation can generate location reports in 3 easy steps in just 3 minutes. The location analysis software can be integrated into your company CRM or property management program.
The calculation of the relevant KPIs occurs in the background and is automatically compiled for each location. You can then download the reports or have them sent to you by email.
Thus, your employees are able to evaluate the locations without any training. You can evaluate the real estate offers without having to make any unnecessary visits to the locations. This saves you travel time and still enables you to make confident decisions based on sound information.
WIGeoLocation is intuitive and modern. The location analysis tool works on desktop systems and tablets. With a tablet, you can easily collect and analyze data on-site while visiting the property. This is very convenient.
WIGeoLocation helps companies with fast, high-quality and standardized assessments of their locations. WebGIS software makes it possible to easily assess potential locations and quickly evaluate bids from real estate companies and agents. The product is the ideal tool for your location analyses.
Get to Know All the WIGeoLocation Features and Benefits with a 1 Month FREE TEST!
WIGeoLocation: Fill out the form, test it free of charge & without obligation!
Non-binding, free test for 30 days
Test ends automatically without cancellation
I will explain the tool in a short webinar*
* Information about the free test access: Standard regions with selected data in Germany or Austria will be made available. In Germany, these regions are districts in Munich and environs, and districts of Vienna and environs in Austria. The products of WIGeoGIS are intended for companies and are not suitable for private use. If you need a one-time market analysis, we will gladly make you a service offer.

FAQ
Is WIGeoLocation an online tool?

Yes, WIGeoLocation is an online tool for location analyses. The software is based on a WebGIS, with which you can perform online analyses of locations and the associated catchment areas. The tool can be used as software as a service. We are also happy to install the software at your company.


Is WIGeoLocation a location analysis software for companies?

Yes, WIGeoLocation is a software for companies that want to perform analyses of their locations. The online tool is ideal for companies in brick and mortar retail. It is also ideal for companies that sell their products through a dealer, partner or franchise network and of course for the real estate industry.


What kind of location analyses can you perform with WIGeoLocation?

With WIGeoLocation, you can perform not only classic location analyses, but also cannibalization analyses, gravity analyses, scoring analyses, sales forecasts and location evaluations. The tool provides valuable information about your catchment areas, such as who lives there, their age, purchasing power, preferences and more.


Can different catchment areas be determined with WIGeoLocation?

Yes, you can generate different catchment areas in WIGeoLocation, for example based on travel time (car, bike) or walking time (pedestrian) in minutes, by radius and by individually defined areas.


Which data is used in WIGeoLocation to create the location analysis?

The location analyses are based on digital maps and geodata. In addition, the tool accesses external market data for the analyses, such as socio-demographic data, purchasing power, footfalls, etc. We compile this external data based on your requirements. Your internal company data, such as addresses of locations and customers, product range and the like, are integrated into the software. This data is gathered via interfaces or simply uploaded as Excel files.


Can I evaluate my own data in WIGeoLocation and incorporate it into the analyses?

Yes, that is possible and highly recommended. Individual data is essential for a sound location analysis. You can incorporate your own data in WIGeoLocation via an interface or by simply uploading it as an Excel spreadsheet.


Can I also use WIGeoLocation to create analyses for locations outside Germany and Austria?

Of course! With WIGeoLocation, location analyses are not only possible for Germany and Austria, but also for every country in Europe and most countries worldwide.