Territory Planning Software WIGeoATP
Simply Intelligent
Automatically plan, divide and visually display sales territories. At a ZIP Code or municipality level. In every European country. Also for service or regional support.

Content and Spatially Optimized Territories
With the WIGeoATP territory planning software, too small, too large or unevenly divided territories, holes, "blind spots", "dead angles", unfavorable travel times and other disruptive factors of successful sales are a thing of the past. WIGeoATP is a software extension (plugin) for QGIS.
You decide how many territories you want to divide your market into, be it all of Europe, one country, one province or just one region and the software will use an algorithm to create equivalent sales territories.
WIGeoATP offers you

Automated restructuring (Greenfield)

Automated optimization of your existing territory structure
Manual fine tuning
Visualization of your customers, territories, locations, potentials etc.
You Specify the Content
You decide exactly what "equivalent" means. Should each territory have the same number of inhabitants, the same number of customers or the same sales potential? Or should it be a combination of these parameters? The software calculates the territories based on the potentials that you enter into the system.
Spatially Connected and Accessible Territories
With WIGeoATP you receive geographically connected territories, taking accessibility into account. The road network and the topography, such as mountains, rivers and other natural barriers and bridges etc. are included in the calculation. Thus, a short distance between two places as the crow flies does not always mean connected access, because for example, these places may lie in neighboring valleys, separated by a mountain range. WIGeoATP works with so-called neighborhood relationships and calculates particularly realistic travel times. Distances are minimized.
Flexibility in the Spatial Planning Levels
The following planning levels are available:
ZIP Codes

Municipalities
Counties / districts
NUTS-3 territories (European regions)
Custom territories upon request - any spatial level
Tutorial: Area Planning with WIGeo ATP Based on Address Points
There are different ways to start area planning. In the tutorial we will show you how to use the QGIS plug-in WIGeo ATP to plan the area based on address points. In the tutorial these address points are customer addresses.

WIGeoATP in detail
ATP ("Automated Territory Planning") extends the geomarketing software WIGeo QGIS.
Division of territories into equivalent units based on potential data
Output of spatially coherent subareas
Optimized according to accessibility, minimum distances
Number of areas individually selectable
Spatial planning levels are zip codes, municipality, counties/districts, NUTS-3
Europe-wide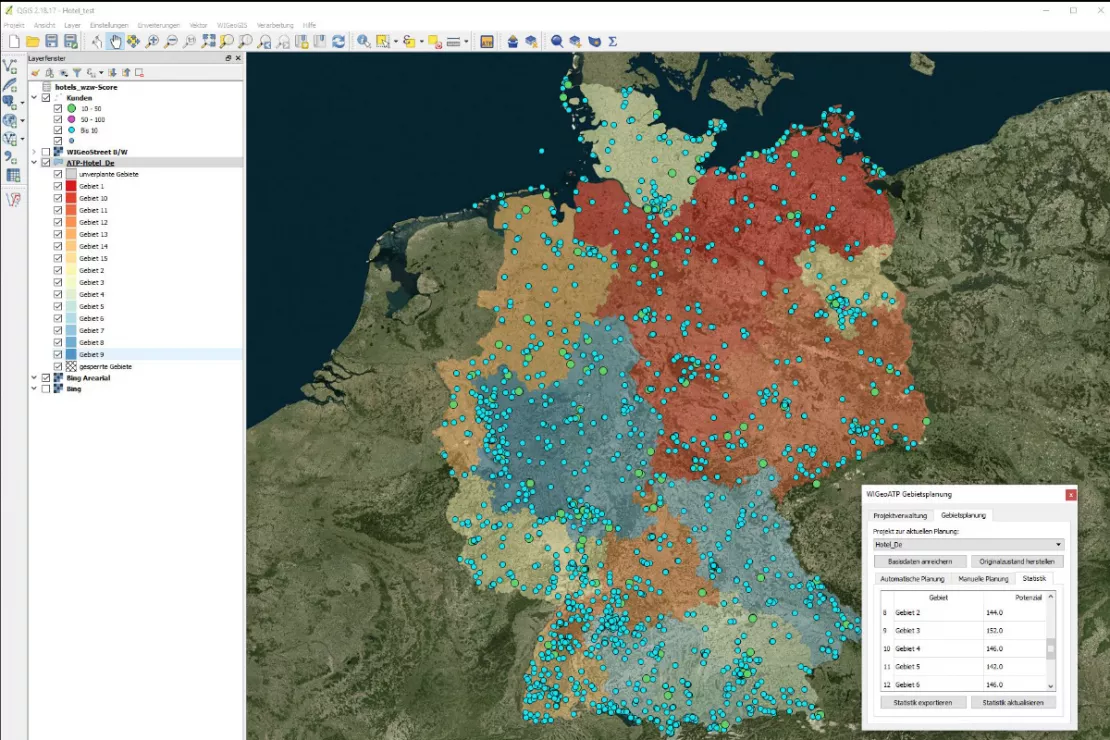 "Greenfield": Re-planning areas
Define total area
Specify number of subareas
Select spatial planning level
Upload potential data
The algorithm divides the area into equivalent units taking into account accessibility and minimum distances.

Optimize existing areas
The software now optimizes the existing assignment:
More balanced distribution of potentials
Optimization of travel times
Elimination or allocation of gaps such as unassigned postal codes (municipalities)
Increase or decrease of the number of territories

Manual fine tuning
Lock territories for automatic assignment
Manually assign or change territories afterwards
Manual fine tuning is almost always necessary or useful. This allows taking into account special customer relationships, the individual situation of the company as well as the internal know-how of the employees.

More Time for the Essentials
"The automatic territory planning calculates the territories in the shortest possible time and does what would otherwise take days, in a quality that would not be possible without software support. Just as important are the correct foundation for the planning and the fine adjustment with your team. You will not be spared this effort, but the good news is you will now have more time to do it! "
Wolf Graf, Managing Director WIGeoGIS

8 Reasons to Choose WIGeoATP
Territory Planning Europe-wide
All common spatial planning levels (Zip Code, municipalities, counties and districts, NUTS-3)
Objective, numerical and fact-based results as a basis for your planning
Powerful algorithm, high quality calculation
Particularly accurate spatial optimization through consideration of neighborhood relationships (natural barriers, topography, road network)
WIGeoATP runs in the free open source software QGIS, meaning you also have access to its numerous other Geomarketing functions
Product from WIGeoGIS - 25 years of experience and comprehensive geomarketing know-how
All from a single provider: If you need, we can also provide you with the necessary market and geodata. Of course we are always offer our support and advice!

WIGeoATP in Practice
Here are a few typical sales scenarios that show you exactly what you can do with WIGeoATP.

Analyze the Actual Situation
Your sales territory planning has grown over time and has not been updated for five years. The ZIP Codes have never been adjusted or systematically checked, you do not know if you have any gaps or blind spots in your market. You also have the feeling that the workload is not optimally distributed among your employees and there is still room for improvement. Your customers will thank you for a better division of the sales territory!
By uploading the status quo (assignment of Zip Code to employees or existing territories) to ATP in a first step, you can see the actual situation at a glance. Displayed on a digital map.
Optimize Existing Territory Structure, View Different Scenarios
In a next step, you specify the criteria by which you want to optimize your sales territory (e.g. sales potential). You then examine the existing division with the algorithm and see where there is potential for optimization.
Perhaps you also have an employee that is about to retire and you are not sure if you should replace them. Try out different scenarios and decide based on the results. You may find that the optimized sales territories with shorter travel times will lead to potential savings and a new hire is not necessary.

Restructure an Territory
You are rolling out a new product and have already defined the sales potential in your market. If you are not quite sure how many sales people you will need, simply enter the criteria such as the desired frequency of visits into your potential data and find out using ATP!
If you have a certain number of employees, you simply split the market into the appropriate number of territories based on sales potential. You get connected territories where accessibility and travel times are already optimized. The sales potential is the same in every territory, ensuring satisfied and motivated employees and well-supported customers.
If you have different distribution chains, you can divide one and the same territory appropriately for each distribution chain. This will give you optimal subterritories, for example for both your Key Account Managers and your Account Managers.

Territory Planning in Practice
Gerald Beirer, Sales Director Austria MIVO mitarbeitervorteile GmbH, outlines in a statement the most important operational advantages of geomarketing for sales territory planning.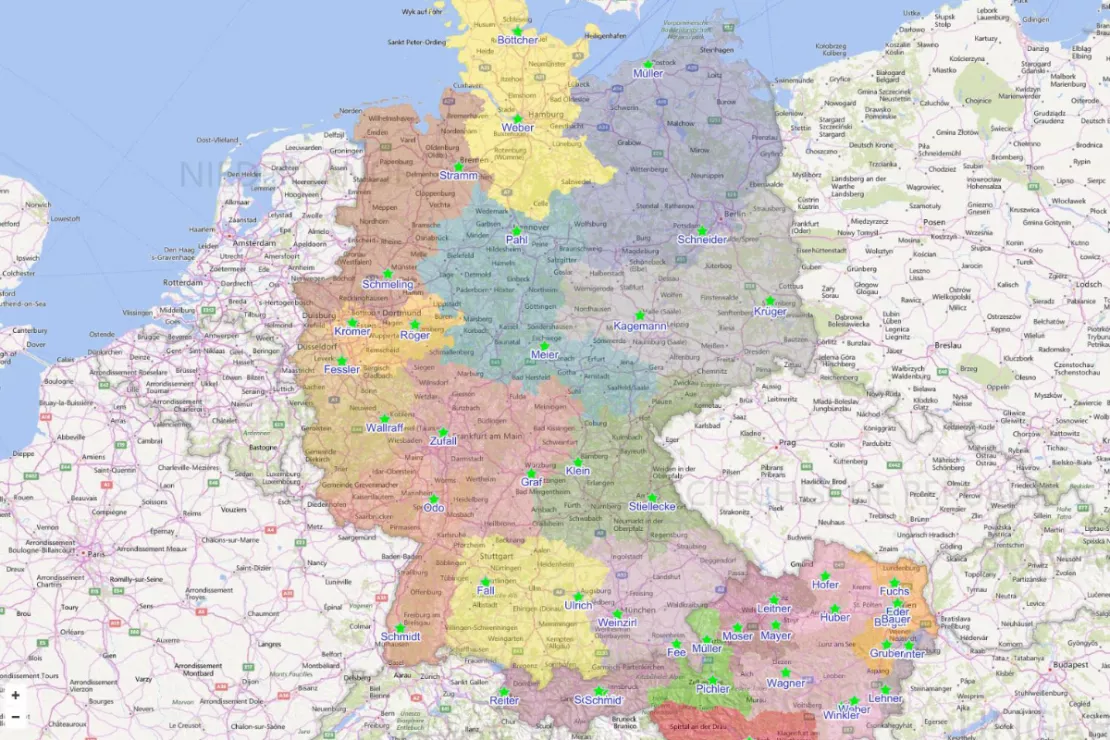 Territory Planning: Tips & Tricks
We have put together everything you need to know for a successful territory planning:
Typical project process
Tips so everything goes right
Advantages of using software
Case study
and much more.

Software for Territory Planning: Request a FREE Live Demo!
FREE Live-Demo* of WIGeoATP
Non-binding, without further obligations
Online presentation via video call
Do you want to plan your territories optimally? I will be glad to support you.

* The products of WIGeoGIS are intended for companies and are not suitable for private use. If you need a one-time market analysis, we will gladly make you a service offer.

FAQ
What are the technical requirements for WIGeoATP?

WIGeoATP was developed by WIGeoGIS as an additional feature for WIGeo QGIS. QGIS is an open source GIS software, meaning you can use it without any license fees. It is a desktop-based software that runs on Windows, Linux and other operating systems. So you first have to install WIGeo QGIS to use WIGeoATP. This provides you with a whole portfolio of other useful geomarketing features. We are happy to advise you.


What are neighborhood relationships and why are they important?

WIGeoATP calculates the optimal routes taking into account the road network and natural barriers such as mountain ranges, rivers, etc. Many territory planning software products calculate the routes using only distance matrices. WIGeoATP also knows mountains, passes and bridges. The result is uniquely accurate travel times and optimal routes.



Which territory planning level should I choose?

That depends on the size of your sales territory and other individual factors. Most of our clients plan at the ZIP Code or municipality level. WIGeoATP also offers county and district levels as well as European regions (NUTS-3). If you have other special requirements, we can make every other spatial level available. With WIGeoATP, you enjoy full flexibility.

Get to know Territory Planning Software WIGeoATP now, for free with no obligation!