Location Analysis with Geomarketing - How it Works!
Learn why geomarketing software is essential for location analysis and branch network optimization. Case studies show you the criteria for a successful location analysis.

Location Analysis for Companies
Geomarketing Provides You All the Important Information at a Glance and Tells You What You Absolutely Have to Consider
The basis for deciding on a good location is the objective evaluation of the property location and its surroundings. Location analysis with geomarketing measures potential locations against real metrics.
The key factors are demographics and market data. These include households, inhabitants, age structure, origin and purchasing power. Car and foot traffic, public facilities, transport infrastructure, footfall generators and competitors are also all taken into account. Of course factors defined by the customer depending on their industry, target group and size are also integrated into the location analysis.
The sum of all the information gathered through geomarketing analyses helps customers make informed decisions for location planning and location management.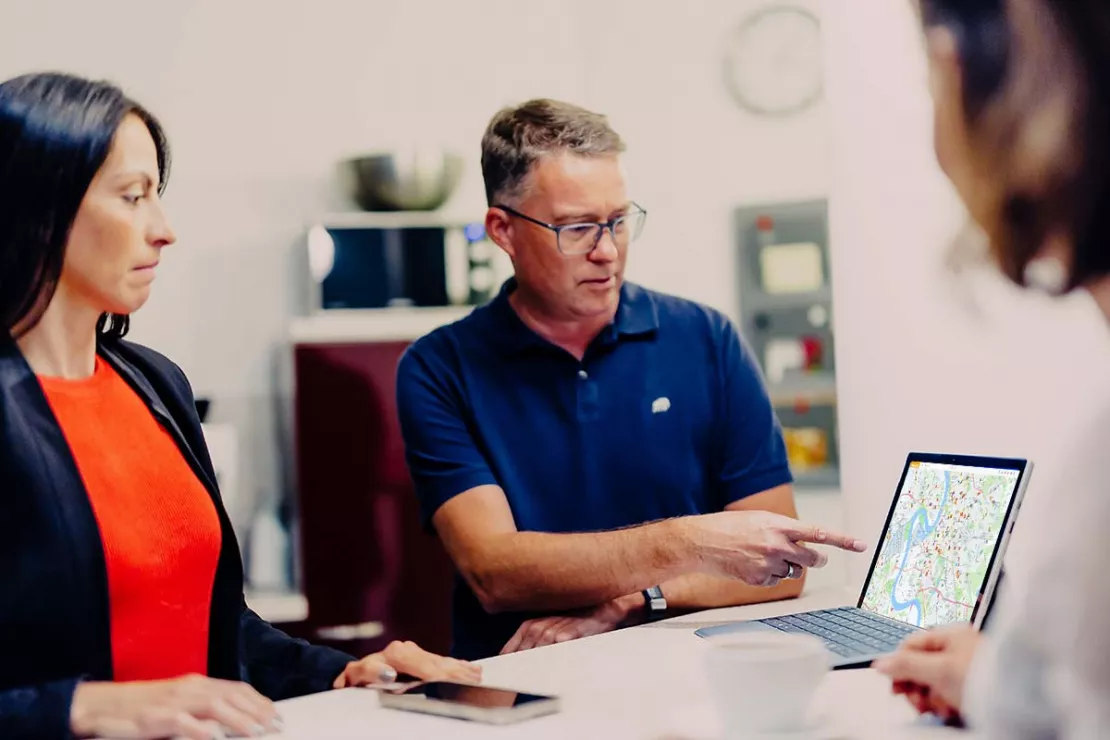 7 Unbeatable Reasons Why Geomarketing Software is Essential for Location Analysis
1. Location Search: Identify the Right Areas for Your Locations
White-spot analyses allow you to identify promising locations in a city, region, province or country. The goal is to answer the following questions:
Where are the white spots for my branch network?
Where is the best location environment?
The careful selection of locations is the basis for success of any company. The best location concept will not do any good if the potential is lacking, the target group is not reached or the travel distance is too far for customers.
Customized white-spot analyses help optimize and expand branch networks. They focus your expansion in the most promising areas.

2. Location Evaluation: All the Relevant Facts at a Glance
The easiest way to determine the potential of existing or potential locations is with the WebGIS Software WIGeoLocation. Location analyses and reports allow you to assess the potential of a location and its environment based on your individual location factors in just 3 minutes.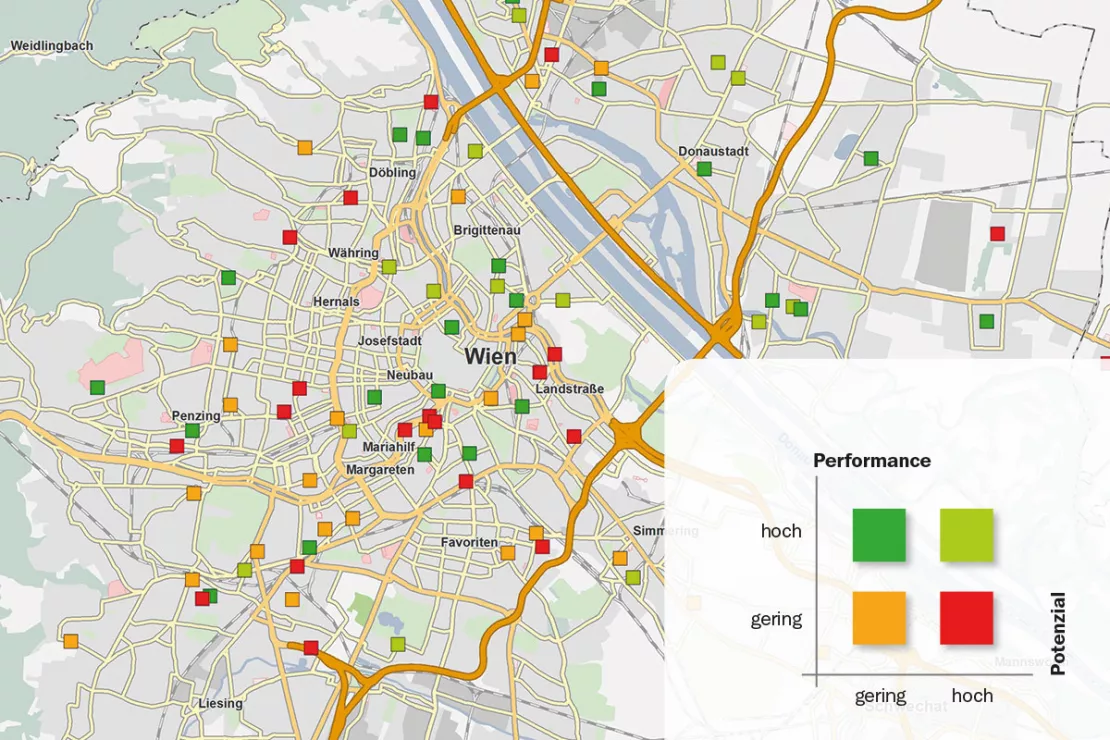 3. Location Scoring Model: Which Locations are Really Profitable?
Scoring models are ideally suited for the assessment of branch or retail networks in terms of actual market potential. For scoring, all the location factors are normalized and assigned a reference value (score) for each location. Thus, it is clear at a glance how high the potential is in the catchment area of each location. The individual location-related factors can also be weighted differently.
You can subsequently compare the performance of existing locations with the achievable market potential, making it clear:

Which locations are successful from an objective point of view?
Which locations need to be optimized?
Where should branch relocations occur?

A scoring model is also ideally suited for benchmarking the potential of existing branches or possible new locations. Locations considered for closure can be tested to see if they are truly achieving their full potential.
4. Branch Network Optimization and Retail Network Optimization
If a location network is to be optimized or restructured, different what-if scenarios are considered:
What is the optimal distribution of the branches in the market area?
How many locations are needed to best supply the market and where should they be positioned?
Where is there potential for new locations without cannibalizing existing branches?
How many locations can the current market situation still support ?
The simulations are compared to the existing branch network. Thus, it is made clear which sites should be retained in any case and where there are additional high potential locations. The results provide recommendations as to which branches should be merged, relocated, expanded or closed. A successful branch network restructuring is always based on up-to-date market data and regional sales figures.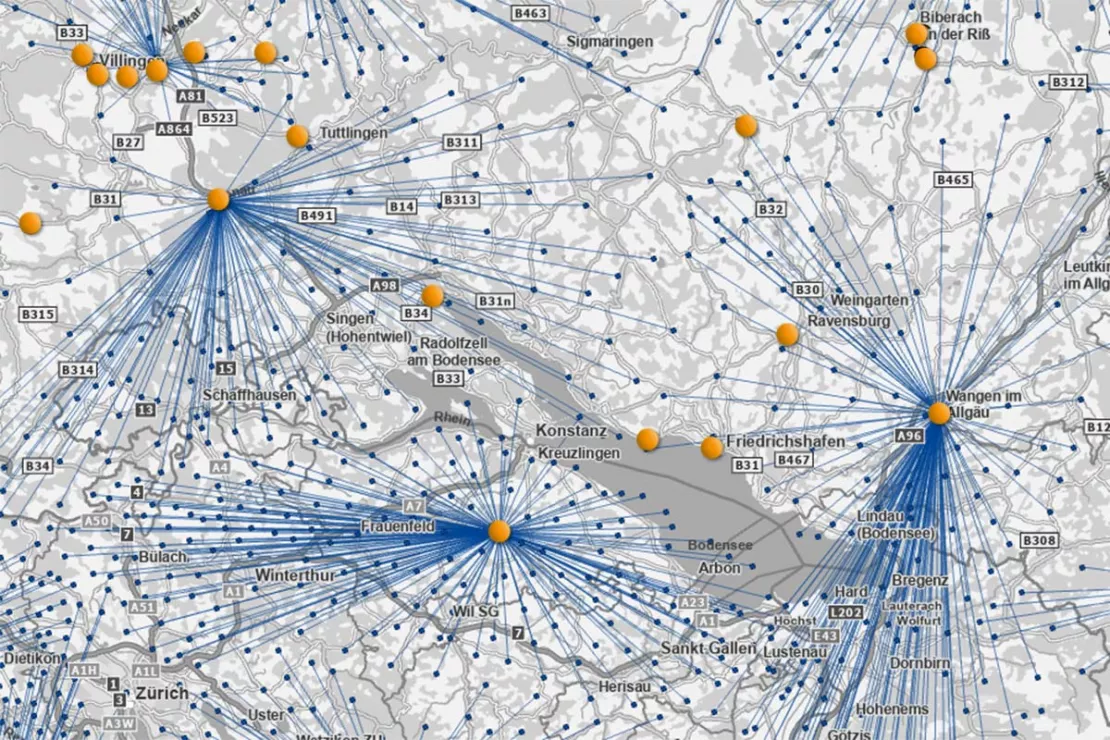 5. Sales Forecasts Through Gravity Analysis: To Make Statements About the Profitability of Locations
WIGeoGIS supports you with location-based sales forecasts. Gravity models make it possible to realistically simulate customer traffic and therefore sales probabilities. Such location assessments use microgeographic inhabitant and household figures as well as information on the regional consumer potential, be it the retail purchasing power or the product-specific purchasing power.
A decisive factor for a meaningful analysis is always the definition of attractiveness for each location, including your own locations and those of the competition. The attractiveness of a location includes information such as retail space, product range, number of employees and cash registers and available parking. Based on the distance, on the location of the demand and on the attractiveness of the sales location, gravitational analysis shows the chances of a potential customer visiting the sales location and thus provides clear statements on the expected sales.
Sales forecasts are dependent on the company and the industry. WIGeoGIS has extensive experience with predictive analysis and works with you to design your individual forecasting model. We determine the model parameters and their weighting together with you in a workshop. Ultimately, the combination of methods used depends on the industry and the defined goals. We will also be happy to provide you with the appropriate location assessment software.
6. Branch marketing
Location-specific market analysis is the basis for successful branch marketing. Save costs and avoid wastage. Both goals are achieved through regional target group analyses with geomarketing software. Target groups can be precisely localized and advertising areas selected on a small scale. Advertising campaigns are better controlled and the costs are reduced. Point-of-Sale campaigns are carried out at the locations that are most frequented by the product-specific target group. Location analyses help to increase marketing efficiency.
7. Category Management - Environment-related Category Management
WIGeoGIS location analyses support the optimal branch orientation and management. The range of products can be ideally matched to the dominant target group in the branch environment.
In order to ensure the long-term success of a branch location, information about the location environment is used for the category management and thus to promote sales. The catchment area of the location is analyzed based on socio-demographic figures. Data on the ethnicity of people living in the catchment area also provides further valuable information for your product planning and personnel management.
Location analysis makes it possible to tailor the range of products to the regionally dominant target group. On the one hand, the location analysis provides you with clarity as to why certain articles are slow sellers at certain locations. On the other hand, it provides you with information about which products or package sizes are selling well due to the environment.

8 of 10 location decisions made with the help of geomarketing are successful, instead of just 5 without it.
The Right Tool for Location Analysis
WIGeoGIS also helps you with your daily location analyses and assessments with WebGIS software, digital maps and regional market data. One can easily and automatically create a location analyses reports in just 3 minutes with WIGeoLocation.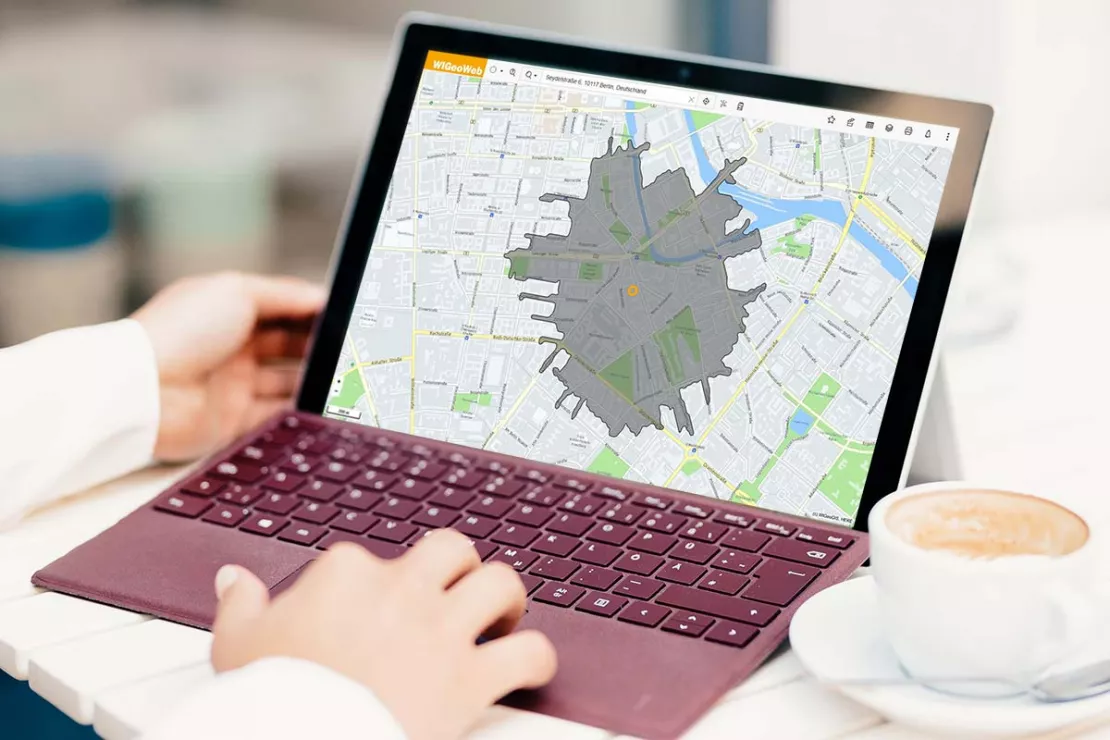 When should I use which location analysis?
In terms of methodology, GIS-based location planning makes use of a variety of analyses such as catchment area analysis, distance matrix, accessibility analysis, scoring, gravitational analysis and even the location allocation method. Which method is used depends on the one hand on your particular industry and on the other hand on your defined goals.
For years now, WIGeoGIS has been performing location analyses for numerous companies in a wide variety of industries.
Checklist for Modern Location Analysis
Would you like to analyze and evaluate locations, but don't know if you've thought of everything? Check if you're ready to go with our site survey checklist. The more you can check off, the more precisely your locations can be analyzed.
You have lists with addresses of your locations and potential locations in Excel, as txt or a database.
You know what your catchment areas should look like (accessibility on foot, vehicle, bicycle, radius or based on your customer data).
You know your preferred location.
You know your target groups.
You have a preferred location environment and can describe it.
You know your competition.
You want to avoid cannibalizing your own locations.
Are you missing a check mark or do you have any questions? Then simply contact us using the form at the bottom of the page. We are experts in location analysis and with WIGeoLocation we offer you a modern web-based location analysis tool.

WIGeoGIS - Your Specialist for Location Analysis
Location Analysis with GIS - In addition to the right method, we rely on current market data and communication.
WIGeoGIS creates location analyses based on real key figures. These figures include regional market densities and market shares. Further key figures include market data, such as number of residents, employees, footfalls, competitors and purchasing power. WIGeoGIS supports you as a consultant and service provider with the following types of location analysis:
White Spot and Greenfield Analyses
It is essential here to first work together to determine the relevant location factors. WIGeoGIS will help you determine exactly what factors are important for your business.

Read our customer reports on location analysis
Location Analysis: Request a free initial consultation
FREE initial consultation
Non-binding, without further obligations
By telephone or video call
You want to analyze locations in detail? I will gladly support you. Please contact me!
FAQ
What alternative solutions does WIGeoGIS offer for location analysis?

WIGeoGIS supports your location assessment with extensive know-how. WIGeoGIS offers three different solutions. 1) A full service solution in which WIGeoGIS performs all the analyses for you and provides you with the results. 2) Our online solution WIGeoLocation. For GIS professionals, WIGeoGIS offers a modern web-based software solution. WIGeoLocation guides the user to a custom location report in just 3 easy steps. 3) WIGeoGIS provides you with a desktop software solution including all the necessary regional market data, personal training for you and your team and programs individual extensions as required for automating recurring tasks.

Which analysis methodology is specifically used for location planning?

WIGeoGIS relies on an extensive set of methods for location analysis and planning. This includes the calculation of catchment areas based on road networks, distance matrices, reachability analysis, scoring models, gravity analysis, multivariate regressions and location-allocation models. The relevant mix of methods in a particular case depends on the one hand on the existing data, and on the other hand on the objectives and requirements that have been defined. For years now, WIGeoGIS has been performing location analyses for numerous companies in a wide variety of industries.

Can we run analyses on branch locations ourselves and within the company?

Of course. We support you in introducing your own in-house geomarketing system. We consult you on the choice of system, on the selection of external data, we offer individual training on your geomarketing system. In this way, we ensure a transfer of know-how and empower you to run analyses on your own in the future.


Which regional market data are included in the location planning?

Which market and address data are relevant for your location analysis depends on your individual requirements. In addition to population figures, information about footfalls and traffic volumes, B2B potential and population projections are also suitable. Above all however, the right mix of up-to-date detailed potential data and regional company data ensures particularly accurate location analyses. Additional distance-related factors, such as the distance to competitors and footfall generators and public transport stops or information about possibly cannibalizing your own locations improve the quality of the analysis.

Are there different methods for calculating catchment areas for branches?

Yes, at the beginning of a location analysis the respective catchment area must be determined. The way in which that is done is highly dependent on the goal of the analysis. The common variants are the calculation of a catchment area based on travel time (e.g. 10 minutes by car), calculation of a catchment area based on a specific regional market potential (e.g. 10,000 inhabitants) or a gravitational analysis. Alternatively, catchment areas can also be determined based on the distribution of customers.
Are you interested in the advantages of Location Analysis with Geomarketing?