Target Group Analysis Using Geomarketing and GIS
Target group analyses help marketing to identify regional and local potentials.
Visualize relevant areas on digital maps with a powerful WebGIS.


Call us:
DE: +49 89 321998 0
AT: +43 1 7151987 0


Send us your question, comments or feedback
Gain Insights from your Customer and Potential Customer Data
Target group analysis, customer and prospect mapping with geomarketing allow you to discover buying patterns within your distribution areas and to identify new customer potential, cross-sell and up-sell opportunities.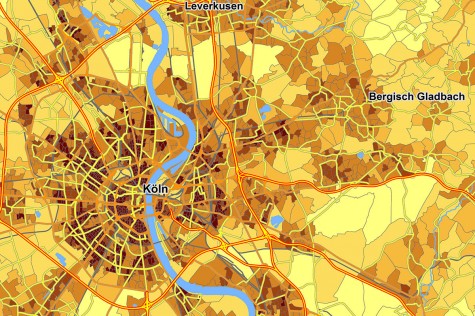 Visualize Potential Customers, Cross-Sell and Up-Sell Opportunities
Target group analyses are often based on various data sources. An important benefit of the geographical analyses and mapping is the possibility to match different data sets and thus, to identify buying patterns as a well as high potential areas for new customer acquisition, drop door activities or category management. This may include:
Internal data

Customer data
Location data
Sales figures
Feedback figures etc.

Market data
Lifestyle information
Market research results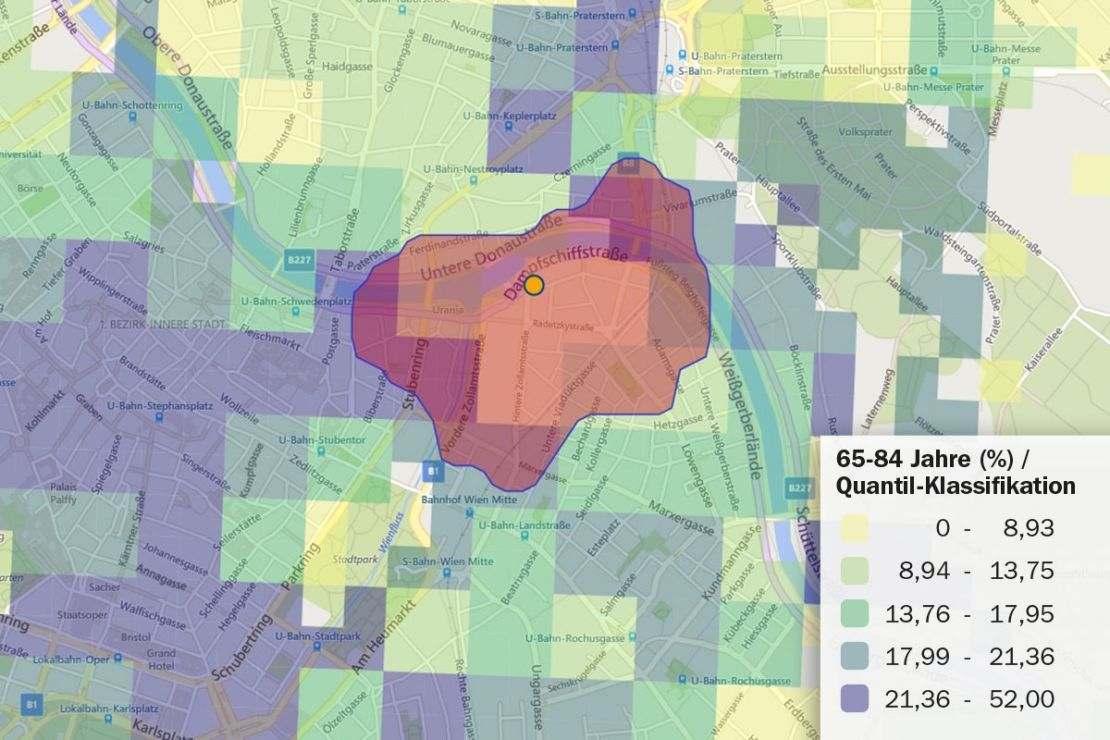 Target group analyses with GIS-Software:
Two approaches are possible:
First approach: The target group is known and easy to narrow down based on socio-demographic characteristics. Geographical analyses allow companies to find areas with a significant target group representation. The software, i.e. the GIS (Geographical Information System, e.g. Online GIS) will find those areas where the target group characteristics are particularly common. This enables the so-called overlay analysis. This is where several target group characteristics are blended.
Second approach:
The target group is not significantly delimited here and should be expanded. Geomarketing analyses will highlight areas and locations with high sales figures or with high customer density. Conclusions as to potential target groups may be drawn by examining the environment and customer data for these areas and locations.
Various spatial units (geodata) may be used to base the target group analyses on. Geographical calculations may, for instance, use postal codes, but they may also use micro level data such as data on street level or 300 household clusters.

It often makes sense in target group analyses to take into account market penetration in the relevant areas (by way of a penetration analysis). Companies often include penetration analysis results when making market segmentation decisions. The objective is to recognise inactive areas ("blank spots") and to target these with advertising and marketing.

Target group analysis is particularly effective with geomarketing. Geomarketing links comprehensive target group information to objective methodology and to easy interpretation of results. This is because the software processes the results of the analysis and displays these on a map, clearly and intuitively. Graphics supplement the presentation of the digital map.

WIGeoGIS has been performing target group analyses for numerous companies over many years, supporting them with software (typically online GIS, or, according to your requirements, for desktop) and Web based geodata, with digital maps and with market data.


Simply contact us!
Please send me more information or contact me.