Target Group Analysis with Geomarketing
Locate Your Target Groups
With geomarketing, your company can identify regions where you can find your relevant target groups. WebGIS is the software to help you do this. Visualize the areas graphically on maps and benefit from software-supported target group segmentation.

Locate Target Groups at a Glance
Target group analysis with the help of geomarketing reveals regional and local potential. A suitable GIS software, e.g. an online GIS/WebGIS shows you on the map how strongly your target group is represented in which areas.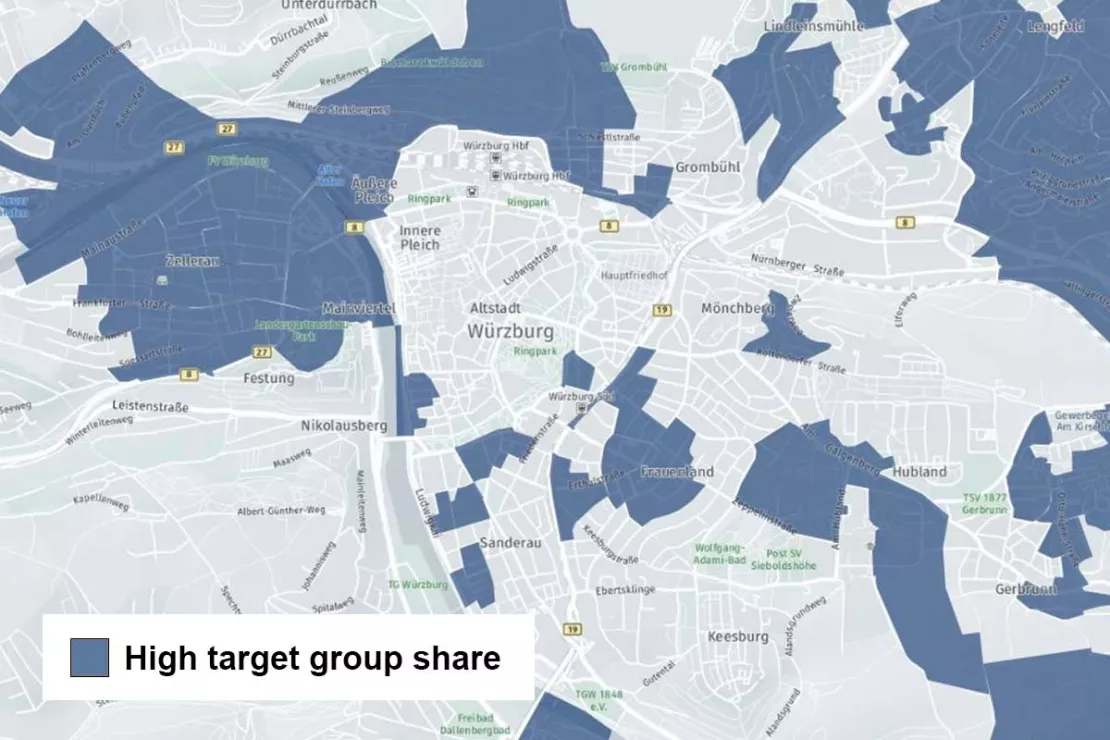 4 Examples of When to Use GIS-Based Target Group Analysis
You want to optimize your category management.

GIS software assesses areas objectively according to the presence of the target group. Hard numbers make results comprehensible and help you support your decisions. With geomarketing solutions from WIGeoGIS, you can analyze your customer data, catchment areas and sales areas down to the last detail.

Perform target group analyses, for example with the software WIGeoWeb
The WebGIS software WIGeoWeb allows you to perform a target group analysis precisely and intuitively. The tutorial will show you step-by-step how to use the tool to locate your target audience.

This is How to Perform a Successful Target Group Analysis with GIS software
There are Two Approaches to Target Group Analysis with Geomarketing and GIS Software.
First Approach: The target group is known and can be easily defined by sociodemographic characteristics. Using geographic analysis with a GIS (Geographic Information System, e.g. Online GIS), you can locate the areas in which the characteristics of your target group are particularly frequent. This allows you to perform an overlay analysis, which combines multiple target group characteristics, such as age, purchasing power and attitudes towards a specific topic.
Thus, for example, you can find the regions in Germany or Austria where an especially high number of women live who are between the ages of 40 and 60, have an above-average purchasing power and a garden.
Second Approach: You do not know your target group yet, or not in enough detail. With GIS software you determine or expand your target group. How does it work?
You know from your company data where the high-revenue regions and branch locations are, and where the customer density is high. If you do not have this information, a geomarketing analysis will provide it. Now you can draw conclusions about potential target groups: Why are sales so high in this particular location? What are the characteristics / similarities of customers in this region?
Having further defined your target audience in this way, the GIS software will help you discover other regions where people live that have exactly those characteristics. For example, women between the ages of 40 and 60 who have a higher than average purchasing power and a garden...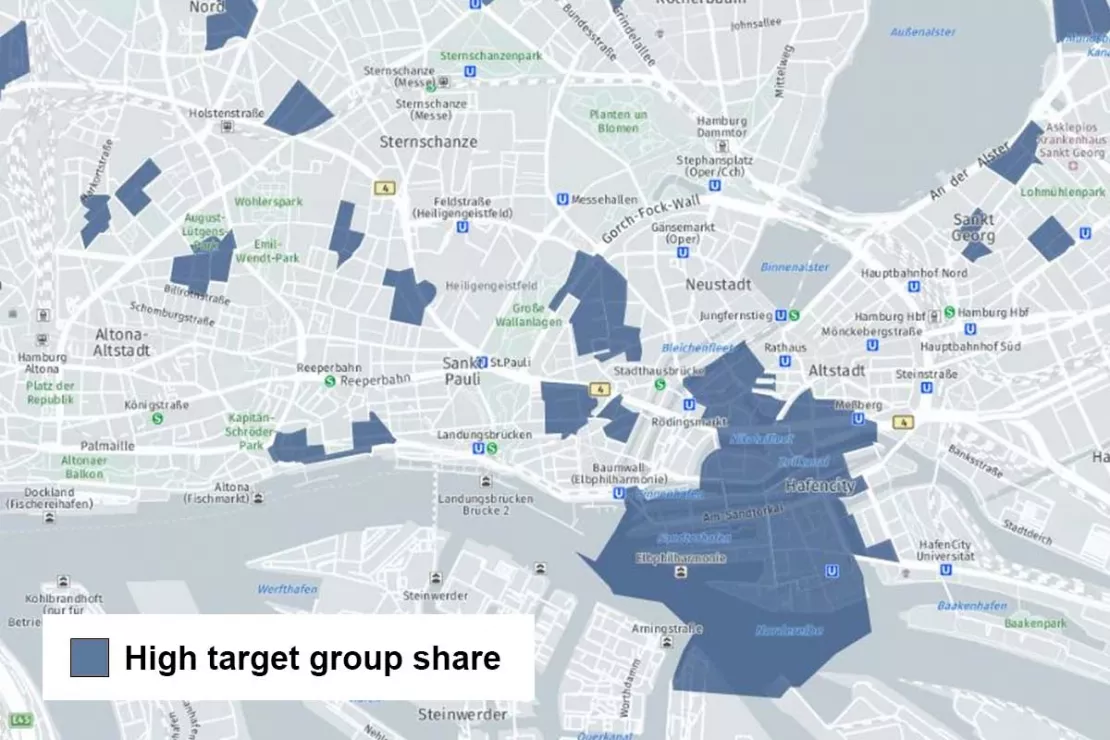 Here you can see how your target group and their distribution are visualized in the GIS software: The dark areas show a high target group share. Small-scale information at the geomarkets level.
Use Only Good Data!
"No matter which approach you take, you need good quality, up-to-date data to achieve maximum success for your market analyses. One of our strengths is that you get everything from one source at WIGeoGIS: software, current data and know-how."
Martin Ortner, Consultant, WIGeoGIS

The Right Data for Successful Target Group Analysis
A data analysis can only ever be as good as the data, i.e. the "raw material" that you use. As a rule, the right mix of company data and external market data has proven very effective. We are happy to advise you!

Company Data
Customer data

Location data

Sales figures

Feedback values

Data from point-of-sale surveys
etc.

Market Data
Lifestyle information

Market research results
etc.
WIGeoGIS works together with many data partners from the B2C and B2B sectors. This gives you easy access to all the market data you need. Furthermore, you only receive the data you need for your planning, rather than being tied to specific data packages.

Target Group Analysis: Request a free initial consultation
FREE initial consultation on Target Group Analysis

Non-binding, without further obligations
By telephone or video call
Do you want to know more about Target Group Analyses? I will gladly support you. Please contact me!
FAQ
Can I locate my target audience using WebGIS software?

Yes, because with WebGIS software you can implement sociodemographic data on different levels such as ZIP Code, municipality and even smaller scales, like grid cells. Then you can determine target group distributions using various methods such as filtering and classification.



Can I also use WebGIS software to define my target audience?

Yes, that is also possible. Often, companies already know their target group and WebGIS software helps them to determine the distribution of the target group in the target region. On the other hand, if you know where your customer density or revenue is high, but not the characteristics of these customers, you can use GIS software to find their common characteristics and then determine in which other regions these dominant groups also exist. Then you can bundle your resources or intensify your marketing and sales activities in those locations.


How do I find my target group with the GIS software?

Finding target groups with GIS software is easy. You have different options available. You can visualize those areas where your target group concentration is above average or below average by defining a value such as: "Show me all areas where the percentage of women is >60 percent, or the purchasing power index >120." You can also intersect characteristics, for example by querying, "Which regions with high purchasing power have a high number of female inhabitants?"


Is it possible to use several target group characteristics simultaneously with WebGIS software?

Yes, of course. You can integrate all the available target group characteristics in the WebGIS software and thus combine them and use them together at the same time. Through our market data providers, we can offer you hundreds of characteristics for the DACH region and other countries around the world. This allows you to perform very detailed queries.



What can WebGIS software do for target group segmentation?

Target group segmentation means that you can define one or more target groups. WebGIS software provides spatial evaluation, i.e. it shows you where the concentration of these target groups is above or below average. You can then implement the appropriate marketing and sales measures based on this information.