Cloud GIS
Geomarketing Software as a Service (SaaS) by WIGeoGIS
Convenient, powerful, topical and reliable. Why cloud-based tools and services hosted by WIGeoGIS for GIS tasks such as location and market analysis are the best solution for many of our clients.

Are you looking for geomarketing software that functions perfectly without you having to think about updates, servers and other maintenance services? Would you like to have the latest geodata without having to do any updates? Should your tools be able to handle any spikes, but still remain cost-effective? Is the highest level of security for your IT systems and the protection of your data essential for you?
Cloud-based geomarketing software by WIGeoGIS offers top functions in a secure environment. We will show you why hosted services – Software as a Service – are the best decision in many cases.
5 reasons why Software as a Service is a good choice
Less costs: Hardware + Infrastructure belong to the provider – You pay for what you use
Cost transparency/planning ability: Monthly fixed rate
Rapid implementation: Standard software products are immediately available in a prepared environment
Maintenance-free: The provider deals with updates and other time-consuming tasks as the software is on our servers
Concentration on core business: You have more time for what counts: Your business!
WIGeoGIS solutions in the cloud
We offer standard WebGIS products for spatially-related business analyses and these meet the requirements of our clients in 9 out of 10 cases. In all other cases, we tailor our services for your special applications.
Regardless of which variant, you will profit from the following advantages with all cloud-based solutions from WIGeoGIS:
Runs in the browser: No installation at the workplace, can be accessed from anywhere (even on a tablet).
Ease of operation: Geomarketing – simple and intuitive. We are there to advise you for more complex tasks and can also train your employees if necessary.
Full control over data & users: Flexibly manage your own data via interface connection, up and download, integrated role/rights management.
Access to a wealth of geodata and services via the WIGeoAPI: A wide variety of geodata services can be integrated in your applications. Independent and flexible – you have the choice!
Data always up to date: Other people take care of geodata topicality – i.e. the providers themselves.
Licensing: We license precisely the data & services that you need from third-party suppliers – and you save time and money.
Scalability: We can scale our systems accordingly if your geomarketing solutions pose a high demand on resources. This prevents bottlenecks before they even occur.
Security: Runs in our own, high-security WIGeoGIS computer center in Vienna (GDPR-compliant, naturally).
WebGIS SaaS – Overview
Our "Best of Geomarketing", encompassing over 30 years of market experience
Cloud is fashionable! – But how safe is my data?
More than two-thirds of German companies now use cloud solutions – and that figure is growing rapidly. The forecast for turnover with cloud computing in the B2B sector is currently at 30 billion Euro for 2022.*
No wonder, because Software as a Service is practical and economic. However, there is one aspect that each company must carefully consider when services out of the cloud are used: How secure is the data?
*Source: Statista 2022
Excellent price-performance ratio at the WIGeoGIS computer center in Vienna
"We have been managing WebGIS applications and services for many years now for companies that have extremely high requirements for IT security and software standards. At WIGeoGIS you get the best possible quality with regards to operation, application and usability at a fair price."
Georg Magenschab, managing director and CTO, WIGeoGIS

WebGIS Software as a Service - We have the experience!
We have been hosting numerous WebGIS applications for our customers for many years now at our computer center in Vienna.
Important elements that ensure smooth and secure operations include the modern infrastructure, safety audits and regular investments in the further education and training of our employees.
Our processes are set up in compliance with GDPR.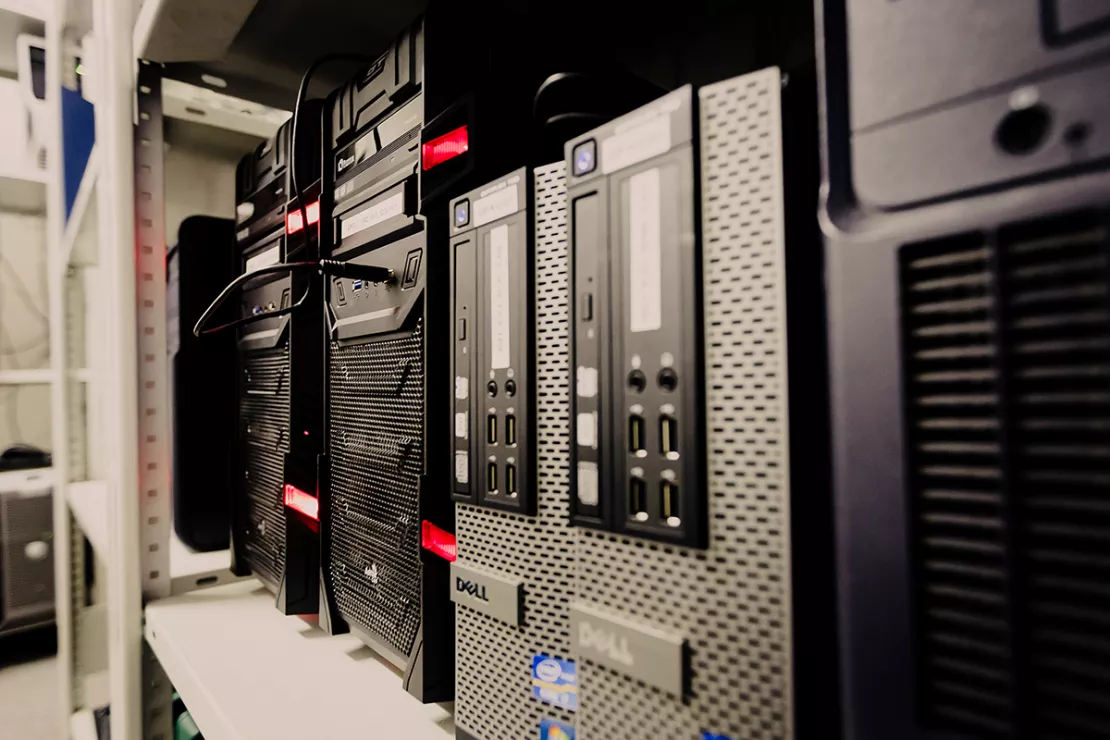 Technology
We use state of the art hardware in redundant systems in our computer center (computers and storage). We guarantee the highest possible failsafe performance through appropriate redundant Internet connections.
Protection against all external attacks is ensured by an expertly supervised firewall cluster on a hardened Linux basis. This is supplemented by current encryption standards.
Monitoring & Support
Our WebGIS applications are supervised with modern application and availability monitoring. This means automated standard tests and integrated monitoring interfaces within the application.
In the event of a malfunction, the responsible parties are automatically alerted.
WIGeoGIS can provide you with additional contact partners for your queries. Our Manager on Duty guarantees 24/7 available where necessary.
Data protection & Data security
Data is processed and provided in compliance with GDPR in our computer center. In general, the data is spatially aggregated, i.e. not personal data.
All applications and data are automatically and regularly backed up in a multistage process. Retention periods are carefully managed. Off-site backups supplement our data security measures.
These companies trust the cloud GIS applications of WIGeoGIS - further case studies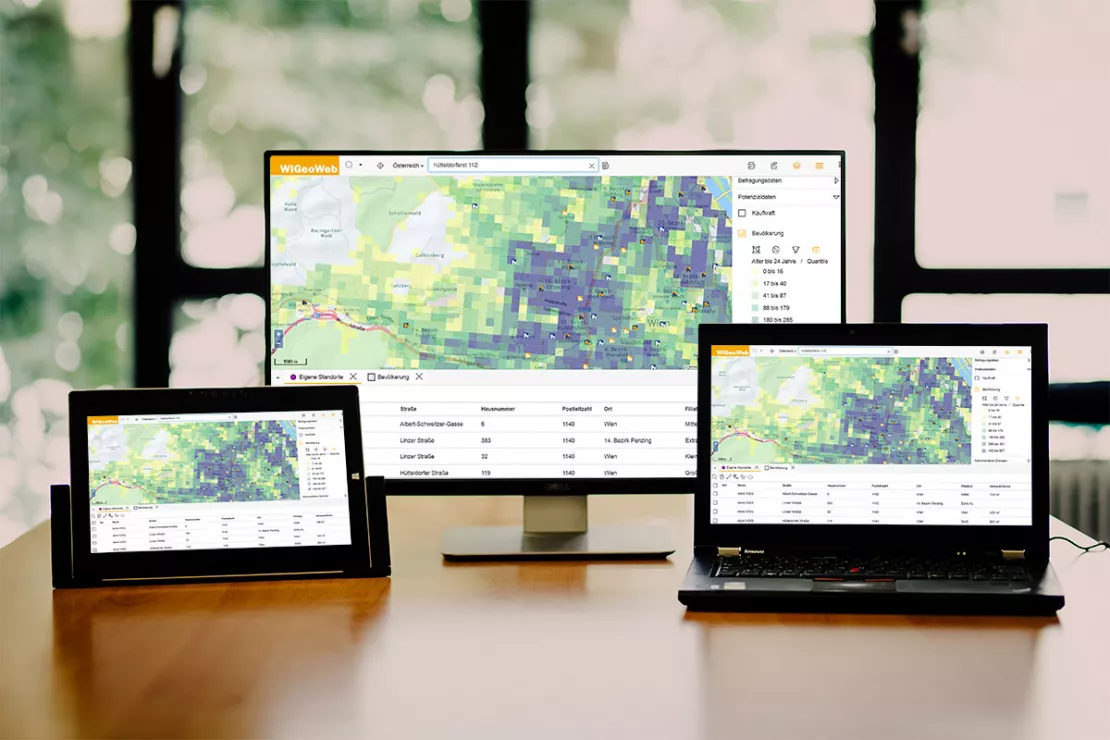 Alternative: On Premise
Do you need the software running on your own servers, the entire process behind your own firewall?
No problem!
We also offer all our products as On Premise solutions. In case of doubt, we can work together to determine which architecture would be the most suitable for your requirements.
Cloud-GIS: Fill out the form, test it free of charge & without obligation!
Non-binding, free test for 30 days

Test ends automatically without cancellation
An employee will explain the tool in a short webinar*
* Information about the free test access: Standard regions with selected data in Germany or Austria will be made available. In Germany, these regions are districts in Munich and environs, and districts of Vienna and environs in Austria. The products of WIGeoGIS are intended for companies and are not suitable for private use. If you need a one-time market analysis, we will gladly make you a service offer.

FAQ
What types of cloud GIS are there?

The two main types of cloud GIS are: Software as a Service (SaaS) and Platform as a Service (PaaS).

Software-as-a-Service (SaaS) provides software applications over the Internet. WIGeoGIS offers the standard products WIGeoLocation and WIGeoWeb, as well as individual WebGIS software. We take responsibility for the hosting and the entire IT infrastructure as well as maintenance and security.

Platform-as-a-Service (PaaS) offers cloud-based GIS services such as address searches, distance matrices, isochrones, route calculation, the display of digital maps and satellite images. WIGeoGIS offers access to the services of Bing, Here and TomTom. Developers and IT service providers can create and deploy map-based applications faster and more intuitively.


Why can I quickly start using Cloud GIS productively?

In order to use GIS software in the cloud, a company does not have to start an internal IT project. Software-as-a-Service means that the GIS software can be used immediately. WIGeoGIS provides the infrastructure, software and external data.

Specific business requirements can usually be made available within a few weeks instead of several months.


What are the benefits of cloud GIS for businesses?

The advantages of cloud GIS for companies include time and location-independent access, low initial and maintenance costs and higher data security.


What are the common cloud GIS areas of application in companies?