Call us:
DE: +49 89 321998 0
AT: +43 1 7151987 0


Send us your question, comments or feedback
WIGeo QGIS is a Cost-Efficient Geomarketing Software for Business Mapping
Geomarketing Software, Market Data, Digital Maps and Geo-Competence From a Single Source
QGIS is an open source GIS software with no license costs and a user base that is growing daily.
With its WIGeo QGIS, WIGeoGIS offers investment security through professional expert and technical support as well as individual training courses. You receive innovative GIS software for your company.
With WIGeo QGIS, you can easily create digital maps and visualize your data, edit spreadsheets and create layouts of your analyses to be included in your presentations.
the desktop software runs on Windows, Linux and other operating systems. The GIS software supports a variety of geodata formats and functionalities. WIGeo QGIS is modular and open. In combination with our market and geodata as well as the WIGeoGIS extensions, QGIS provides the basis for your geomarketing and spatial analyses.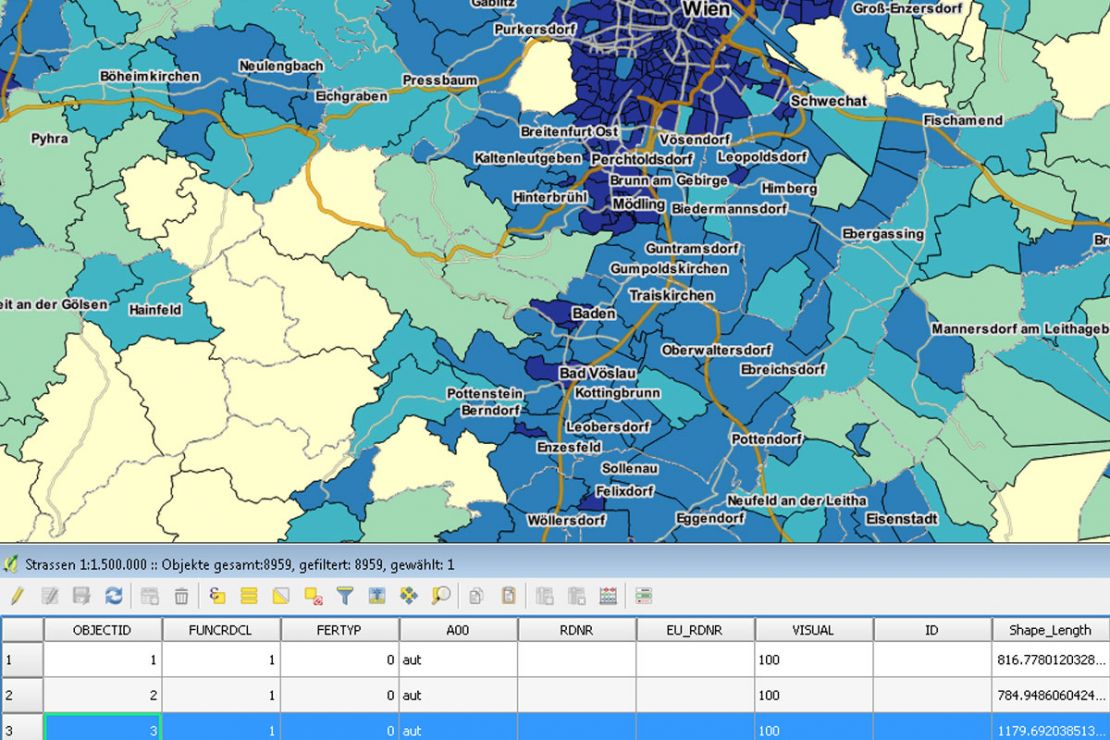 WIGeo QGIS Basic
WIGeo QGIS Basic includes:
WIGeo QGIS for business mapping and geomarketing
QGIS support and technical hotline
Regular updates
Access to the geocoder JoinAddress Web including a geocoding credits of 3000 addresses per year

starting at € 750.00 net per year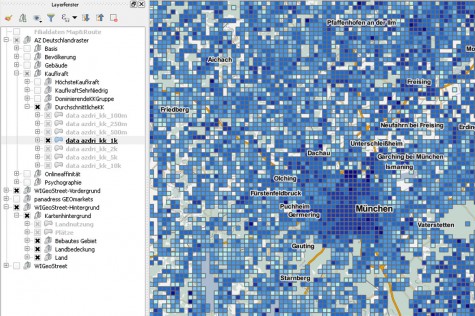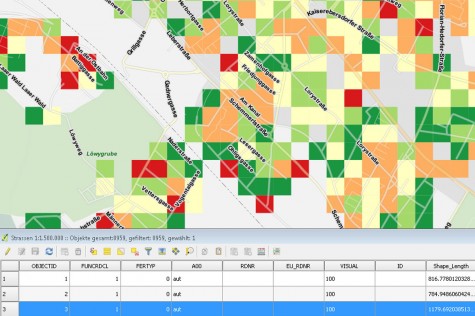 WIGeo QGIS Standard
WIGeo QGIS Standard includes:
WIGeo QGIS for business mapping and geomarketing
Regular software updates, Support and technical hotline
Access to the geocoder JoinAddress Web including a geocoding credits of 5,000 addresses per year
Software extension for address search and calculation of catchment areas
starting at € 1,400.00 net per year
WIGeo QGIS Standard
Address Search, Catchment Area Calculation and Up-To-Date Background Maps
WIGeoGIS offers extensions for QGIS address search, catchment area calculation, background maps and individual extensions.
The address search uses string input with autosuggest. The search result can be stored directly as a point and thus simply reused. You can choose whether to search for the address using JoinAddress, HERE or Bing Maps.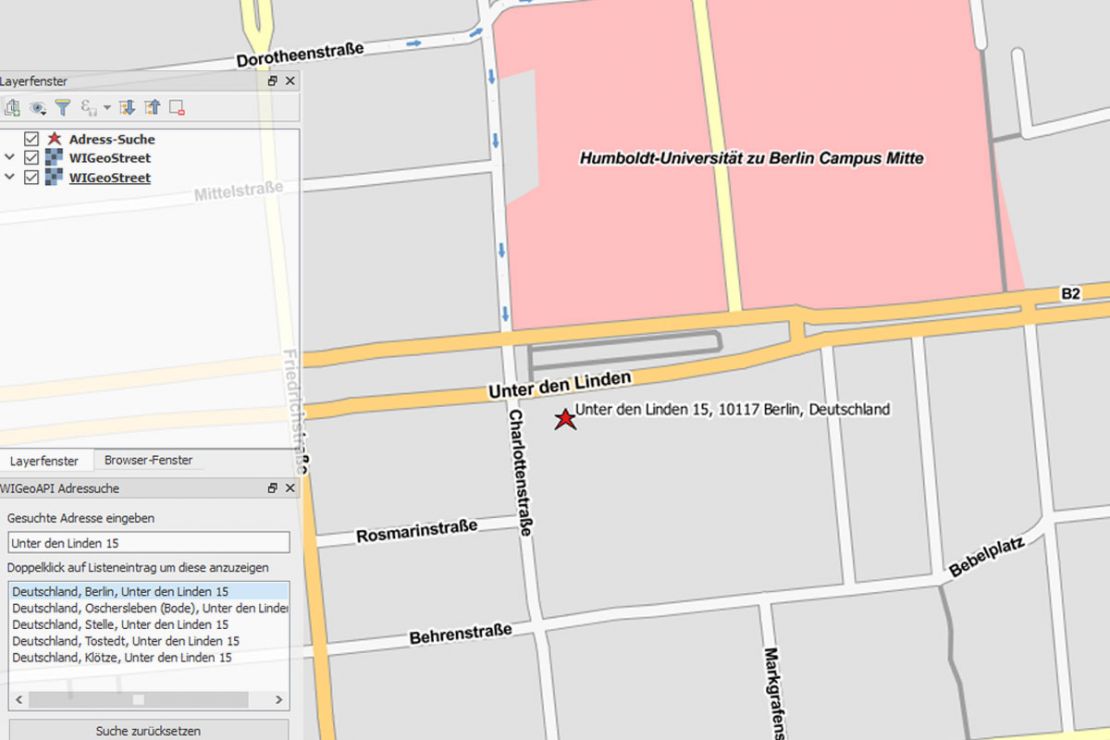 Catchment Area Calculation
Catchment areas are calculated based on the road network. Pedestrian, bicycle, car and truck routing are available. The truck routing takes truck-specific restrictions into account, such as driving bans and the like. You can choose between the fastest or shortest route. You can also choose whether you want to calculate the catchment area in minutes or meters. The QGIS extension presents the catchment areas as donut.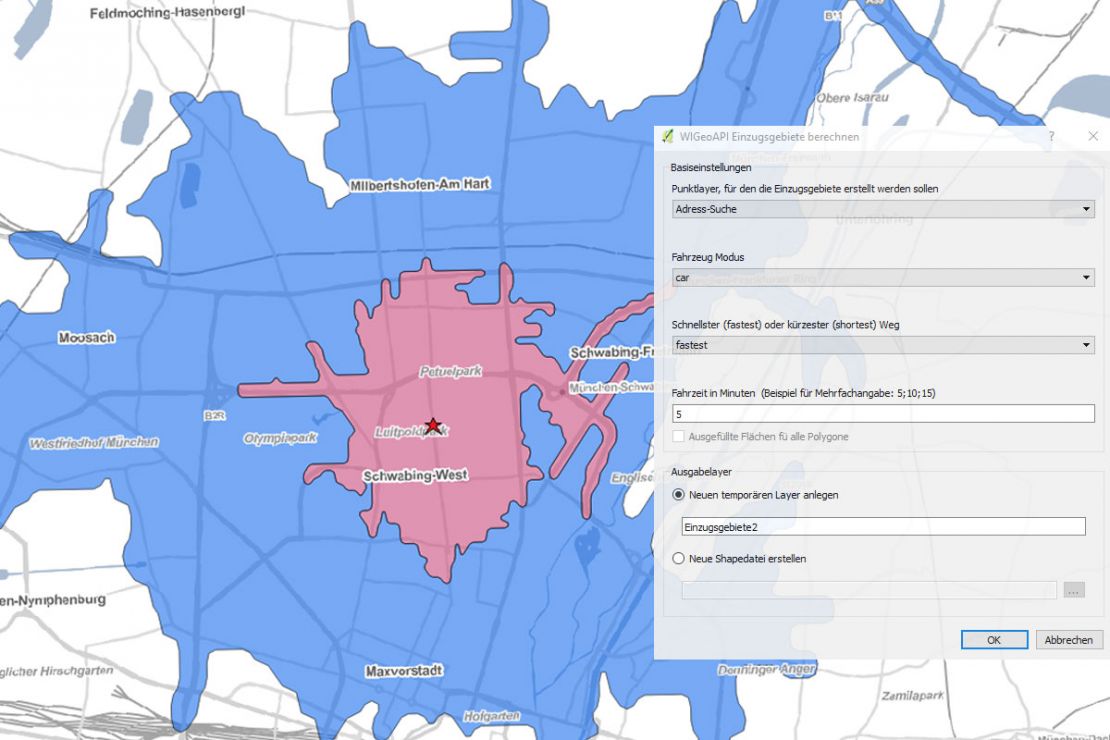 Freedom of choice for background maps
The extension also allows you to add background maps in QGIS. These can be, for example, aerial photographs from HERE, WIGeoStreet, Open Street Map data, or Open Source maps from NASA or ESA.
WIGeo QGIS in Detail
WIGeo QGIS is a comprehensive, powerful GIS software. You can view, capture, and edit spatial data. See our overview of WIGeo QGIS features.
WIGeoGIS also develops individual extensions for QGIS based on your precise needs. Often, these extensions serve to simplify work processes.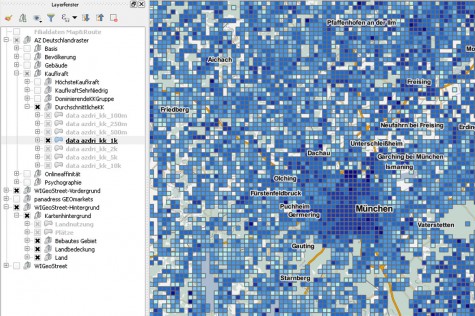 User-friendly GIS Software
With QGIS you can:
Identify and select GIS objects
Edit and search data attributes
Label comprehensively
Use a wide selection of symbols
Change GIS projections on the fly
and much more ...
Market Data and Geodata
A GIS without data is worthless. With QGIS you can:
Integrate different data
Visualize and query data
Analyze data
Edit, manage, and export data
Create map layouts and reports
QGIS supports numerous geodata formats
PostgreSQL/PostGIS database
Oracle Spatial database
Esri FileGDB
Esri Shapefile, MapInfo, GML
Approximately 70 raster formats for height models, aerial images and satellite images
OGC-compatible: WMS, WMTS, WFS, WFS-T
QGIS Training
Individual Training for GIS Software
WIGeoGIS also offers comprehensive QGIS training courses.
The training is individually tailored for you, your needs and your applications.
The QGIS training courses are held exclusively for your employees so that the software can be used on real examples and applications. WIGeoGIS has conducted individual system and methods training courses in the GIS and geomarketing fields for over 20 years. The courses provide the participants with the tools and knowledge they need to start working right away geomarketing and GIS.
WIGeo QGIS - Geomarketing Software
We will be happy to provide you with detailed information about the WIGeo QGIS and our training courses.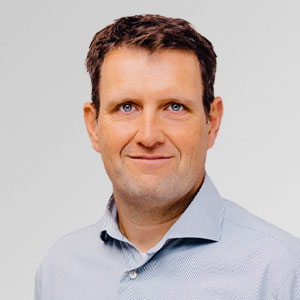 Kai BARENSCHER
Senior Consultant
kb@wigeogis.com
+43 1 7151987 31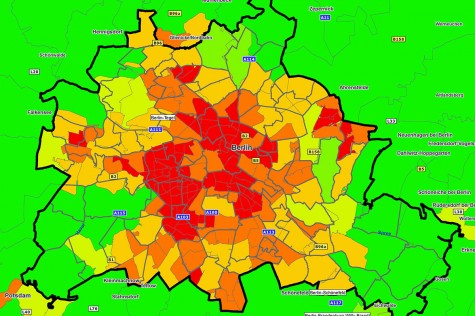 QGIS or ArcGIS?
WIGeoGIS will be happy to advise you as to which GIS software is best suited for your purposes. You can find a comparison of ArcGIS and QGIS at GISGeography.com, a website for geographic information systems and geography. The website takes a close look at the strengths and weaknesses of each solution.