Geomarketing Software for Universal Use
WIGeo QGIS: The Basis for Your Geomarketing Analysis
QGIS is the right choice for your GIS software. Open Source, with a worldwide developer community. WIGeoGIS provides you with professional, expert and technical advice and support. WIGeo QGIS is a QGIS Plugin which is optimized especially for geomarketing with advanced features and geocoding.


Call us:
DE: +49 89 321998 0
AT: +43 1 7151987 0


Send us your question, comments or feedback
WIGeo QGIS is a Cost-Efficient Geomarketing Software for Business Mapping
QGIS Plugin, Market Data, Digital Maps and Geo-Competence From a Single Source
QGIS is an open source GIS software with no license costs and a user base that is growing daily. With its WIGeo QGIS, WIGeoGIS offers investment security through professional expert and technical support as well as individual training courses. You receive innovative GIS software for your company.
With QGIS, you can easily create digital maps and visualize your data, edit spreadsheets and create layouts of your analyses to be included in your presentations. The desktop software runs on Windows, Linux and other operating systems. The GIS software supports a variety of geodata formats and functionalities. QGIS is modular and open. In combination with the WIGeo QGIS Plugin and our market data, QGIS provides the basis for your geomarketing and spatial analyses.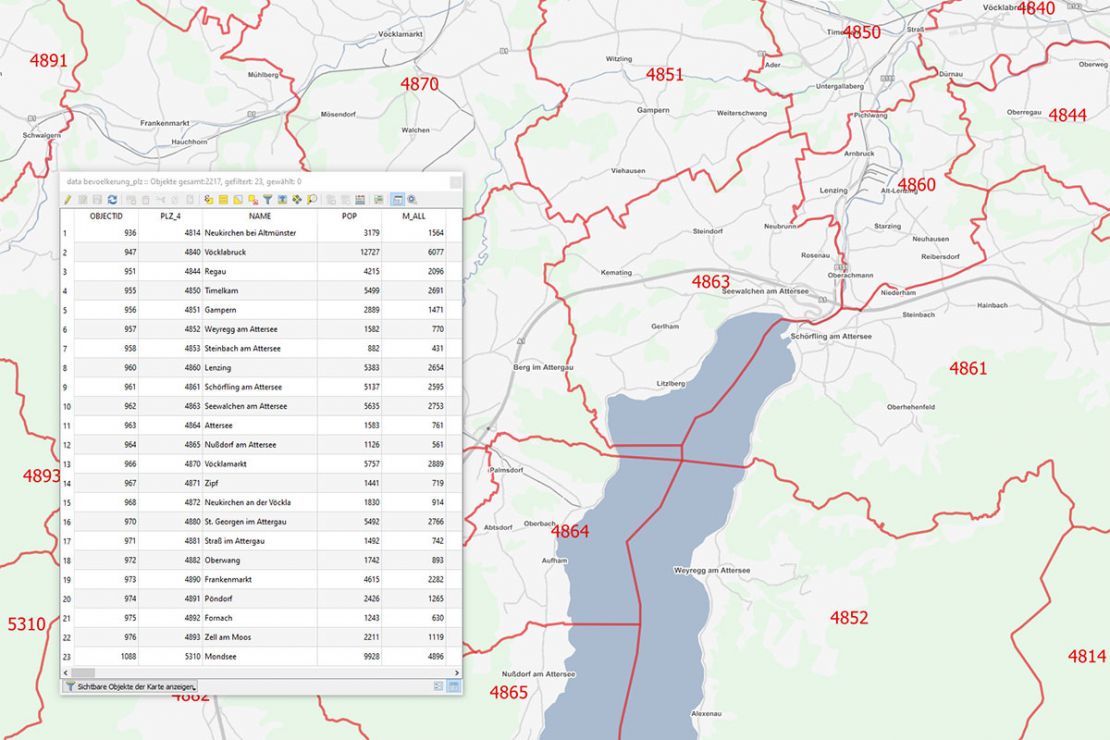 The geomarketing software displays the data from your spreadsheet on a digital map. Relationships are made clear at a glance.
Professional and Technical Support for QGIS in the Field of Geomarketing
WIGeoGIS offers investment security through professional expert and technical support as well as individual training courses. You receive the latest geomarketing technology and profit from its use, the high standards of the worldwide GIS community and the long-term geomarketing know-how of WIGeoGIS.

WIGeo QGIS in Detail
WIGeo QGIS is a comprehensive, powerful GIS software. You can view, capture, and edit spatial data. See our overview of WIGeo QGIS features.
WIGeoGIS also develops individual extensions for QGIS based on your precise needs. Often, these extensions serve to simplify work processes.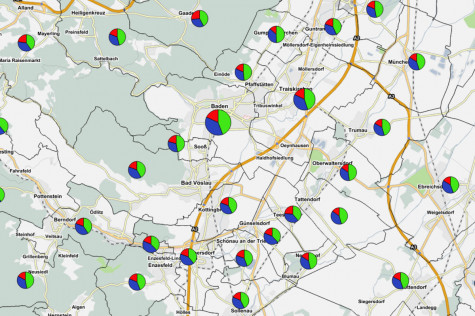 User-friendly GIS Software
With QGIS you can:
Analyze data spatially + display it on digital maps
Use a wide selection of symbols

Label comprehensively
Automate recurring analyses (e.g. calculating catchment areas)
Enhance presentations + reports

and much more ...
Market Data and Geodata
A GIS without data is worthless. With QGIS you can:
Integrate different data
Visualize and query data
Analyze data
Edit, manage, and export data
Create map layouts and reports
QGIS supports numerous geodata formats
PostgreSQL/PostGIS database
Oracle Spatial database
Esri FileGDB
Esri Shapefile, MapInfo, GML
Approximately 70 raster formats for height models, aerial images and satellite images
OGC-compatible: WMS, WMTS, WFS...

WIGeo QGIS Plugin - Even More Geomarketing!
Address search, digital maps and aerial photos (worldwide)

Calculate catchment areas
Calculate distance matrices
Function aggregate potentials
Access to the geocoder JoinAddress Web and annual geocoding (5.000 quotas)
QGIS is a comprehensive open source software for geo-information. Especially for your geomarketing analyses, we have extended the software with some frequently requested functions.

Address Search
The address search is worldwide. The search result can be stored directly as a point and thus simply reused.
Catchment Area Calculation

Catchment areas are calculated based on the road network. Pedestrian, bicycle, car and truck routing are available. The truck routing takes truck-specific restrictions into account, such as driving bans and the like. You can choose between the fastest or shortest route. You can also choose whether you want to calculate the catchment area in minutes or meters. The QGIS extension presents the catchment areas as donut.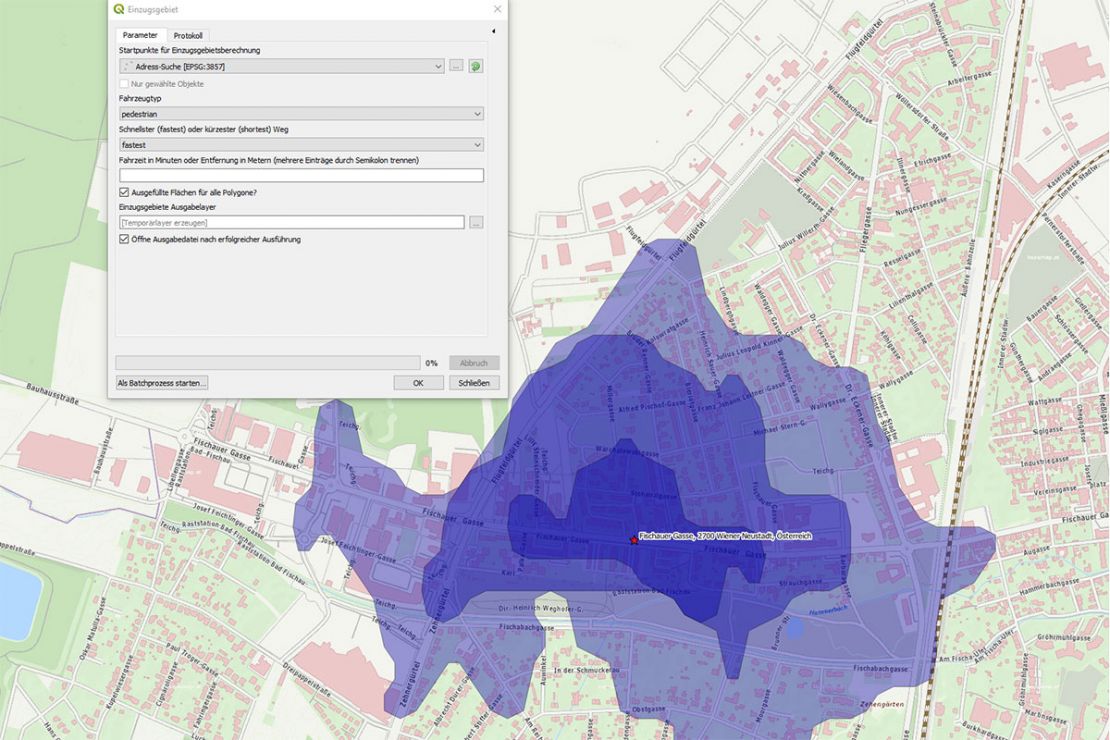 WIGeo QGIS calculates catchment areas worldwide based on the road network. You can choose the calculation for pedestrian, car and truck.

Calculate Distance Matrices
Distances between points A and B are calculated by listing all possible routes with times and distances (many-to-many scenarios). Optimize your route planning and increase your efficiency and profitability.

Batch Geocoder for WIGeo QGIS
Geocoding is always included with WIGeo QGIS regardless of whether you choose the basic or standard version. The difference is only in the number of addresses. You access JoinAddress Web, the modern online geocoder from WIGeoGIS. JoinAddress Web provides high-quality geocoding of addresses worldwide that you can also upload from Excel or text files. Geocoding in QGIS is easy, comfortable and accurate.

Custom QGIS Extensions
Missing a feature? WIGeoGIS also develops extensions specifically for your business. Simply contact us!

WIGeo QGIS: The Ideal Building Block for Your Geomarketing Analyses
"WebGIS is great for simple, standardized questions. WIGeo QGIS is a customizable, desktop-based GIS software that is suitable for complex questions. We evaluated the GIS software available on the market. QGIS is our first choice for our customers." Wolf Graf, Managing Director WIGeoGIS

QGIS Training
Individual Training for GIS Software
WIGeoGIS also offers comprehensive QGIS training courses. The training is individually tailored for you and your needs. The QGIS training courses are held exclusively for your employees so that the software can be used on real examples and applications.
WIGeoGIS has conducted individual system and methods training courses in the GIS and geomarketing fields for over 25 years. The courses provide the participants with the tools and knowledge they need to start working right away geomarketing and GIS.
WIGeo QGIS - Geomarketing Plugin
We will be happy to provide you with detailed information about the WIGeo QGIS and our training courses.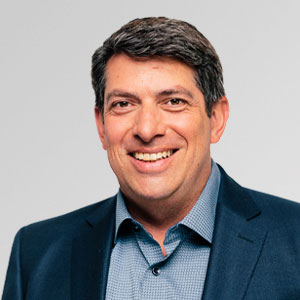 Uwe HAIN
Key Account Manager