Location Factors: Data for retail and gastronomy – WIGeo Location Atlas
The data from WIGeo Location Atlas takes your location analyses to the next level. Immediately recognize the best locations for your new business.
Retail, gastronomy and consumer-related service providers look for store locations where their own target group already lives and shops in order to optimize their branch network. With the data from WIGeo Location Atlas, you will know exactly where to find such locations.
The market data in WIGeo Location Atlas make it possible to analyze any location in Germany, Austria and Switzerland according to the most important location factors, faster and more accurately than ever before.
WIGeo Location Atlas thus forms the basis for location assessments in cities, districts, neighborhoods and even streets.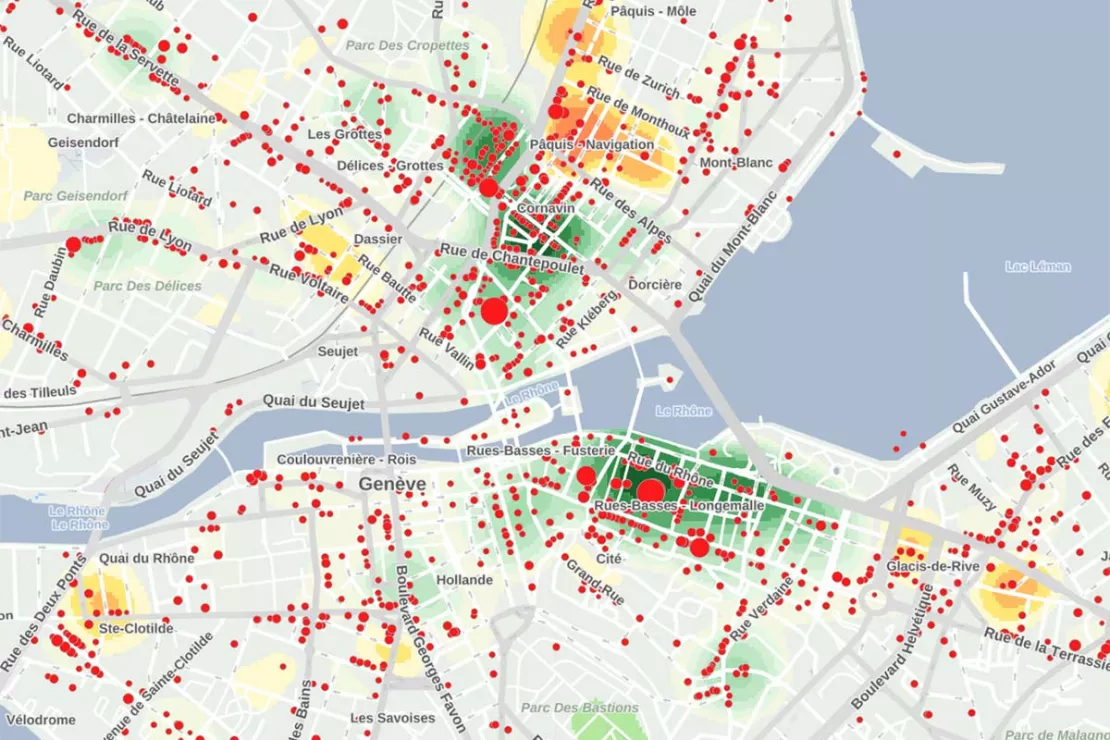 The Data From WIGeo Location Atlas Reveals All That and More
WIGeo Location Atlas contains data on the following location factors for the entire DACH region:
Supply density: sales area density for retail, gastronomy and consumer-related service providers
Branch density: branch establishments vs. owner-managed businesses
Supply and demand categories: product groups differentiated according to purchase frequency and center relevance
Offer level: locations differentiated according to quality and price level
Trend locations: locations for lifestyle and trend-oriented target groups
Geneva: sales areas (red dots) and upscale locations (green heatmaps)
Try out location analysis with WIGeo Location Atlas for FREE with no obligation!
The Location Factors in Detail
With WIGeo Location Atlas, you can individually search everywhere in Germany, Austria and Switzerland for location-related factors that are relevant to you.
For this purpose, WIGeoGIS has categorized millions of points of interest (POI). These "interesting points" (commercial locations, restaurants, consumer-related service providers, ATMs, petrol stations, sights or public facilities) are from the publicly accessible digital world map OpenStreetMap (OSM). They were then refined to create the data product WIGeo Location Atlas.
The result is an interactive map that shows you how the following location factors are distributed in a target area:
1. Supply Density
Supply density shows you the sales area density of a location, making it one of the most relevant location factors for success in retail and gastronomy. The supply density heat map (density map) shows where retail companies and retail-related services are concentrated in the target area.
The data shows you where to find the shopping streets in a city, where to find the specialty stores and shopping centers and where to find attractive and highly frequented locations.
Aachen: As a location factor, supply density shows everything from individual providers (in yellow), to main shopping areas and shopping centers (in magenta).

2. Branch Density
As a location factor, the branch density shows the distribution and concentration of owner-managed businesses and chain stores in two different color scales. This allows you to quickly see where the main and secondary shopping locations are in a town or municipality.
Aachen: As a location factor, branch density shows where there are more owner-managed businesses (in blue), and more chain stores (in red).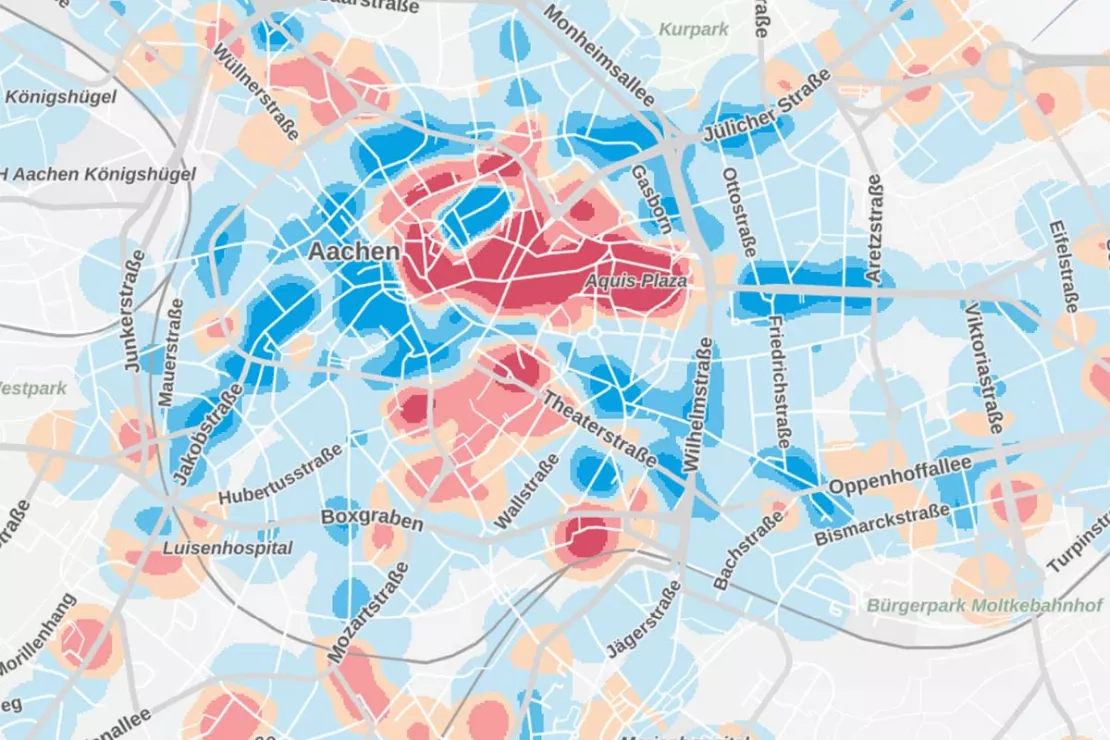 3. Supply and Demand Categories
As a location factor, the supply and demand categories differentiate product groups according to purchase frequency and center relevance.
Local supply centers (in green): daily and short-term needs, e.g. bakeries and grocery stores
City center demand (in blue): medium and long-term items such as clothing and shoes, mostly in pedestrian zones, shopping centers and retail parks
Other demands (in red): large-scale retail formats for goods for long-term needs that are not relevant to city centers and are oriented towards customers with cars: hardware stores, garden centers, furniture stores, etc.
Aachen: As a location factor, the demand category shows local supply (in green), city center demand (in blue), and other demands (in red).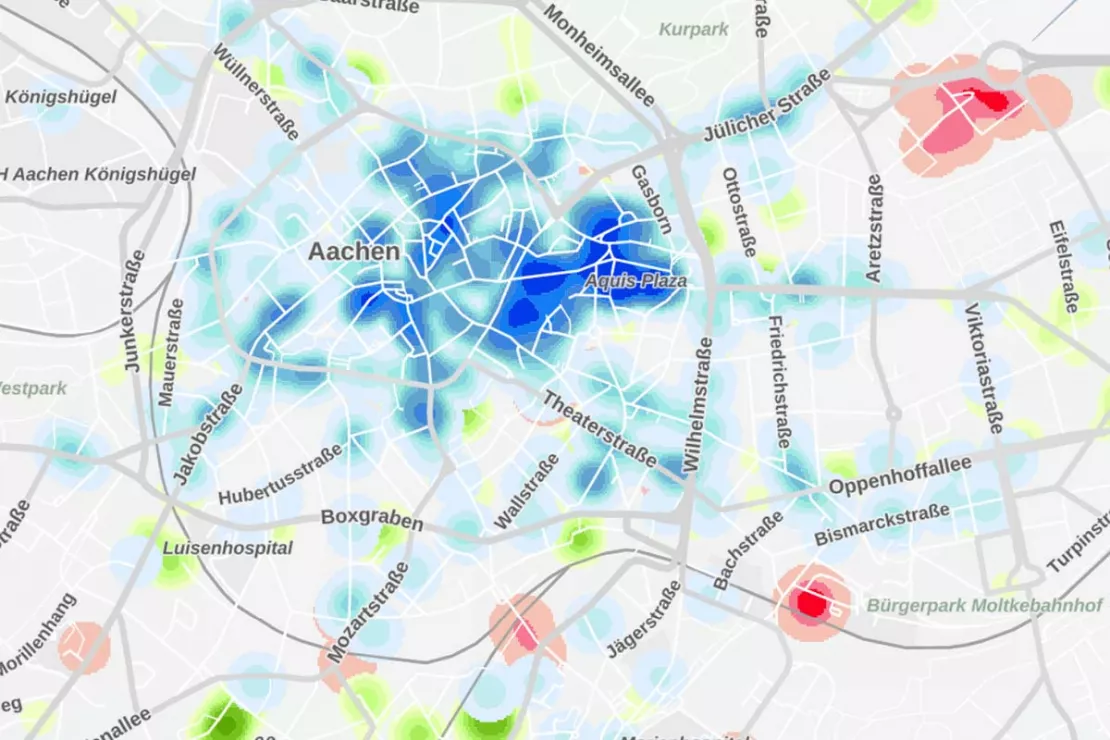 4. Offer Level
As a location factor, offer level differentiates the retail and gastronomy offer according to simple locations, consumer locations, upscale locations and luxury locations. In short, different target groups buy in luxury locations with Gucci, Prada and Hermès shops than in simple locations with arcades, betting shops and one-euro shops.
Aachen: As a location factor, offer level shows locations ranked from simple (in red) to luxury (in green)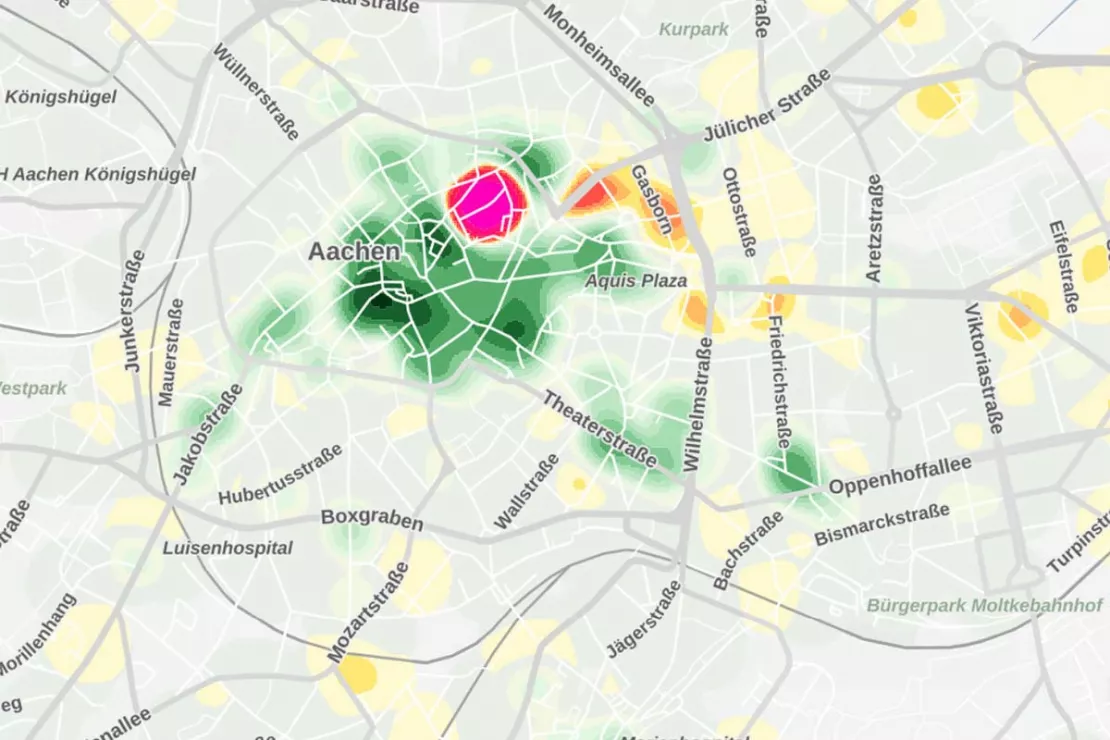 5. Trend Locations
As a location factor, a trend location is an accumulation of shops with extravagant products from the areas of clothing, shoes and leather goods as well as home and fashion accessories. Here you will mostly find owner-managed shops such as boutiques and mono-label stores, but there are also chain stores with special product ranges. The offer is not aimed at the general public, but at lifestyle and trend-oriented target groups. The commercial offer is usually supplemented by hip restaurants and other services.
Aachen: As a location factor, the darker the trend location, the hipper it is!
Would you like to try out Location Analysis with the WIGeo Location Atlas? Request your test account for free with no obligation.
How does location analysis work in WIGeo Location Atlas?
With the WIGeo Location Atlas data set in combination with our software tools such as WIGeoLocation, WIGeoGIS has created new possibilities for location analysis. It allows you to quickly find those locations that meet your requirements and correspond to what you have to offer. The data perfectly complements common location factors such as age and population structure and purchasing power.
WIGeo Location Atlas uses a heat map, much like a weather map, to show you at a glance those areas where your location factors are best met.
"WIGeo Location Atlas helps to identify patterns in retail structures. You get a structured overview of the retailers competing with each other in a city. Not only based on different product categories, but also, for example, the size of the sales areas and the depth and breadth of the product range."
Marc Urner, Senior Manager, WIGeoGIS
WIGeoGIS has been supporting companies in location analysis for decades. In order to reach as many potential customers as possible, WIGeoGIS uses white spot analyses or location-allocation-models for branch network planning. However, with WIGeo Location Atlas you can achieve more accuracy because it is immediately clear whether alternative locations meet specified location criteria.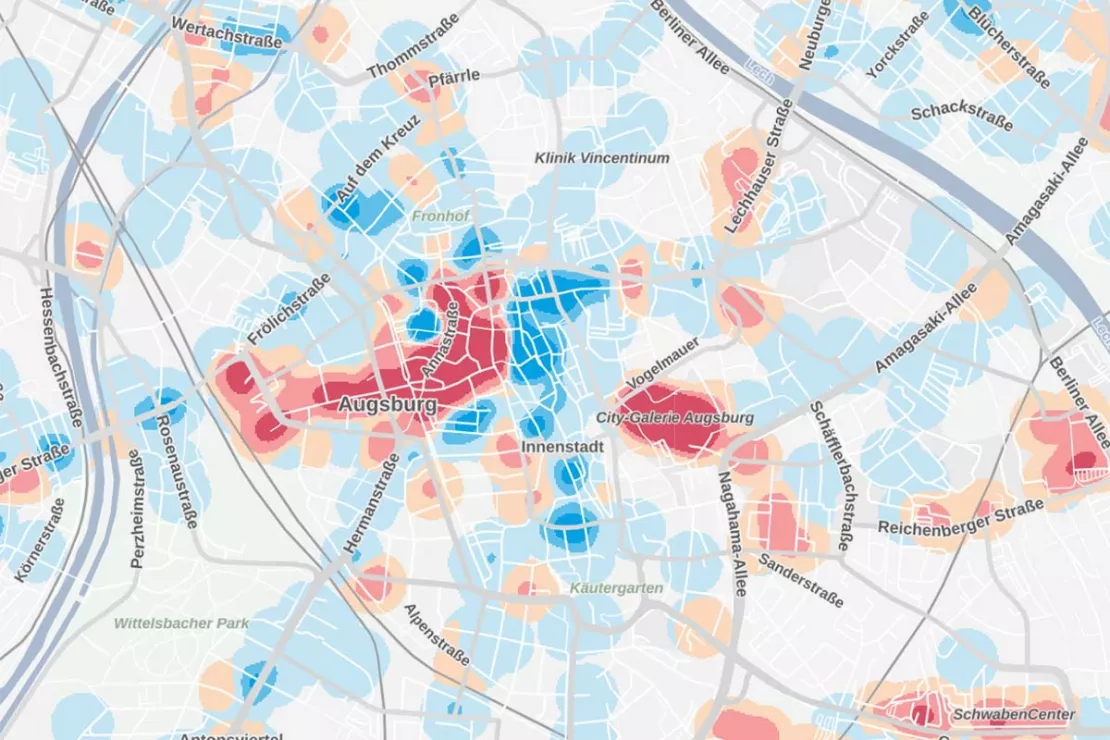 Augsburg: A view of the branch density in the city center shows you where shopping centers and pedestrian zones are competing for customers.
What is the typical process from expansion planning to deciding on a location?
The choice of location takes place via a multi-stage planning and decision-making process and is much faster and more accurate with WIGeo Location Atlas.
You determine how many locations with which operating formats you want to open in a certain area.
You define the relevant location factors and knock-out criteria.
WIGeo Location Atlas helps you determine the target areas that best meet these location factors.
Finally, you look for properties for your new locations in the most suitable streets.
Detailed data on the population structure and on the average per capita spending for certain product ranges in the catchment area provide you with additional information on the expected turnover and sales potential. The quality of alternative potential locations can be directly compared in no time at all.
Finally, you make a well-founded and fact-based location decision.
An example: You are responsible for the location planning of a chain with medium-sized specialty stores for children's toys. Your retail company appeals to young parents who pay attention to low prices. You already have branches in a number of German cities and want to open a location in Zurich for the first time.
Without knowledge of the area, where do you start with the location search? With WIGeo Location Atlas of course!
Here you can search for the location criteria that are relevant for you. For example, you are looking for a shopping center, a retail park or a district center with a high degree of chain stores, where other specialist discounters are located, for example for furniture or sporting goods, i.e. a retail agglomeration with good accessibility by car where product groups relevant to the center are offered in large stores. WIGeo Location Atlas immediately shows you the areas in Zurich where these location criteria are met. Just like that, you already know the best place for your new branch and can get started with the concrete search for a business property!
Who can best take advantage of the benefits of WIGeo Location Atlas?
First and foremost, retail experts such as location developers, expansion managers and analysts from retail, gastronomy or consumer-related services benefit from the advantages of WIGeo Location Atlas. For all these companies, the choice of future-proof locations is the most important prerequisite for success.
WIGeo Location Atlas is also a valuable data source for providers of public services when it comes to the proactive development of cities and communities.
Urban developers, regional planners, business developers and experts can use WIGeo Location Atlas to gain an overview of central supply areas, the existing variety of offers in district centers, the quality of the local supply and the risks of setting up large-scale retail companies outside of established structures. This ensures transparency and planning security.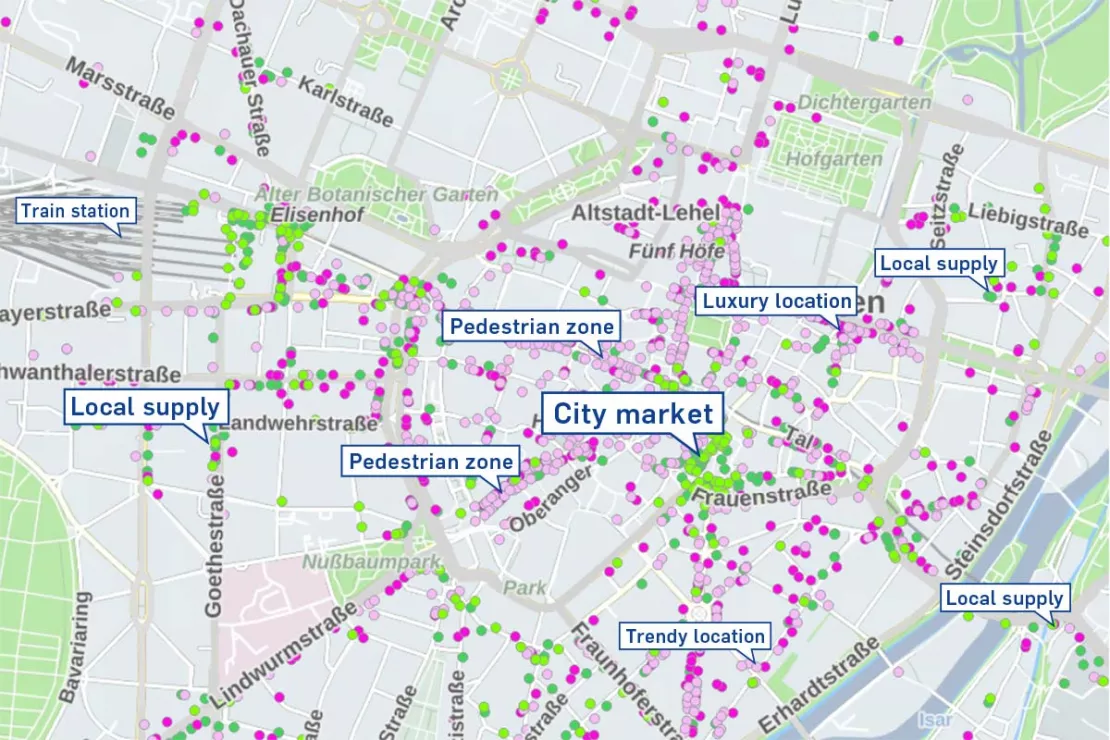 Munich: Retail companies according to how often there is a demand for their products. There is a demand for fresh goods at both the supermarket and the train station (short-term demand in green; medium and long-term demand in magenta)
What are other concrete use cases for location analysis with WIGeo Location Atlas?
1. Location analysis for location selection
You want to open a new location in Hamburg and have three potential locations to choose from. An important criterion for you is to open your new branch in an area with smaller owner-managed shops and a trendy flair. With WIGeo Location Atlas, you can rate the three locations according to exactly these categories.
"The great thing about WIGeo Location Atlas is that the result is clearly presented visually using heat maps and is based on specific key figures. You can evaluate your potential and existing locations according to the values stored in the heat map, so that it becomes clear which of them is most likely to meet your location factors."
Kai Barenscher, Senior Manager, WIGeoGIS
2. Location Analysis for Existing Locations
Existing locations can also be evaluated with WIGeo LocationAtlas with regard to important location factors. This can provide important information and conclusions about locations and also explain current sales developments.
"In the case of existing locations, it is usually clear which customers visit them, but not which ones pass them by. With WIGeo Location Atlas, I can use data to see what has happened in my catchment area and how the area is developing, for example whether it is slowly changing from an ordinary consumer location to a trend location."
Kai Barenscher, Senior Manager, WIGeoGIS
Try out location analysis with WIGeo Location Atlas now! Get your free trial access now!
Use case Lotto Baden-Württemberg
Companies are already benefiting from WIGeo Location Atlas, such as the state-owned Toto-Lotto GmbH Baden-Württemberg. The lottery company of the Federal State of Baden-Württemberg currently operates around 3,150 acceptance points.
"The dynamics of terrestrial retail require continuous location review as there are shifts every month in each region: Acceptance points are no longer available or have to be re-staffed, others are newly opened."
Stefan Laderer, Central Sales Management, Lotto Baden-Württemberg
That is why in addition to taking advantage of the benefits of other WIGeoGIS products, Lotto Baden-Württemberg uses WIGeo Location Atlas specifically for area optimization and area development.
Further information about location analysis and WIGeo Location Atlas:
Location Analysis with WIGeo Location Atlas: Request test access!
FREE test access*
Non-binding and free of obligation
Consultation by phone or video call
Do you want to know more about location analysis with WIGeo Location Atlas? I will gladly support you. Please contact me!
* Information about the free test access: Standard regions with selected data in Germany or Austria will be made available. In Germany, these regions are districts in Munich and environs, and districts of Vienna and environs in Austria. The products of WIGeoGIS are intended for companies and are not suitable for private use. If you need a one-time market analysis, we will gladly make you a service offer.
FAQ
Which software can I use with the data from WIGeo Location Atlas?

WIGeo Location Atlas is a uniform data product for Germany, Austria and Switzerland that contains different sales-relevant location factors at the street level and presents them in a way that is clear and understandable. You can use the data in your GIS system or online with WIGeoWeb or WIGeoLocation.


What technology is behind the location analysis with WIGeo Location Atlas?

WIGeoGIS spent three years developing WIGeo Location Atlas and built machine learning models for it that were trained with millions of pieces of data. Now you can quickly identify those areas that best match your location factors. You can find out more about the technical development of WIGeo Location Atlas here.


What data is WIGeo Location Atlas based on?

WIGeo Location Atlas is based on publicly accessible information from the digital world map OpenStreetMap (OSM). This is a freely usable collection of geodata in which so-called points of interest (POIs) are collected and entered. A POI corresponds to a single point on a map and is a simplified image of the corresponding real-world object.

POI are, for example, retail stores or shops with retail-related services, restaurants, hotels and tourist accommodations, petrol stations, ATMs, multi-story car parks, contact points such as doctors, clinics or pharmacies, car repair shops, leisure and cultural facilities such as museums, cinemas, sports facilities or public administrative facilities, education and health and social services.

A wide variety of location factors correspond to each of these POIs. It is precisely these factors that can be searched for in WIGeo Location Atlas for better location planning.


How detailed are the results in WIGeo Location Atlas?

WIGeo Location Atlas works with standardized maps. The results are displayed in the form of heat maps that show the target areas with the desired location factors on a digital map using color fields, similar to what you may have seen for weather forecasts. If necessary, the individual locations of retail, gastronomy and consumer-related services can also be displayed.
If the standardized maps do not 100 percent answer the questions for your individual location analysis, we can perform more detailed surveys individually for you. For example, it would be possible to locate all the Italian restaurants in a city. Simply contact us at WIGeoGIS and we will be happy to help!


How are POIs categorized in WIGeo Location Atlas?

During the 3-year development of WIGeo Location Atlas, the primary focus was on correctly assigning the location criteria to the points of interest (POI).

The POI in OpenStreetMap formed the basis for the categorization. They were entered and provided with additional information and categorization by around eight million voluntary "mappers" around the world. The data is comprehensive, but not equally complete and up-to-date for every geographical region.

The OSM categories assigned by the "mappers" form a good basis. WIGeoGIS checked and corrected the category assignments and introduced numerous additional categories to enable customers from retail, services and the public sector to carry out optimal location analyses. Machine learning and artificial intelligence were also used to achieve this.


What role did automation and artificial intelligence play?

With millions of POI to be correctly categorized, the development of WIGeo Location Atlas would have been impossible without techniques from the field of machine learning. It would have been far too time-consuming to do it manually.

WIGeoGIS therefore created a reference database that artificial intelligence can use as a guide in order to automatically categorize raw data and translate it into accurate information. But even these had to be continuously checked by humans. These "humans in the loop" are Marc Urner, Senior Manager at WIGeoGIS and mastermind behind WIGeo Location Atlas and a team of data analysts from WIGeoGIS.


What distinguishes WIGeo Location Atlas from a white spot or location-allocation analysis?

WIGeo Location Atlas is suitable for exploratory analyses, for example to quickly find ideal target areas for potential locations. A white spot or location-allocation-analysis can build on this.