Location Analysis for the Real Estate Industry
Successful Digitization
GIS, geo data analysis and data management are fields that are becoming more and more relevant for the real estate industry. WIGeoGIS has over 25 years of experience with classics such as location and market analysis. However, our software also finds efficient answers to many other questions relating to real estate. With our tools and solutions you can lead your business to success in the digital age.

Data Analysis is Stirring Up the Real Estate Industry
Every property has a coordinate.
Coordinates are our business, and have been for decades.
PropTech is on everyone's lips. The investor market is buzzing, not every investment proves to be sustainable. However, central, qualitative data management as the basis for intelligent applications and the optimization of processes through automation are indeed fields that every real estate company will have to tackle sooner or later.
You could say we are a PropTech with 25 years of experience. Since the 1990s, we have been dealing with economic geotechnology and recognized the potential of spatial data early on. More than any other branch, the real estate industry is concerned with spatial information.
With GIS (Geo Information System) you can make the market transparent and your internal data visible, which is extremely important, because only visible information can be used. A map is worth more than a thousand words. The presentation and data analysis is done on interactive maps, location tables or other systems you already use.

Our expertise in integrating the systems into your existing IT landscape is crucial to your success.
When can our services help you?
You work in the real estate industry and are involved in knowledge management
You want to perform geomarketing analyses, such as location analyses, market analyses or accessibility analyses, for your real estate properties. You are looking for an intuitive and powerful software.
You want to implement a solid data management in your company because your data is scattered, inconsistent, redundant, incomplete, in different formats and therefore unusable
Smart & digital: You want to optimize and automate processes in order to save costs and to be able to react more quickly to the market

Location analysis for real estate: Live demo free of charge & without obligation
4 Good Reasons to Contact WIGeoGIS
We have many years of experience in numerous geo data science projects in the real estate industry.

Our standard software, which we customize for your specific requirements, is a solid basis for many real estate-related problems.

We have reliable partners and are well connected in the PropTech scene. If necessary, we can also integrate other offers into the overall architecture.

GIS, geomarketing and data analysis - this is our passion. We deal with these areas all day, every day! Our solutions are state-of-the-art and we are always on the lookout for new innovations.

1. Location and Marketing Analysis and Other Geomarketing Analyses
In real estate, everyone knows it is all about location, location, location. Location and market analysis is a central and indispensable tool in project development. GIS software like WIGeoLocation is ideally suited for the analysis of micro and macro factors relevant for the real estate industry.
However, in Germany in particular, property or real estate data is in short supply due to the non-transparent market. At the moment, innovative companies are gaining an advantage by neatly structuring their self-collected property data and storing it in a reusable manner. In doing so, they create valuable databases which, for example in the form of comparables, are considered in analyses.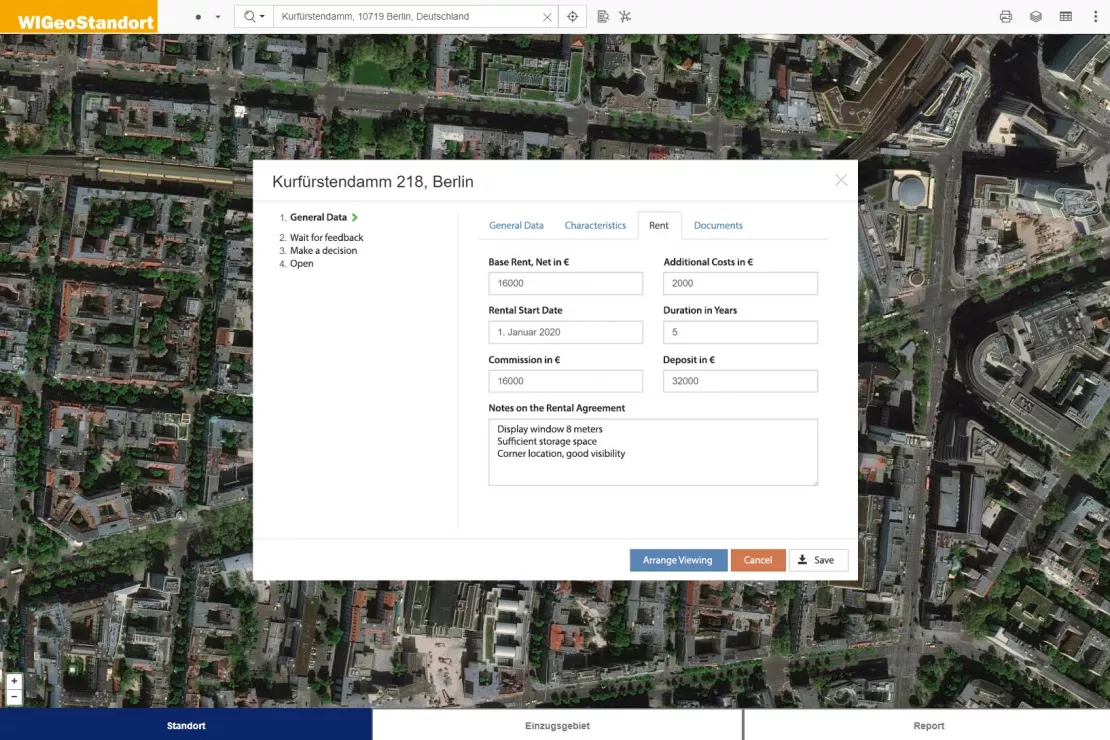 The picture shows an individual extension to our standard site analysis software WIGeoLocation. The module supports your expansion processes and real estate management. Master data, real estate properties, costs and documents for individual properties are managed centrally in one tool and can therefore be found immediately at any time. Decision processes are facilitated.

Right Business for the Right Location
"For a real estate project to succeed, the location and the business have to be a good match. We help you find the perfect match, whether you are looking for the best management concept for an existing property or, the other way round, for a suitable location for your concept."
Marc Urner, Key Account Manager, WIGeoGIS

We're Moving! Whoohoo or Oh-oh? - Accessibility Analysis
If a company changes its location, it is important to make sure that it is still just as easy for the employees to reach as it was before. Here too, GIS Software delivers efficient reliable results.

Visualize Spatial Data Easily and Effectively
With geomarketing software you can easily display your data on interactive maps. Relationships that were previously hidden become recognizable at a glance. A professional presentation supports your marketing and sales.

Our Software - Tried and True, Yet Still Flexible
"What convinced me about WIGeoGIS is that WIGeoWeb offered us a very powerful standard software that we could use to set up our project. This not only enables quick results, WIGeoGIS also has a lot of experience in developing custom WebGIS software."
Felix Weber, Assistant Vice President, Aareal Bank

2. Raise the Data Treasure Trove - Efficient Data Management
In the real estate industry you often hear about "the gold of the 21st century". However, owning or collecting data is still a long way from being able to use it to generate added value.
The first step is often to gain an overview of what data even exists, scattered across the different departments. This data is usually incomplete, inconsistent and redundant. It does not match, it can not be compared or it is in systems that do not "talk" to each other because they lack an interface. ETL is an important keyword here: Read data from various sources (Extract), prepare (Transform) and load it for further use in a database or data warehouse (Load).
We help you
to view your data
to supplement it with other data sources available on the market
to merge it in one system
to make it transparent and consistently retrievable
and to visualize it accordingly.
Geotechnology is ideal for these tasks, especially in the field of real estate. The coordinates serve as the start and aggregation point of the data analysis.

3. Optimize Processes with GIS and Geotechnology
The digital transformation is increasingly shaping the real estate industry. It is not just about cost reduction through automation. Those who want to survive on the market must also be able to act quickly. Whenever the same tasks have to be done repeatedly, it is worth considering if they can be at least partially automated. Once the database has been set up cleanly, the data analysis and useful functionalities (e.g. evaluations) can not only be made available to the company employees, but can also be modified to share with business partners or customers.
Our case studies will give you an insight into the possibilities and we will also soon introduce you to further innovative projects.

Location Analysis for the Real Estate Industry: Request a FREE Live Demo!
FREE Live-Demo* of Location Analysis for the Real Estate Industry

Non-binding, without further obligations
Online presentation via video call
Do you want to know more about Location Analysis for the Real Estate Industry? I will be glad to support you.
* The products of WIGeoGIS are intended for companies and are not suitable for private use. If you need a one-time market analysis, we will gladly make you a service offer.
FAQ
Can the solutions from WIGeoGIS be integrated in Sales Force and SAP?

Yes, of course! This integration is commonly requested.


Can I also make transnational or global analyses?

Yes, many of our customers are active in markets in several countries.


Why is WebGIS software particularly well suited for data management in the real estate industry?

The most important data for a property is its location, or in other words its X/Y coordinates. That is why GIS is the ideal software for the real estate industry. A WebGIS, or browser-based online GIS, is easy to use and accessible from anywhere. With the WebGIS you can visualize your data on interactive maps. Relationships that are not recognizable in tables are revealed at a glance.


How is location and market analysis used in the real estate industry and why is GIS Software the best choice to conduct such analyses?

"Location and market analysis" is used in project development. It serves as the sum of all measures for analyzing the earning potential and risks for a property and is thus the basis for the property valuation.
A GIS software, such as a browser-based WebGIS, takes the coordinates of the property, i.e. its location, as a starting point and relates it to all the other macro and micro factors present as data records: Population structure, purchasing power, topography, economic development, infrastructure / traffic, location image etc. On the one hand, displaying data on digital maps allows relationships to be visualized and thus easily interpreted. On the other hand, data can be translated into open formats and linked to existing systems. This makes numerous other analyses possible.


What are Comparables?

Comparables are properties with characteristics that are so similar to those of a property to be valued that they can be used in property valuation processes. Data for comparables is a valuable data set in GIS real estate systems.


Does WIGeoGIS also operate its own central geodata platform?

No, but our platform uses an interface (WIGeoAPI) that allows us to integrate a broad portfolio of geodata and geodata services (e.g. TomTom, Bing Maps, Here) into your individual applications. We convert the formats of the commercial providers into open standards such as WMS, WFS, JSON, XML etc. For our customers, this means independence and flexibility in their choice and the best possible price-performance ratio. Together, we will find the provider that is best for you and license exactly the data you need.

We will introduce you to Location Analysis for the Real Estate Industry and help you find the solution that is best for you! Free of charge, non-binding and free of obligation!