Geomarketing tools for media agencies, advertising and media planning
Locate your exact target group
With geomarketing, advertisers can focus customer campaigns on the specific areas where their target groups are located.

Target Groups and Geography
The map shows the potential areas where the target group is strongly represented
With geomarketing, media agencies and providers of direct marketing and door drop activities and outdoor advertising campaigns can focus on the specific areas where their target groups are located. Our geomarketing tools provide relevant geographic information for specific target groups. The potential areas where the target group is strongly represented are displayed on a digital map.
The WIGeoWeb geomarketing tool enables advertising agencies to conduct cross-media campaigns with a single tool. Furthermore, the tool allows them to improve their customer communications and customer service.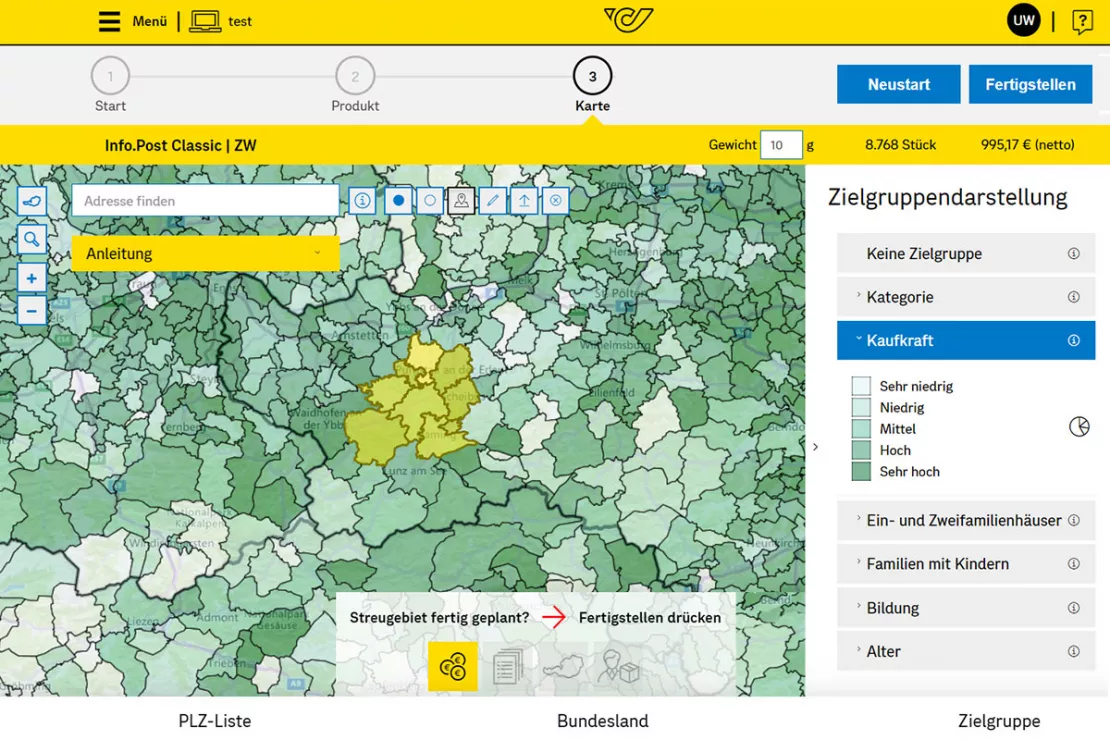 Media Planning
Geomarketing for Media Agencies
Media agencies benefit from geomarketing and the use of a
geomarketing tool like WIGeoWeb
, especially when planning and running advertising campaigns for specific target groups. Furthermore, with the help of web-based tools, media agencies can increase the effectiveness of a campaign and the efficiency of the agency as a whole.
A geomarketing tool supports media agencies in the following areas:
Localization of target groups

Campaigns for specific target groups
Cross-media planning for all regionally and locally available advertising media with a single tool
Optimized budgeting through spatial booking scenarios
Sales-related campaign assessment
Measurement of campaign effectiveness
Parallel management of different campaigns via multiple client capability
Semi-automated documentation and reporting for campaigns


Direct Marketing
Geomarketing for Providers of Direct Marketing
The biggest challenge for distributers of direct household advertising is avoiding wastage. This is only possible through complex geographic and target group-specific analyses. With geomarketing tools like WIGeoWeb, direct marketing providers can often perform such complex analyses in a few simple steps. In addition, a geomarketing tool helps simplify work processes and improve customer service. Geomarketing and an appropriate tool are therefore critical elements in modern direct marketing. Geomarketing tools particularly benefit direct marketing providers in the following areas:

Simplifying the complex analysis of geographical and specific target group data
Dynamic display of distribution plans and distribution areas on maps
Simplification of work processes and optimization of the logistics chain


Outdoor Advertising / Out-of-Home Media
Geomarketing in Outdoor Advertising
Providers of outdoor advertising need to optimally place and present their advertising media like billboards in order to convince customers to book their services. The location, surroundings and type of media must be appropriate for the product and campaign.
A web-based geomarketing tool makes a realistic and dynamic presentation possible. Furthermore, such a tool simplifies the planning process for the customer. This simple and direct communication with the customer provides competitive advantages.
Geomarketing tools like WIGeoWeb
particularly benefit providers of outdoor advertising in the following areas:
Simple campaign planning for specific target groups
Optimal presentation of advertising media and improved customer service
Time savings through simplification of work processes



Geomarketing tools for Media Planning and Advertising: Request a free initial consultation
FREE initial consultation on geomarketing tools for media planning and advertising

Non-binding, without further obligations
By telephone or video call
Are you interested in the advantages of geomarketing tools for media planning and advertising? I will gladly support you. Please contact me!