Geomarketing for successful direct marketing at Österreichische Post
Direct marketing stands for as little wastage as possible, yet the demands of customers on distributors of direct-to-household advertisements are increasing. Direct marketing providers can successfully master these demands using the geomarketing software WIGeoWeb, as evidenced by the example of Österreichische Post AG.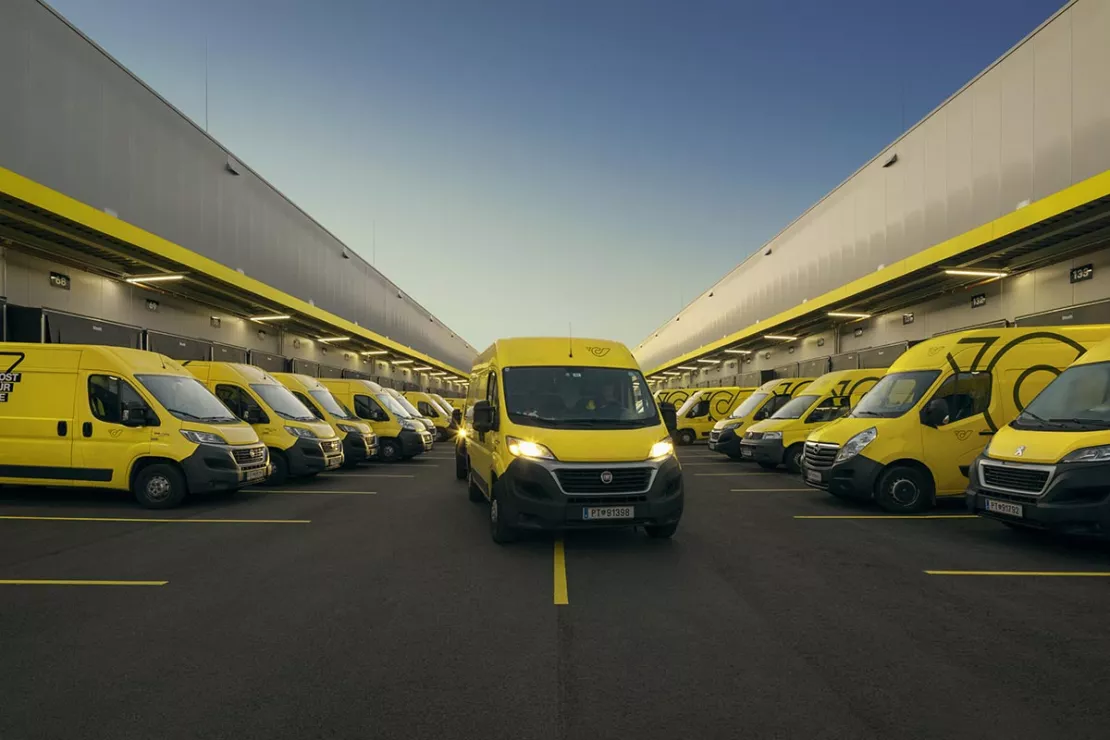 Case Study Overview
Customer: Österreichischen Post AG

Application: Direct marketing, customer service, distribution planning
Product: WIGeoWeb
Goal: Customised creation of exact distribution plans for advertising materials
Use: Customers, customer service of Österreichischen Post AG
Precise planning and modern customer service
Österreichische Post has been using a WIGeoGIS WebGIS since 2012
The trend towards flexible distribution and better customer service is an important topic in the direct marketing industry. Distributing flyers at the postal code level is no longer precise enough for many companies to address their target audiences. Customers of direct marketing providers want to reduce their distribution areas and define them more precisely. Linda Herwich, head of address management for Österreichische Post AG, knows this customer request. The company is the market leader in direct advertising distribution in Austria. Each year, Österreichische Post AG dispatches 4.5 billion advertising mails by order of its customers.
Post-internal WebGIS
At the end of 2012, Österreichische Post AG introduced WIGeoWeb as the first part of its new geomarketing strategy. With PostGeo, an innovative solution for helping small and medium-sized business (SMB) customers obtain optimal distribution plans quickly and easily was found.
"Österreichische Post AG seeks to offer all customers the best possible support... regardless of whether it's a major customer with 150 locations and weekly flyer distribution or an SMB customer that operates like a restaurant looking to have its menu distributed within walking distance of its place of business. Everyone should receive a custom-tailored solution for their needs. Many small companies, such as a barbershop or a restaurant, have up to now shied away from having flyers distributed, since doing so at the postal code level seemed like overkill to them. With the new tool, we can now offer these customers even better, smallest-scale distribution, in which customers are able to distribute informational material around their locations in a targeted manner," Linda Herwich, responsible for address management for Österreichische Post AG, said.
Small-scale distribution may seem simple, yet behind it lies exact map and address material, as well as complex geographical analyses.
Distribution to smallest-scale distribution areas, down to individual addresses
The basis for every distribution plan and every analysis is the available data material
For direct marketing providers, it is thereby decisive that the addresses be correct and as precisely geocoded to individual buildings as possible. Map services publicly available on the internet generally do not offer this level of precision. Only high-quality geodata material guarantees an exact distribution plan on which the logistics can be optimally based. Here, Österreichische Post AG works at the highest level with up-to-date geoaddresses it collects itself.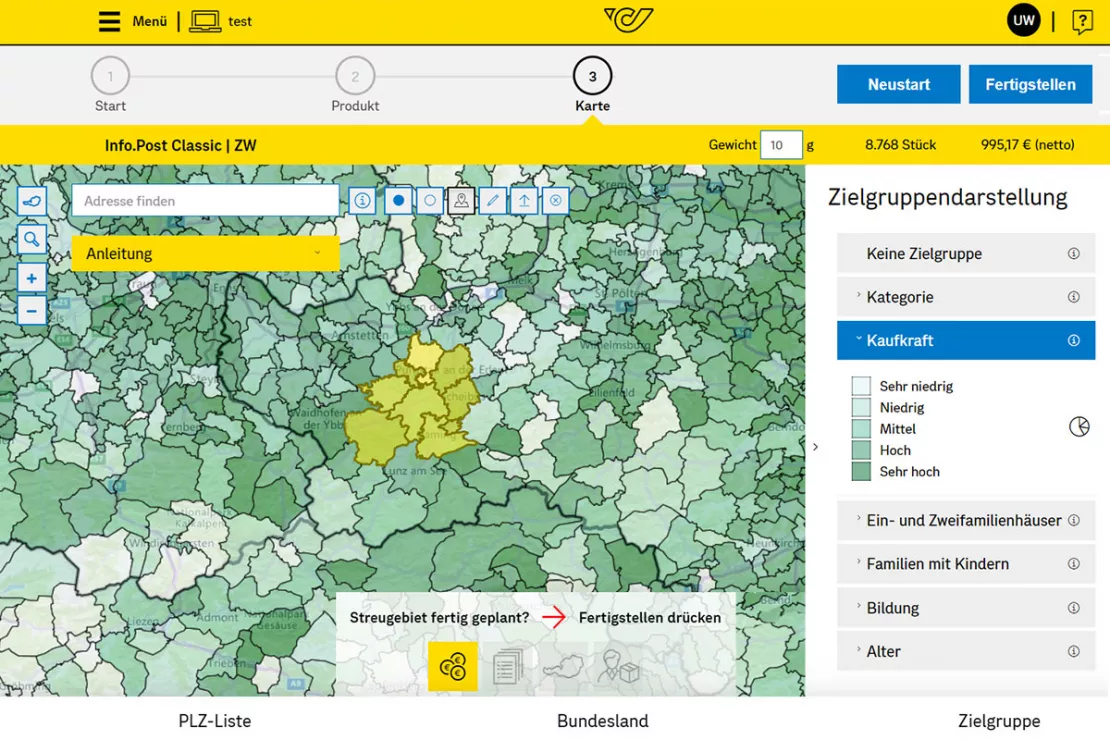 Simple execution of complex geographical and more target market specific analyses
A distribution plan is always generated depending on the customer's requirements. Based on the individual location of the customer, aspects such as reachability or the determination of the spatial or temporal catchment areas can be incorporated into the geographical analysis. With WIGeoWeb, such geographically complex analyses can be implemented quickly and easily, as the experiences of the Österreichische Post AG show. According to Linda Herwich: "Previously, complex geographical analyses could only be performed by a few highly specialized employees. Due to its intranet capability, the new tool, with its self-explanatory, modern user interface, is available to more employees who advise our customers in a competent manner and can generate analyses and distribution plans for them. This is how we focus on the customer during the consulting session and can convince them of the quality of our offer through modern technologies. This provides us with a clear competitive advantage."
Often, however, target audience characteristics that extend beyond pure geography should also enter into the analyses. In these cases, sociodemographic data, information on purchasing behavior or certain characteristics such as life phases and the dominant geomilieu are taken into consideration. This is also possible with WIGeoWeb. The tool displays the analysis results and a distribution plan recommendation directly on a map. Where the desired target audience can be optimally reached and how many addresses or households it contains can be recognized at a glance.
Dynamic generation of distribution plans on maps
The major advantage of geomarketing software is that the results of analyses are displayed on a map in real time. Rather than merely listing street names or addresses, a visualization of the distribution plan on a map is generated. The customer sees at a glance where his or her advertising material goes. As soon as the customer changes his or her distribution area, WIGeoWeb makes the corresponding change on the map in color. The number of households to be reached is also adjusted automatically.
"With the new geomarketing tool, client consulting turns out to be significantly simpler. The customer can follow everything on a monitor. The map representation is self-explanatory. Via the zoom function, even small-scale changes in the distribution plan can be represented. Our consulting service has become more professional via the tool."
Linda Herwich, responsible for address management for Österreichische Post AG

Simplification of work processes and optimization of logistics chain
The new tool brings Österreichische Post AG benefits not only to its customer service. Internally, processes could also be simplified and accelerated. Linda Herwich traces this to the following aspects: "The fact that the new tool runs online and is so easy to use made it possible to simplify the entire customer consulting process for our employees. Moreover, data updates take place automatically. This applies, for example, to providing new addresses, changes in the division of delivery areas or changes to the number of advertising materials delivered. Additionally, through an interface between WIGeoWeb and our logistics software, the logistics chain works better. Customers profit from the fact that the current number of units for the distribution areas is always available." Moreover, the distribution area desired by the customer is saved and is thus available for a new distribution at a later date. Advertising material can thereby be redistributed in the same area, independently of the changes made in the meantime (construction activity, changes in the logistical areas), or the saved distribution area can be used to optimize distribution.
Even more service for major postal service customers
What currently benefits SMB customers should in the future also simplify the sending of advertising materials for major customers of the postal service. Since the needs of these clientele differ significantly from the requirements in the SMB area, a team from Post and WIGeoGIS is currently working on implementing its own major customer solution. "The new development has to cover the demanding requirements of our customers and even exceed them. After all, we don't just want to satisfy our customers, we want them to be thrilled by our service," the Post's expert proclaimed. "With WIGeoGIS, we have a partner that fulfills our requirements for technical creativity and performance and blazes new paths in geomarketing together with us," Herwich concluded.
Media planning - further case studies
WIGeoWeb: Fill out the form, test it free of charge & without obligation!
Non-binding, free test for 30 days
Test ends automatically without cancellation
An employee will explain the tool in a short webinar*
* Information about the free test access: Standard regions with selected data in Germany or Austria will be made available. In Germany, these regions are districts in Munich and environs, and districts of Vienna and environs in Austria. The products of WIGeoGIS are intended for companies and are not suitable for private use. If you need a one-time market analysis, we will gladly make you a service offer.