Needs Planning in Healthcare with Geoanalytics
Made Easier with Location Analysis and WebGIS Software
Geoanalytics and geographic information systems (GIS) help authorities and organizations with healthcare planning and needs analyses to ensure people, regardless of where they live, always have access to medical facilities.
Location analyses provide healthcare providers with socio-economic, patient-focused and geographic information on the population structure in the area. This can be used to precisely tailor the healthcare services to the needs of the population.
We have been developing GIS software and providing consultation for healthcare stakeholders for over 25 years. Our solutions are as individual as your requirements and responsibilities.
Our customers include medical associations, associations of statutory health insurance physicians, statutory health insurance companies and associations as well as pharmacies and pharmaceutical wholesalers. With the help of geoanalytics and GIS, our customers save time and make better informed decisions faster.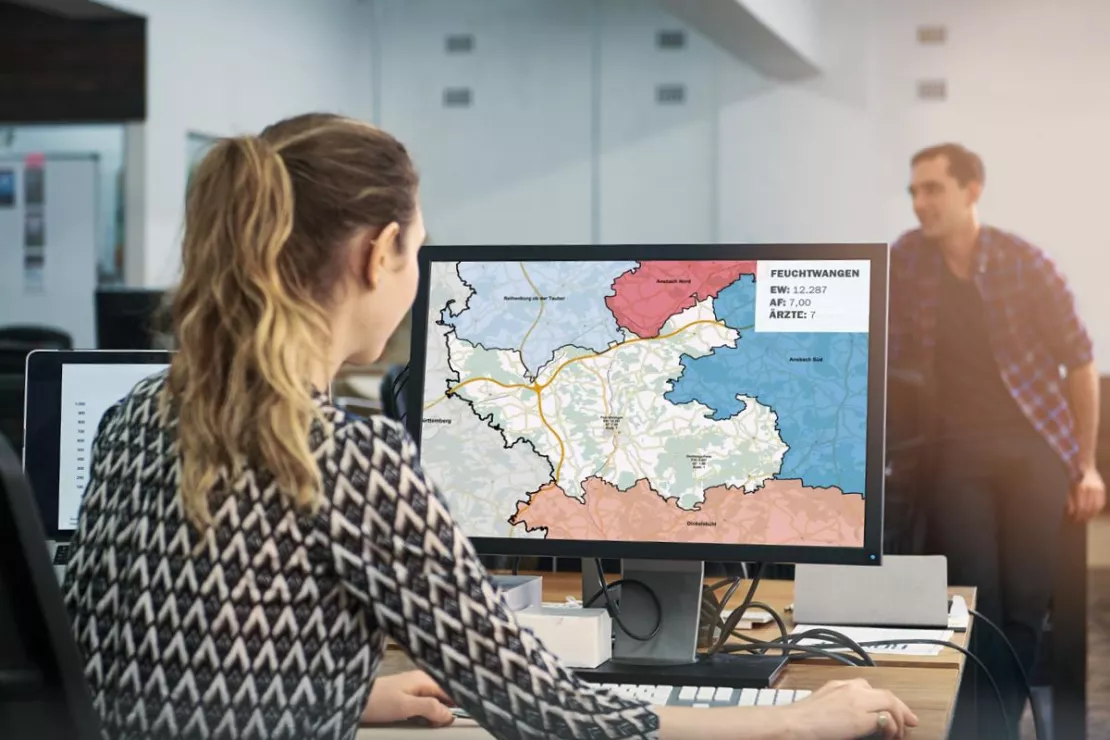 Benefits of Our Analyses and Tools
Information on the location environment, areas & regions
Knowledge of healthcare needs & potentials
Calculation & visualization of location density and the degree of coverage
Market data, address data, data management & hosting
Time savings & simplification of processes

Arrange a free consultation on needs planning in the healthcare sector
Geoanalytics and GIS help:
to harmonize and combine data (e.g. doctor and patient data) easily and consistently with the help of spatial references
to quickly find errors, abnormalities and inconsistencies when updating and reviewing accounting data
to recognize prevalence and spatial connections to diseases and to use them for health research and patient communication
to uncover relationship patterns and to react to them strategically, for example in referral management
These are just a few examples of how geoanalytics and GIS can be used in needs and healthcare planning.
To help you with your needs and healthcare planning as well as potential analyses, we offer location analyses, geodata, WebGIS software in combination with small-scale or microgeographical data on demographics and socio-economics. Geoanalytics helps to reveal spatial relationships that might otherwise remain hidden.

"Based on our billing and the use of population forecasts from WIGeoGIS, we are able to extrapolate the prevalence of various illnesses regionally up to the year 2040 in order to be able to determine how many doctors and which specialist departments in hospitals will be needed in the near future."
Dr. Boris Kauhl, Data scientist for strategic healthcare planning at the AOK Nordost

Needs Planning for Chambers, Associations and Statutory Health Insurance Companies
Location analyses and reports simplify and accelerate healthcare review and planning. GIS software helps to increase the quality and efficiency of healthcare by determining:
the location quality of doctor's offices and physiotherapy offices
the distances to healthcare services and distances between locations
the probability of visits at specific locations
the healthcare networks & degree of healthcare coverage
the socio-demographics, need for healthcare in the vicinity of the location
the future needs for job backfilling, job planning in associated reports for negotiations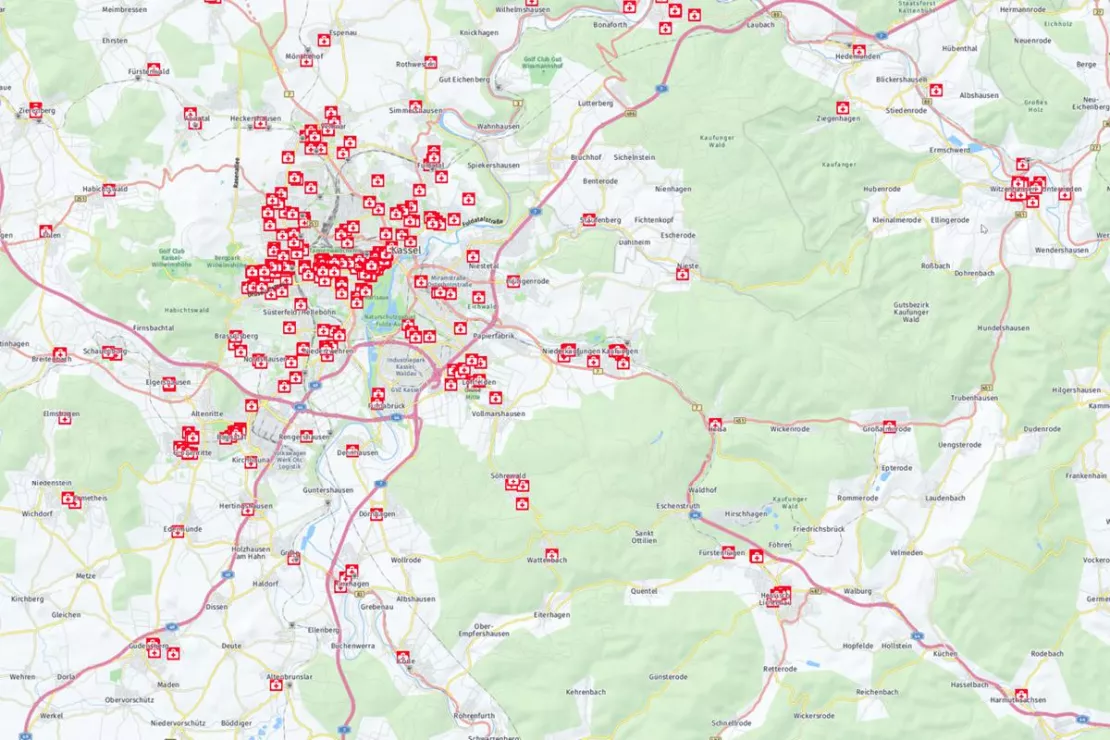 "We were able to reduce the high number of man-hours required, generate twice as many maps and gain more comprehensive information in less time. The reports are uniform and therefore easier to compare. All of this means that we can better fulfill our obligation to review and process applications faster."
Lucas Dimter, Specialist, Bavarian Association of Statutory Health Insurance Physicians (KVB)

Doctor Finder
WebGIS makes it much easier to manage information on medical and physiotherapy offices as well as rehabilitation and health sports centers. Healthcare providers can maintain their data themselves and keep it up to date. Doctor finders show, among other things:
Doctor's offices by specialty/specialization near a specific address with the help of the filter function
Information on whether a doctor is no longer accepting new patients
Opening hours
Vacation periods and substitute doctors
For example, WIGeoGIS has developed and implemented a Doctor Search Portal for the Upper Austrian Medical Association and the Salzburg Medical Association.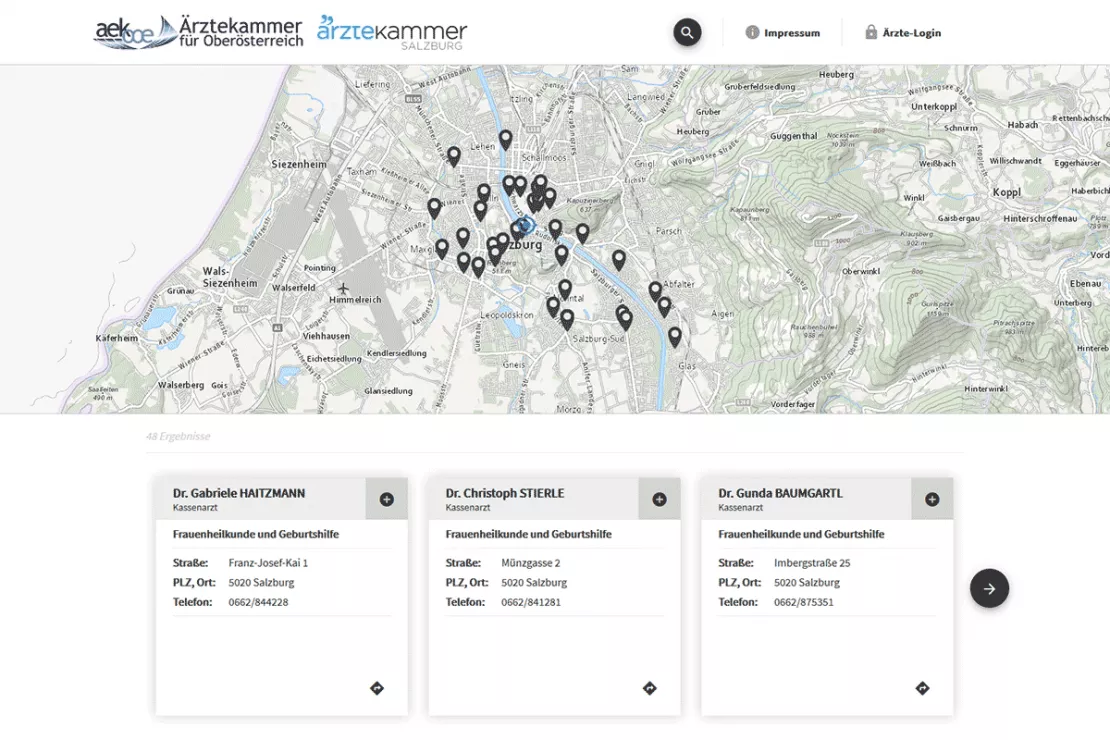 "Knowing the exact location environment of a pharmacy, from demographics to competitive positioning, is the most central element to success. The location analyses, which we create together with WIGeoGIS, provide important information for our consulting projects in order to optimally align the strategy of a pharmacy with the environment and thus increase sales in the long term. And we regularly succeed in doing just that."
Jens Wilke, Managing Director, Wilke Apothekenberatung (Pharmacy Consulting)

Location Analyses for Pharmacies
Pharmaceutical wholesalers and service providers for pharmacy consulting use our location analyses or GIS software for market potential analyses to:
optimize assortment and inventory
find white spots for lucrative pharmacy locations
make decisions on the takeover or purchase of existing pharmacies
relocate pharmacies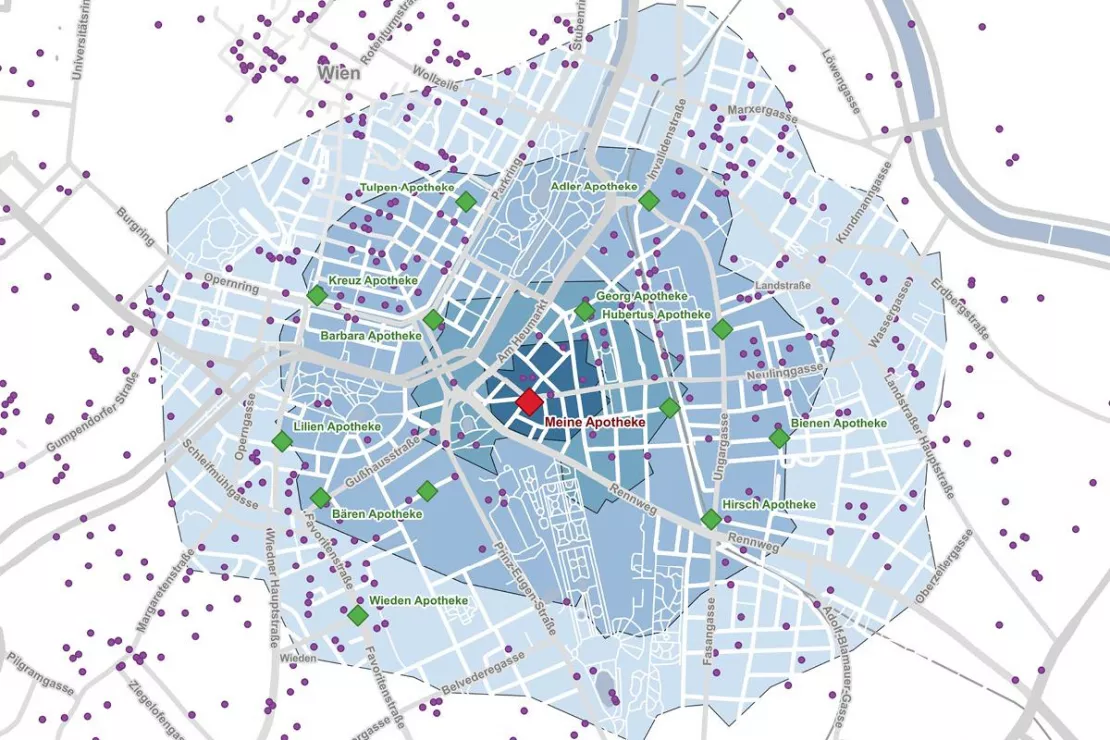 Curious? We are happy to provide consultation on location analyses for your needs planning!
WIGeoWeb - The WebGIS for Market Analyses
WIGeoWeb is our WebGIS-Software for Marketing Analyses. Many of our customers from the healthcare sector use WIGeoWeb to analyze the catchment area, i.e. the individual environment of a specific location or an entire region. The tool visualizes data on a map, making it easy and intuitive to understand.
Standard reports can also be generated with WIGeoWeb: be it the potential of individual locations or the structures of individual planning areas. This accelerates processes, saves time and helps you keep down increasing expenses.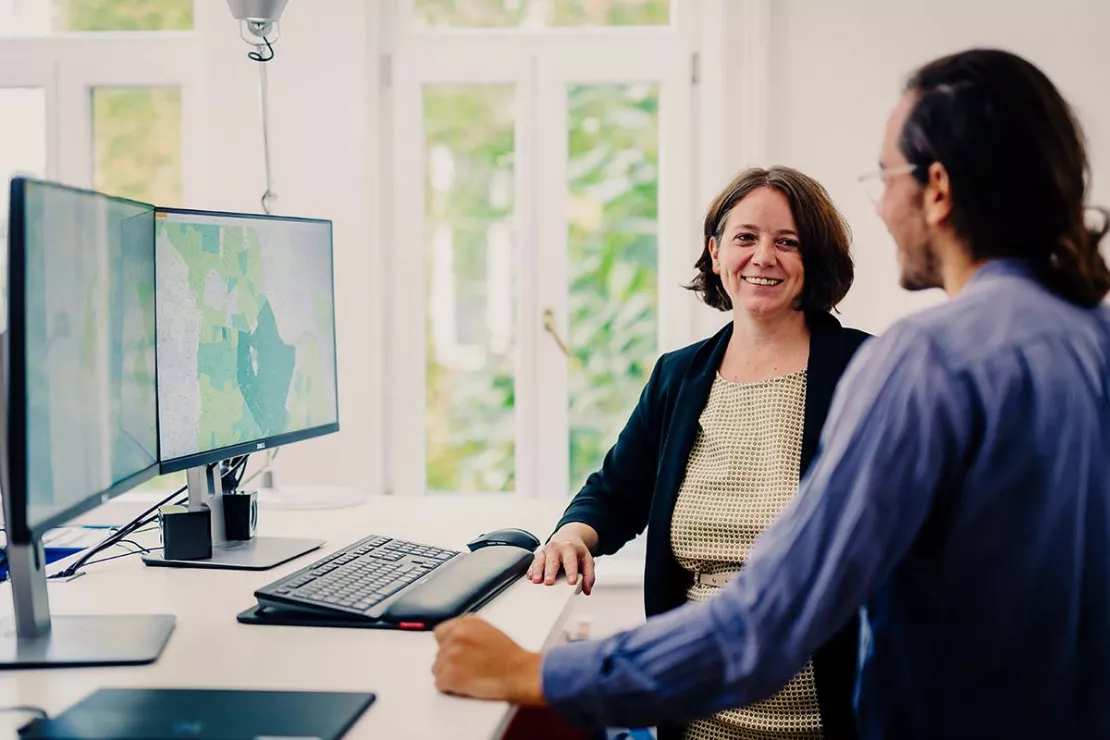 Case Studies Healthcare and Needs Planning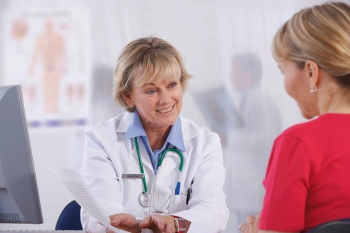 Upper Austria General Medical Council: Doctor finder online and mobile
Where can I find the nearest eye specialist who has office hours this next Monday and accepts my health insurance?
Learn more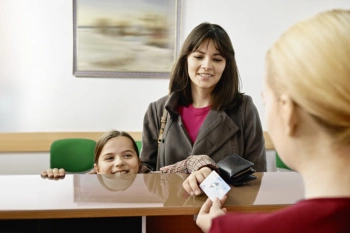 Geodata in Health Insurance - The AOK Nordost
Healthcare planning: The AOK Nordost relies on GEOmarkets and other tools from WIGeoGIS to optimally provide their policyholders with doctors and preventive healthcare services.
Learn more
Needs Planning with Geoanalytics in Healthcare: Request a free initial consultation
FREE initial consultation on on geoanalytics in healthcare needs planning*
Non-binding, without further obligations
By telephone or video call
Are you interested in the advantages of geoanalytics for needs and healthcare planning? I will gladly support you. Please contact me!

* The products of WIGeoGIS are intended for companies and are not suitable for private use. If you need a one-time market analysis, we will gladly make you a service offer.