Location Analyses for Banks and Savings Banks
Banks and savings banks use location analyses from WIGeoGIS to make well-founded decisions for branches, customers and marketing.
Make better and more well-founded decisions for your bank branches and savings bank locations and for customer service on the basis of clearly visualized data. With many years of industry know-how, WIGeoGIS offers expert consultation and shows you how easy it is to uncover your data treasures.

Location Analyses for Banks and Savings Banks
Would you like to professionalize your location decisions in the banking or savings bank sector and base them on solid data? For example, to adapt the network of your branches, customer service centers and ATMs to new developments?
Then you are in the right place. Because with the help of location analyses and regional market analyses you will make much better and more well-founded decisions in the future based on data that is prepared and visualized clearly in a way that is easy to understand and can be called up at any time.
And also, if one of the following points applies to you, it is worth taking a look at the benefits of location analyses:
You work on future-oriented sales and service models such as multichannel banking
You are responsible for the private or corporate customer business of a bank, regional bank, cooperative bank or savings bank
Your bank is about to merge or has just completed a merger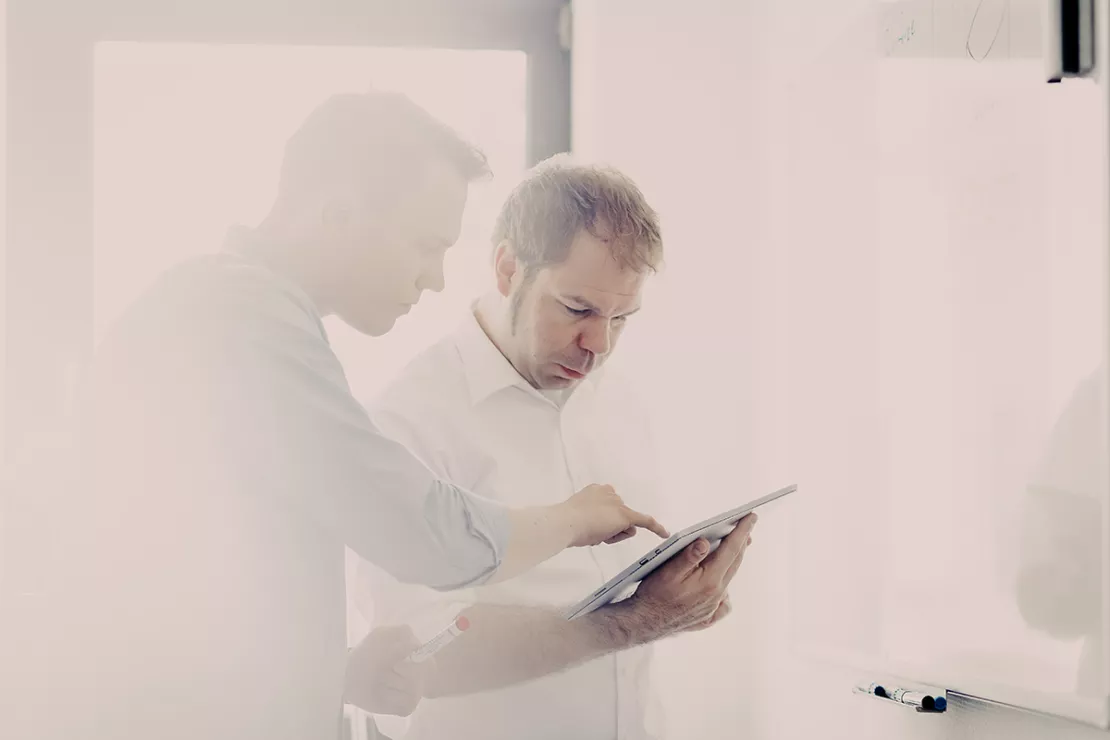 Our Expertise for You
WIGeoGIS is an expert in location analyses. For almost 30 years, we have been advising banks and savings banks on location decisions and delivering software products for professional location analyses. Benefit from our know-how.
We are always here for you:
Location analysis software WIGeoLocation
Implementation of the geomarketing process you want for your location analyses
Consultation on the selection of relevant market data
Individual training and methods training

These savings banks and banks already benefit from location analyses.
Many banks and savings banks already rely on the services and expertise of WIGeoGIS for location analyses.
This includes ERSTE Bank, which simplifies their customer management with the help of geomarketing and adapts their marketing campaigns precisely to the respective customer needs.
"We look at our locations with WIGeoGIS, we look at our market potential, we look at the catchment areas. WIGeoGIS helped us to define our catchment areas for the very first time. We asked: What should our catchment areas look like? How do we reach our customers?" Margit Neumeier, ERSTE Bank
In Austria, the Unicredit Bank Austria and other institutes also appreciate the benefits of the location analysis software from WIGeoGIS. Likewise, in Germany, Hypovereinsbank, Raiffeisenbank Straubing and GLS Bank, among others, rely on the know-how of WIGeoGIS.

Curious? We would be happy to advise you on location analyses for banks and savings banks!
Methods and Areas of Application for Location Analysis
What are the consequences of digitization for the locations of banks and savings banks?
Banks and savings banks have undergone a major transformation as a result of digitization: It affects national banks as well as regional banks, cooperative banks and savings banks.
The result: Today, private customers do most of their banking online and only go to a bank branch in special cases.
"The customers of banks and savings banks are increasingly using the mobile Internet. With the help of smartphones, tablets and desktop PCs, they compare offers, find out about banking products and, increasingly, purchase them online. As a result, the branch loses footfalls and attractiveness for customers." Marcel Kirrmann, Consultant at WIGeoGIS

According to Kirrmann, banks can counteract this by optimizing their branch network, integrating branches into multichannel sales and developing effective new online sales channels for addressing customers.
Geomarketing applications such as location analysis help make this possible.
"In this difficult economic environment, location analysis is an ideal tool for banks to survive in intense competition through effective strategic planning and market cultivation. Particularly in the context of rapidly growing competition, it is important to offer your own customers appropriate access channels so that it is easy for them to purchase new products." Marcel Kirrmann, Consultant at WIGeoGIS


Image: Location analyses and geomarketing offer banks and savings banks multiple benefits
What do banks and savings banks have to do after the transformation?
The industry has managed the change well. Now it's time to do some fine-tuning: optimize the branch structure, rely on the best locations for different branch types and thus continue to serve customers optimally.
In order to put the fine-tuning on a solid and fact-based foundation, banks and savings banks are well advised to conduct a location analysis that provides them with the data for all the essential decision-making and presents it clearly and understandably, be it for the question of where ATMs are still needed, which locations should be converted into self-service branches or how customers and employees can be optimally allocated to branches.
How do banks and savings banks plan an optimal branch network?
Do you also need or want to adapt your branch network and maybe have branches that have become obsolete? Then a location analysis can be useful for your strategic decisions.
How location analysis helps to optimize your branch network

Location analysis helps, among other things, to answer the following questions:

Where do existing as well as new branches make sense?
What types of branches do I need in which locations?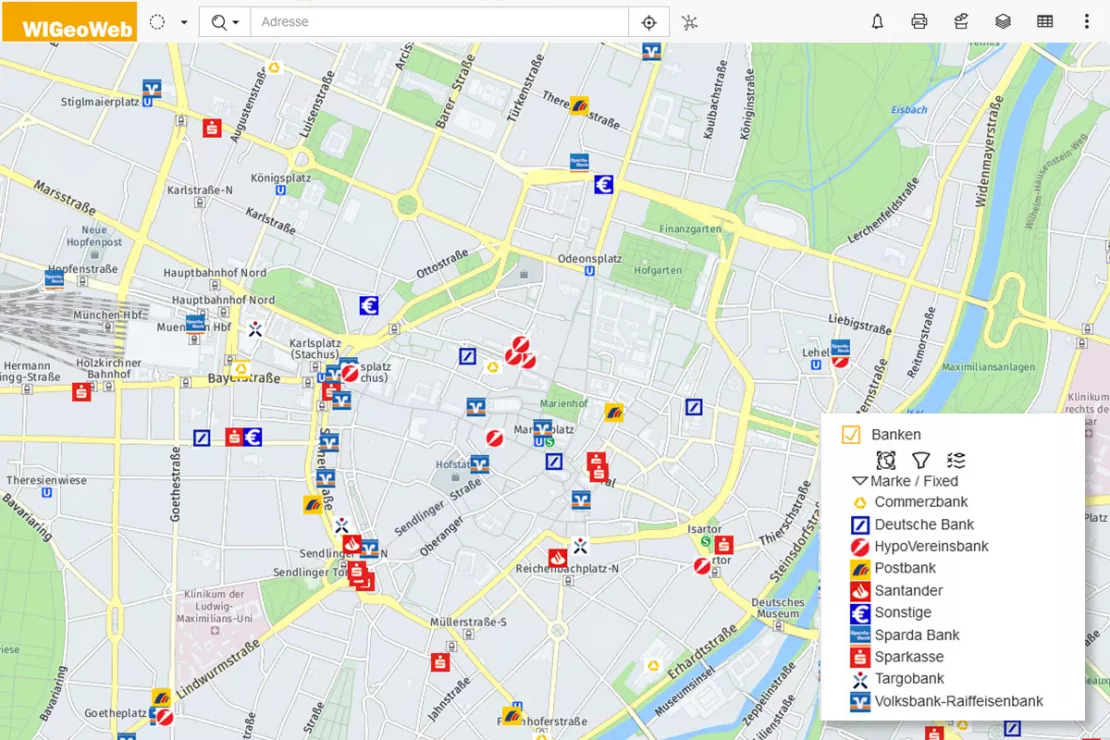 Image: WIGeoLocation is the right tool for planning your bank branch and savings bank locations.
Location analyses for each type of location

Different parameters must be taken into consideration in a location analysis for each type of location.

Flagship Stores

Representative flagship stores are becoming more and more important for banks and savings banks, where customers can get their personal financial advice in a comfortable and relaxed atmosphere. Most of these are easily accessible in city centers near restaurants and shops and offer parking.

Customer Service Centers and Service Branches
Customer service centers and branches usually deal with questions like these:
Am I still close to my customers with my branches and do I still serve them well?
Do I need to change my opening hours?
Is the Cost Income Ratio (CIR) of my branches still satisfactory?
What about the capacity utilization?
In new residential areas, a white spot analysis is worthwhile in order to optimally position new locations. Often, it is also about the perfect allocation of customers to branches or to consultants. This works particularly well with a location analysis that includes many factors that play a role in the allocation.
Occasionally, banks and savings banks also offer virtual branches in which customers can talk to bank advisors via a screen.
ATMs and Self-Service Branches

ATMs have been gaining in importance since the rise in online banking. Some locations are purely self-service branches that customers use to withdraw cash or for simple banking services. There are often ATMs in supermarkets, shopping streets and shopping centers.

From a Geomarketing point of view, special rules apply: The more restaurants there are in the vicinity, the more self-service branches and ATMs are frequented. Especially in popular nightlife areas, a lot of cash is withdrawn. As a rule, the catchment area must be defined relatively small, as customers usually do not walk or drive far to the nearest ATM.

Location analysis provides an easy and data-driven means for finding out how well your own ATMs are distributed and where new locations are needed. In the background is the question of how a bank or savings bank can better supply its own customers with cash or how it can find a strategically good location to attract a large number of external customers. Location analysis is also suitable for finding out why ATMs are performing well or below their potential and where there are still white spot regions with unused potential.

Different Customer Segments Require Different Locations
The customer journey has changed significantly at banks and savings banks. Multichannel banking is aimed at all customer segments: retail banking customers, private banking customers, corporate customers, institutional customers.
Locations must be adapted to the needs of the existing customers as well as the target customer segments in order to be successful.

In retail banking, we can roughly speak of three customer groups:

More and more customers only need virtual support via telephone, website or banking app and use branches and ATMs only for withdrawing money.
Another type of customer visits a branch occasionally, but needs little consulting.
Still other customers need intensive consulting because they are building a house or buying an apartment and need a loan for their undertaking or want to invest their money for the future of their children. These customers visit a customer service center where they can discuss their mortgage lending or life insurance with their consultant over a coffee.

For private banking, corporate and institutional customers, banks also need suitable customer service centers.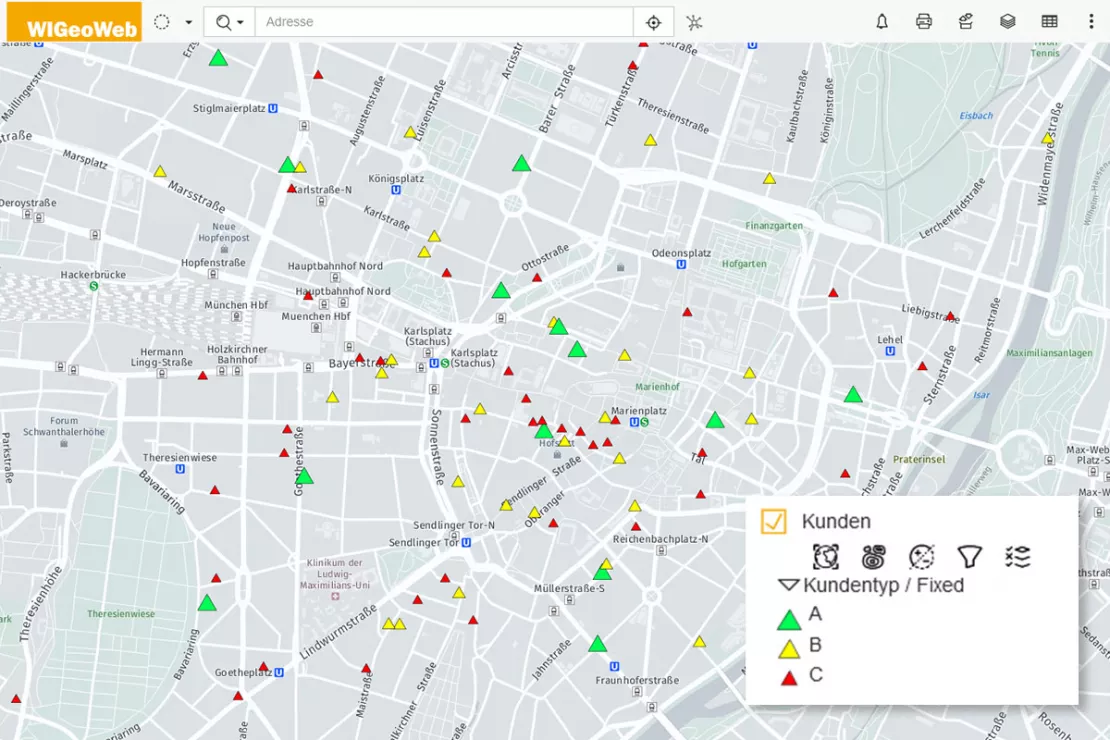 Image: Customer segments from banks and savings banks are geocoded and visualized on interactive maps using WIGeoGIS software

Geocoding Customers

A location analysis is also ideal for adapting the business areas and precisely allocating customers to the branches or employees (=geocoding). In Austria, for example, ERSTE Bank has been using this method for a number of years.

"With the WIGeoGIS location analysis, banks and savings banks analyze how big or small the catchment areas of their branches are. The result is displayed on a map. In this way, you can also determine your market share in a catchment area and how the market shares change over time. From the changes, in turn, knowledge can be gained for marketing activities." Kai Barenscher, Senior Consultant WIGeoGIS

If the catchment areas of bank branches overlap and the number of customers in these branches changes, it can make sense to allocate customers to the neighboring branch in order to ensure optimal capacity utilization for all the branches. If the number of residents in a catchment area increases or decreases, an adjustment may be necessary. With the help of location analysis, banks and savings banks keep an eye on all the important developments and can optimally adapt the customer allocation system to changing conditions.

Possible Use Cases

Especially when mergers are imminent, as is often the case with cooperative and regional banks, a location analysis can support the necessary change processes and help answer questions such as:

How many customers can a branch serve?
Are there temporary capacity bottlenecks that can be resolved by a clever new division of employees and customers among the branches?
Which areas have so-called cannibalization effects due to a merger?


Free initial consultation on location analyses. We will explain how it works and what you will need!
How do banks and savings banks exploit untapped data potential?
Banks and savings banks can not only get more out of customer data such as the address data of their customers, but also have a lot more data available.

"The treasure trove of data that banks and savings banks have on their own customers and business areas is almost endless. With a location analysis, we can refine, analyze and map this data." Marcel Kirrmann, Consultant at WIGeoGIS

In addition, WIGeoGIS provides much useful market data.

With all of this data, more informed decisions can be made.

Example: If a bank in a community wants to set up an ATM on the main street and is looking for the optimal location, it can make sense to integrate traffic data into the location analysis. This makes it clear which side of the street the ATM should be on and whether it is best placed at the beginning, in the middle or at the end of the town.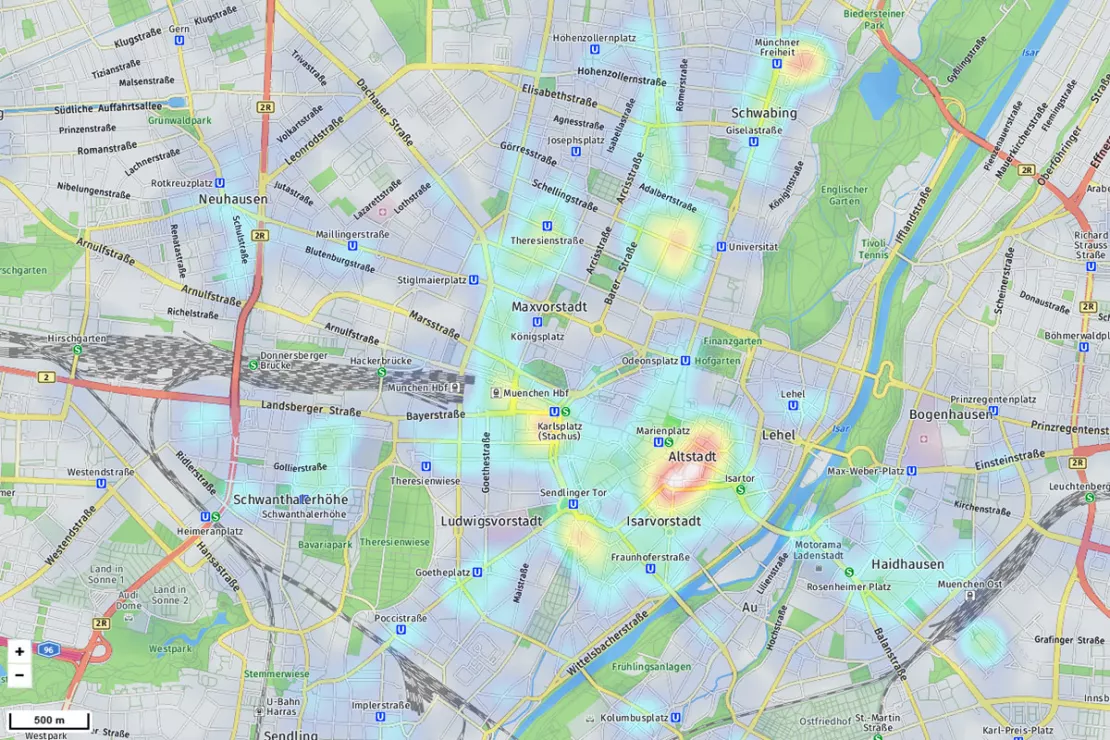 Image: Regions with high footfall in Munich
What data is relevant for location assessments?

Which data is important for your application, needs to be decided individually.

Very often it concerns:

Population numbers
Daily population (number of employees in a catchment area, e.g. business park with many companies)
Footfall data (commuters, passers-by, vehicles)
Data on retail density, retail space, etc.
Gastronomy data (restaurants, bars, clubs, etc.)
Your own locations and those of your competitors

Furthermore, the parking situation around a branch location (satellite data), the number of withdrawals from ATMs (also the percentage of withdrawals from your own customers, third-party customers) and bank-specific data (credit ratings, assets and liabilities, etc.) can be incorporated into the location analysis software.

How are the results of the location analysis displayed?

As soon as the software is individually configured, you can accurately assess the potential that lies in your branches or potential new locations in just a few minutes. The analysis results are displayed visually on a map and summarized in automatically generated reports. This way you can quickly see how much potential there is in your branches, and also if a new location is promising or whether you should look for an alternative.

With this tool, you can run through various scenarios to gain a solid basis for making clear decisions that you can also present internally.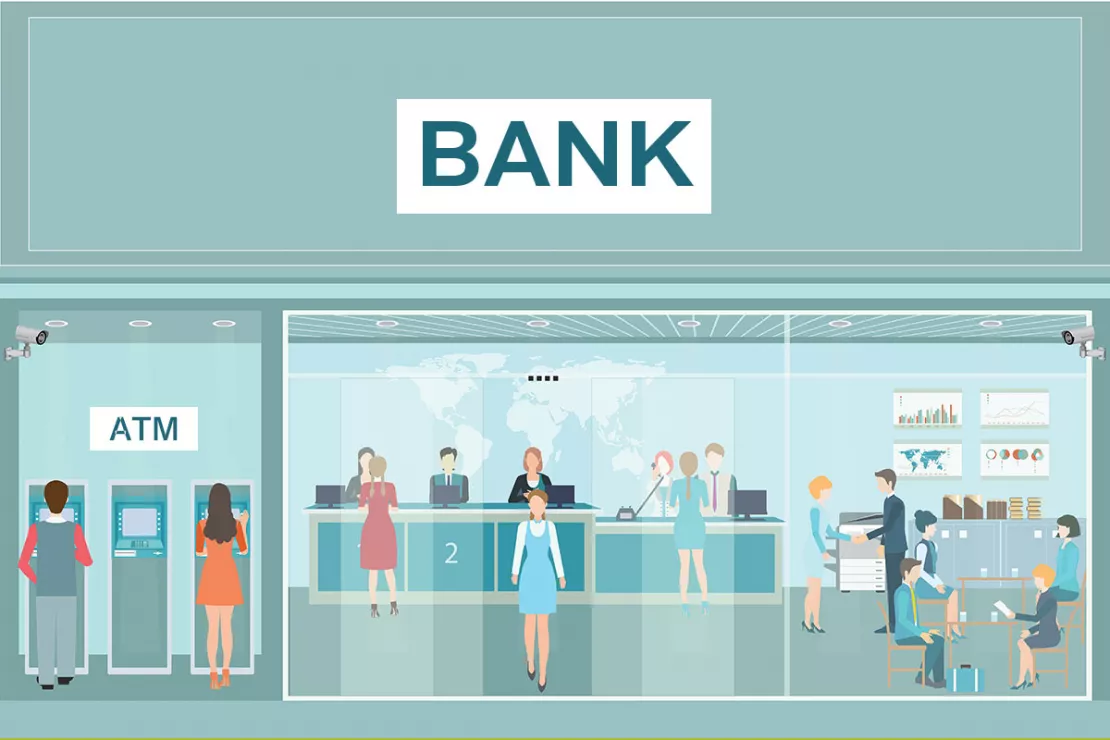 What are the main benefits of location analyses for banks and savings banks?
Identify potential cost savings
Recognize weak points in the branch network
Simulate scenarios in the branch area
Identify new customer potential for acquisition
Address existing customers more specifically

Specifically, with the help of location analyses, you can for example determine optimal locations for ATMs or flagship stores and plan branch utilization. A location analysis also helps to analyze customer data and allocate customers and employees to branches. Location analysis also makes planning marketing measures and optimizing opening times easier.

Customer reports: these banks and savings banks rely on WIGeoGIS for their location analyses
Location Analyses for Banks and Savings Banks: Request A Free Initial Consultation!
FREE initial consultation*
Non-binding and free of obligation
By phone or video call



Would you like to learn more about location analysis for banks and savings banks? I will gladly support you. Please contact me!

* The products of WIGeoGIS are intended for companies and are not suitable for private use. If you need a one-time market analysis, we will gladly make you a service offer.
FAQ
Which products are best suited for analyzing banks and savings banks?

Our range of software is suitable for the more intensive and long-term use of location analyses. Banks and savings banks that want to keep an eye on their branch locations can achieve this particularly well with the web-based software WIGeoLocation or, alternatively, with the desktop software QGIS.


For short-term and one-off location analyses, the WIGeoGIS team is happy to assist you with consulting projects.


Feel free to arrange a free initial consultation.


Which types of analyses are particularly useful for location analysis for banks and savings banks?

The following GIS applications give your branch network optimization a solid basis for decision-making:


Private / Corporate Customer Analysis


To what extent is WIGeoGIS familiar with the specifics of the German and Austrian banking and savings bank sectors?

The WIGeoGIS team has many years of expertise in both the Austrian and German markets. We are therefore familiar with the special requirements and developments at regional banks, cooperative banks, savings banks, credit unions and Raiffeisen banks in both Austria and Germany. ERSTE Bank (Austria), Unicredit Bank Austria (Austria) and HypoVereinsbank (Germany), to name just a few, all rely on the know-how and products from WIGeoGIS.