Traffic Data
Traffic Volumes for Every Street, Every Day around the Clock
Where can I find the highest traffic volume for my new location? Which roads frequently have traffic jams? Where do the customers in my parking lot come from? The data from the world market leader TomTom provides accurate answers.
Number of Vehicles, Speeds, Commuter Flows
There was a time when traffic censuses were carried out by hand and commuter flows were recorded using questionnaires. The effort was high and the validity of the results was low.
In the age of big data, traffic data is based on trillions of actual data sets. The Dutch navigation device manufacturer and geodata provider TomTom has been collecting anonymized, GPS-based traffic data from around the world since 2008. Such data is also known as "floating car data". The result is historical and current traffic data that is unbeatable in terms of quality and scope.
What Traffic Data is Available?
Number of vehicles in a road element or area (traffic density)
Average speed driven
Highly detailed traffic data by weekdays and times
Commuter flows, O/D analysis (origin-destination, source-destination analysis, starting point-end point): From where to where do vehicles and people move? – can be viewed by ZIP Code, district/county etc. or by raster cell
Your Benefits
Very small-scale analyses based on road elements, not just entire roads
Very precise planning of routes/arrival times using actually measured data in addition to lengths, speed restrictions, road classes etc.
Current, highly valid data
Better decisions, better planning
Worldwide data
Historical data available back to 2008
Available via web app or API
Standard formats like GeoJSON, Shape, CSV etc.
Easy queries, quick results
Different output options (geographical, graphic, matrices etc.)
6 Scenarios Where Traffic Data Can Help You
Location Analysis
You are planning to open a gas station or a retail location and have already shortlisted a number of properties. In addition to other data used in the location analysis, traffic data provides further valuable information.
Target Group Analysis
You have a retail location in a commercial park with a large parking lot and want to know where your customers come from so that you can get to know your target group better and advertise accordingly. The Origin-Destination Analysis data from TomTom provides you with the answers.
Optimization of Opening Hours
For example for a grocery store: Compare your checkout data with the TomTom traffic volumes to determine exactly if they match your opening hours. Are you exploiting your full potential? Are you open too long? It might be worth staying open a quarter of an hour longer because you are missing out on sales, or closing earlier to save on personnel costs. The traffic data is very accurate.
Outdoor Advertising
The analysis of the individual advertising media locations opens up exciting possibilities, especially with flexible advertising media (e.g. rotating boards, digital advertising media). With traffic data, you can find out when vehicles are driving by quickly or slowly, when they are stationary and what seasonal differences (e.g. during vacation time) exist. In this way, you can rotate advertisements in a more targeted manner, e.g. more text or images depending on if the traffic is flowing or stop-and-go. O/D analysis of the locations can also help you reach your customers and target groups even more precisely. Who drives past my billboard? Is the purchasing power of the vehicle occupants low, average or high?
Route Planning
For logistics, transport etc., traffic data from TomTom provides the most precise planning data currently available on the market.
Traffic Planning/Urban Planning
Where are the hot spots, where and when are there traffic jams? What changes in the road network are needed?
Who is moving from where to where? Where should subway and tram lines be extended, commuter trains condensed, etc.?
Traffic data going back to 2008 makes it possible to conduct comprehensive time series analyses.
The scenarios show the range of user groups that benefit from traffic data. Retail, logistics, transport, tourism, gastronomy, public administration are just a few of them.


Example 1: Traffic Statistics with Vehicle Flows and Speeds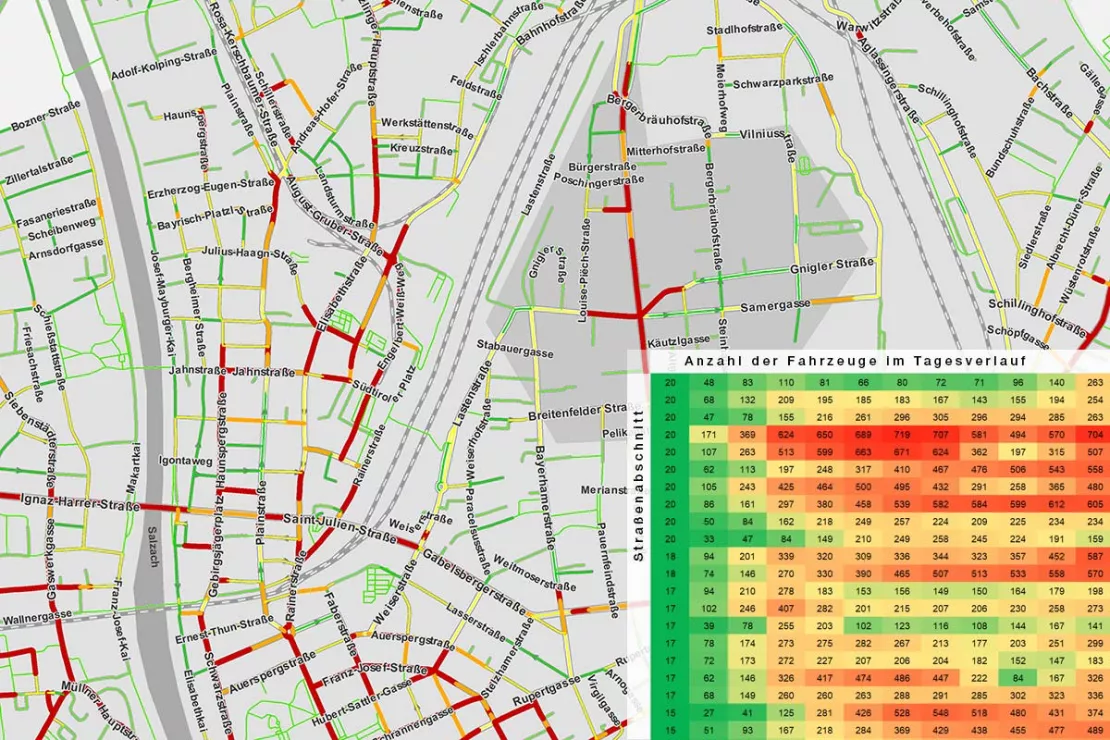 The traffic statistics can be analyzed in a variety of ways. The map shows the absolute speeds at a certain point in time (red = slow, green = flowing). The table provides details on vehicle flows on individual road elements (abscissa) at different times of day (ordinate).

Example 2: O/D Analysis Origin-Destination – Traffic Flows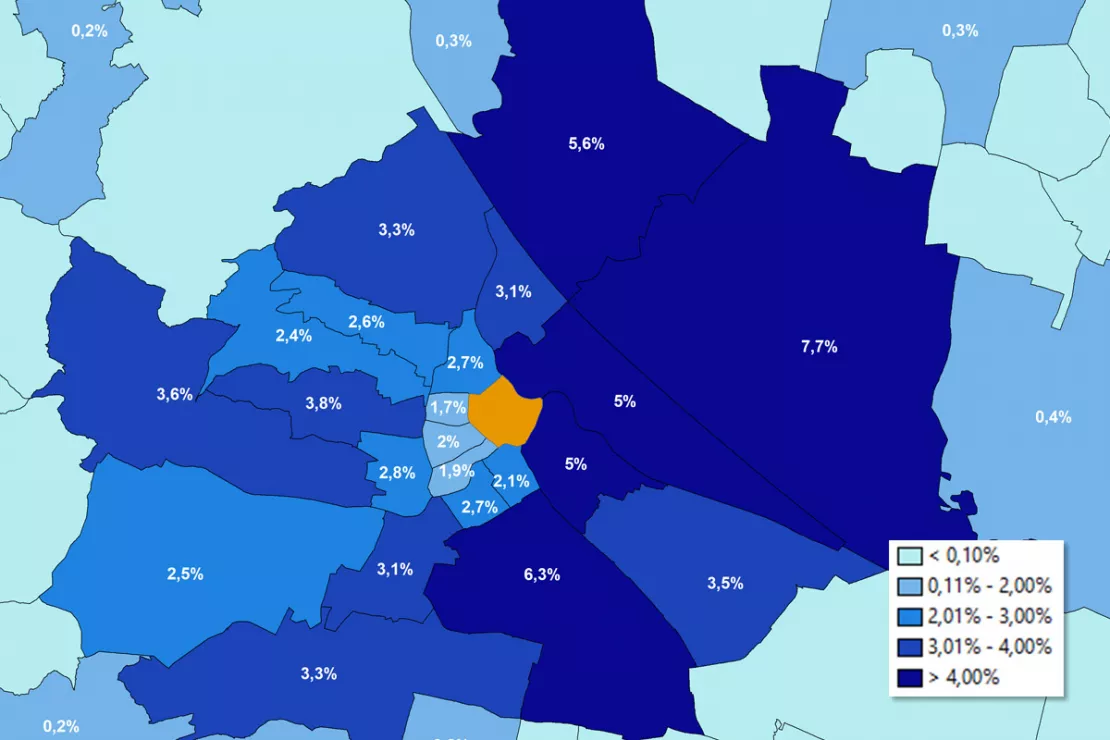 You define a target region (orange) and immediately see where the vehicles of commuters or potential customers come from.

Traffic Data: Test now free of charge and without obligation!
Test data*: Number of vehicles throughout the day, traffic flows

Non-binding, free test
Test ends automatically without cancellation
I will gladly support you, also by telephone.
* The products of WIGeoGIS are intended for companies and are not suitable for private use. If you need a one-time market analysis, we will gladly make you a service offer.

Even more data products available from WIGeoGIS