Sales Organization & Distribution Channels
Successfully Planned with the Software SalesNet
With SalesNet, you can plan your sales organization, sales channels and sales areas online quickly and collaboratively. Changes in your organization, be it among employees or customers, can be updated in just a few steps. This also applies to external factors such as municipal reforms or new ZIP Codes.

The main advantage is that the software automatically transfers your changes to the different levels of your sales organization. Customer assignments and regional market potential are also updated. Thus, responsibilities and processes of your organization are always up to date at all operational levels. The data is kept consistent. This also applies to your analyses and reports.

With the simple and practical simulations, you can plan and compare different variations of your territory plans.

SalesNet makes the planning and optimization of your sales organization and sales channels easier and more reliable.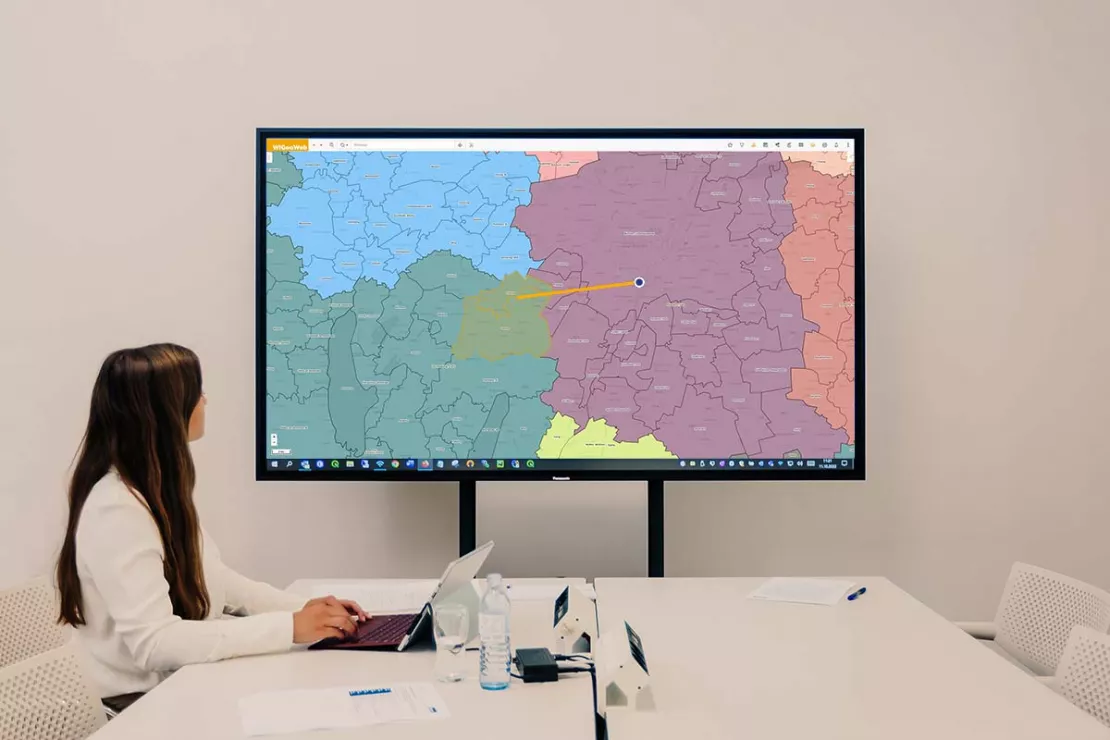 Why plan with SalesNet?
Easily plan and restructure your sales territories online
View actual and target situations on interactive maps
Balanced sales territories for the perfect sales organization
View "what if" scenarios using the simulation function
Update all your structures with the push of a button
An ideal addition to your data organization in SAP and other ERP/CRM systems
Planning Sales Organization & Sales Territories. See the SalesNet software in action!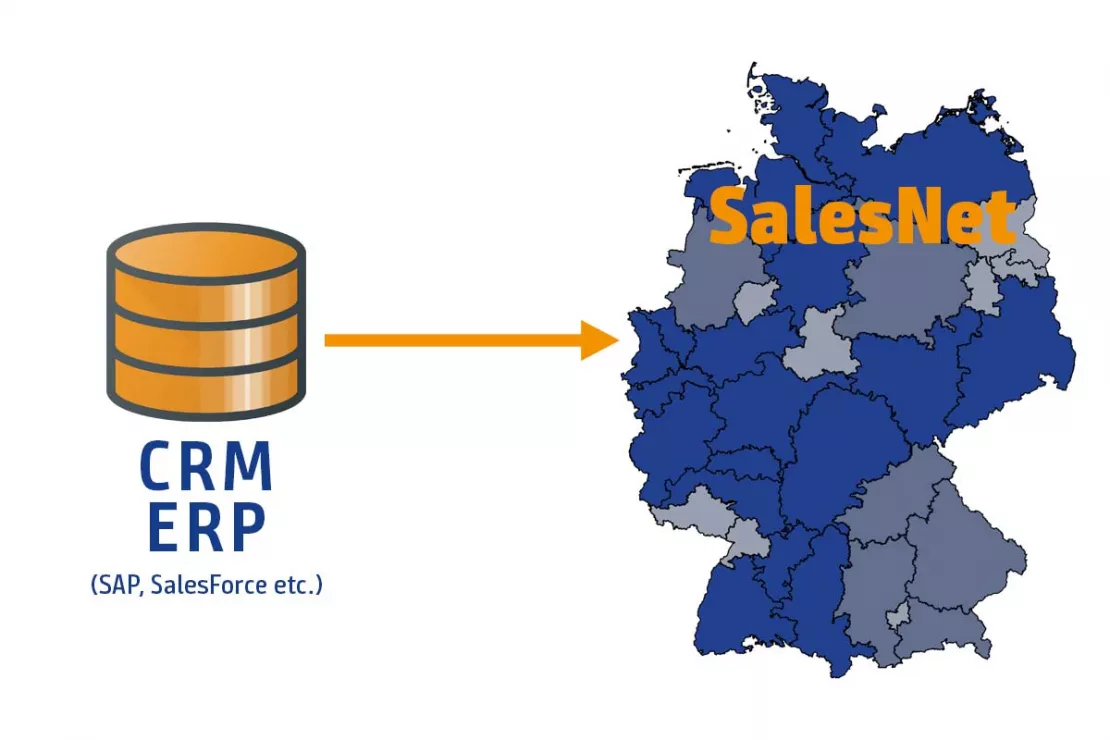 1. Import Sales Organization from ERP/CRM into SalesNet
An import interface allows you to easily import your sales organization structure into SalesNet from SAP, Salesforce and many other common ERP/CRM systems. In addition, we can preload SalesNet with any KPIs that you want to use for planning. This can include:
Number of customers
Market potential
Sales
and much more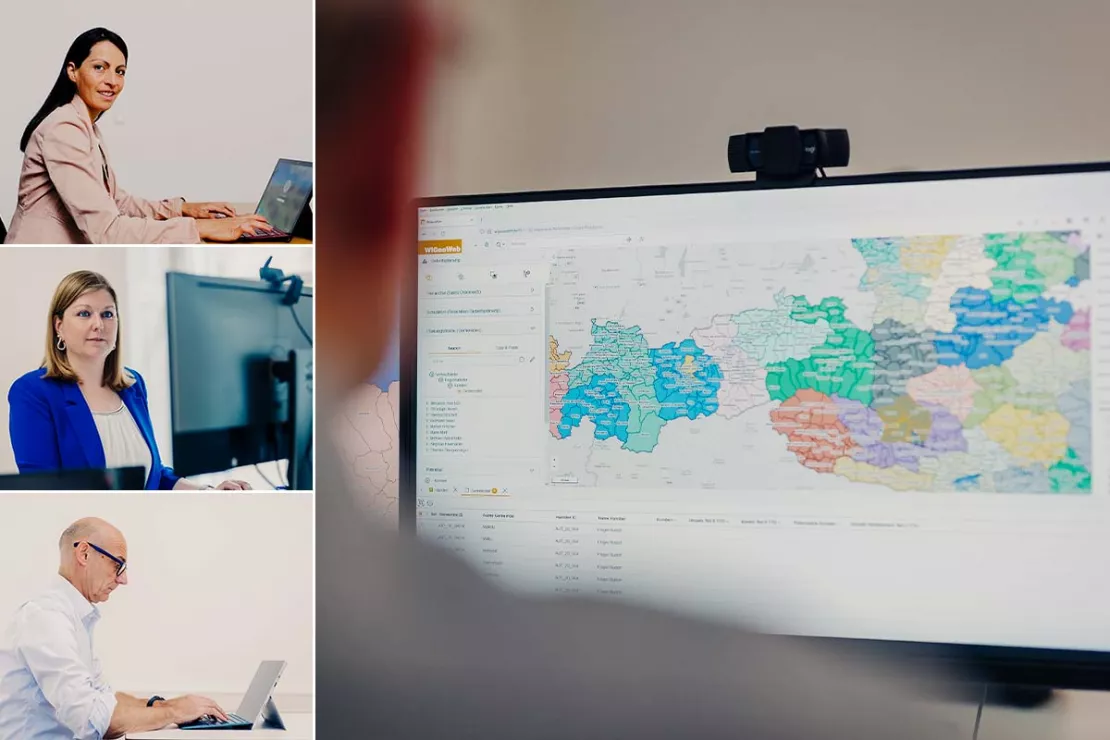 2. Collaborative Planning
With SalesNet, you can spread the planning over several shoulders. Your Benefits:
Anyone can plan the sales territories on a map for their area of responsibility
Everyone's individual, regional knowledge is included
Right from the start ➞ Acceptance of new structures through early involvement of those involved
This will greatly benefit your sales organization.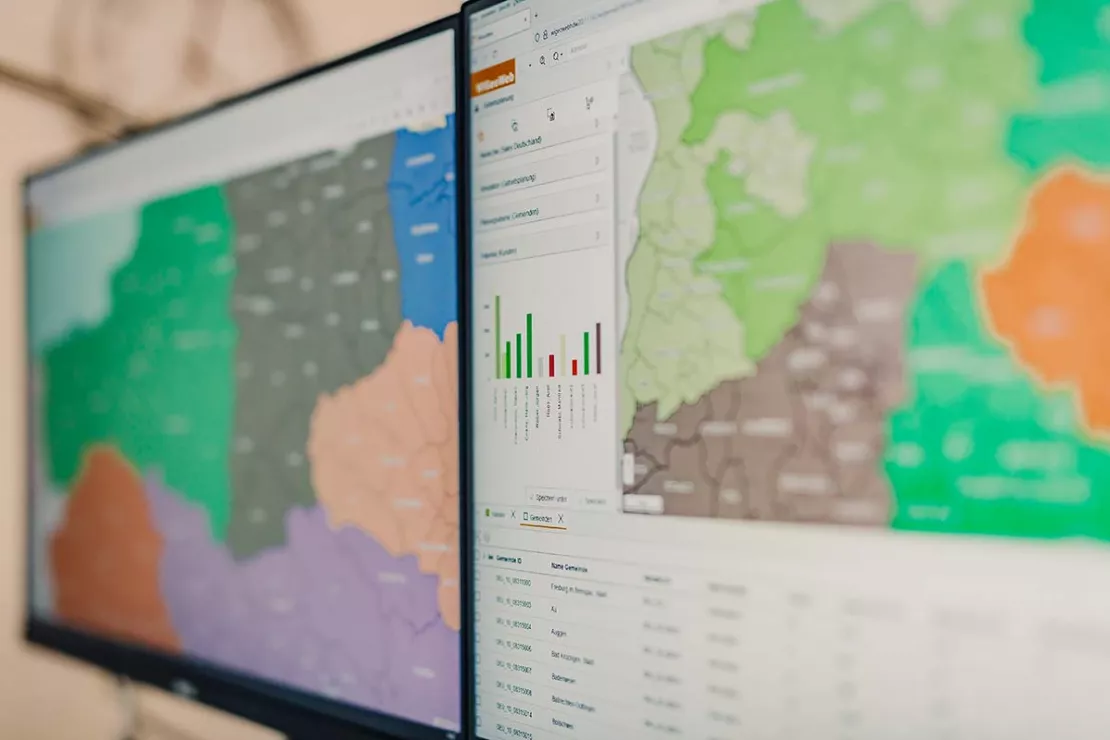 3. Simulate the Ideal Division of Sales Territories
You can use the simulation feature to create what-if scenarios. This allows you to generate and compare various sales territory plans.
Which constellation distributes the potentials as evenly as possible?
Which distribution has the optimal travel times?
Simulations answer such questions. With SalesNet, you can immediately see the effects of every change in the sales territories ➞ for the individual employee and the entire sales organization.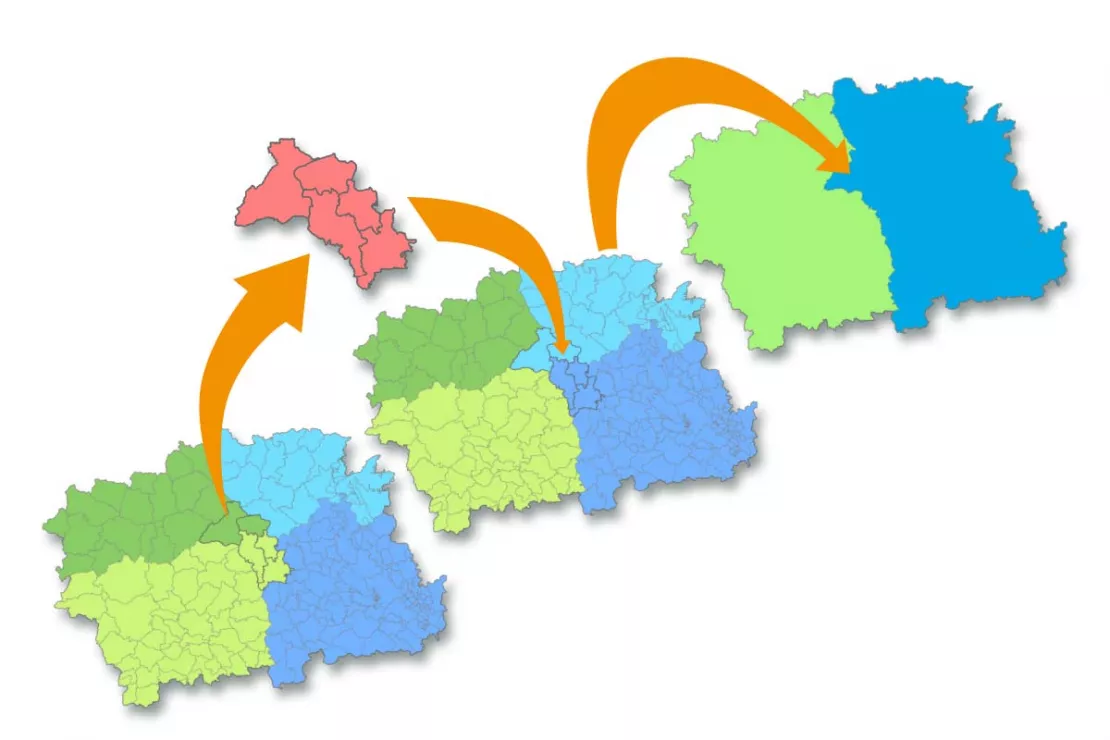 4. Apply Changes Globally with the Push of a Button
This means no matter on what hierarchical level you change your territory structure,
all the organizational levels, above and below, are also automatically updated, and
you can reassign representatives to different customers with the push of a button.
SalesNet thus creates maximum transparency and accelerates processes in companies.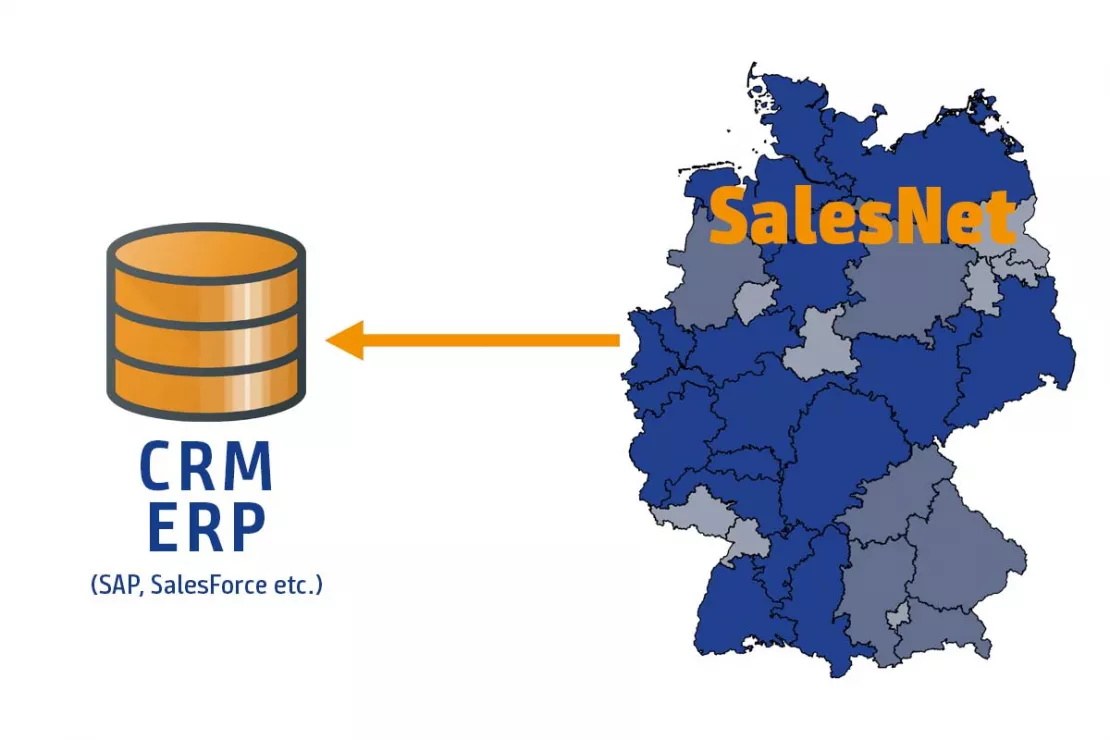 5. Release & Distribution of the New Sales Organization with a Single Click
The manager is responsible for releasing and distributing the new sales organization. They check the plans of their employees, can make changes and then release them with a single click.
With the release of the planning, the relevant information is
distributed via the interface to your ERP or CRM system, e.g. SAP or Salesforce.
This means that all the sales territories and structures are updated in these systems. The data is consistent and ready for operations.

Planning Your Sales Organization. See all the SalesNet functions in action!
SalesNet in Action (Video Tutorial)
Our Customers Integrate Data from SalesNet into these Systems
Companies from a wide variety of industries use SalesNet for planning and restructuring their sales organization and sales territories. You can integrate the planning data from SalesNet into numerous other systems, for example (in alphabetical order):
Microsoft Dynamics
SalesForce
SAP S/4 HANA
SAP R3
Tableau

Planning Sales Organizations and Sales Territories with SalesNet
FREE Live-Demo* of SalesNet
Non-binding, without further obligations
Online presentation via video call
Do you want to know more about planning sales organizations and sales territories with SalesNet? I will be glad to support you.

* The products of WIGeoGIS are intended for companies and are not suitable for private use. If you need a one-time market analysis, we will gladly make you a service offer.

FAQ
When should I replan my sales organization and sales territories?

The most common reasons for replanning are:

Employee turnover & departure (pension)
Substitution during illness, vacation, parental leave, etc.
Change of working hours (full-time - part-time)
Increase or decrease of the sales team due to goals or strategy changes
Acquisitions and sales of companies and company divisions.

External influences also make it necessary to adapt the sales organization. Reasons can be:

Territorial reforms involving mergers of municipalities, ZIP Codes, or market cells
Changes in the market and customer structure, competition and the like


Can sales channels from SAP be processed in SalesNet?

Yes! You can import your sales organization from SAP, including all sales channels (retailers, online shops, direct customers, etc.), hierarchies and product lines, into SalesNet. You can then plan or replan your sales organization and export it back to SAP when it is complete.


Which import and export options for data from a CRM or ERP (e.g. SAP) are possible with SalesNet?

Data is exchanged with ERP and CRM systems via interfaces and connectors, such as SAP Process Integration (SAP PI), to ensure that your data is consistent and up-to-date.

How is the customer data displayed on a map?

The customer's address data is geocoded using a tool integrated in SalesNet. This means that each address is assigned an X/Y coordinate, which allows the address to be located on a map. More about ➔ Geocoding.


Can I replan sales structures at short notice with SalesNet?

Yes! A short-term replanning of the sales organization is very easy with SalesNet. You plan the necessary changes ad hoc in SalesNet or prepare them in the tool. The new structure is then automatically exported and imported into your management systems. SalesNet automatically applies your changes to all the hierarchy levels and data. This means that your data is up-to-date and consistent in all your systems.


In which industries do companies use SalesNet?

Companies with sales organizations and/or retailer networks use SalesNet. They come from a wide variety of industries such as:

Agricultural machines and implements
Automotive industry
Chemical industry
Cosmetics
Elevators and escalators
Energy providers
Food and beverage
Insurance
Pharmaceutical and healthcare
Service hygiene solutions
Tools and machines


Is the planning of the sales organization equivalent to the planning of sales territories?

The planning of sales organizations is much more complex than that of sales territories since all the hierarchies, product lines, sales channels and parallel organizations have to be taken into account in the planning. However, SalesNet simplifies the planning of sales organizations enormously. Changes that affect the sales territories are automatically applied at this level. Even if you replan sales territories, the territory changes are automatically transferred to the sales organizational structures.