Location Analysis in Retail
Know-how and Tools for Successful Location Decisions
Location analyses are still crucial for brick and mortar retail. This is because location factors and the choice of location are decisive for business success. Learn how GIS software and the right methods can help you make the best decisions regarding your business location.

Location Analysis in Retail with Geomarketing and GIS
Location analyses offer retail companies the opportunity to evaluate an existing or potential location with different factors, to shed light on facets and to find strengths and weaknesses of a location. Geomarketing offers tailor-made analyses for all of these tasks.
Geomarketing provides the WHERE, i.e. the space, as the basis for the analysis and approach. Geographic information systems (GIS for short) are the software with which analyses are created and the results are visualized on a map.
The best example is WIGeoLocation. You can use the tool to create smart location analyses that provide objective results for your location decisions: numbers on cannibalization, scoring and sales forecasts. You receive input for category management and branch marketing.
With geomarketing and GIS, you can successfully face the current challenges in choosing a location and make decisions easily on the basis of well-founded data.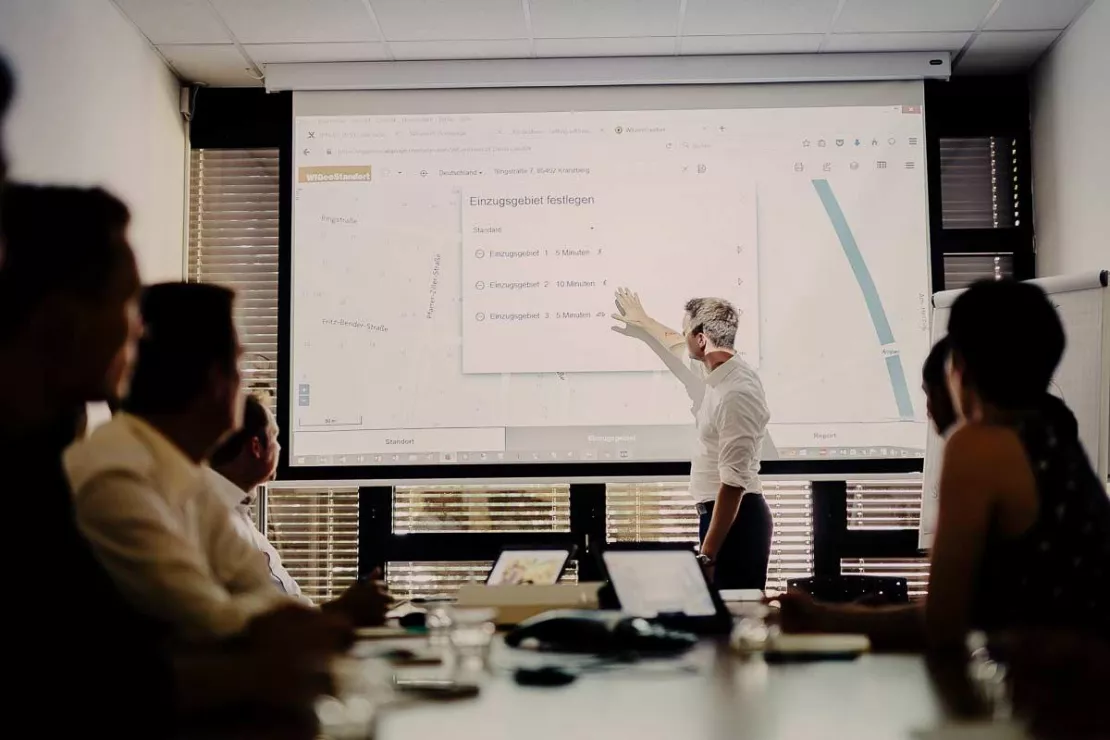 What We Can Offer You
WIGeoGIS is an expert in location analyses. For almost 30 years, we have been consulting retail companies on issues related to location decisions and providing tailor-made software products for professional location analyses. Benefit from our know-how.
We are always here for you:
Here's What Users Say About WIGeoLocation
"The biggest advantages of WIGeoLocation are the enormous time savings per analysis and how quickly and easily colleagues can learn to use the tool."
Bianca Blunck, Project Manager for Franchise Agreements at hagebau
"We are very satisfied with WIGeoLocation. It provides extensive information and good results quickly and easily. The tool is not a standard solution, but tailor-made for us."
Frank Schilling, Head of Strategic Area Development STIHL
"Location continues to be a key factor for sustainable success in the retail business. With WIGeoLocation, we can offer our member companies very professional, high-quality consultation concerning questions about location."
Gregor Bernhart, Head of the Board of Management of ANWR GROUP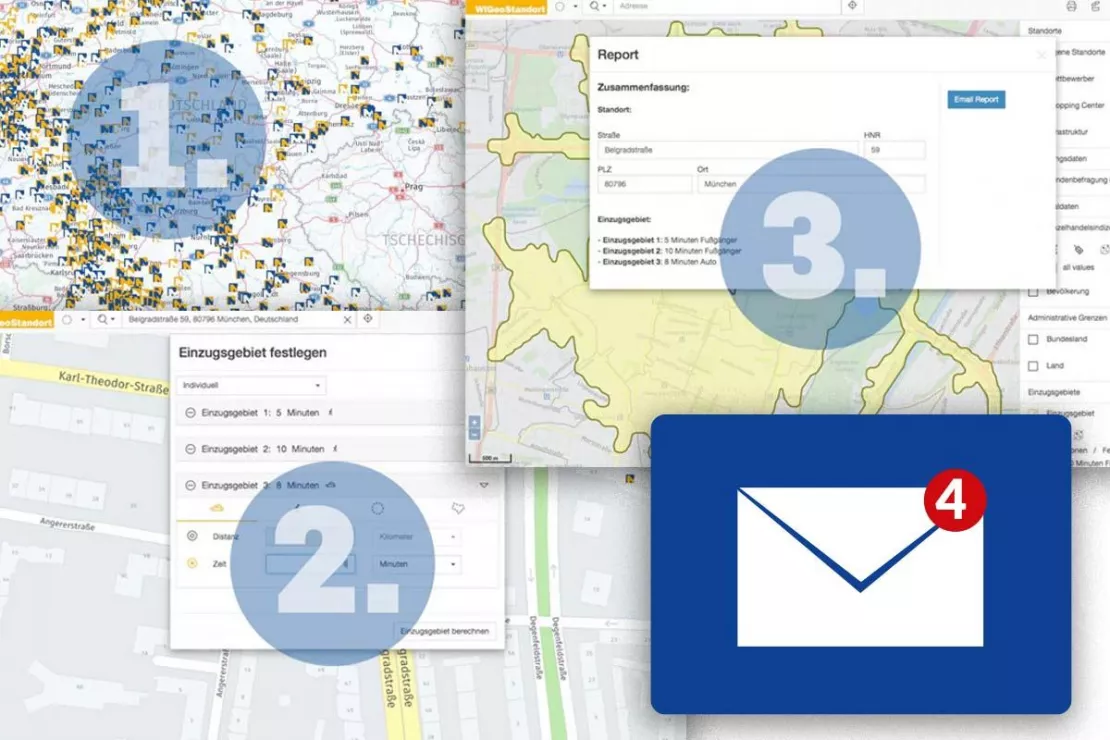 Your Location Report in 3 Easy Steps
The WIGeoLocation tool actually makes location analysis for retailers that quick and easy. In just 3 easy steps you will have a detailed and individual location report in your email inbox! We specifically designed WIGeoLocation to be that easy to use!
Enter your location
Define a custom catchment area
Create the report with a click of your mouse
And you are done! Just a few seconds later, you will find an easy to understand document in the file format of your choice waiting in your email inbox.


The 3 Most Important Benefits of Geomarketing for Retail
Carsten Mainz on the three most important benefits of geomarketing for retail. Mainz is a geomarketing and GIS expert. He has worked for many years in the area of expansion and location planning for various retail companies, such as INTERSPORT. Currently, he works for Peek & Cloppenburg.

Test the location analysis tool WIGeoLocation, FREE with no obligation! The trial period ends automatically.
Methods and Areas of Application for Location Analysis
Location Analysis
A key application for location analysis is the assessment of locations. Therefore, geomarketing and GIS are ideal. In addition to the pure description of the location and its surroundings, geomarketing analyses allow you to make statements and forecasts concerning the economic viability of locations based on regional conditions. This applies for both potential new locations as well as existing ones. An individual score can be calculated for each location, allowing it to be easily compared with other locations. When evaluating the location, the following questions need to be answered:
How can the environment of the location be described?
What is the sales potential?
Is the potential being fully exploited?
How successful is the location now or how successful is it expected to be?
Location Factors
The description of decision-relevant characteristics is done by defining and analyzing location factors. There are "hard", measurable parameters such as the sales area or purchasing power of potential customers. There are also "soft", subjective variables, such the image of a city or region that is suitable for the company business model. The relevance of different factors in the context of the analyses depends on the products, the target groups and the business models. The following factors regularly play an important role:
Size and potential of the catchment area
Purchasing power in the catchment area
Location and accessibility for the target group (pedestrians, local public transport, cars, delivery trucks, etc.)
Specific location environment and points of interest
Competition
Sales area
Rental price
Methods for Location Assessment
Geomarketing offers sophisticated methods for objective and comprehensive location assessment. Each method focuses on a different important aspect, such as the attractiveness and the expected success of a location, the potential turnover or the risk of cannibalization by other branch locations. You can use all of these analysis methods with WIGeoLocation.
Learn more about scoring, portfolio, cannibalization and gravity analysis.


Scoring Model
Scoring analyses are ideal for evaluating locations quickly and clearly. Like on a school report card, you can see the potential of your locations at a glance. Each branch location is assigned a score or a comparison value in the form of a number. The value is created by determining and normalizing all the location factors that were previously defined in the GIS software and calculating a point value for each location. WIGeoLocation provides you with reports based on the scoring model. Learn more about the scoring model.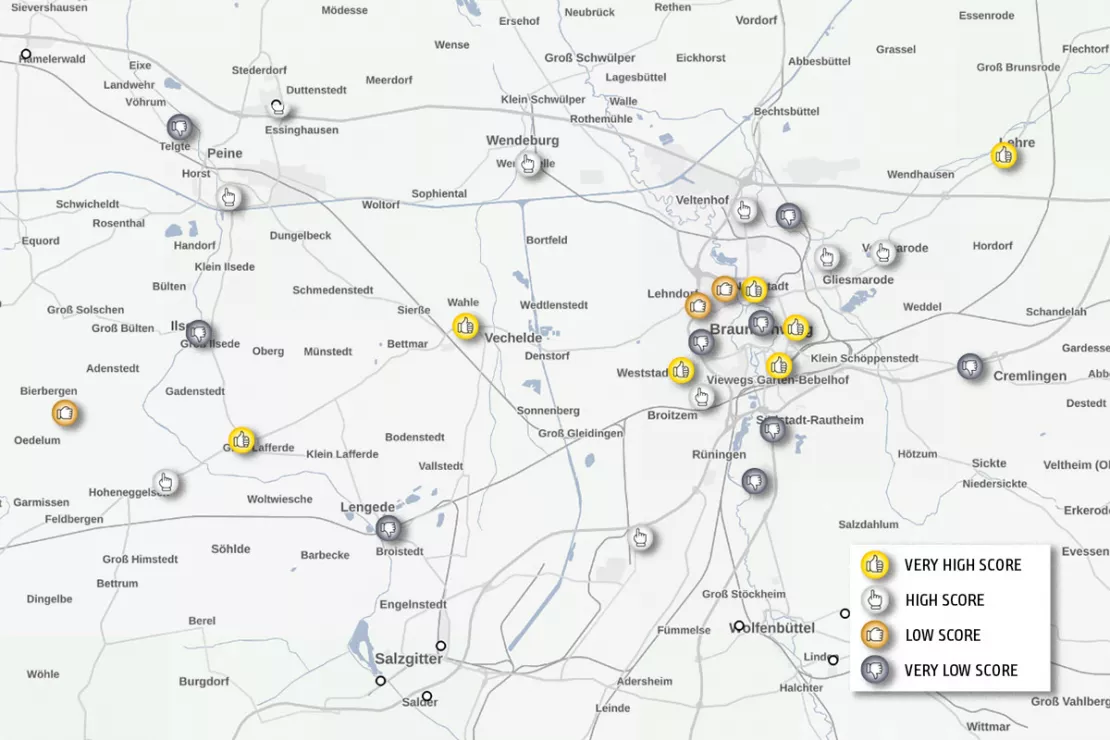 Cannibalization
How close is too close? Cannibalization analyses answer exactly this question. As part of a location analysis, it is worthwhile to also evaluate the cannibalization effect. This allows you to see if and to what extent the catchment areas of different locations overlap. Based on this overlap, a cannibalization value can be determined. The cannibalization of locations carries business risks because one location takes part of the business away from another. Customers who live or work where the catchment areas overlap have to choose one branch, which means that the other branch generates less revenue. Therefore, it is essential to know about cannibalization effects when deciding on a location. The multi-faceted and powerful tool, WIGeoLocation, can also determine the cannibalization effect.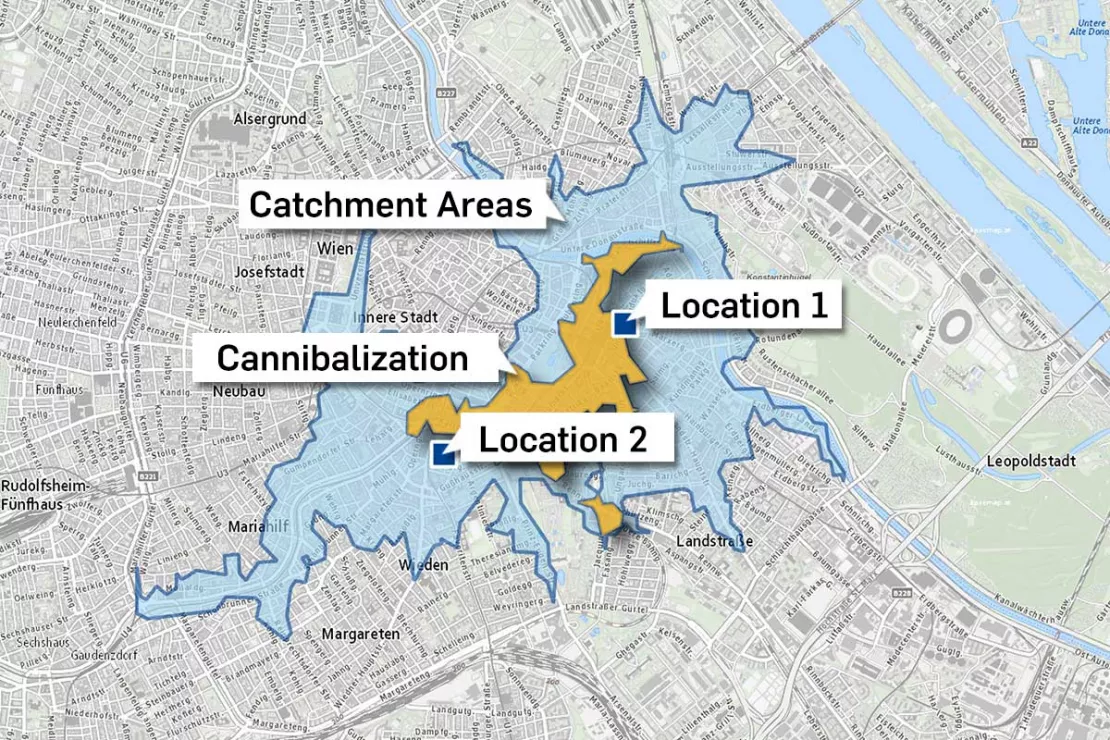 Sales Forecasts Using Gravity Analysis
How attractive are existing or planned locations? The attractiveness of a location has a decisive influence on its sales potential. This is because customers mainly buy from locations that are easy to reach and where they can find what they are looking for. A gravity analysis takes into account the individually defined attractiveness factors that are important for the customer decision to shop at the location, and thus enables a professional location assessment. This allows you to forecast how many customers will visit a location and what potential sales can be expected. In WIGeoLocation, you can make gravity analyses an integral part of your automated reports. Learn more about gravity analysis.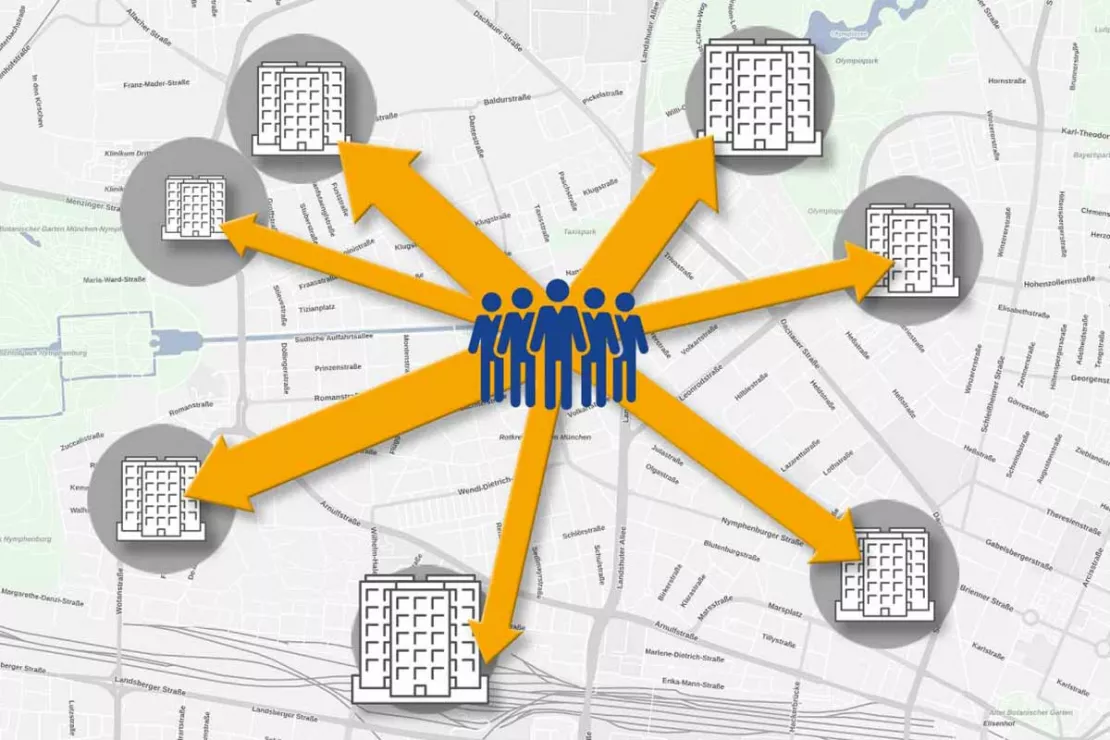 Portfolio Analysis (BCG Matrix)
Portfolio analyses and the BCG matrix are ideal for linking two or more factors of a question with one another, allowing you to recognize relationships, determine measures and make strategic decisions. The performance of a product and its potential are traditionally compared in a matrix. In spatial analysis for example, catchment areas and locations (entire branch networks) are analyzed according to the BCG principle. Each point in the matrix represents a branch, an existing sales area or a ZIP Code. Suitable data is used for the performance. WIGeoLocation can provide portfolio analyses based on the BCG matrix as an automated report.

Try all the WIGeoLocation functions for free. Get your free trial access now!
Competition Analysis
For retailers, there are two areas where competition analysis is absolutely essential. The first area is location planning. For expansions or restructuring efforts it is important to know where the competition is located and how successful their locations are. This knowledge influences the positioning and planning of your own locations. The second area is the direct comparison with the competition in terms of benchmarking. Here, retailers can compare the performance of their locations with those of the competition and evaluate them for example on the following criteria:
Development of your total turnover compared to store stock and market penetration
Sales for product categories and products
Number of customers
This helps you to determine the strengths and weaknesses of the individual locations and make the appropriate action plans. Location analysis software based on geomarketing makes monitoring and controlling easier through preset analyses and reporting functions. The system displays the relevant indicators on maps. Based on the results of the analysis, the maps can be color coded like a traffic light for example, thus serving as an early warning system. At a glance, it is clear where action is needed. Allowing you to react faster.



Category Management and Branch Design in Alignment with the Location Environment
The better a branch location recognizes and covers the needs of its catchment area, the more economically successful it will be. Since the location environment is constantly changing, branches have to be able to react flexibly and adjust their product range accordingly. Analyses are the basis for the optimal alignment of the product range to the location environment.
Changes in the Location Environment
Changes in the location environment affect the composition of the potential clientele. For example, if a competitor opens in the vicinity of your location, this has different effects than if a footfall generator opens its branch across the street. A new bus stop may bring more walk-in customers. The demolition of a residential building in order to replace it with an office building on the street where your shop is located will also bring consequences. Sometimes changes in the environment are not quite so obvious. In this case, market data and analyses help provide a closer look at changes in the location environment.
Location Analysis
With geomarketing and the location analysis software WIGeoLocation, the location environment can be optimally examined and monitored. The analyses reveal the structure of the environment and answer the following questions:
Which groups of people are in the vicinity of the location? Private households? Offices? Walk-in customers? A mixture?
Which age groups frequent the area around the location?
What is the predominant purchasing power?
Which footfall generators are in the vicinity of the location: Schools? Doctors? Attractions? Hotels? Which retailers? etc.
What preferences does the environment show in terms of purchasing behavior?
The answers to these and similar questions provide you with important information for your location management and category management.
Ideally Align Your Offers and Product Range with the Location
The more precise the information about your location environment, the better you can align the offers of your location to the environment. This not only affects the range of products, but also the design of your location and marketing at the point of sales. You can ideally adapt the following aspects to the environment:
Range and products
Packaging sizes
Opening hours
Shop formats
Shop design
Personnel (e.g. language skills)
Analyses with differentiated market data and geodata allow you to gain a clear and detailed understanding of the environment of your locations so you can design your branches to meet the exact needs of your customers.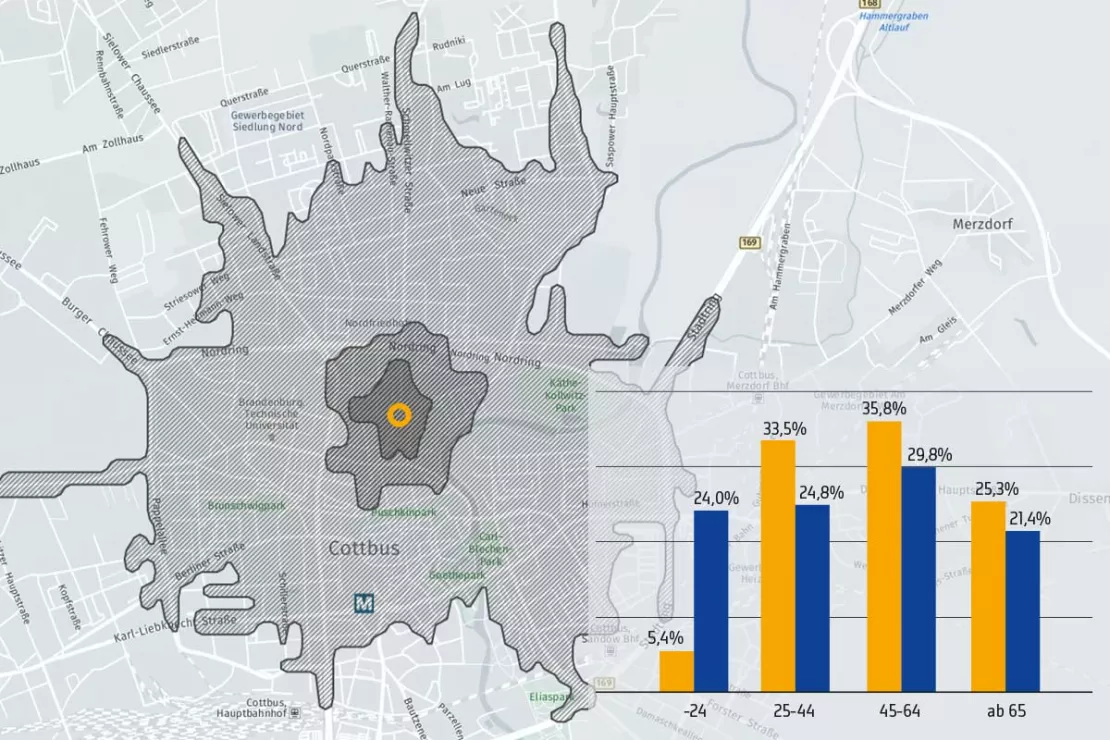 Location analysis software that uses geodata and geomarketing methods to show you all the relevant aspects of the location environment. So that you can ideally align your locations to the needs of your customers.

These Companies Have Placed Their Trust in WIGeoGIS
WIGeoGIS has been a specialist in location analyses for almost 30 years. A large number of retail companies trust in our expert consultants and rely on WIGeoGIS tools and data for their location analyses. See for yourself!
WIGeoLocation: Fill out the form, test it free of charge & without obligation!
Non-binding, free test for 30 days
Test ends automatically without cancellation
An employee will explain the tool in a short webinar*

* Information about the free test access: Standard regions with selected data in Germany or Austria will be made available. In Germany, these regions are districts in Munich and environs, and districts of Vienna and environs in Austria. The products of WIGeoGIS are intended for companies and are not suitable for private use. If you need a one-time market analysis, we will gladly make you a service offer.

FAQ
Is WIGeoLocation also suitable for choosing a retail location?

Yes! With WIGeoLocation you can analyze every location, for example real estate offers. This enables you to quickly decide whether a location is generally suitable for your requirements in terms of location and surroundings. WIGeoLocation is thus the ideal tool to help you make well-founded decisions regarding your retail location.


How do I get the appropriate potential data to perform spatial market analyses for the retail sector?

WIGeoGIS has an extensive network of data partners. We will help you select the right regional or national market data at the right price and individually prepare the data for your specific needs. Your internal location addresses and competitor data can be easily integrated into your projects using the WIGeoGIS Geocoder.

Does WIGeoLocation contain a kind of retail location analysis checklist?

WIGeoLocation provides you with comprehensive location reports that include all the location factors and information that are important to you. When we configure WIGeoLocation individually for you, we use a checklist with items that, based on experience, are important and regularly desired in location analyses. In addition to the standards for data and analyses, WIGeoLocation is always adapted to your individual needs.


What solutions does WIGeoGIS offer for the requirements of the retail industry?

WIGeoGIS provides geomarketing analyses for your specific needs: as consultation in the form of one-time or recurring analyses, as a WebGIS solution or as an expert workplace. Every option will provide you with custom results, software and data for your specific needs.


How do I get the appropriate potential data to perform spatial market analyses for the retail sector?

WIGeoGIS has an extensive network of data partners. We will help you select the right regional or national market data at the right price and individually prepare the data for your specific needs. Your internal location addresses and competitor data can be easily integrated into your projects using the WIGeoGIS Geocoder.