Location Analysis Example: This is How STIHL Does It
This is how the world market leader for chainsaws uses a location analysis tool from WIGeoGIS to develop its retail network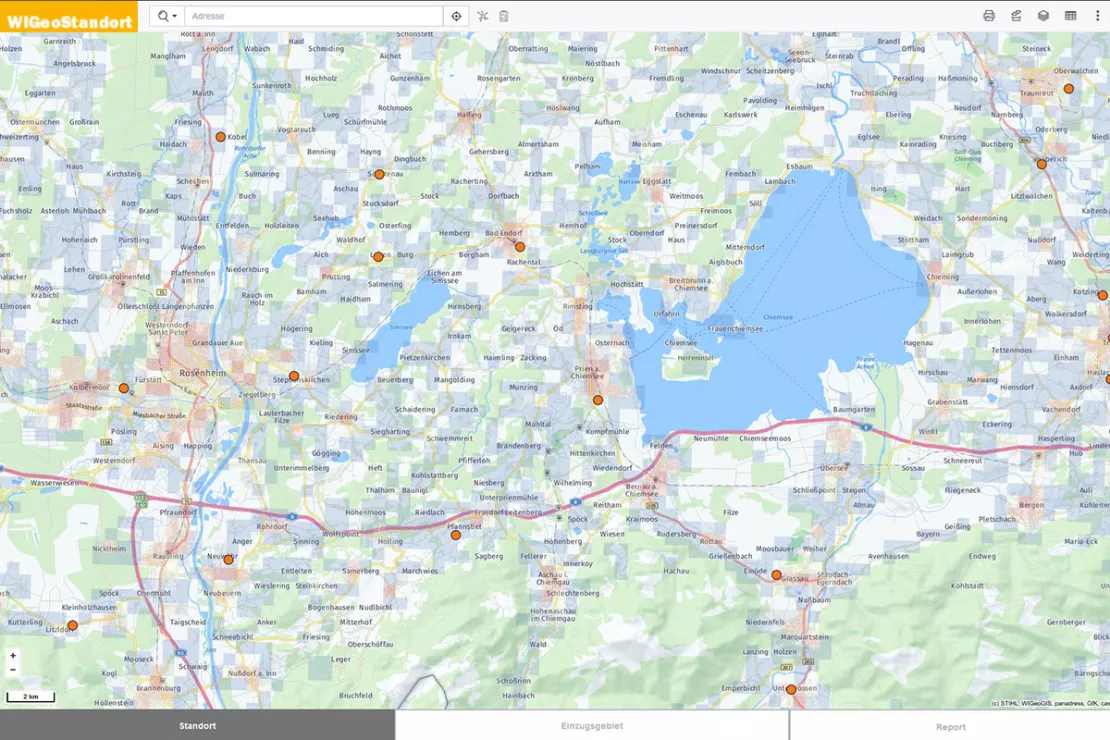 Case Study Overview
Customer: STIHL
Application: Strategic area planning, optimization of advertising planning
Product: Software WIGeoLocation, Potential Data
Goal: Development of the retail network, support of retailers in advertising planning and investment decisions
Use: A team of 14 users for Strategic Area Planning, Regional Sales Managers

The Swabian family company STIHL is known for its chainsaws as well as its motorized tools for gardening, landscaping and the construction industry. In addition, private customers also play an important role in the strategic direction of the company.
New Technologies Offer Opportunities for Growth
Battery-powered garden tools have grown in importance in recent years and are particularly popular with private customers. STIHL recognized this early on and developed an attractive product range for professional and private users. Devices are offered for different performance requirements and users with small gardens can now find the optimal tool for their application in the STIHL product range. This opened up new target groups with new customer expectations. This results in the need to qualitatively develop the existing retail network consisting of sales and service retailers and to supplement the network where necessary.
Driving Targeted Changes in Location Planning and the Retail Network Forward
"In order to drive the development of the retail network forward in a targeted manner, we need a suitable location analysis tool that provides us with extensive analyses in order to ensure we make the best possible investment and location decisions. This is where the WIGeoLocation software came into play," says Frank Schilling, Head of Strategic Area Development at STIHL. After comparing different providers, the decision was made to trust in WIGeoGIS Location from WIGeoGIS.
WIGeoLocation is a location analysis software from WIGeoGIS. In three simple steps, the tool delivers a comprehensive report that includes relevant location factors and internal and external market data. This allows us to determin regional market potentials that can be viewed not only as a total potential, but also broken down into private and business customers. With the help of the simulation of visitor probabilities for the retail locations, real catchment areas and the existing potential for the location were analyzed," says Marc Urner, describing the procedure. Urner oversees the project as a geomarketing specialist on the part of WIGeoGIS.
Since the implementation of the location analysis software WIGeoLocation in 2017, the tool has been used intensively by the Strategic Area Development team for a large number of location analyses. An external marketing agency also uses the tool to consult existing STIHL retailers. The aim is an effective and efficient distribution of advertising campaigns and materials.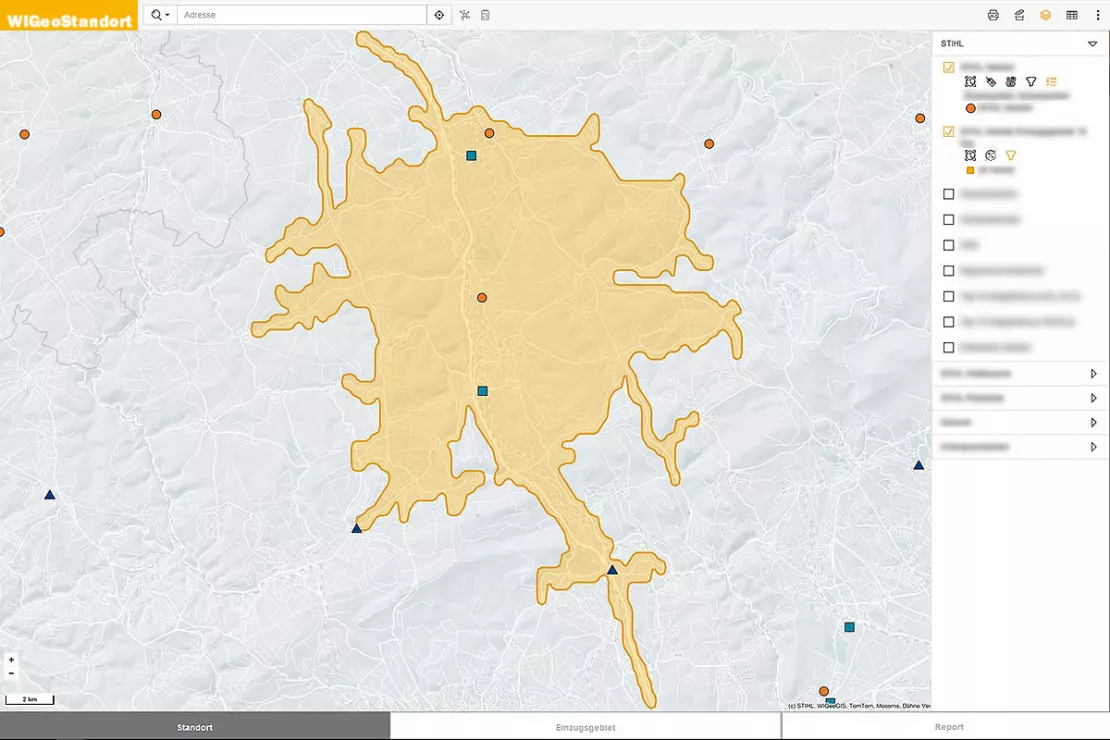 In the location analysis tool, extensive reports and potential reports for intelligently organized catchment areas can be generated within a few minutes. In this screenshot, location information was deliberately switched off. Usually the map shows place names and other geospatial information.


Tool for Location Analysis: Examples for Use at STIHL
There are many examples of how the location analysis tool is used at STIHL. After all, it provides ideal information for a wide variety of questions that arise in connection with retailers and networks. Here are some examples:


Example 1: Accessibility Analysis for the Retail Network
The main objective in developing our retail network is that every customer segment should be able reach a STIHL retailer within a reasonable amount of time. Due to continual changes, such as business tasks, new store openings, etc., the retail network is continuously evaluated and there is a regular need for action. This is not about an intensive increase in the number of retailers, but about a targeted addition to the existing core distribution.


Example 2: Location Analysis for Individual Retailers and Consultation on Potential
Another use case is consulting retailers on the regionally available potential and the current level of utilization of that potential. Based on this analysis, measures can be derived together with the retailers in order to make the best possible use of the existing potential.


Example 3: Support for Investment Decisions
A quality location analysis and the information on potential that it provides, can help ensure you make the best investment decisions possible for new or existing retail locations. This benefits both STIHL and their retailers benefit equally.


Example 4: Targeted Planning and Control of Marketing Campaigns and Advertising Material
The location analysis tool is also used in campaign planning and advertising media control. "Our external marketing agency accesses WIGeoLocation and consults STIHL retailers regionally on the optimal advertising measures and the areas with particularly high potential that can be accessed from the location. Our target groups can thus be addressed precisely and individually with those products and messages that are relevant for the respective customer", explains Schilling.


Extremely Satisfied with WIGeoGIS Software and Support
STIHL has been using WIGeoLocation for several years. Schilling is extremely satisfied with the tool and the support: "We are very satisfied with WIGeoLocation. It provides extensive information and good results quickly and easily. The tool is not a standard solution, but tailor-made for us.", says Frank Schilling, Head of Strategic Area Development at STIHL.

During the selection process, WIGeoLocation stood out over other products because
"... we liked the customized concept and the flexibility of the tool. In addition, we had already had positive experiences with WIGeoGIS, working with Mr. Hermann and Mr. Urner, on a previous project. As contact persons, they were always reliable, professional, quick and also personable. This good experience in working with WIGeoGIS in combination with the scope of the tool ultimately tipped the balance in favor of WIGeoGISLocation."


Note about the images:
Cover picture kindly provided by STIHL. Screenshots from the location analysis software WIGeoLocation

Test the location analysis tool WIGeoLocation for FREE and with no obligation! The trial period ends automatically. Request access now.
Location analysis - further case studies and information
WIGeoLocation: Fill out the form, test it free of charge & without obligation!
Non-binding, free test for 30 days
Test ends automatically without cancellation
An employee will explain the tool in a short webinar*
* Information about the free test access: Standard regions with selected data in Germany or Austria will be made available. In Germany, these regions are districts in Munich and environs, and districts of Vienna and environs in Austria. The products of WIGeoGIS are intended for companies and are not suitable for private use. If you need a one-time market analysis, we will gladly make you a service offer.