Web-Based Research Database "TERRA"for Market & Location Analyses
Case Study Senior Housing: TERRAGON AG
As the market leader in the development of premium service housing for senior citizens, TERRAGON operates the largest, daily updated database for senior housing. Data collection and queries are now online, database & geo analyses ensure comprehensive market knowledge and a competitive advantage.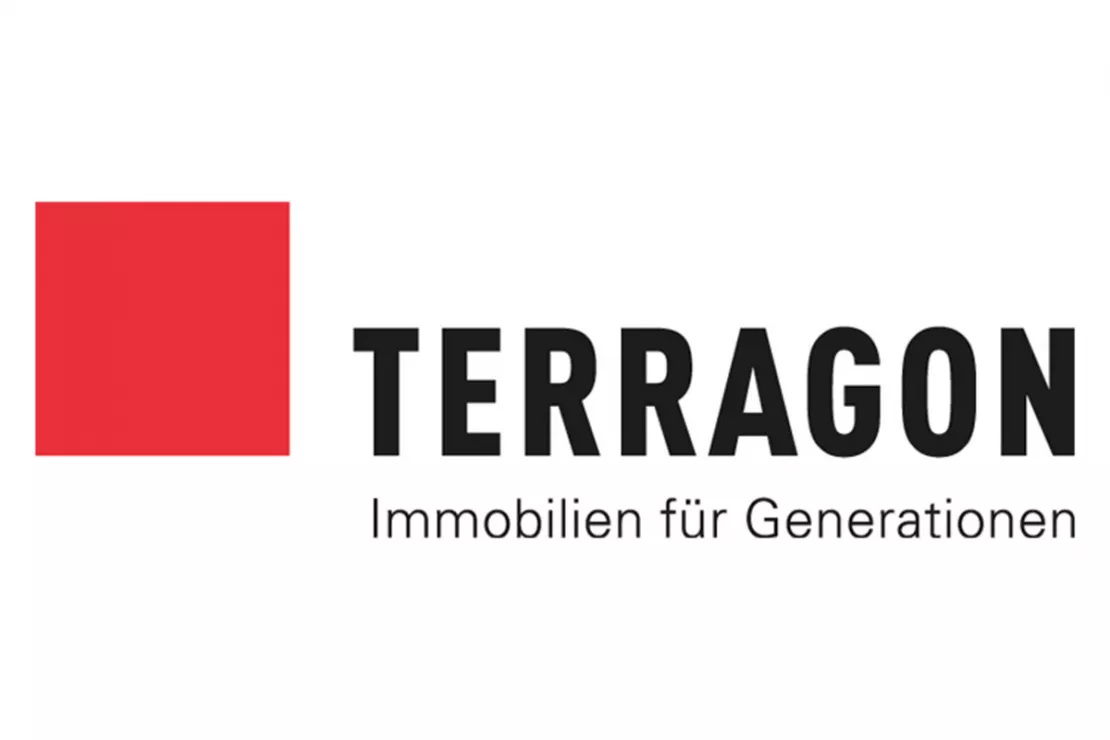 Case Study Overview
Customer: TERRAGON AG, market leader in the development of high-quality senior housing
Application: Database programming and operation, GIS-supported market analysis and location analysis
Products: Implementation of the "TERRA" research database with WebGIS WIGeoWeb for analyses
Goal: Stable operation of a central, web-based, rapidly growing database. Integrated tools for the distributed acquisition, plausibility check and automated calculation of market data, use of the data for market and location analyses with a self-service approach.
Use: Daily, currently 10 internal users from the areas of data collection, market analysis and location analysis.
Implementation period: August 2020 to November 2021.

"The main advantages of our TERRA database and the WebGIS WIGeoWeb are that we can work nationwide on a daily basis and very effectively. Analyses of locations and competitors can be called up ad hoc at the push of a button." Dr. Walter Zorn, Head of Research TERRAGON

The Customer
As a specialist in the development of barrier-free and high-quality senior and care facilities, TERRAGON AG has implemented 20 senior housing facilities across Germany with more than 2,500 residential units and around 760 care places, with a further 1,300 apartments being planned for the next few years.
Due to demographic change, TERRAGON continues to expect strong growth in the senior housing market. "We are registering a continuously high demand for our products in the area of serviced living and high-quality services for active and self-determined seniors and are currently examining other highly interesting locations. We will therefore continue to grow substantially in the coming years," says Dr. Michael Held, CEO of TERRAGON AG. Michael Held, CEO of TERRAGON AG.
Due to this initial situation, TERRAGON is looking for suitable building sites and properties in locations that are suitable for high-quality serviced living.
Creating and Further Developing the Database
"In 20 years, there will be 40 percent more seniors over 70 than today. With our offer, we ensure that people can live in housing that optimally meets their needs, even in old age. To do this, we need to know the target group, requirements and market," says Dr. Walter Zorn, Head of Research at TERRAGON since 2018.
Since 2014, TERRAGON has collected a database of around 7,000 serviced residential complexes with a decentralized team of scouts and researchers. This has been supplemented in recent years by tens of thousands of data points on residential complexes, apartments and price information. Extensive statistical market data is kept available for this purpose. Until recently, all data was in locally distributed Excel structures or a desktop GIS. A new solution was sought after that would provide better security and online accessibility for data maintenance, queries and analysis.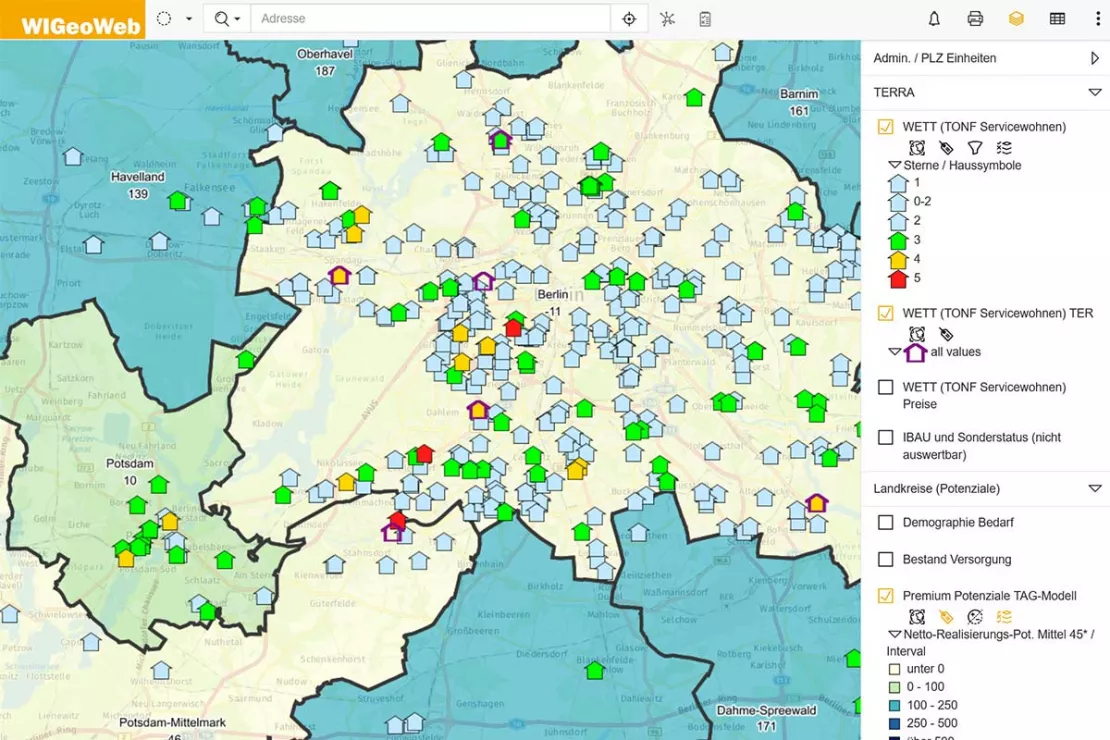 With the help of the WebGIS, data from the database on senior housing can be displayed clearly on a map.
Stable Research Database with Integrated Analysis Tool
"We used Excel for a quick start and intensive methodical further development. This was not suitable for the continuous operation of a rapidly growing database or for data that was accessed by different users for maintenance, queries and analyses. Therefore, we were looking for a stable, web-based work environment for flexible data collection that also optimally supports the analysis and interpretation of the data. There were no commercial products for the very specific data we work with, so we prepared a call for tender including the content, data model and specifications for an external consultant to support us in the development of our own in-house solution. With WIGeoGIS, we found a partner that made realizing this goal much easier than expected thanks to the available and flexibly configurable WIGeoWeb analysis platform that allows distributed users to display data on maps and prepare analysis reports," says the TERRAGON research manager.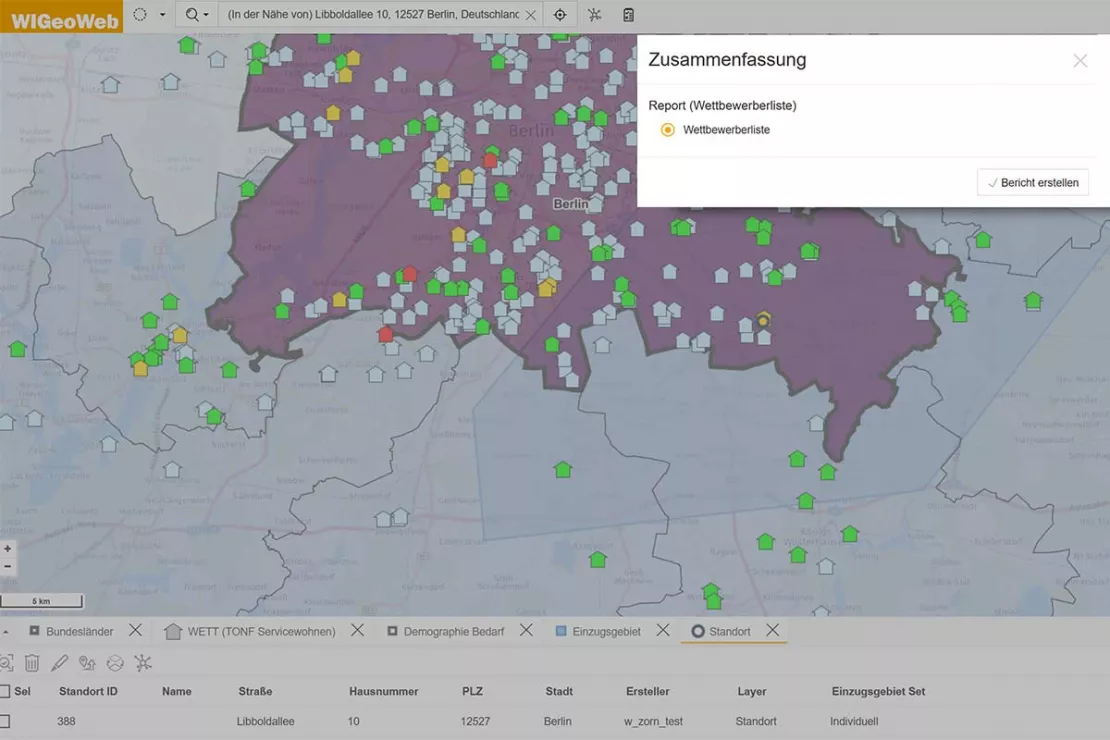 WIGeoWeb offers defined standard reports that users can request at the push of a button - for example on competitor properties.

Modern Data Consolidation and Flexible Data Collection
When transferring the data from Excel to the new TERRA database, all the data records were geocoded, i.e. each address was assigned an XY coordinate. This is a prerequisite for the representation of properties (addresses) on the map as well as geo-based location and market analyses, such as needs, competition and regional building cost and rental price evaluations.
At the same time, extensive calculations were implemented to complete price components and precalculate evaluations, for example, at a property and district level. "The complete basic data is now available in the TERRA database. This greatly facilitates data consolidation, such as merging content, finding project duplicates or adding missing years of construction or price components. At the same time, we are thinking about further developments, such as the recording of key criteria for the automated assignment of gif star categories* for residential complexes, or semi-automatic suggestions for catchment areas," says Dr. Zorn.
New data sets are constantly being incorporated into TERRA. Scouts research potential property locations and competitor data. The benefit of the new system, according to Dr. Zorn: "It was important to us that the database can also be used online via tablets thanks to flexible form designs. Users can thus view the database directly on site and enter new data. This data is then immediately available to all users, which increases the topicality, efficiency and effectiveness of the overall use."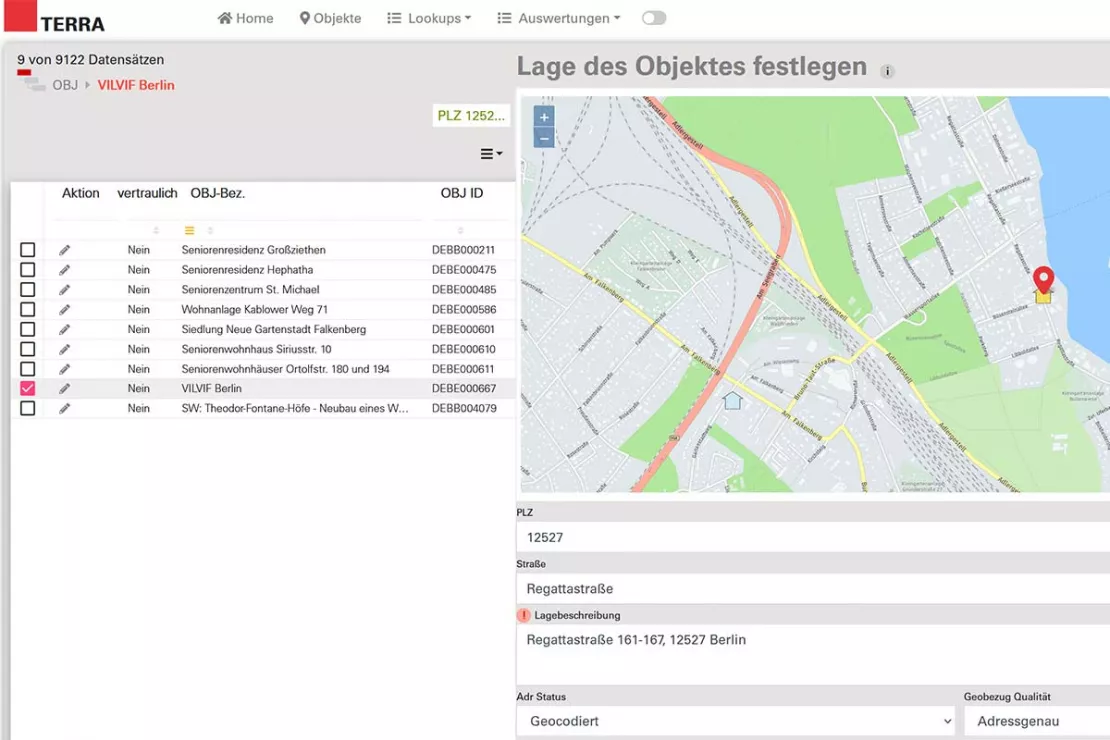 All property addresses are geocoded in the TERRA database. Thus, the location of each property can be visualized on a map. A wide range of detailed information is collected for each object that can be comprehensively evaluated (geo-)analytically.
Curious? We are happy to provide consultation on Database Development and WebGIS!
Easy access to information for comprehensive market knowledge and effective property acquisition
On the one hand, TERRAGON uses data and analyses to examine the potential of properties and plots of land with location analyses. The analysis results help the company to make strategic purchase and thus investment decisions. On the other hand, communication with investors and municipalities is made easier for the central project contact: "For them, the projects must be presented transparently in order to convince them of the chances of success. In the past, a few people in research were responsible for gathering the information required for location reports, preparing analyses and decision memos. With TERRA and WIGeoWeb, all authorized users can now easily create up-to-date location reports in minutes at the push of a button. Comprehensive data is also available much more quickly for complex analyses, making research even easier. This self-service & enhanced input approach gives stakeholders easier and faster access to information relevant to decision-making and thus increases efficiency when acquiring land and evaluating locations," reports Dr. Zorn.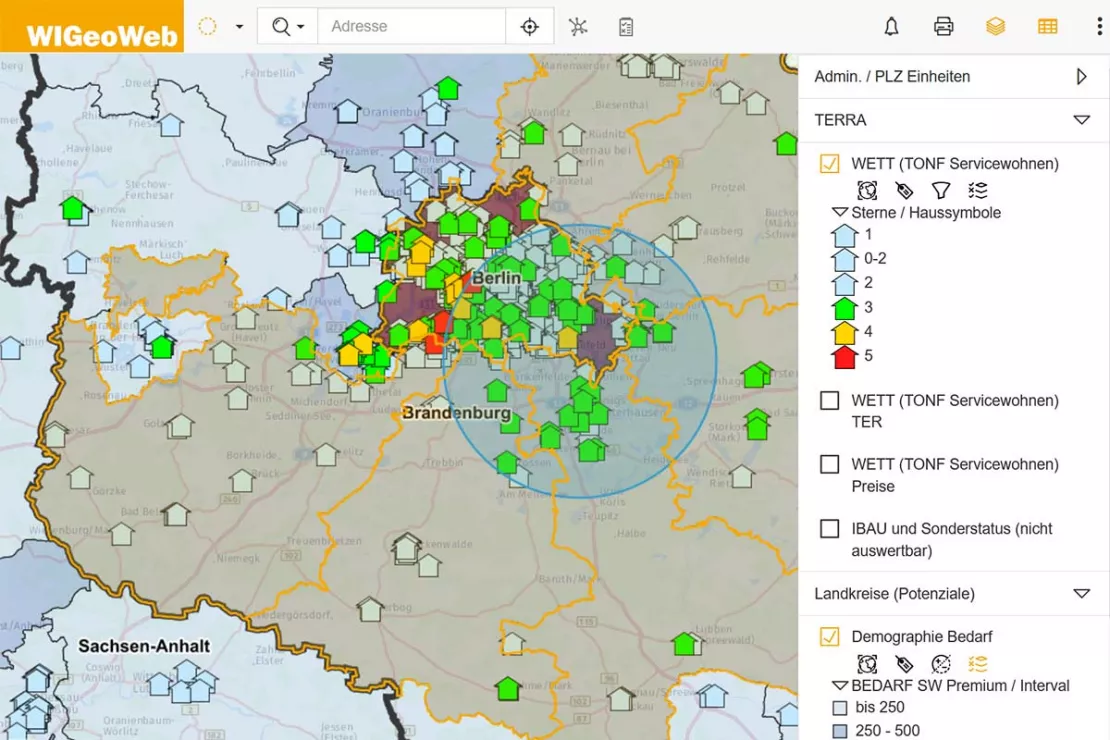 WIGeoWeb can be used to perform various analyses for housing locations. The analysis results facilitate investment decisions at TERRAGON, for example by forecasting the expected demand in the region.
It is planned to give other departments access to the system and, if necessary, allow external access as well. A rights and roles concept controls who can access what and how and even if they have editing rights.
The Acquisition Department has been using the system for several months, and the Marketing Department will also be given access so that they can independently prepare analysis results and data for press and public relations work. Real estate appraisers from banks and investors can also benefit from the information stored in TERRA. It is planned to configure a range of location analysis reports that can be provided to them.
Great Partner and a Great Solution
What was special about the implementation of the project was that, due to Corona, it was carried out completely remotely from the office/home offices of the client and WIGeoGIS. "The cooperation with WIGeoGIS was pleasant and efficient, both personally and professionally. Although personal meetings were not possible, we quickly formed a common understanding of the professional requirements and technical possibilities. Together, we found good solutions for the problems that inevitably arise with such new developments," says Dr. Zorn evaluating the project.
Thanks to a flexible approach, the goals set in the specifications were achieved and further important additions were made. The Head of Research is satisfied: "The TERRA Research database programmed by WIGeoGIS with the WebGIS WIGeoWeb make our property acquisition more effective by providing better quality analyses. The costs were as expected without any surprises."
Analysis reports are still used to provide third parties with information. Following the start-up phase, further information formats and possible direct access for third parties (including real estate appraisers) are currently under discussion. The further expansion of the database and analysis tool is therefore already being planned.

Arrange a free initial consultation on Databases and Location Analyses with WebGIS!
Real estate, databases and location analysis - further case studies and information
Database Development and WebGIS: Request a free initial consultation
FREE initial consultation on databases and WebGIS
Non-binding, without further obligations
By telephone or video call
Would you like to build a database and use it for analysis? I will gladly support you. Please contact me!


* gif: Registered Association for Real Estate Research
Note: The image material was kindly provided by TERRAGON AG.