Efficient Data Management with Immotool
ANWR Group Manages Real Estate Offers with a WebGIS Extension.
"We used to organize everything in folders in our mail client, it took hours to process a location request. However, it is essential for our business to be able to act quickly. With Immotool, it takes less than a minute.", Sabri Laassidi, Area Manager Expansion ANWR GROUP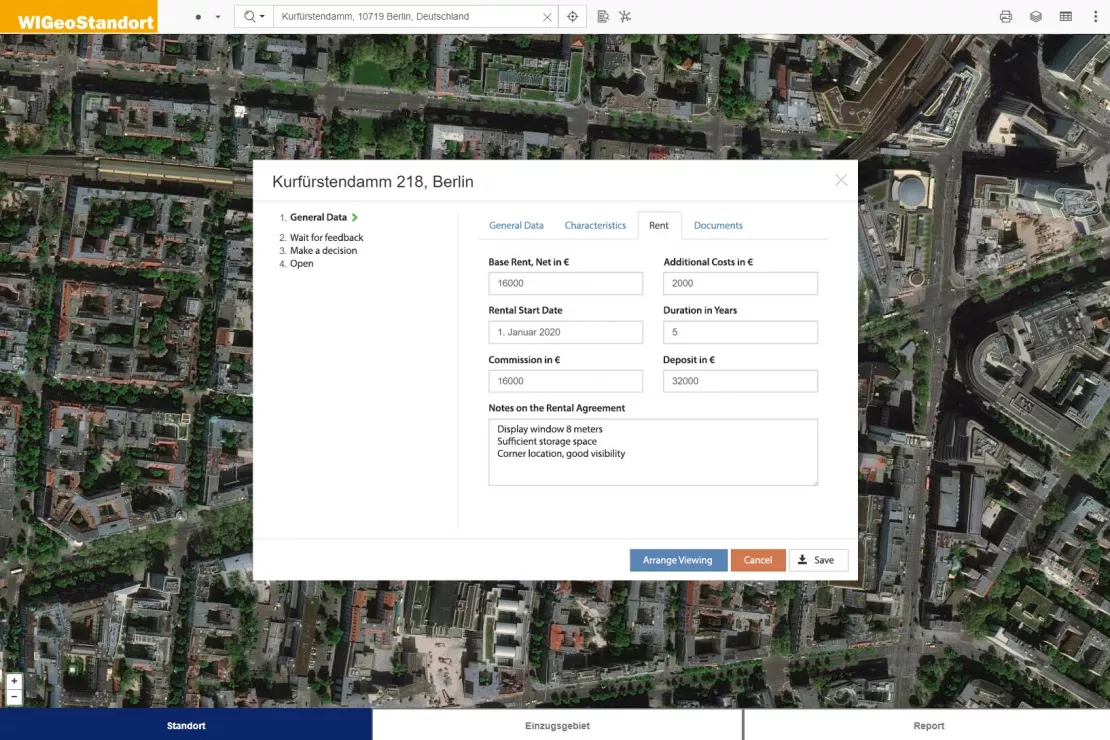 Case Study Overview
Customer: ANWR GROUP
Application: Workflow optimization in the administration and analysis of real estate offers in retail (B2B)
Product: WIGeoLocation plus custom-developed extension
Goal: Increase of efficiency & speed
In times of digitization, efficiency and speed are key factors for survival on the market. With the help of Immotool, the trade cooperative ANWR GROUP brings retailers seeking locations together with real estate providers. The data can be found centrally and parts of the workflow are automated.
"WIGeoGIS understood exactly what we really needed and implemented it. We now have a slimmer, more effective tool that is easier to use."
Sabri Laassidi, Area Manager Expansion ANWR GROUP

Managing Location Offers Efficiently
The ANWR GROUP is a trade cooperative that supports more than 6,000 independent retailers in the footwear, sporting goods and leather goods industries with a wide range of services, for example in purchasing, digitization and marketing.
The Expansion Department mediates between retailers seeking locations and providers of suitable real estate properties such as brokers, developers, investors and landlords. Each week, approximately 75 real estate offerings end up in the mailbox for Sabri Laassidi, Head of Expansion for ANWR GROUP, and his team.
The offers are pre-sorted, viewed and evaluated in a centralized workflow. Since not every location can be instantly matched with the right tenant or the right store concept, it is essential to manage the massive amounts of data and knowledge that is accumulated centrally, clearly and efficiently.

Individual Solution: Immotool
The solution has a simple name: Immotool. It is a WIGeoStandort extension custom programmed by WIGeoGIS for the ANWR GROUP Expansion Department, which uses the WebGIS software for all their offers related to expansion. The tool is embedded in the WebGIS software and thus linked to its extensive functions.
The key data is the property address. When an offer is received, first the address is geocoded so that it can then be visualized on a map. Thus, together with WIGeoStandort, you can see at a glance which retailers are nearby. Documents such as the exposé, rental agreement, etc. as well as the feedback of the sales representative who viewed the location are all centrally available via the address.
With the appropriate settings, the software "knows" which employee is responsible for both the viewing and the assessment of the property. Immotool automatically sends this employee an email informing them to contact the real estate agent and to initiate further work steps.
If a real estate agent is searching for a property, they can select the desired filters and the software will provide suitable offers. "For example, I could ask what offers we have received over the past two months in Stuttgart within the defined catchment area of a shoe retailer who is looking to expand," says Laassidi. "We used to organize everything in folders in our email client, it took hours to process such a request. However, it is essential for our business to be able to act quickly. With Immotool, it takes less than a minute."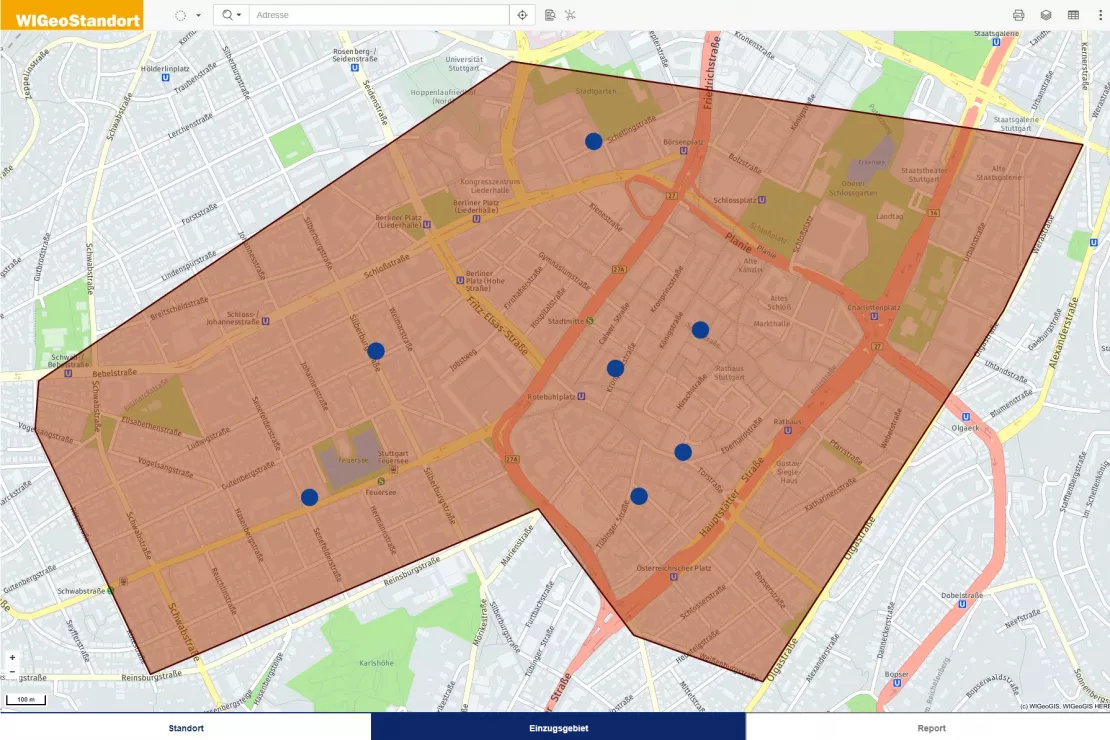 The image shows the result of a query of the offers from the last two months in Stuttgart, within the defined catchment area of a shoe retailer that is planning to expand.

Location Analysis for Real Estate? We Have the Right Software For You! Try it for 1 month free of charge
Flexible, Simple, Modern
No wonder that Immotool soon became indispensable for the Expansion Department. The ANWR GROUP used the original version of Immotool for more than five years as a supplement to their previous system Desktop-GIS. However, the software provider went through an internal restructuring that made a change necessary.
"So I had a problem," recalls Laassidi, "because I did not just need a new standard software for location analysis. Above all, I needed a solution with which we could continue to use our Immotool.
With WIGeoGIS, Laassidi found the best partner for the change. He used the opportunity to switch to a WebGIS, because "it was the obvious choice. It is easier and more up-to-date and fits in seamlessly with our overall digitization strategy," says the department head. "The main criterion for the decision to work with WIGeoGIS, however, was the fact that the company was able to program the functions of our old Immotool as an custom extension for the new GIS software."
Laassidi is more than happy with the result. "Not only did it work out wonderfully, it was ultimately a step forward. The old tool was more complicated and we did not use half of its functions. WIGeoGIS understood exactly what we really needed and implemented it. We now have a slimmer, more effective tool that is easier to use."

Powerful Software That Can Also Be Customized For Your Specific Needs
"We offer standard software that meets the requirements for wide variety of tasks with spatial reference. In addition, we have extensive experience customizing the software for specific needs. I think this combination is our strength."
Renate Dumberger, Key Account Manager, WIGeoGIS

"Top Notch" Customer Service
"The second most important criterion for me was that we can always call. This is enormously important to us and when it comes to customer service, WIGeoGIS is top notch," continues Laassidi. An added bonus is that the price-performance ratio is also spot on. "I do not want to pay for an expensive product with features that I do not need. WIGeoGIS knows how we tick and perfectly meets our needs."

Speed and Efficiency as Key Factors in the Digital Age
At ANWR GROUP, digitization is the number one topic across every department. "As a cooperative with a 100-year history, the combination of tradition and innovation has always been our strength," says Laassidi with a note of pride. "And that is a good thing, because our retailers are small sole proprietors. They need support with digitization."
Laassidi is convinced that efficiency and speed are key factors for success in the market. Immotool is a valuable piece of the puzzle in this strategy.
In the future, he would like to see even more extensive networking. This would allow the ANWR GROUP to directly interface with the databases of large location providers so that retailers could make queries on their own. "That is still a dream for the future. We have to take it one step at a time. However, we are sure to get there with WIGeoGIS as our reliable partner."

Location analysis - further case studies and information
WIGeoLocation: Fill out the form, test it free of charge & without obligation!
Non-binding, free test for 30 days
Test ends automatically without cancellation
An employee will explain the tool in a short webinar*
* Information about the free test access: Standard regions with selected data in Germany or Austria will be made available. In Germany, these regions are districts in Munich and environs, and districts of Vienna and environs in Austria. The products of WIGeoGIS are intended for companies and are not suitable for private use. If you need a one-time market analysis, we will gladly make you a service offer.