Location Analysis and Location Planning: Case Study Lotto Baden-Württemberg
Lotto Baden-Württemberg is developing the sales network for lottery acceptance points with the help of WIGeoLocation, the WIGeoGIS online tool for location analysis.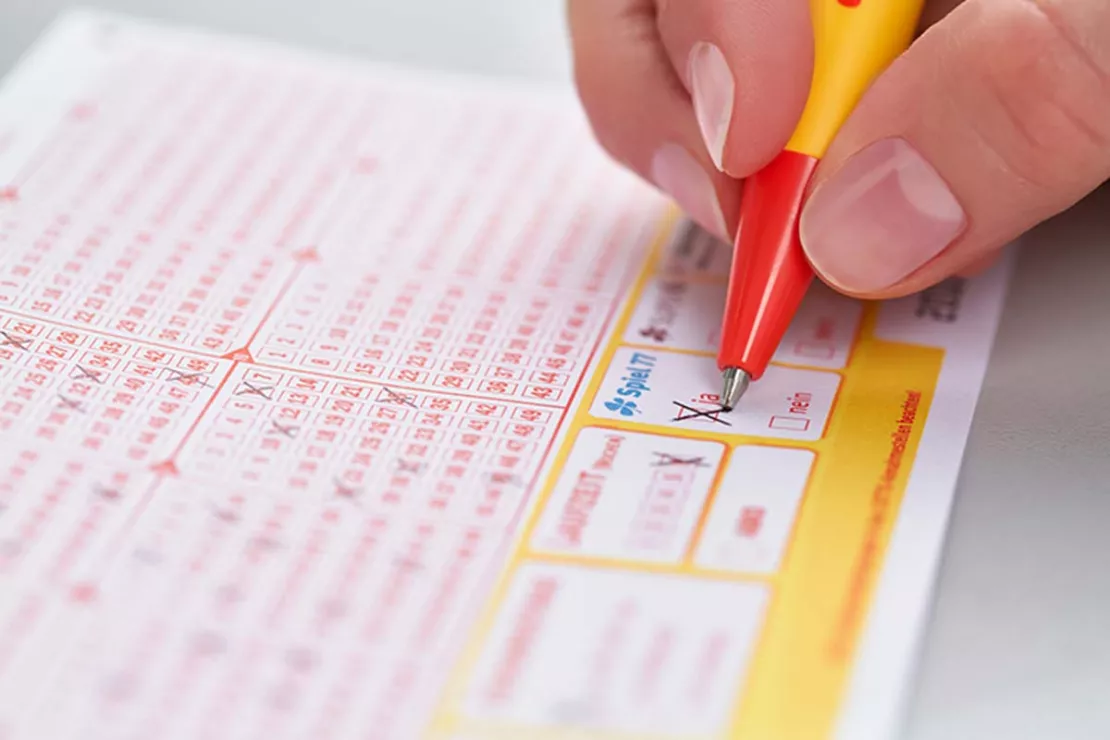 Case Study Overview
Customer: Lotto Baden-Württemberg
Application: Location analysis, location planning, sales network planning
Products: WIGeoLocation, market data, POI data from WIGeo Location Atlas
Goal: Digitization & increase in efficiency of location/sales planning and the ideal number & distribution of lottery acceptance points in Baden-Württemberg
Use: 60 users & 30 active users in the head office and 7 regional offices
The Staatliche Toto-Lotto GmbH Baden-Württemberg is the lottery company of the Federal State of Baden-Württemberg. Lotto Baden-Württemberg runs state lotteries and betting on behalf of the federal state. The sales network includes around 3,150 acceptance points. These are structured into seven regional offices.
"WIGeoLocation provides us with a comprehensive picture of our acceptance points and the network of locations as a whole. This is very helpful."
Stefan Laderer, Central Sales Management, Lotto Baden-Württemberg
Digitization and Modernization of Location Planning
"Digitization, increased efficiency and the desire to see the network of acceptance points on the digital map were decisive for the introduction of the online tool WIGeoLocation," says Stefan Laderer. He works in sales management at the Lotto Baden-Württemberg headquarters and, as project manager, he oversaw the introduction of the geo tool.
Initially, several systems were in the running. "We decided on WIGeoLocation because this software is very flexible and can be individually adapted to our needs. We were able to develop location factors, analyses and reports independently and individually, integrate data from our internal database and add the external data that meets our needs," says Laderer.
Try all the WIGeoLocation functions for free. Get your free trial access now!
Smooth Cooperation and Professional Consulting
The project team consisted of sales specialists from Lotto Baden-Württemberg and two geomarketing experts from WIGeoGIS. "The cooperation went smoothly. The two colleagues from WIGeoGIS were always available. Short distances. Quick implementation. Mr. Urner's expertise was extremely helpful. He knows how to handle data properly, how to integrate it ideally and how to interpret data and analysis results," Laderer recalls.
Geo-Tool Provides Aha Moments
As deputy project manager, Christoph Grüber was also part of the geo-tool implementation team. He is Managing Director of the North-East Regional Office. His area covers eight districts and the management of almost 500 collection points. The project was his first experience with GIS and geo-tools. Grüber says: "Up to this point, I thought I knew my territory inside and out because of my work as a sales representative. It was surprising to see how my own assessments sometimes differed from the data and analysis results. I certainly had a couple of aha experiences. The software is very helpful. I use WIGeoLocation regularly. Whether it is when a collection point is due to be filled, for annual appraisals with employees, for potential and performance analyses of individual collection points, or for questions about area optimization and area development."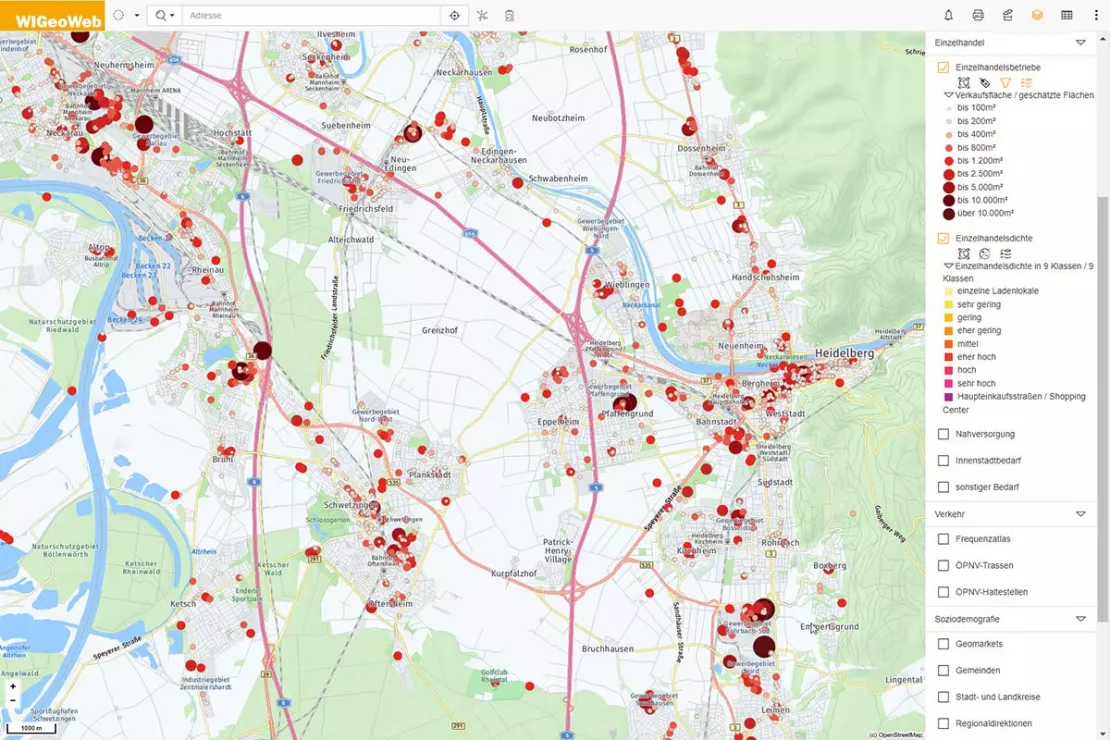 WIGeo Location Atlas from WIGeoGIS provides data for location analyses, such as retail density, retail space, footfall generators, population density and much more.
Designing an Optimal Network of Acceptance Points
Lotto Baden-Württemberg uses the tool to optimally design its sales network. "Our goal is to optimally fulfill our channeling mandate and, for example, to provide our customers with collection points that are easily accessible. The dynamics of terrestrial retail require continuous location review as there are shifts every month in each region: Acceptance points are no longer available or have to be re-staffed, others are newly opened. These changes can be optimally mapped in WebGIS and we can respond to them accordingly," explains Laderer, from Central Sales Control.
Location Information Quickly & Easily
Bärbel Rankl also uses the tool very frequently. "I perform at least 100 analyses per year on existing locations with WIGeoLocation. On top of that, there are also ad hoc analyses, which I use to check the potential of another 20 to 50 locations." Bärbel Rankl is Managing Director of the South-West Regional Office. She says: "Thanks to the analyses and data visualization with WIGeoLocation, I can make location decisions more quickly and easily. The tool bundles data from different sources and displays the relationships between them clearly. In the WebGIS, I can also access external data, such as average age, population density and retail density in the catchment area of the acceptance points. These are important parameters for evaluating the potential for a Toto Lotto location."
Test the location analysis tool WIGeoLocation, FREE with no obligation! The trial period ends automatically.
Clear Visualization of the Data Saves Time in Location Assessments
"The visualization of the data in WIGeoLocation is incredibly practical. I can assess the location environment remotely and quickly decide whether the location is a fundamentally good fit or not. This means I know immediately whether or not it is worthwhile to further process a request for an acceptance point license based on its location. That saves time," says Michael Layer, Managing Director of the Regional Office in Stuttgart.
All the Relevant Data for Location Analysis in a Single Tool
"In addition to the visualization, the bundling of all the important data in one place makes the Geo-Tool so valuable", says Laderer. The sales management employee says: "In WIGeoLocation, we access all the relevant location data and see, for example, weekly sales, different game orders, sales development and dealers in the area, such as kiosks, grocery stores, gas stations, distribution chains, sports facilities etc. In the WebGIS, we also record the results of test purchases that are used to monitor compliance with player and youth protection laws so that we know whether to approve or reject the sale. WIGeoLocation provides us with a comprehensive picture of our acceptance points and the network of locations as a whole. This is very helpful."
Photo credits, impressions Lotto Baden-Württemberg: Claus M. Morgenstern
Location analysis - further case studies and information
WIGeoLocation: Fill out the form, test it free of charge & without obligation!
Non-binding, free test for 30 days
Test ends automatically without cancellation
An employee will explain the tool in a short webinar*
* Information about the free test access: Standard regions with selected data in Germany or Austria will be made available. In Germany, these regions are districts in Munich and environs, and districts of Vienna and environs in Austria. The products of WIGeoGIS are intended for companies and are not suitable for private use. If you need a one-time market analysis, we will gladly make you a service offer.