Location Analysis Rational and Data-Based
Case Study Storebox
Storebox, your warehouse next door, opens new locations every month and wants to become the market leader in Europe. In order to select the real estate objects in a rational and data-driven manner, the self-storage provider relies on location analyses created with the web-based GIS software WIGeoLocation.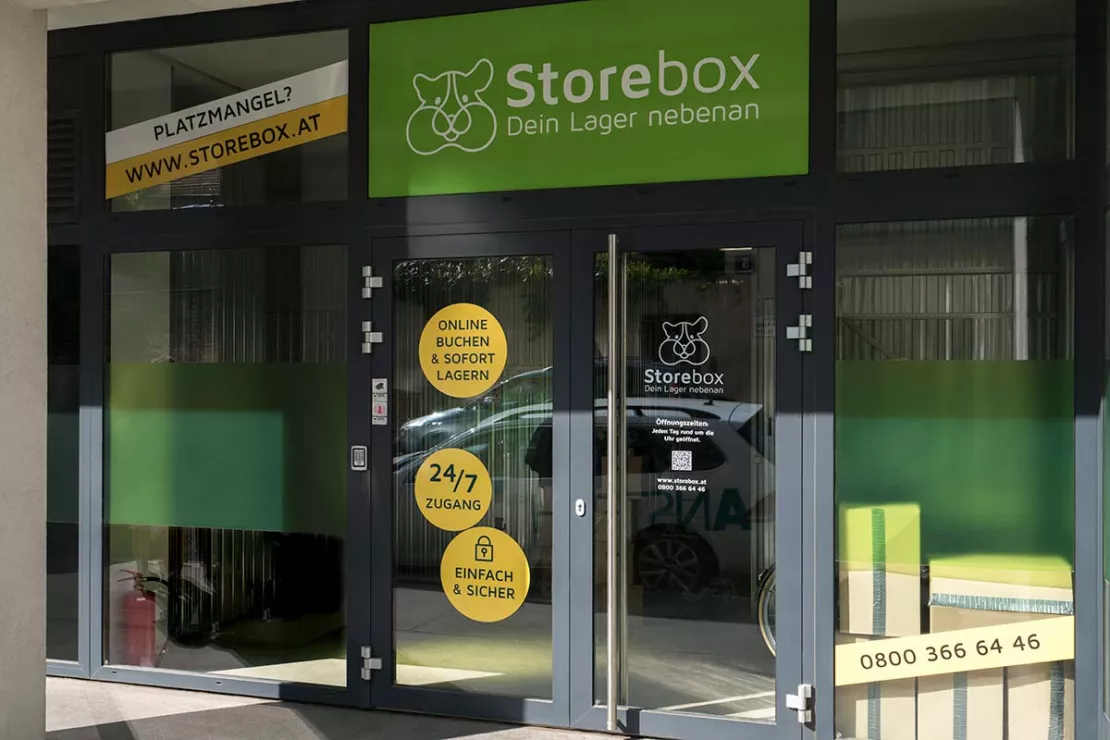 Case Study Overview
Customer: Storebox
Application: Location Analysis
Product: WIGeoLocation (WebGIS, integrated geocoder, satellite images)
Goal: Fact-based location assessment to support decision-making in expansion
Use: 3 active users and up to 12 employees who regularly read reports

"We conclude long-term rental and franchise agreements for Storebox locations and invest a lot. That is why we want to make rational and data-driven decisions for new locations. The location analysis with WIGeoLocation from WIGeoGIS helps us do exactly that. With this tool, we can easily find the locations that are most profitable."
Berndt Schröding, Storebox

Where is the optimal warehouse next door?
You need to store something within ten minutes but there is no space in your apartment or basement? No problem thanks to Storebox, the first fully digitized self-storage company. Simply go to the next Storebox location, book a storage unit with the easy-to-use web application and a few minutes later you can safely store away all your belongings.
Storebox Locations
Currently, Storebox rental storage units are centrally located in more than 50 German-speaking cities, and the trend is growing rapidly. Berndt Schröding, Head of Operations at Storebox, explains: "Our customers use our offer as an extension of their own living space." What makes it special: All the customer processes take place digitally: "They can also come to one of our centrally located properties at two o'clock in the morning and stow a box there." Storebox branches are usually located in densely populated inner-city areas, where many residents from the area can walk to them in five to ten minutes. The branches have a storage area of between 150 and 500 square meters and are mostly on the ground floor.

With WIGeoLocation, Storebox checks whether possible locations are suitable for their business model
On Course for Expansion in Europe
In Vienna, where Storebox was founded in 2015 and is still based, the self-storage provider currently has around 40 locations, and the trend is rising. Storebox currently operates more than 125 locations in Austria, Germany and Switzerland, and the number is increasing everywhere. Berndt Schröding explains: "We are growing rapidly and are currently opening several new locations per month."
Storebox management is also looking for locations in other European markets. However, Austria and Germany are currently still the most important markets: According to Schröding, this is primarily a question of market penetration: "We see a lot of potential for our business model, especially in Germany."
Storebox is expanding and wants to become the largest and most innovative urban logistics network in Europe. This should primarily be achieved by expanding the franchise system: Already today, around half of the Storebox branches are operated by franchisees.




We would be happy to give you a live demonstration of how Location Analysis in WIGeoLocation works!
Configurable Location Analysis Software
As you might imagine, the Storebox employees make intensive use of the location analyses created with WIGeoLocation. In July 2020, they decided to implement this web-based software for their location assessments. Schröding says: "We wanted to have an easy-to-access cloud tool." First of all, Berndt Schröding and his team conducted an internal study to determine which data sets are essential for assessing locations for Storebox branches. For Storebox, it was important to work with software that would allow them to integrate their own data, which is possible with WIGeoLocation.
Schröding sums up the decision as follows: "Ultimately, we saw the greatest advantages in the WIGeoGIS business model, because we continuously query a large number of reports for many properties and accordingly use the tool very frequently. We appreciate the fact that we pay a flat rate with WIGeoGIS, and not a per query fee like with other providers. In addition, WIGeoGIS offers more than just ready-made data sets, so we were able to tailor WIGeoLocation to our needs."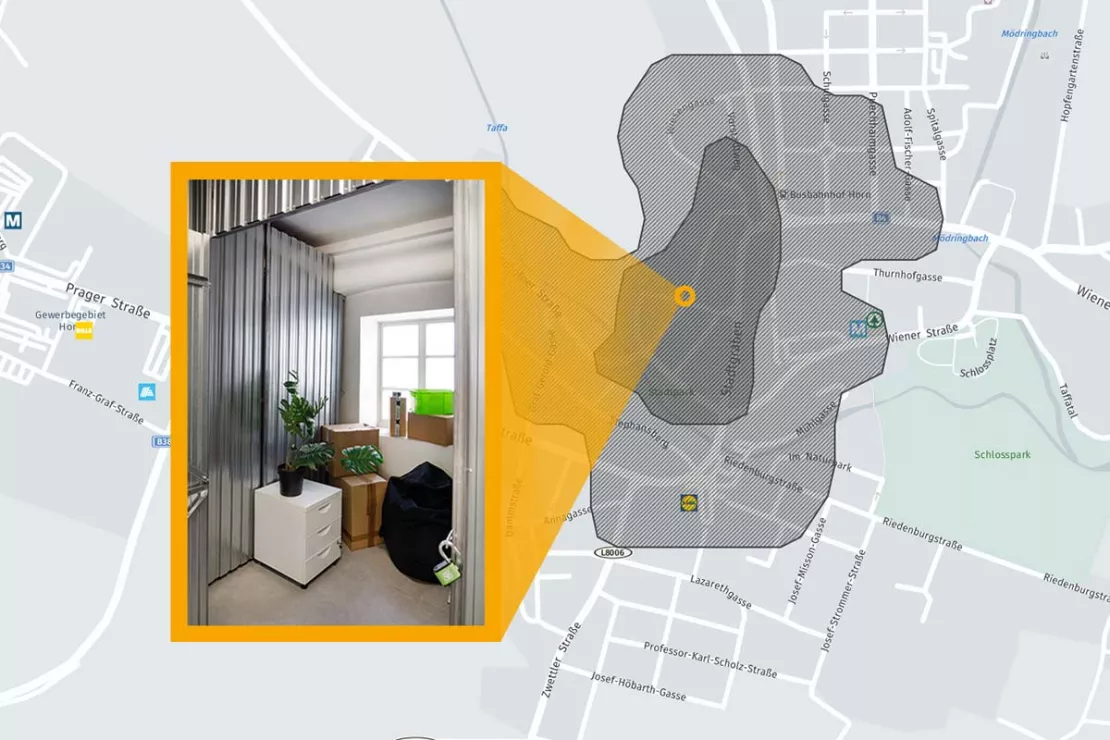 Is this an ideal Storebox location? WIGeoLocation helps to answer this question.
Data for Fact-Based Location Decisions
For a better, in other words rational decision when choosing new locations, Storebox relies on demographic data, purchasing power data, traffic connection data and, to a certain extent, also on traffic and footfall information. All this data is included in the location analysis reports when assessing new locations in order to decide on the best possible location, be it operated by the company itself or a franchisee.
Assessing Locations
Three employees from the Storebox expansion team, including spatial planners and real estate specialists, use WIGeoLocation to conduct ongoing location analyses for potential new Storebox business premises. The reports can be called up by every employee, with eight to twelve people doing so on a regular basis, especially for the franchisees. Though it is rarely ever the case, even if a franchisee comes to Storebox with their own location suggestion, a location analysis is always carried out in the Storebox headquarters. The report function, which creates automatic reports for each location, supports the decision for or against a location by providing a quick overview of the most important criteria. Schröding: "We also use the tool to explain to franchisees what makes a good location."
Berndt Schröding tells the story of a franchisee who had already signed a preliminary contract for a location in a medium-sized German city before the location analysis was performed with WIGeoLocation: "After the location analysis, the preliminary contract was canceled. We then looked for a new location and are very happy about this decision, because this location generated a positive contribution margin within a short period of time."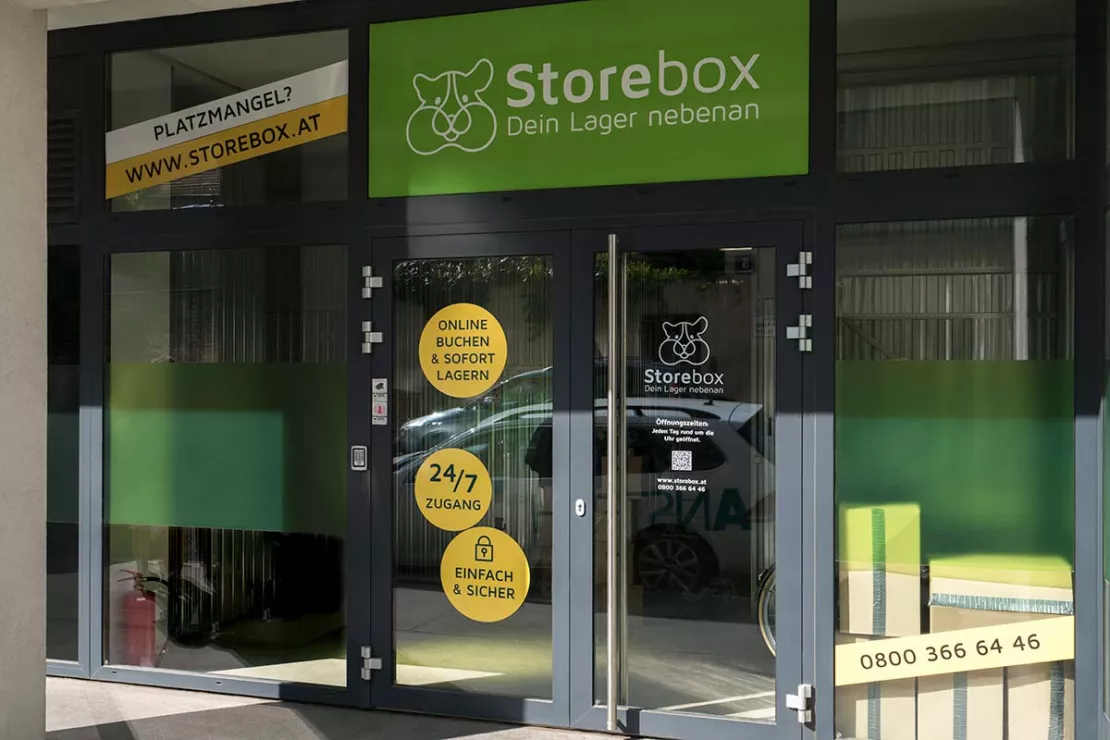 With WIGeoLocation, Storebox explains to their franchisees what makes for a good location
Learning with Every Location
In addition, Storebox carries out internal analyses of their existing locations and thus learns something new with each additional location. This is because the company systematically collects data on the locations and maintains a database: "We have a very wide range of data and look, for example, at the age and occupancy of a location, as well as the size of the city and a few other location configurations, and can thus find out whether the location is performing well or not. WIGeoLocation also helps us to identify anomalies more quickly, for example when locations that only have a small catchment area of five to 15 minutes by foot, nevertheless perform very positively economically.

We will introduce you to Location Analysis in WIGeoLocation and help you find the solution that is best for you! Free of charge, non-binding and free of obligation!
Close-Knit Network of Branches
The competition is fierce, but there is still a lot of space for the unique business model of Storebox, even where there are already so many Storebox locations. Since average customers only walk 800 meters to a Storebox storage unit, it is possible to have a close-knit network. Nevertheless, any cannibalization of the business locations plays a role for the location assessment. Schröding: "We have a very high density of locations in Vienna, for example, but we still see potential for further Storebox locations, despite the strong competition."
The Next Steps in the Location Analysis
After the German-speaking and Luxembourg markets, Storebox wants to conquer the European market step by step. "The goal is Europe," says Berndt Schröding. Then the self-storage provider will expand the web-based software WIGeoLocation to include data from other countries. Schröding: "If we enter larger markets and begin issuing multi-licenses to franchisees there, we will expand WIGeoLocation accordingly."


Numerous companies rely on WIGeoGIS - further case studies
Location Analysis with WIGeoLocation: Request a FREE Live Demo!
FREE Live-Demo* of Location Analysis

Non-binding, without further obligations
Online presentation via video call
Do you want to know more about Location Analysis? I will be glad to support you.

* The products of WIGeoGIS are intended for companies and are not suitable for private use. If you need a one-time market analysis, we will gladly make you a service offer.