European One-Stop-Shop Enables Online Commerce with Spatial Data
Fast, Secure, Cost-Effective and Fair: This is how geodata can be bought and sold across Europe via the new online platform Topio.market. The beta version is currently available.
Simply register online and you are good to go: Via the new European data marketplace Topio.market, companies can offer their geodata for sale as well as buy data from other providers, fairly and securely with just a few clicks. The platform is currently available in a beta version and can be tested immediately by simply registering with the website.


How is geodata bought and sold on Topio?
No matter what the spatial data or the file format available: in the future, anyone who wants to sell geodata can offer it quickly and easily via Topio.market. Price and contract terms are set directly on the platform. The data offered can also be uploaded to Topio and then the marketplace will also automatically deliver it to any purchasers. This allows even small data providers to easily reach those parties who are interested in their data. On the other hand, interested parties can search the platform for specific data collections, compare them with each other, buy them and use them immediately.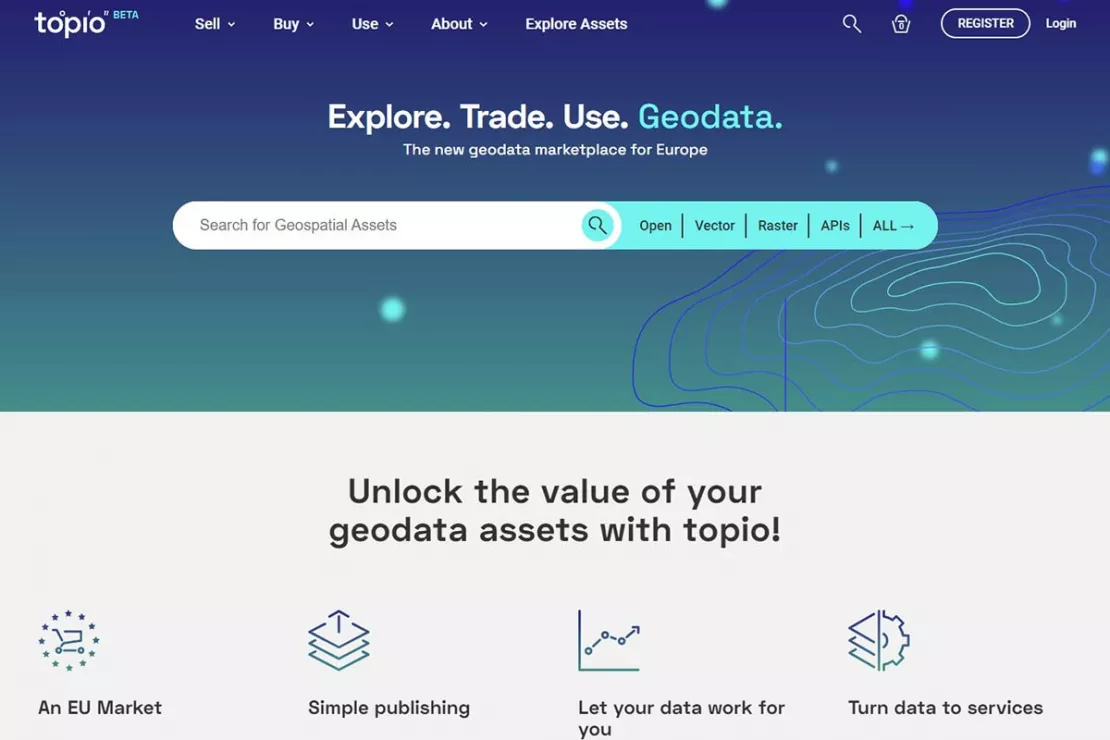 Six Steps to Buying and Selling Geospatial Data Online
Register here.
Enter the metadata for the data you would like to sell.
Optional: Upload the data you want to sell right away.
Select your pricing model and price.
Choose your conditions.
Review and publish your offer.

Would you like to learn more about the new marketplace for geodata?
How Does the Digital Marketplace for European Geodata Support You?
Watch the video to see how Topio, the digital marketplace, makes geodata accessible to European companies.

Beta Phase Has Started
The digital marketplace Topio.market is currently in the beta phase. People and companies who are interested can easily register for free. You are invited to send feedback to the developers and to submit ideas and suggestions for improvement via an anonymous form.
The platform is scheduled to officially go online in the first half of 2023. In contrast to many other platforms, there are no additional costs for buyers or sellers on Topio.market. In the future, the platform will be financed primarily through additional services, such as the creation of interactive WebGIS applications, address enrichment or the integration of geodata in Jupyter Notebook. Through these services, the purchased geodata can be processed directly within the Topio.market marketplace.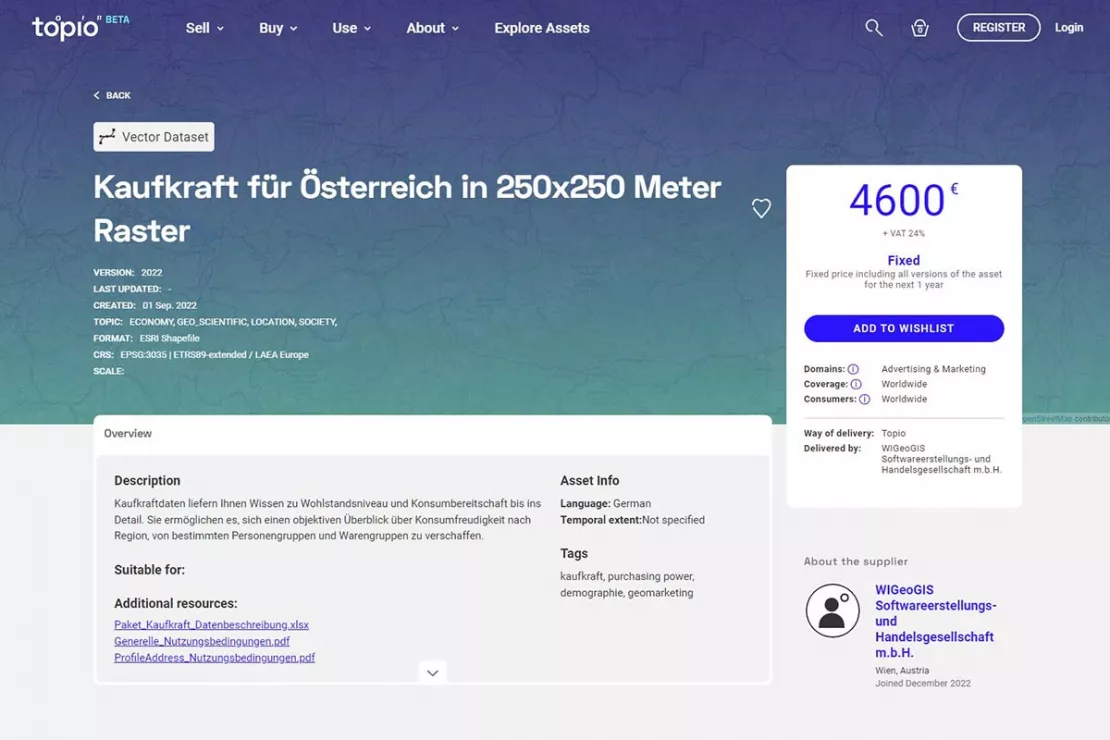 Example of offers bought and sold on Topio.market: Purchasing Power Data for Austria
Who is the target group for Topio.market?
On the provider side, the target groups are data manufacturers and companies with data-driven business models that generate valuable data.
On the buyer side, the target groups are companies and organizations that want to buy data with legal certainty, including Start-ups, SMEs and large companies, for example from the IT and other sectors, as well as public administration organizations, universities and research institutes. Topio.market offers you many advantages.
"Topio.market provides interested companies with sample data first, allowing them to assess whether the data meets their requirements before making a purchase decision."
Kai Barenscher, Senior Manager at WIGeoGIS
Important information such as the time the data was last updated and the exact terms of the contract are also disclosed before the purchase.
WIGeoGIS plans to link Topio.market with its own systems in the future. This will benefit WIGeoGIS customers, as data sets they purchase from Topio.market will be automatically integrated and displayed in their WIGeoGIS software such as WIGeoWeb, WIGeoStandort and QGIS.
Would you like to buy or sell geodata? Try Topio.market now!
High-Profile Development Team
As one of the leading providers of geomarketing and GIS software in Europe, WIGeoGIS is part of the innovative developer group behind Topio.market. The platform was developed by European companies and research partners as part of the EU project Opertus mundi (funded via Horizon 2020, No. 870228). Athena Research Center is responsible for the project management. The other partners are AZO Anwendungszentrum GmbH Oberpfaffenhofen, TU Delft, Fraunhofer IAIS, GET, Sinergise, CMG Legal und Roleplay.

New Marketplace for Geodata: Test the Beta Version Now
Would you like to learn more about Topio.market?
Simply contact me for more information!