Data Analysis with WebGIS
Analyze & Understand Data Intuitively
With WebGIS (Online GIS), you place your data in a spatial context and view the analysis results on a map. Georeferencing provides insights that remain hidden with traditional analysis tools.

Try for free!
80% of Company Data Has a Spatial Reference. Gain a Competitive Advantage by Considering This Aspect in Your Analyses.
Curiously, companies often fail to consider spatial information when analyzing their data. This is difficult to understand because most corporate data already has spatial information. Company locations, sales areas, customer addresses etc. - every activity takes place at a real location, in real space. Thus, spatial information has an immense influence on your business activities and your business success.
A WebGIS (Online GIS) is the only data analysis tool that integrates spatial information into your business analyses, enabling you to benefit from the advantages of geomarketing analysis. WIGeoWeb is a modern online GIS. The software runs in your web browser. This means that you and your employees have the power of geoanalysis at your fingertips, anytime and anywhere.
Once WIGeoWeb is installed at your company, you can carry out standardized geomarketing analyses. The WebGIS software is intuitive and easy to use.
Video Tutorial: Analyzing Data with the Online GIS WIGeoWeb
Watch the step by step video tutorial to learn how to use WIGeoWeb to perform a sales potential and performance analysis (English subtitles available).

Benefits of Data Analysis with WebGIS
1. Make large amounts of data visible and intuitive to read and understand
2. Recognize spatial structures
3. Understand location-based relationships
4. Find outliers
5. Make location-based forecasts
6. Geodata analysis, anytime and anywhere
1. Make Large Amounts of Data Visible and Intuitive to Read and Understand

Today, there is no lack of data. On the contrary. Many companies are overwhelmed by the amount of data available for analysis. The problem is that information from databases is difficult to read immediately. WebGIS software perfectly visualizes analyses and data on a map.
For example, with WebGIS you can see

which Zip Codes are adjacent to each other,
which sales areas are adjacent to each other,
the size and sales figures of your sales areas,
which neighborhood relationships exist between your locations, branches and sales areas,
which transport connections and infrastructure exist in an area and around a location,
what distances lie between locations by measuring them directly in the digital map.
All this information is immediately available with a WebGIS. This information can not be read directly from tables or graphs.

2. Recognize Spatial Structures
Digital Maps and WebGIS Software Provide You With a Wealth of Information about Spatial Structures.
Is a region densely or sparsely populated, a suburb or city center, an industrial or tourism region, with good infrastructure or poor roads, a university center or emigration region?
You will receive answers as to how these factors influence your business metrics and your business strategies in a region or even a neighborhood.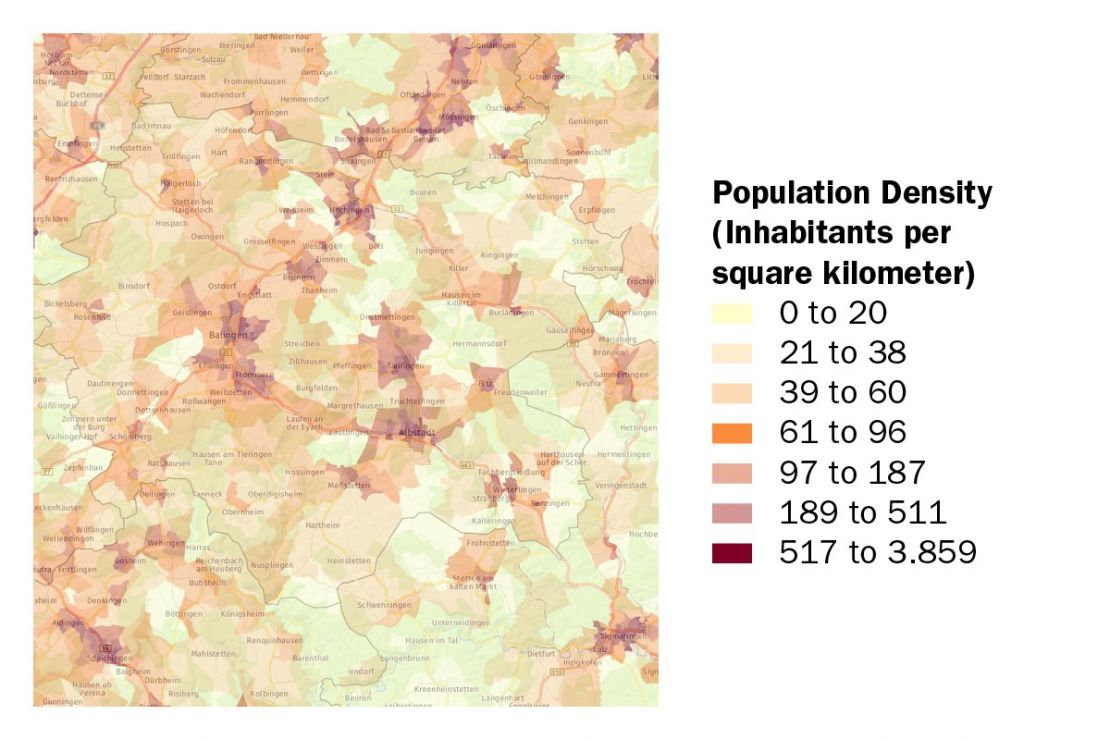 Screenshot: WebGIS WIGeoWeb - Recognize spatial structures - Here you can see the population density in the district Zollernalbkreis

3. Understand Location-Based Relationships
What Are Location-Based Relationships?
They can be distances between locations, distances between customers and representatives, barriers such as rivers, highways, mountains, footfall and footfall generators, traffic based on time of day, commuter flows and much more.
All this information can be visualized and analyzed on digital maps. You can compare your company data with the respective location-based relationships. Moreover, you can recognize and operationalize these relationships in your data and your corporate world.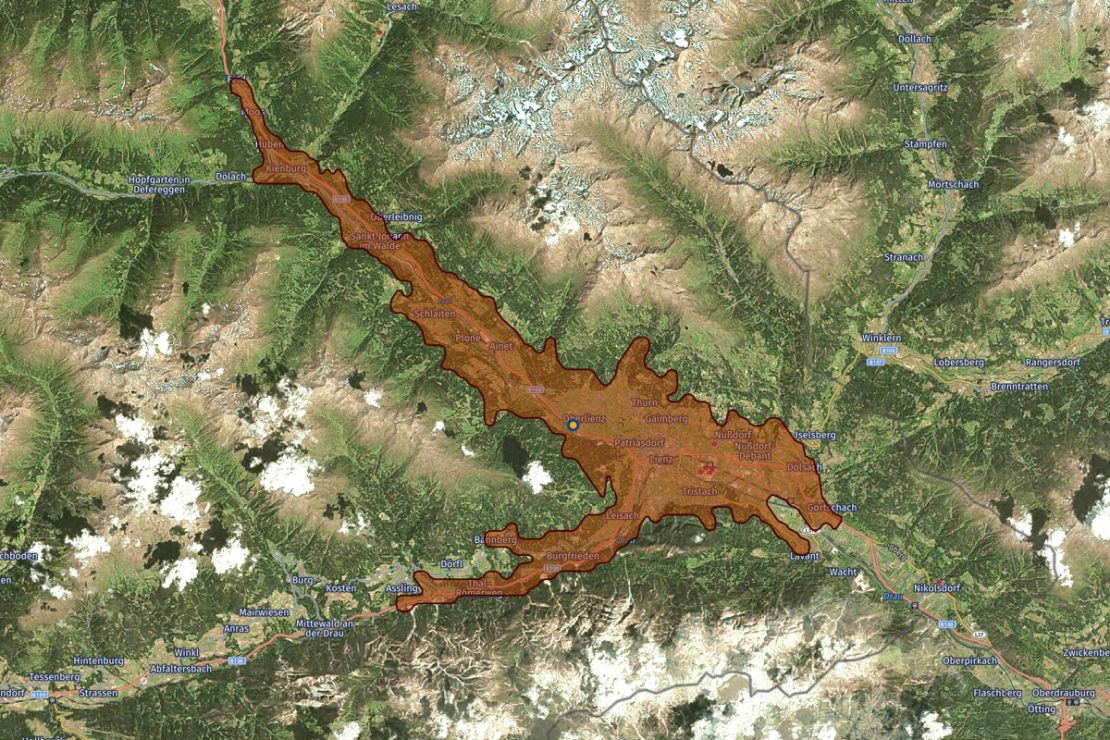 Barriers such as rivers, mountains and even highways or railroads define catchment areas. Here you can see a catchment area in the alpine region (East Tyrol).

4. Locate Outliers
What Are Outliers?
Outliers would be, for example, communities with extremely high purchasing power, below-average turnover, a high number of returns or neighborhoods with a high population density, company density or car density. These are demographic features that appear concentrated in small areas.
It is important to recognize regional outliers, regardless of whether the characteristics are positive or negative for your business success. The knowledge gained is worth gold for you.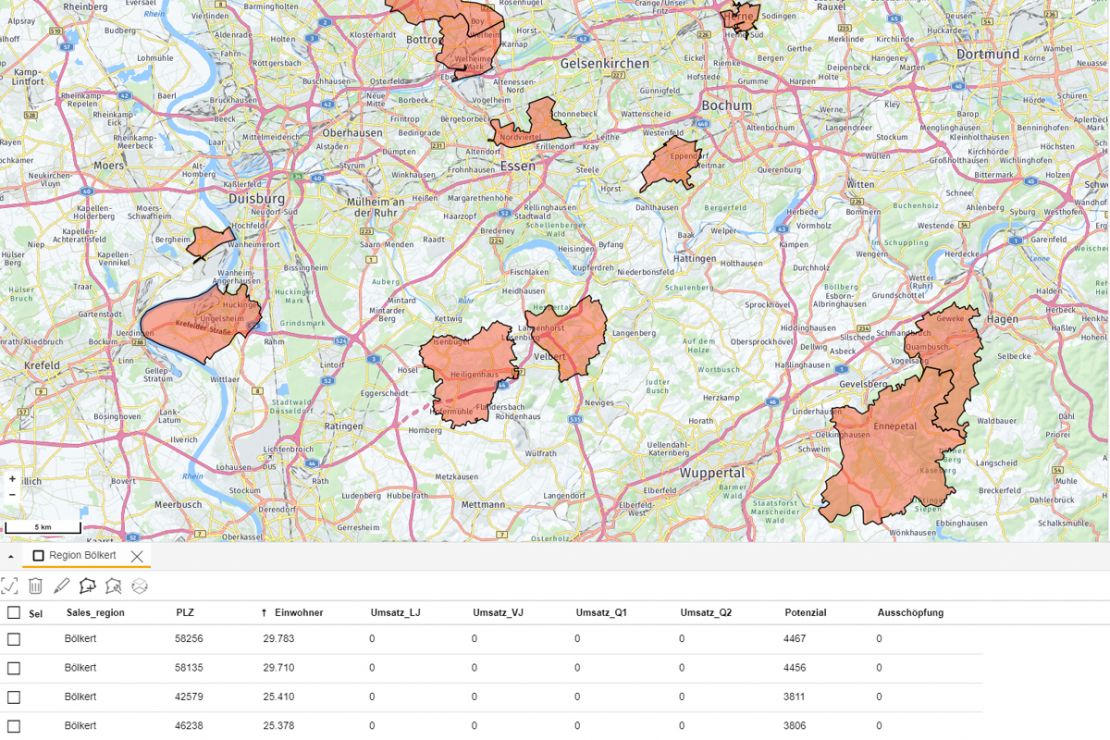 Here you can see Zip Codes with high potential and no sales. What measures should be taken in the specific case? Your WebGIS helps with the data analysis.

5. Make Location-Based Forecasts
Are My Planned Investments Worthwhile?
Would an investment make sense? How high is my risk? Are investments made in the planned location?
With the help of WebGIS software and various spatial methods, such as gravity analyses and scoring analyses, it is possible to make location-specific forecasts for sales, demand and usage.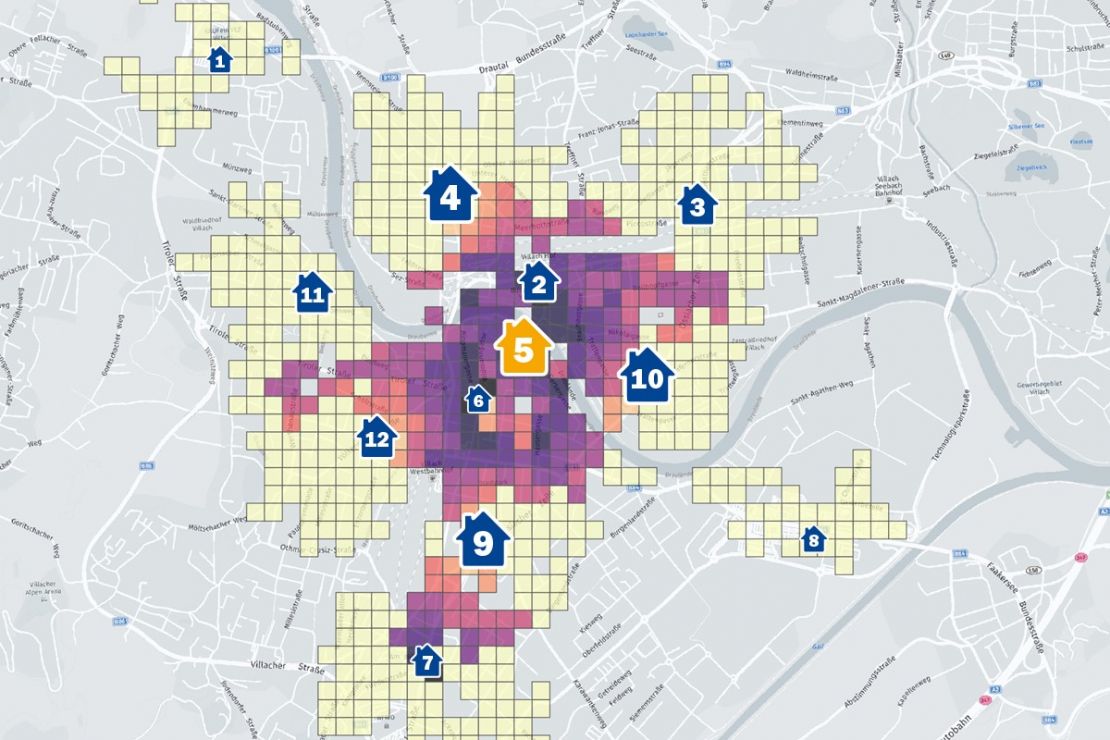 Example of results of a location-based sales forecast with the help of a gravity analysis; the darker the cell, the higher the predicted sales, the larger the house symbols, the higher the attractiveness of existing locations.

6. Geodata Analysis, Anytime and Anywhere
WebGIS Runs in Your Web Browser. This gives you the freedom to analyze data anytime, anywhere
Today's working world is mobile. So the work infrastructure should be also. A WebGIS runs in your web browser, so you can access the tool at any time, whether in the office, at home or on a business trip. WIGeoWeb works on PCs, laptops and tablets to give you as much flexibility and freedom as possible for your data analysis.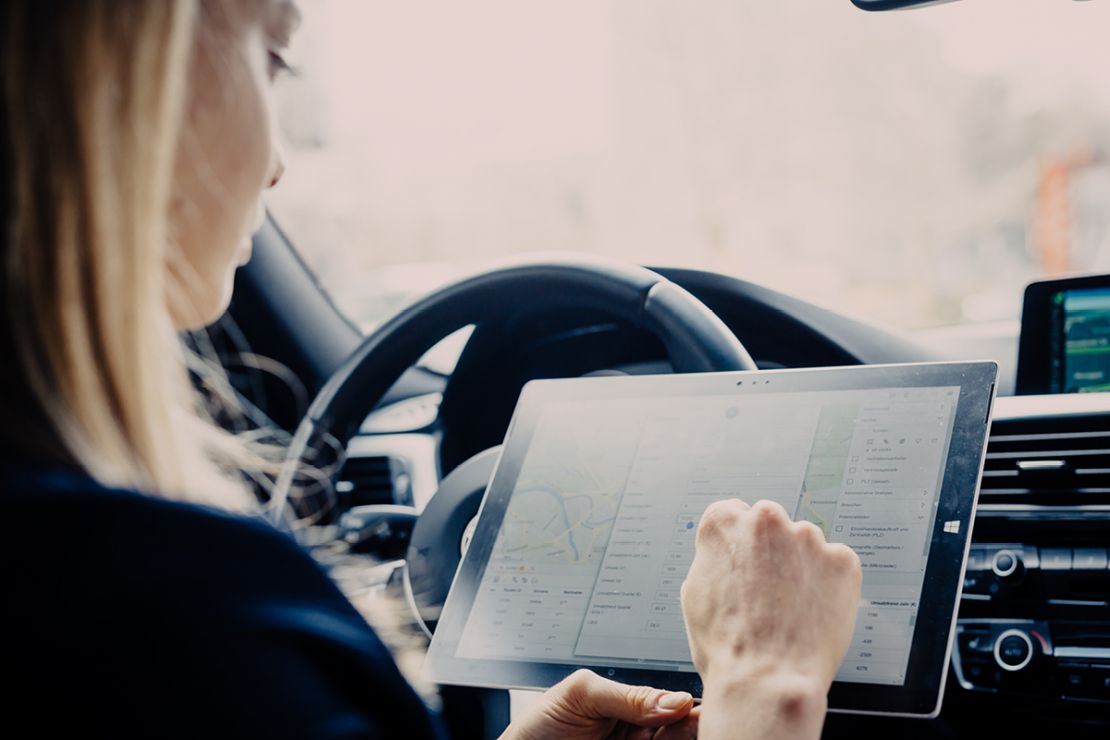 WIGeoWeb supports the contemporary way of working: agile, mobile and modern.

Overview: Typical Data Analysis and Geomarketing Analysis with WebGIS
A WebGIS enables a variety of data analyses. All analyses can be summarized under the term "geomarketing analysis". This expresses the relation to space and geography. Take a look at the typical geomarketing analyses that you can perform with WebGIS.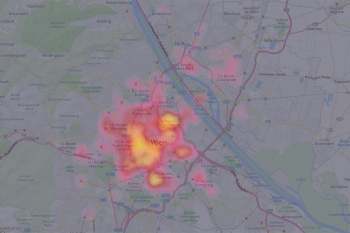 Target Group Analysis and Geomarketing
Target group analysis with geomarketing reveals regional potential and its distribution.
Learn more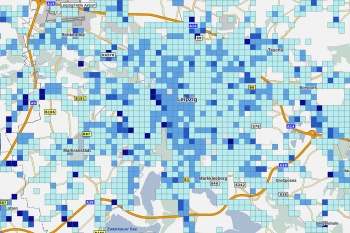 Analyze Market Penetration
With geomarketing you can find potential customers, turnover and sales! Compare your company key data with current market data on a small scale.
Learn more
"The big difference between data analysis with a BI system and data analysis with WebGIS is that WebGIS uses space as the basis for the analysis and visualizes the results on a map rather than in graphs," explains Wolf Graf, CMO WIGeoGIS.

What Are the Benefits of Data Analysis with GIS?
Prof. Dr. Petra Staufer-Steinnocher from the Vienna University of Economics and Business and Nato Klems from CLAAS give a brief overview of the key advantages of data analysis with geomarketing software and WebGIS in a video interview.

In addition to the advantages for data analysis, WebGIS offers even further potential, such as the creation of interactive maps and an ideal visualization of data.
Take a Look at All the Features and Benefits of Our WebGIS WIGeoWeb!

Do you have questions about data analysis with WIGeoWeb?
With WIGeoWeb, geographic data analysis is made easy and intuitive. Simply contact me!