White Spot Analysis: The Key to Identifying Regions with Potential
Discover the White Spots for Your Business
With the white spot analysis, you can identify the white spots for your business on the map in no time at all. This is how you find the best regions for new locations, the expansion of your retailer network, the expansion of your customer acquisition or your technical infrastructure.

How white spot analysis helps in branch network planning, location search and restructuring
Your existing branches and locations are running like clockwork and you are looking for suitable regions for expansion? Would you like to restructure your location or retailer network? Do you have a lot of customers in some areas, but only a few or none at all in others?
Then a white spot analysis is exactly what you need. It allows you to easily identify the white spots for your business at a glance on a digital map!
White spots are the regions where you are not yet represented, but where there is great potential for your business.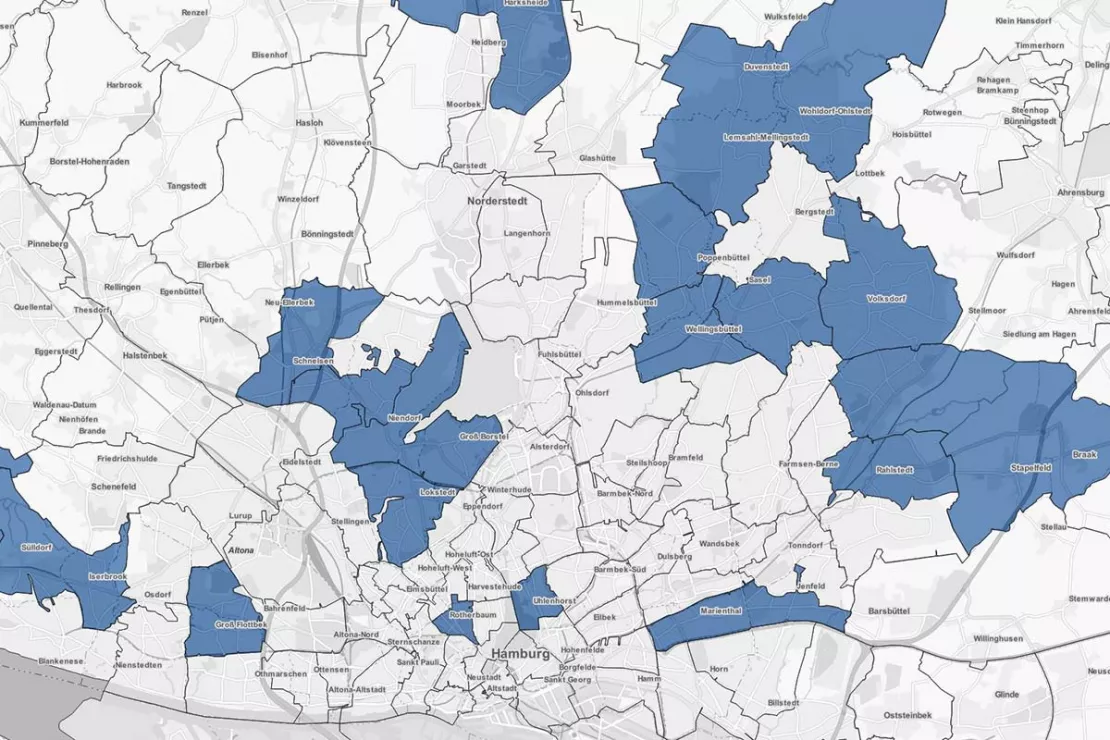 White Spot Analysis Helps with These Tasks
In branch network planning, for example in retail, banking or insurance (expansion or restructuring)
In strategic location network planning
When setting up and reorganizing retailer networks (for producers and suppliers with brick and mortar shops)
When expanding technical infrastructure (charging stations for e-cars, parking spaces for e-bikes, broadband expansion, transmitter positioning, etc.)
When organizing medical healthcare
In regional marketing, to learn where potential customer groups have still not been tapped

Free initial consultation for White Spot Analysis. We will explain how it works and what you will need!
Questions for White Spot Analysis
A white spot analysis is a form of location analysis and can answer important questions for your business.
"We have been using spatial analysis methods for many of our customers for many years to identify so-called white spots. White spots are areas and regions with high potential, where the company is not yet represented or only insufficiently represented. The potential factor plays an important role. That is why we always develop and model the potential individually for our projects together with our customers."
Kai Barenscher, Senior Manager WIGeoGIS Vienna
The analysis results are clearly displayed on digital maps. In this way, you can interactively see at a glance which regions have untapped potential.
These are typical questions that a white spot analysis can answer:
Where does it make the most economic sense to open new branches?
Where are white spots for new locations?
In which region is there sufficient potential for another branch location without cannibalizing my existing locations?
Where are potential expansion areas for my technical infrastructure that show great potential?
In which regions do I have low sales figures but high potential?
In which regions do I need to strengthen my sales?
Where is it worth investing in marketing measures?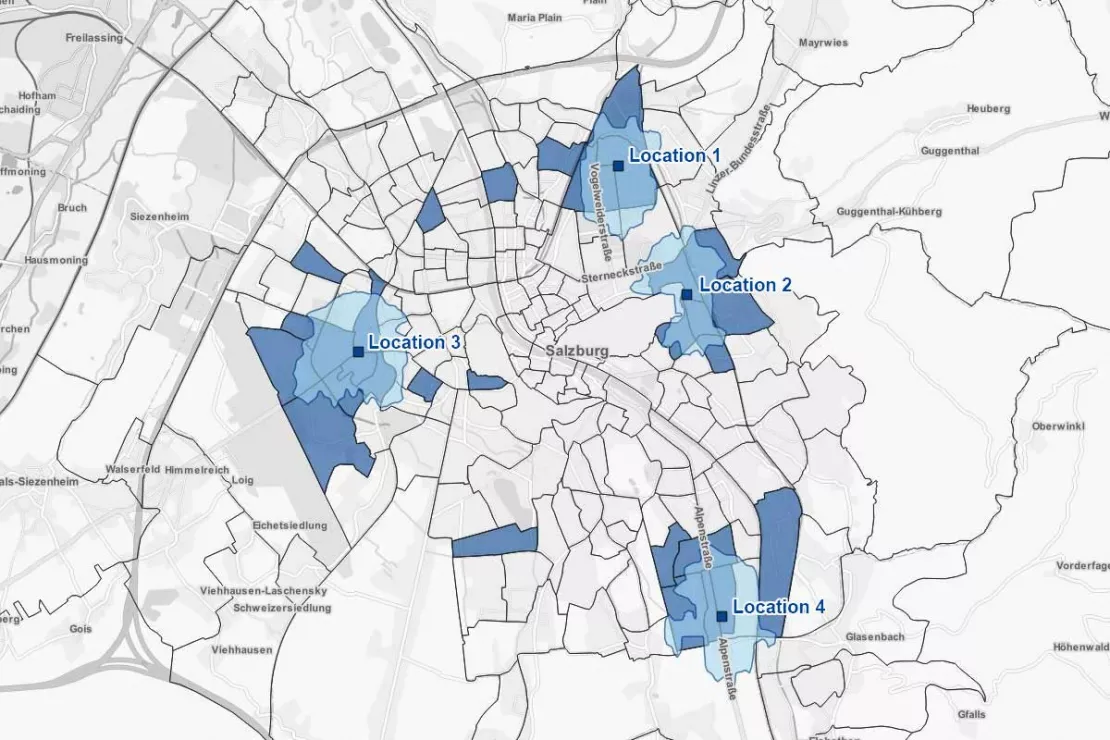 Image: White spots with high potential (in dark blue) can be supplied in the future by four selected locations. This becomes clear by calculating the catchment areas of the locations.
Example of Use: Location Analysis in Retail
A retail company in the construction and garden sector is planning to open two new branches in Styria, but does not know where it can supply the most customers and generate the most sales within a certain catchment area. The white spot analysis includes factors such as population density, purchasing power, accessibility, regional commuter flows and what the competition has to offer and quickly shows those underserved areas in Styria that offer the best opportunities for good earnings.
Example of Use: Sales
A pharmaceutical company already has a sales team in southern Germany, but would like to introduce its products to more doctors there. The company cannot cover all the doctors in the region and does not know which target areas it should focus on in the future, i.e. where there is the greatest potential for its products. The white spot analysis answers exactly such questions and clearly displays the results on a digital map.
Example of Use: Technical infrastructure for e-charging stations
A provider of e-charging stations also wants to expand into other federal states and has to decide where there is the highest demand. The white spot analysis helps to find out in which cities, as well as in which regions within the cities, there are white spots with high potential.

If you would like to learn more about White Spot Analysis, simply contact us and we will be happy to answer all your questions!
What Methods Are Used to Conduct A White Spot Analysis?
Various methods and combinations of geo-analytics are suitable for carrying out a white spot analysis. Here are some of the most important methods.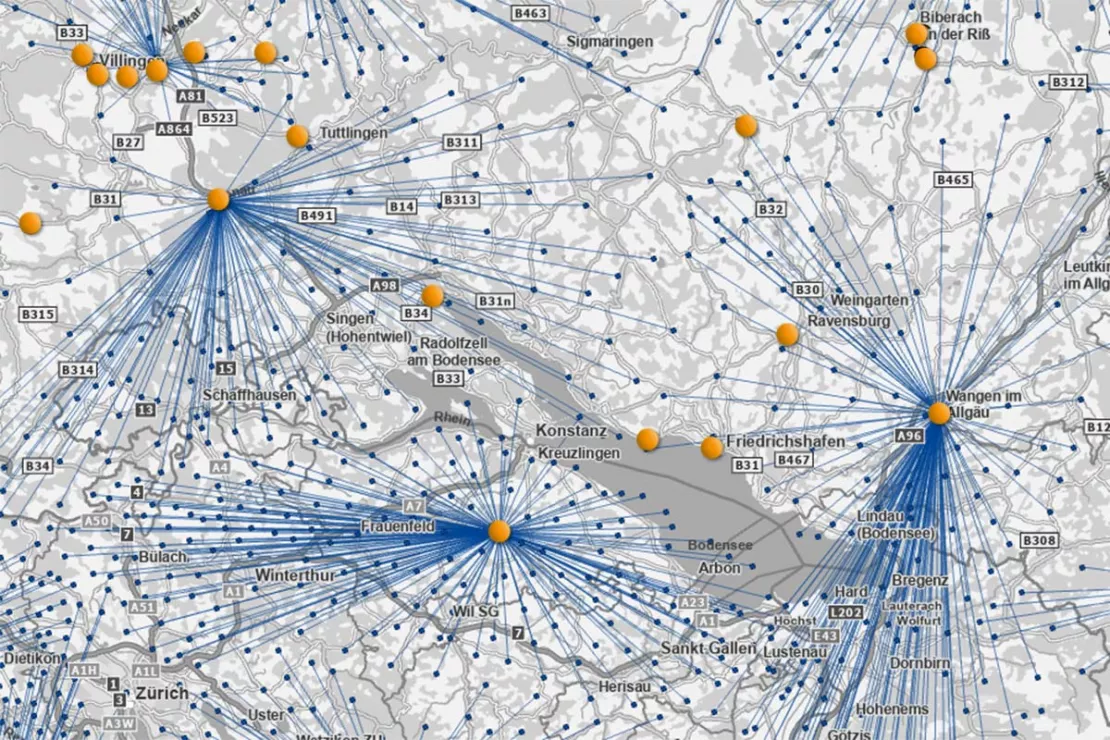 Location-Allocation
The Location-Allocation Model is a proven and effective geomarketing method that systematically examines the factors of supply, demand and distance.
By calculating different scenarios, white spots can be precisely identified.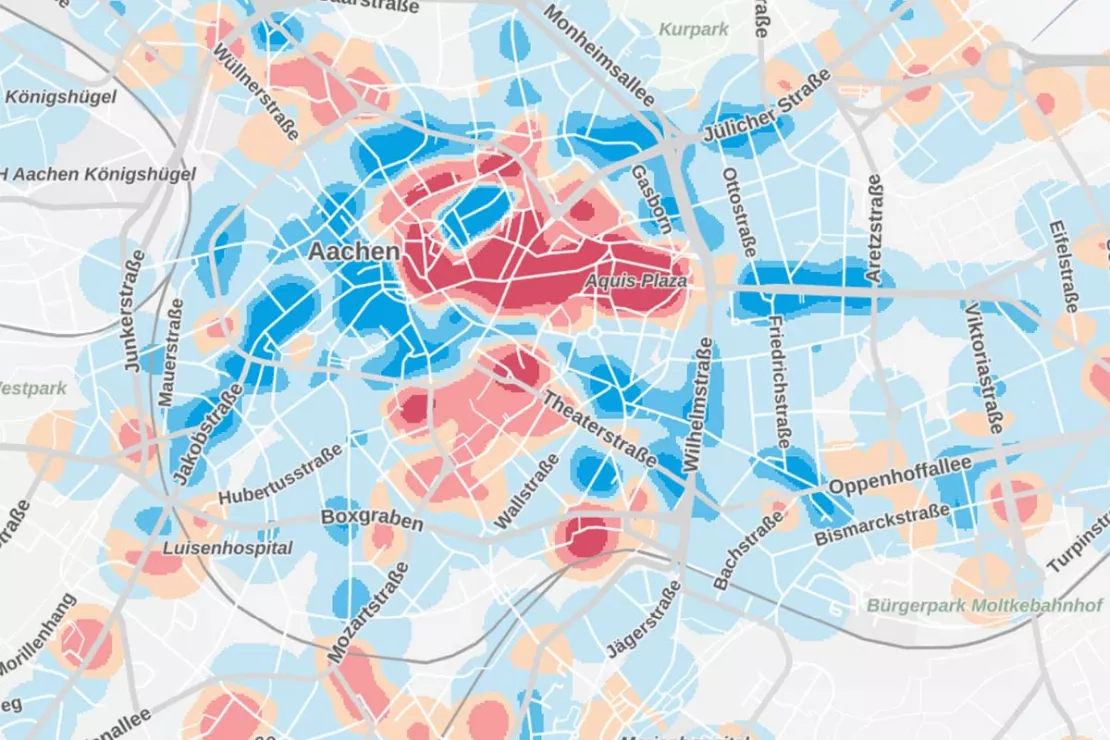 WIGeo Location Atlas
WIGeo Location Atlas makes it possible to analyze any location in Germany, Austria and Switzerland according to the most important location factors, faster and more accurately than ever before.
WIGeo Location Atlas contains important location factors such as supply density and sales area density in retail, gastronomy and consumer-related service providers, branch density, supply and demand categories and the quality and price level.
This makes it possible to identify those regions where your own target group is already underway.

BCG Matrix
This procedure is based on the BCG matrix and is an important market analysis method in geomarketing. Within the framework of a matrix, the potential of an area is compared with the performance. The results of the white spot analysis are visualized on a map and in the form of a matrix divided into four fields.
The performance is shown on the x-axis and the potential on the y-axis. All the white spots, i.e. all the areas in which performance is low but potential is high, can then be found in the upper left field.
You can see at a glance where investments in new locations, marketing or sales measures are most worthwhile.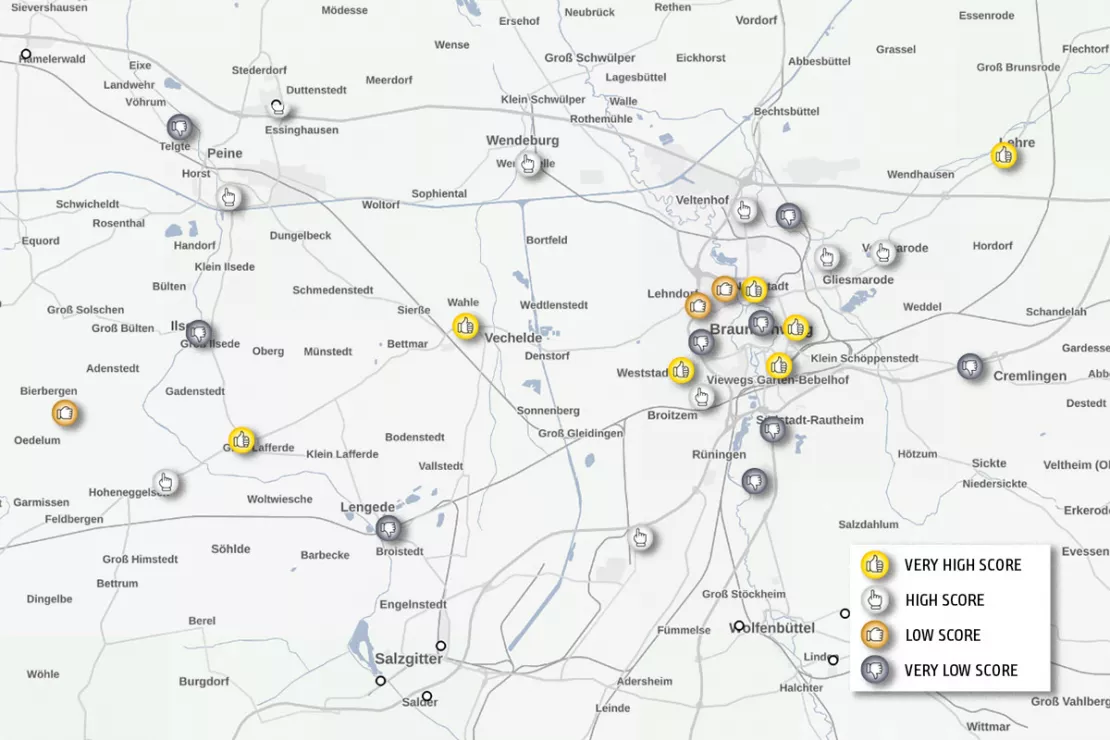 Scoring Analysis
There is also another way to find white spots. Kai Barenscher, Senior Manager WIGeoGIS Vienna, says: "Often companies have a list of potential locations and want to know which of them are truly white spots." In this case, a scoring analysis is very suitable for comparing the potential of locations with each other.
The result provides objective key figures that determine a potential score from the various location factors. The score enables locations to be ranked according to their potential. It also becomes clear whether the potential is already being supplied by existing locations or whether it is a white spot.

Curious? We are happy to provide consultation on White Spot Analysis!
Combination with other location analysis methods
The white spot analysis is a form of location analysis that often does not stand alone but is combined with other geomarketing methods.
For example, a company can also consider closures in the course of restructuring its sales or branch network if there is a cannibalization effect in some regions, be it due to its own offers or those of the competition. In this case, it can make sense, for example, to subject existing locations to a location analysis in addition to the white spot analysis.
A common method for this is the gravity analysis, which takes into account not only the distance but also the attractiveness of locations. It makes it possible to determine the sales volume of the white spots.
Location planning on the green field
A subcategory of white spot analysis is greenfield analysis. In this case you look at the analysis as if you did not have any locations yet. The GIS software uses data to determine where the best white spots would be if you were to plan your branch network or locations on an empty green field.
"In a greenfield analysis, a company simulates what the optimal location distribution would look like if it had no locations. WIGeoGIS carries out greenfield analyses when considering the reorganization of branch or retailer networks and the strategic orientation of the branch network."
Andreas Marth, Head of Solution WIGeoGIS Vienna

White Spot Analysis and Location Analysis Methods - further information
White Spot Analysis: Request a free initial consultation
FREE initial consultation on White Spot Analysis*
Non-binding, without further obligations
By telephone or video call
Do you want to benefit from the white spot analysis? I will gladly support you. Please contact me!

* The products of WIGeoGIS are intended for companies and are not suitable for private use. If you need a one-time market analysis, we will gladly make you a service offer.

FAQ
What do I need to perform a white spot analysis?

For example, you can perform a white spot analysis using the GIS desktop software QGIS or WebGIS or have our geomarketing team perform it for you. Simply request a consulting project using this form. We will be happy to consult you!


Which geomarketing methods and models can be used to perform a white spot analysis?

In principle, several GIS methods can be used to carry out a white spot analysis.

The choice of method depends on your specific needs. We would be happy to help you find the best solution for your needs in a free initial consultation.


What is white spot analysis in geomarketing?

A white spot analysis in geomarketing is a method for finding out where companies or institutions can still find white spots for their business. White spots are those regions and areas where there is high potential for your products and services, but where you are underrepresented or not represented at all. The most promising target areas for new locations, the expansion of your retailer network or the expansion of your sales areas can be clearly identified on a digital map.


Which location factors does the white spot analysis take into account?

Every type of location factor! All geodata and market data with a spatial reference can be included in the white spot analysis, for example:

Demographic data
Road data (e.g. for logistics and fleet management)
Data on supply density or sales area density for retail, gastronomy and consumer-related service providers
Branch density
Data on product groups (e.g. based on purchase frequency and center relevance)
Quality and price level data


Does it make sense to perform a white spot analysis if we have already considered potential locations?

Even if you have already made a pre-selection of potential new branches or locations, a white spot analysis makes sense to find out which of these locations are in white spot regions. In this case, a scoring analysis would be particularly useful.