Banks and Financial Institutions Benefit from Geomarketing
In branch optimization, sales management or regional branch marketing
WIGeoGIS offers the methodological know-how to provide your bank customers with optimal service despite reduced branch network.

Geomarketing for Banks and Financial Institutions
Marketing, Sales Optimization and Reporting in Banks and Financial Institutions with Geomarketing and GIS
Increasing competition, online and mobile banking as well as declining customer loyalty are some of the challenges confronting banks today. Yet they must also ensure the quality of their services better meet customer expectations. These factors make it necessary to take space as a dimension into account in strategic and business analyses. This is precisely what geomarketing does, assisting banks and financial institutions to develop customer-oriented branch networks, offers and marketing activities.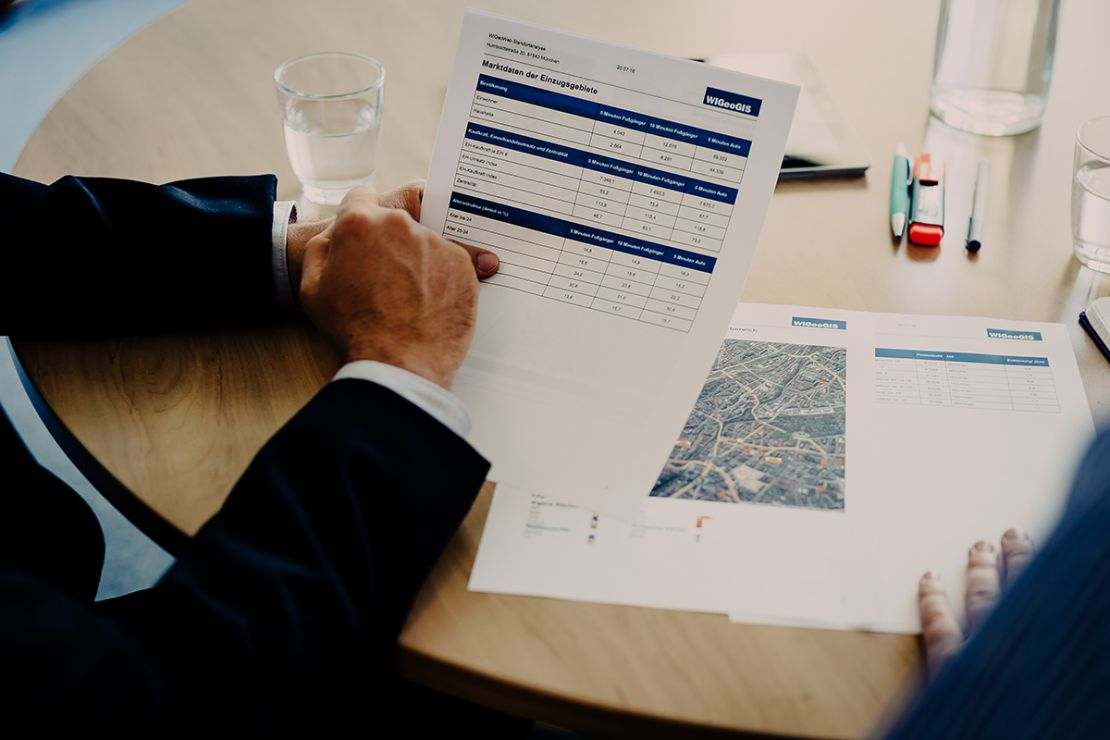 Geomarketing Applications
Restructuring of branch networks
Branch marketing activities for specific target groups
Customer segmentation
Increasing cross-selling rates
Detailed sales territory and market reports
Banks and financial institutions also use web-based software for their geomarketing needs.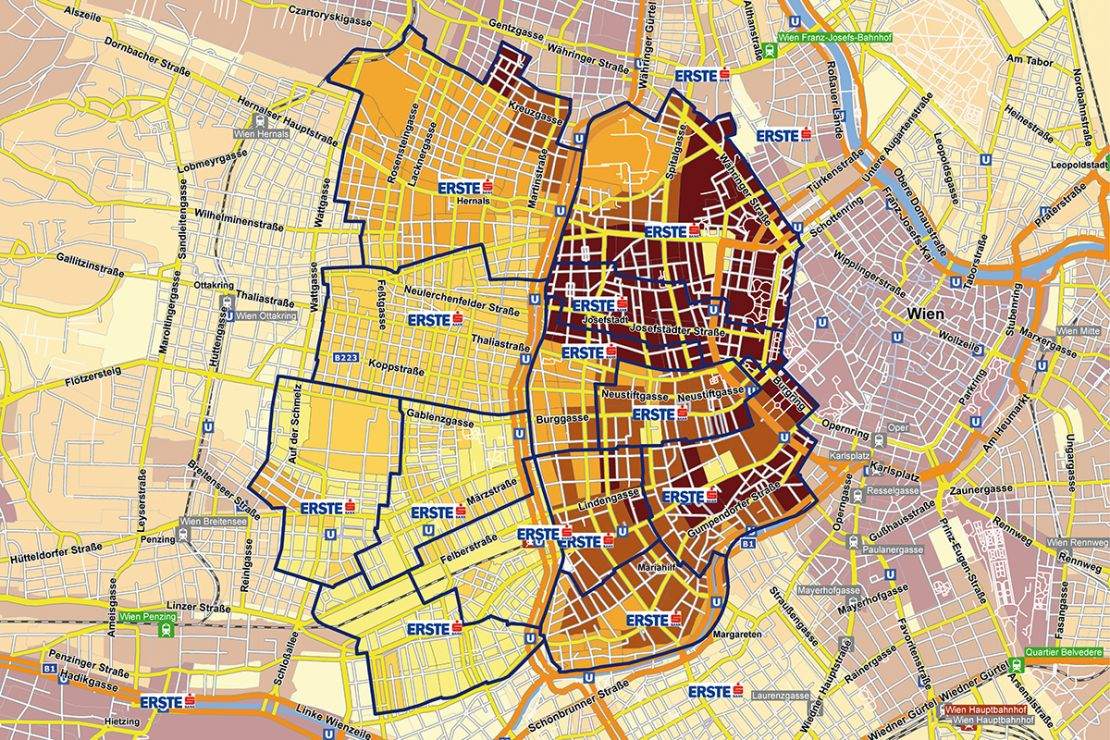 Optimizing Branch Networks with Geomarketing
Where Does Which Branch Concept Make Sense?
One of the challenges for banks and financial institutions is the optimization of their retail sales business. They have to relocate, consolidate and reduce the number of branches. This is due to changes in customer behavior, with fewer and fewer people doing their daily banking at the actual bank branches.
Banks are responding to this development by introducing new branch concepts. Geomarketing analyses answer the question of where which branch concept makes the most sense. For example: Which branch can be converted into a self-service/terminal branch. Therefore, banks and financial institutions use geomarketing software as their primary instrument for planning their branch locations.
In addition to selecting an appropriate branch concept, determining the optimum number of stores and their distribution in the market is particularly important for branch network planning. Geomarketing helps banks and financial institutions to decide which branch locations should be opened or moved as well as which bank branches should be merged or closed.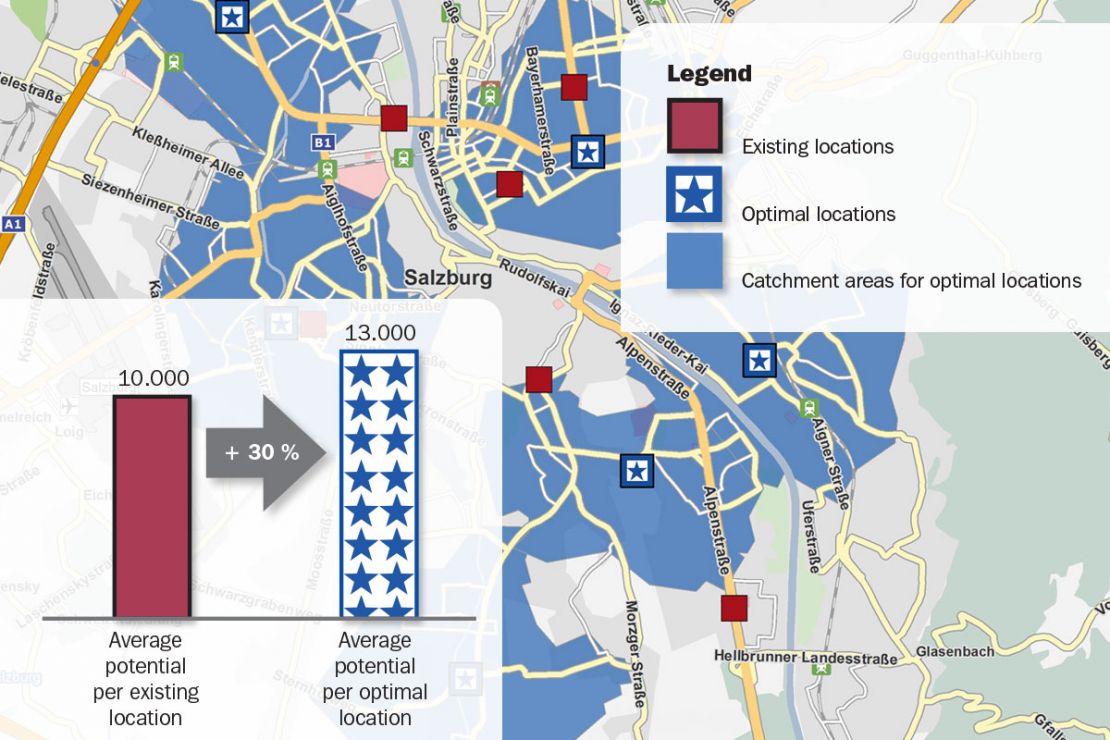 Using geomarketing for banks and savings banks: Consulting or software?
Customer Segmentation with Geomarketing
Branch Marketing Activities for Specific Target Groups
Knowing where your customers are located is also essential for branch marketing. Geomarketing helps banks and financial institutions to increase the effectiveness of their branch marketing activities and avoid wastage. Geomarketing analyses allow banks to identify exactly those areas where their target group lives. Banks use this information not only for effective direct mail campaigns, but also to determine ideal locations for promotions.
Segmentation is an important approach to help banks and financial institutions better meet the needs of their customers and target groups. Geomarketing is a useful tool for segmentation and for assessing the regional potential of the different segments. The Geomarketing software can be used for example to visualize how SMEs, sole proprietorships and professional groups are distributed in the catchment areas of banks and financial institutions.
In the retail banking field, geographical analyses can for example highlight areas where there is a concentration of specific ethnic groups, purchasing power or business activities such as cash deposits. This information is important for the development of branch concepts. Thus, banks and financial institutions can adapt the offers in their branches to meet the specific needs of the customers in the area. This way they can ensure every customer will find the perfect service representative to help them at their bank.
Furthermore, a geomarketing tool can help banks and financial institutions introduce new customer segments. The software can help the customer find the nearest branch offering the services they need.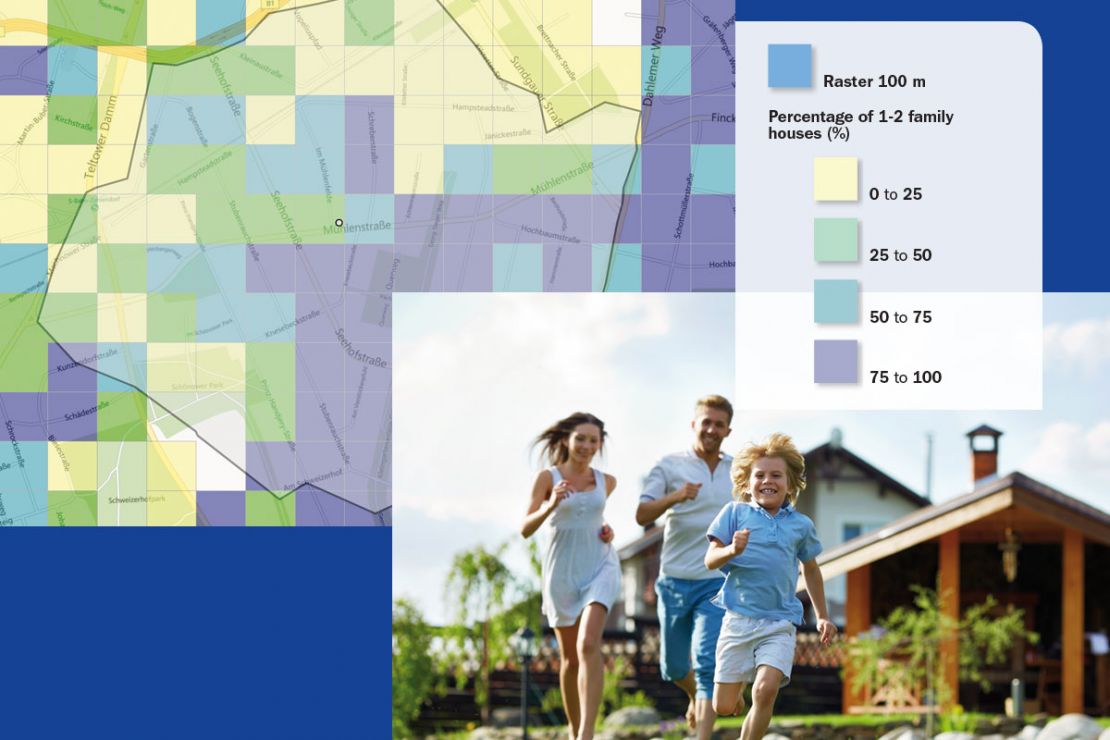 Increasing Cross-Selling Rates
Sales Management and Market Reports with Geomarketing Software
It is common knowledge that it costs less to sell additional products to existing clients than to acquire new clients. A prerequisite for increasing the cross-selling rate is to objectively assess the existing services and potential.
Geomarketing is the perfect tool for doing just that. The geomarketing software displays the cross-selling rates in relation to the existing market potential. This allows banks and financial institutions to see at a glance where they can most easily sell additional financial products. With this knowledge, banks and financial institutions are able to develop promising cross-selling strategies and use their resources effectively and purposefully.
With geomarketing software, banks and financial institutions can compile detailed market reports for every organizational unit. Visualizing the KPIs on maps makes it immediately clear where the bank is successful and where it needs to take action. Banks and financial institutions can view the results at different levels, for example by branch, region or the entire market. All the managers are quickly and easily provided with an overview of their areas. This is managed by a user role concept that is tailored for the specific company. The geomarketing software automatically compiles market reports for each branch. Extensive documentation is thus compiled with just a few clicks of the mouse.

Geomarketing for banks and savings banks: Request a free initial consultation
FREE initial consultation

Non-binding, without further obligations
By telephone or video call
Do you want to know more about Geomarketing for banks and savings banks? I will gladly support you. Please contact me!
FAQ
Can we analyze branch locations on our own within our company?

Of course. We will be happy to help you implement your own in-house geomarketing system. We will help you to choose the best system for your needs and assist you in selecting the external data. We will also provide individual training for your geomarketing system to ensure your employees have the know-how they need for you to perform analyses on your own in the future.
Are you interested in the advantages of Geomarketing for banks and savings banks?