Market Data for Germany 2023/2024
Population, age, purchasing power. And whatever else you want to know. WIGeoGIS is your specialist for demographic data. Since the world changes quickly, we update our data annually. To ensure your market analyses deliver perfect results!

Only Up-to-Date Data is Good Data
It makes sense: whether it is a good meal or a market analysis; what you get out can only be as good as the ingredients you put in.
In our fast-paced world, only up-to-date data is good data. Land is rezoned for development, migration leads to an increase in the number of inhabitants in cities, while it declines in rural areas. And already the data is different.
For this reason, we at WIGeoGIS continually ensure the data that we process for you is up-to-date. This is ensured by standardised workflows and a quality assurance process. Market data for Germany - our latest update is available!

Up-to-date market data for 2023/2024 now available! Request your test data for Germany for free and without any obligations!
Did you know, ...?
…that the city of Ahaus in western Münsterland has a very high percentage of households with children under the age of 18?
…that the municipality of Grünwald near Munich has the highest purchasing power for organic food?
…that a relatively large number of people between the ages of 25 and 44 live in the cities of Giessen, Regensburg and Munich?
…that in Kleinmachnow, Bad Soden am Taunus and Gauting the percentage of households with a net income of €5,000 or more per month is particularly high?
…that in a national comparison, the city of Frankfurt has the highest commuter balance (inbound commuters minus outbound commuters)?
These and many more questions can be answered with our up-to-date market data.


Market Data Germany - Over 100 Attributes Updated Every Year
Visualized on maps, you can see the answers at a glance! Here are a few examples.
Where is the percentage of DINKS (Double Income No Kids) particularly high?
DINKS (Double Income No Kids) describes couples who both work full-time and do not yet have children or do not want to have children. As a result, they usually have a high household income. They are either married or live together in a marriage-like relationship.
Municipalities with a particularly high percentage of DINK households are shown on the map.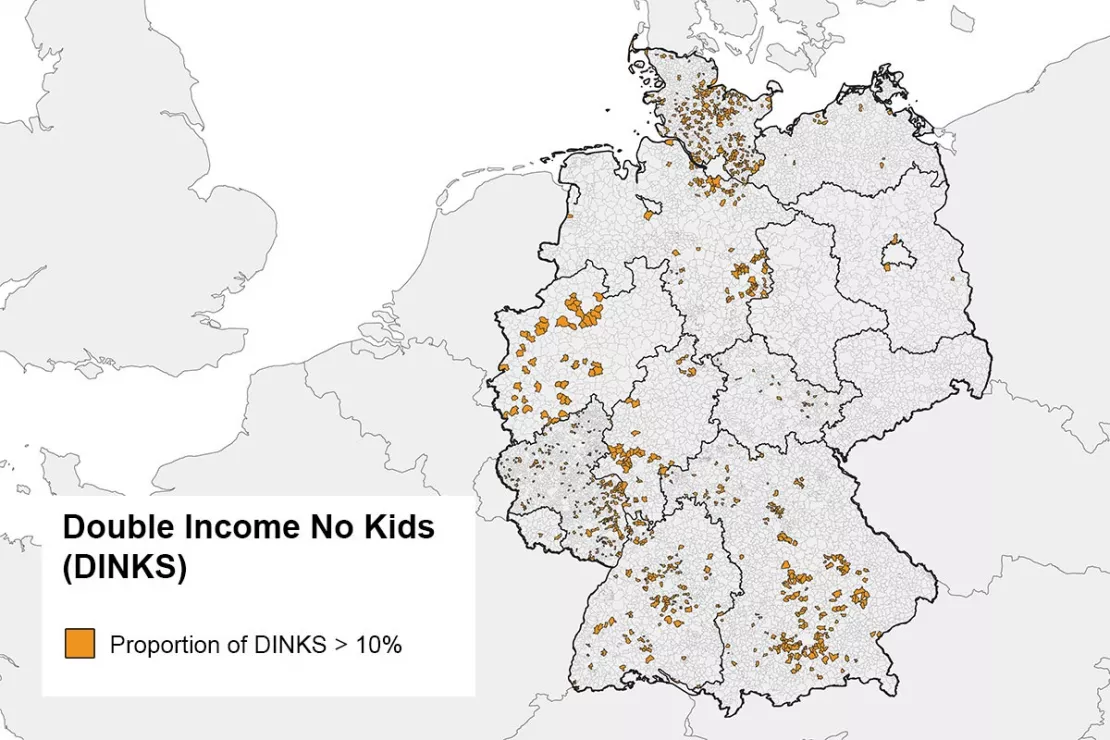 Where is purchasing power highest?
Purchasing power is one of the central analysis indicators in geomarketing. Municipalities with a particularly high purchasing power index are shown on the map. The national average in Germany is 100.
If you require an analysis that is even more precise, market data can be used in the small-scale unit of GEOmarkets.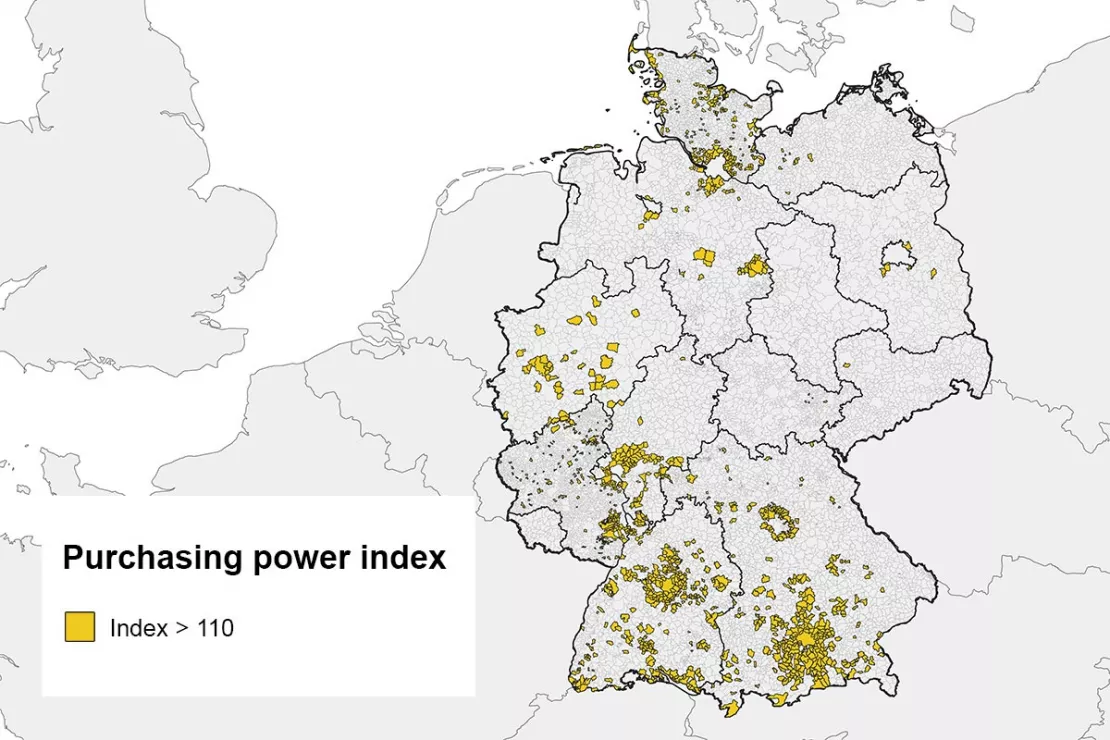 Try it out now! Request your test access to Market Data for Germany today for free with no obligation.
Where do adventure-oriented people live?
An above-average number of people who can be described as adventure-oriented live in the green areas. They are oriented towards new challenges and adventures and are looking for experiences with a strong emotional quality.
The data comes from the AZ Germany Raster. It can be used to determine people's attitudes towards life. You answer the question: Where are which values dominant?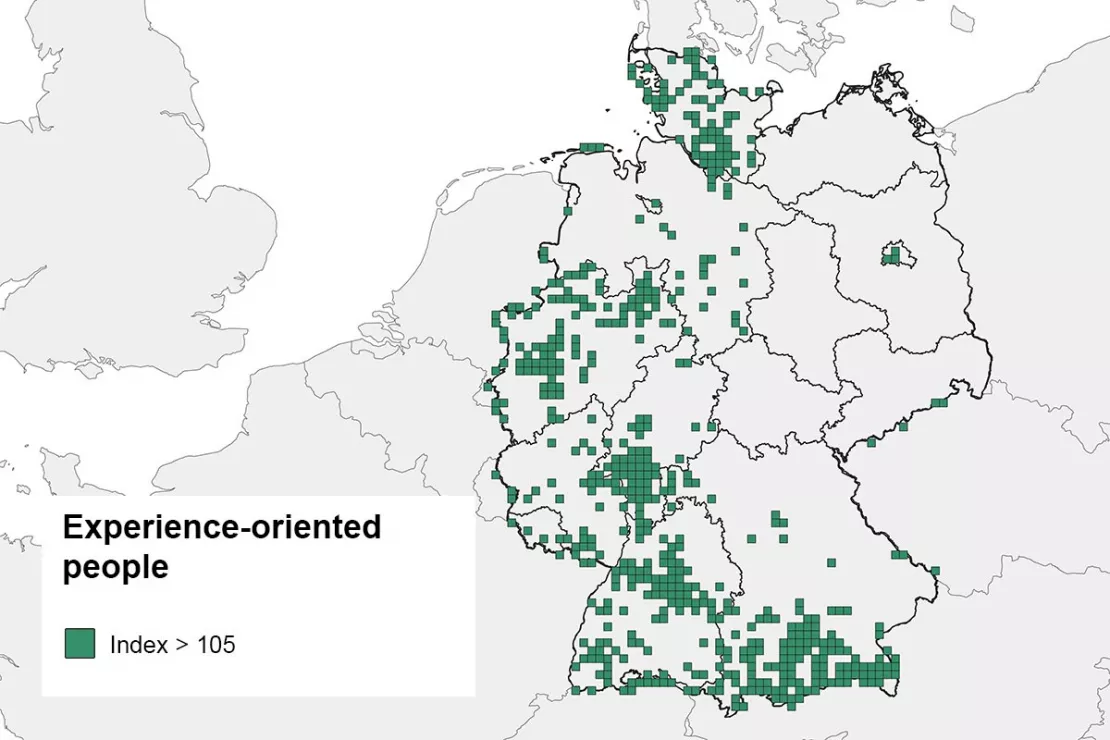 Where are the communities with a high percentage of homeowners?
In Germany, the dream of owning a home is widespread. The map shows municipalities in which a particularly large percentage of people live in a house or apartment that they own.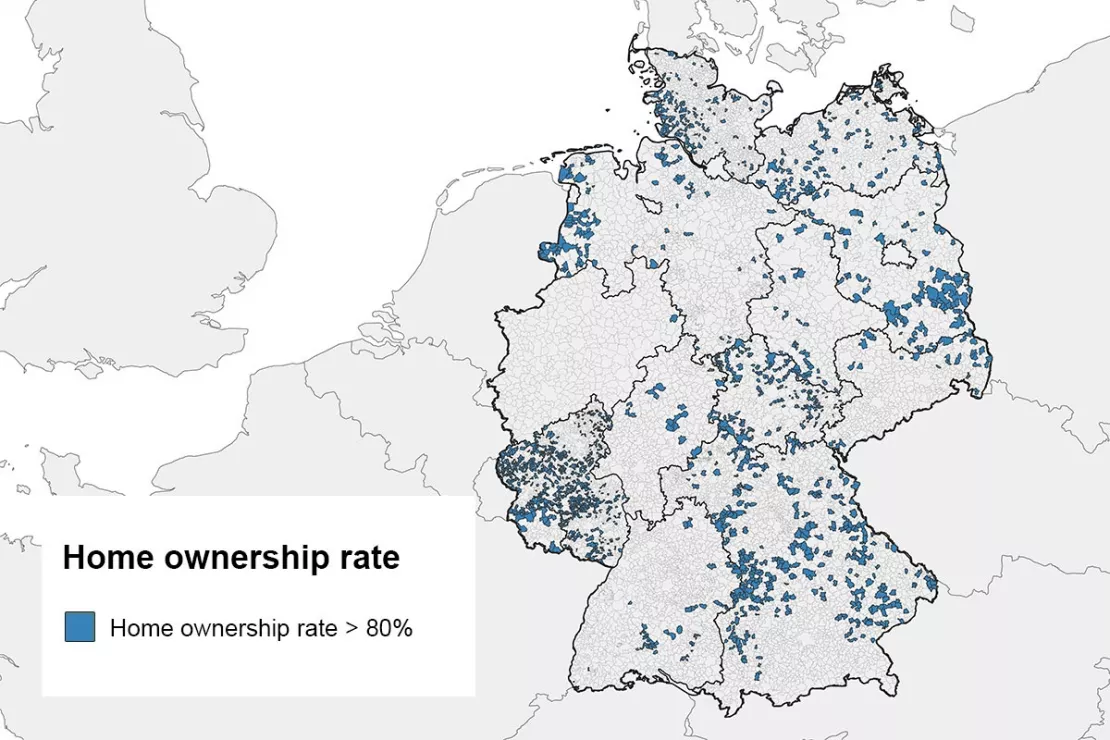 Where do particularly large numbers of senior citizens live?
If your target group focuses on seniors, you need to know where they live. Especially in East German federal states there is a disproportionately large number of communities with a high percentage of people over 65.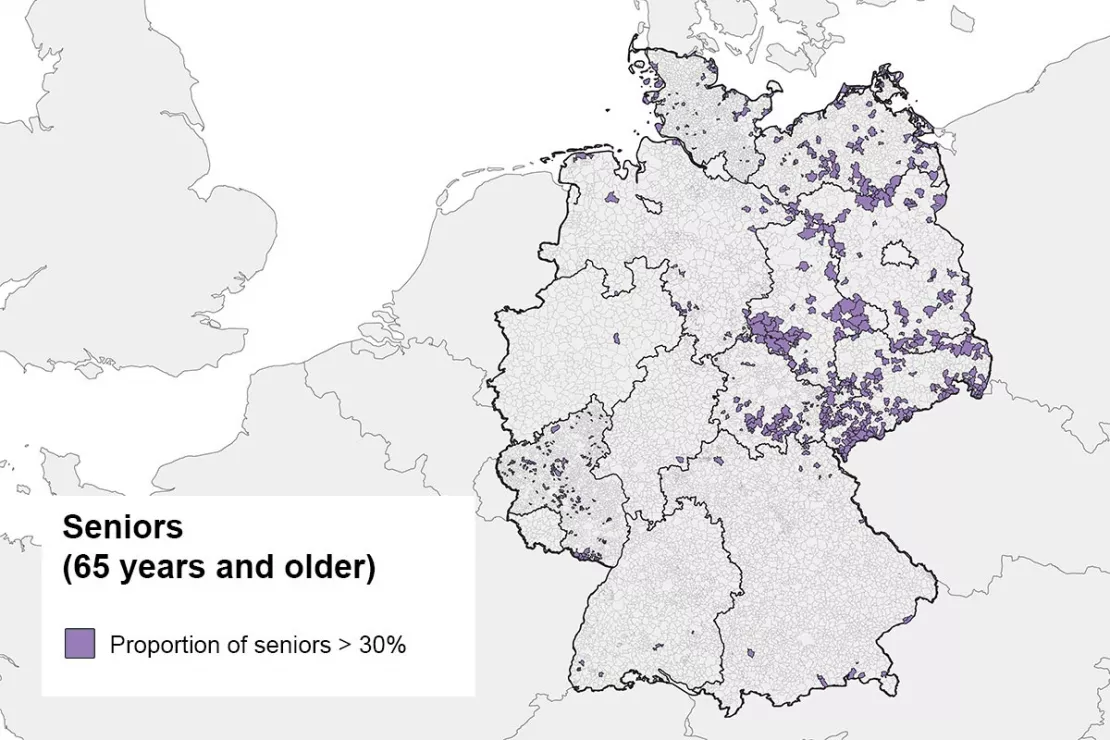 Create Market Analyses with Up-to-Date Data
With market analyses, you can support your decisions in sales, marketing, controlling and expansion.
WIGeoGIS is your specialist for every conceivable demographic data. A single source for different providers offering the best price performance ratio in every granularity. We will help you decide which spatial level is right for you.
We will also provide you with the suitable WebGIS software for your analyses.

Market data for Germany: Test now free of charge and without obligation!
Test data* on demographics, purchasing power or other characteristics

Non-binding, free test
Test ends automatically without cancellation
Receive test data* as Excel or shape file
I will gladly support you, also by telephone.
* Information about the free test data: Selected test data for Germany is available for districts in Munich and the surrounding areas. The products of WIGeoGIS are intended for companies and are not suitable for private use. If you need a one-time market analysis, we will gladly make you a service offer.