Market Data for Germany 2020
Now Up-to-Date!
Population, age, purchasing power. And whatever else you want to know. WIGeoGIS is your specialist for demographic data. Since the world changes quickly, we update our data annually. To ensure your market analyses deliver perfect results!

Only Up-to-Date Data is Good Data
It makes sense: whether it is a good meal or a market analysis; what you get out can only be as good as the ingredients you put in.
In our fast-paced world, only up-to-date data is good data. Land is rezoned for development, migration leads to an increase in the number of inhabitants in cities, while it declines in rural areas. And already the data is different.
For this reason, we at WIGeoGIS continually ensure the data that we process for you is up-to-date. This is done through standardized workflows and a quality assurance process. Our annual update has just finished!

Up-to-Date Market Data for 2020 Now Available! Request your test data for Germany for free and without any obligations!
5 Questions That You Can Answer with Our Current Market Data
Paul Höhn, a geography student in the 6th semester, who is currently doing an internship with us, has put together a few highlights from our freshly updated market data. They show you which kind of questions can be answered.

Are there strong differences in retail sales in different German cities?

Have the new federal states already caught up in terms of purchasing power?

Where do the most elderly people live in Germany?

Where are the most Christians?

How many inhabitants has Berlin gained since 2015?


Find your target group and your market penetration with the most up-to-date market data and the right market analysis tools!


The Answers: A Map Says More Than 1000 Tables!
Results are very easy to interpret when geomarketing data is visualized on digital maps: A glance is all it takes.

For all maps shown, yellow is low, green is medium and blue is high.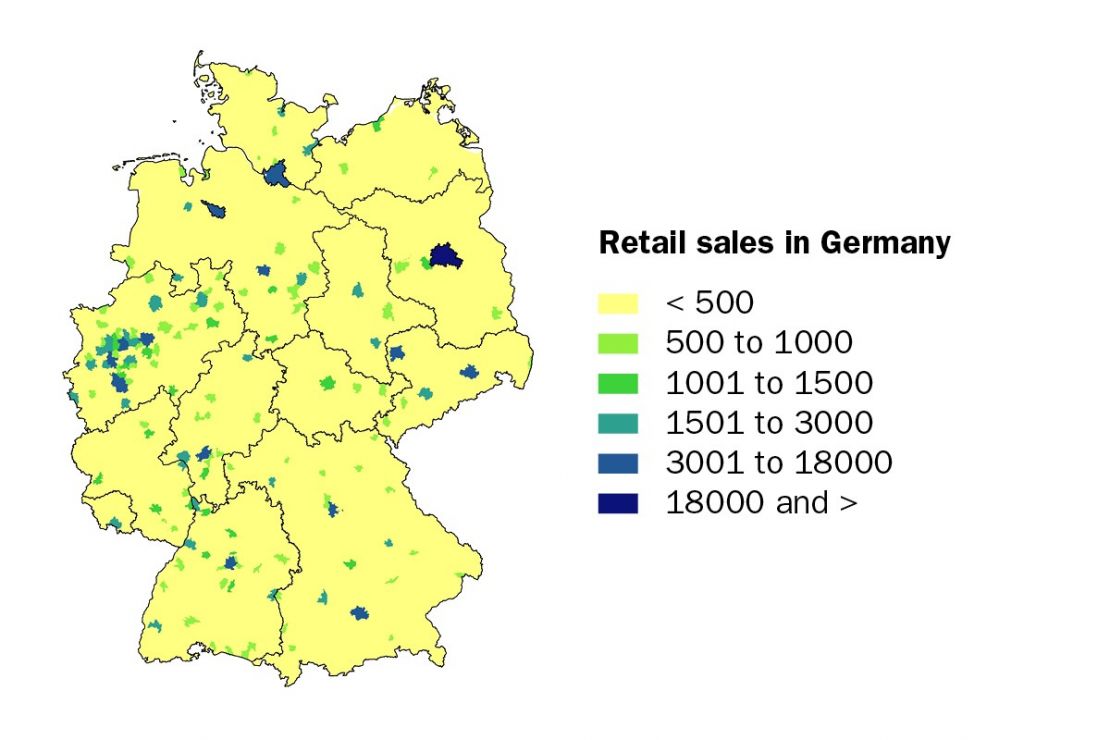 Berlin is the Leader in Retail
Retail sales in Berlin are almost twice as high as in Munich and three times higher than in Cologne.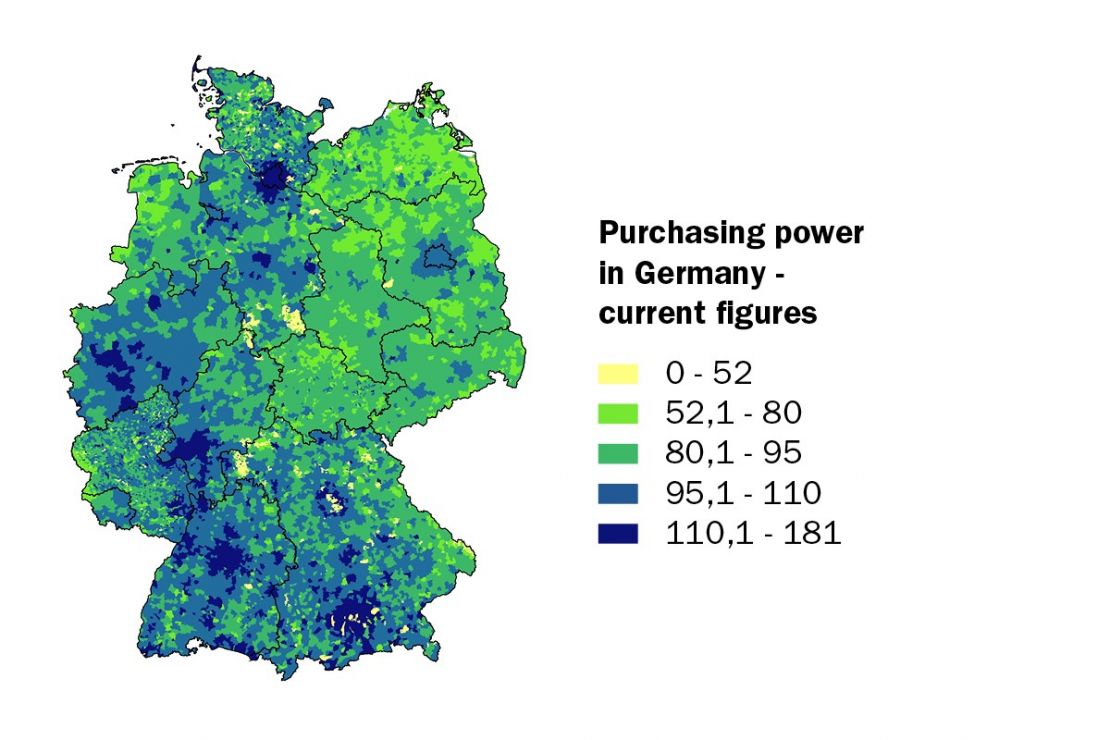 Purchasing Power: Old Federal States in the Lead
Purchasing power in Germany is illustrated with the help of an index. It becomes clearly visible that the purchasing power in the old federal states is higher than in the new ones. Especially in and around the big cities, purchasing power is above average.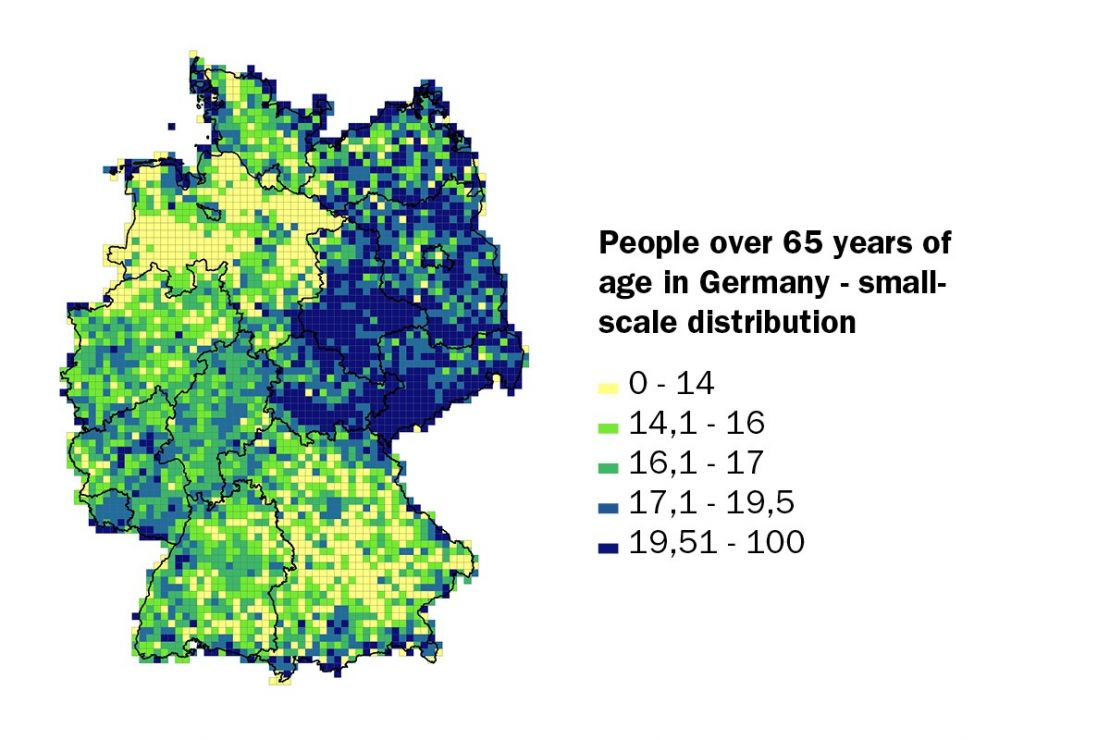 More Elderly People in the East of Germany
The map divides Germany into a 10x10 km grid and displays the percentage of people over 65 in Germany. It becomes apparent that this percentage is higher in the entire east of the country than in the rest of the country. Incidentally, most of the young people (not shown here) live in western and southern Germany.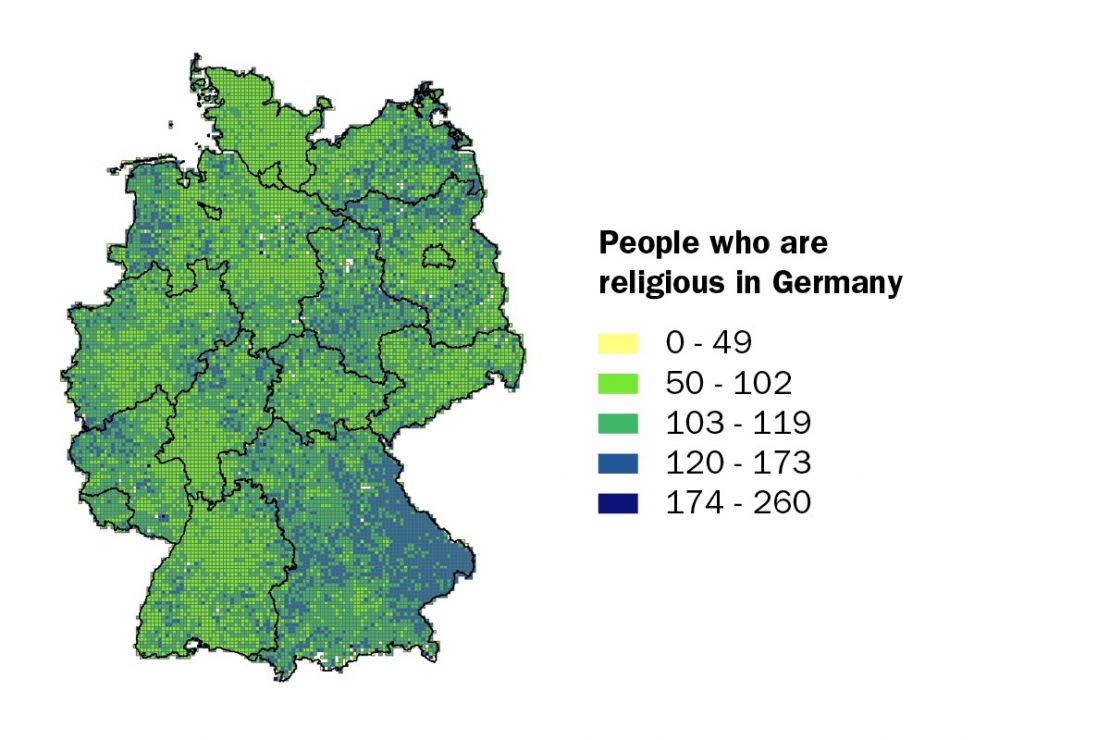 Most Christians in Lower Bavaria
The map shows Germany in a 5x5 km grid and shows an index value for each grid cell, indicating how religious the people living there are. The index value is based on Christian statements and beliefs. You can see that especially in Lower Bavaria, people are still very religious.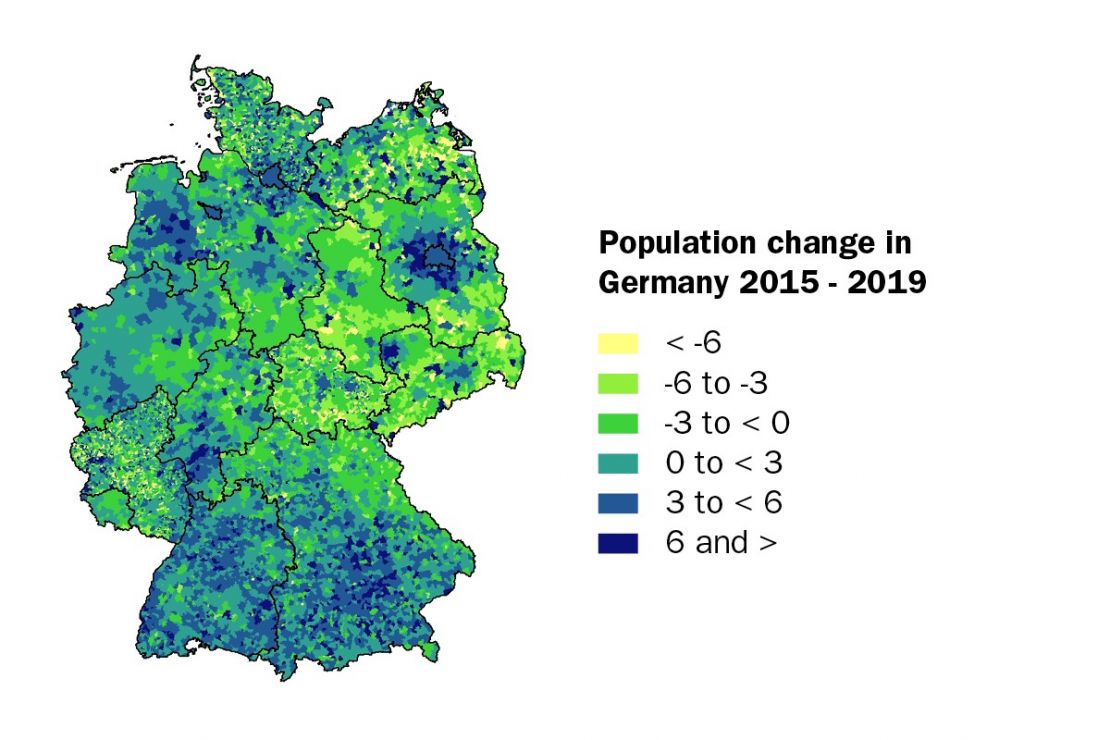 Berlin Has 5 Percent More Inhabitants Since 2015
The change in population from 2015 to 2020 is shown in percent. It is noticeable that most major cities and their surrounding areas have gained residents, while many rural-peripheral communities are characterized by emigration. The strongest growth is in Berlin, with over 5 percent.

Create Market Analyses with Up-to-Date Data
With market analyses, you can support your decisions in sales, marketing, controlling and expansion.
WIGeoGIS is your specialist for every conceivable demographic data. A single source for different providers offering the best price performance ratio in every granularity. We will help you decide which spatial level is right for you.
We will also provide you with the suitable WebGIS software for your analyses.

Market data for Germany: Test now free of charge and without obligation!
Test data* on demographics, purchasing power or other characteristics

Non-binding, free test
Test ends automatically without cancellation
Receive test data* as Excel or shape file
I will gladly support you, also by telephone.
* Information about the free test data: Selected test data for Germany is available for districts in Munich and the surrounding areas. The products of WIGeoGIS are intended for companies and are not suitable for private use. If you need a one-time market analysis, we will gladly make you a service offer.