Market Data for Germany 2021/2022
Now Up-to-Date!
Population, age, purchasing power. And whatever else you want to know. WIGeoGIS is your specialist for demographic data. Since the world changes quickly, we update our data annually. To ensure your market analyses deliver perfect results!

Only Up-to-Date Data is Good Data
It makes sense: whether it is a good meal or a market analysis; what you get out can only be as good as the ingredients you put in.
In our fast-paced world, only up-to-date data is good data. Land is rezoned for development, migration leads to an increase in the number of inhabitants in cities, while it declines in rural areas. And already the data is different.
For this reason, we at WIGeoGIS continually ensure the data that we process for you is up-to-date. This is done through standardized workflows and a quality assurance process. Our annual update has just finished!

Up-to-Date Market Data for 2021/2022 Now Available! Request your test data for Germany for free and without any obligations!
Did you know, ...?
... that the city of Leipzig has the highest tenant quota?
... that the two communities with the highest e-commerce purchasing power are in Schleswig-Holstein?
... that the percentage of small businesses in Rhineland-Palatinate, Mecklenburg-Western Pomerania and Schleswig-Holstein is particularly high?
... that the cities of Berlin and Munich have the most immigrants and at the same time the most emigrants?
... that the percentage of people over 65 is the highest in the municipality of Nitz in Rhineland-Palatinate?
These and many more questions can be answered with our up-to-date market data.


Market Data Germany - Over 100 Attributes Updated Every Year
Visualized on maps, you can see the answers at a glance! Here are a few examples.
Where does the daily population exceed the resident population?
In communities where the daily population exceeds the resident population, the number of inbound commuters is very high. These areas are characterized by a high number of job opportunities.
For example, the daytime population of the city of Wolfsburg is much higher than the number of people living there.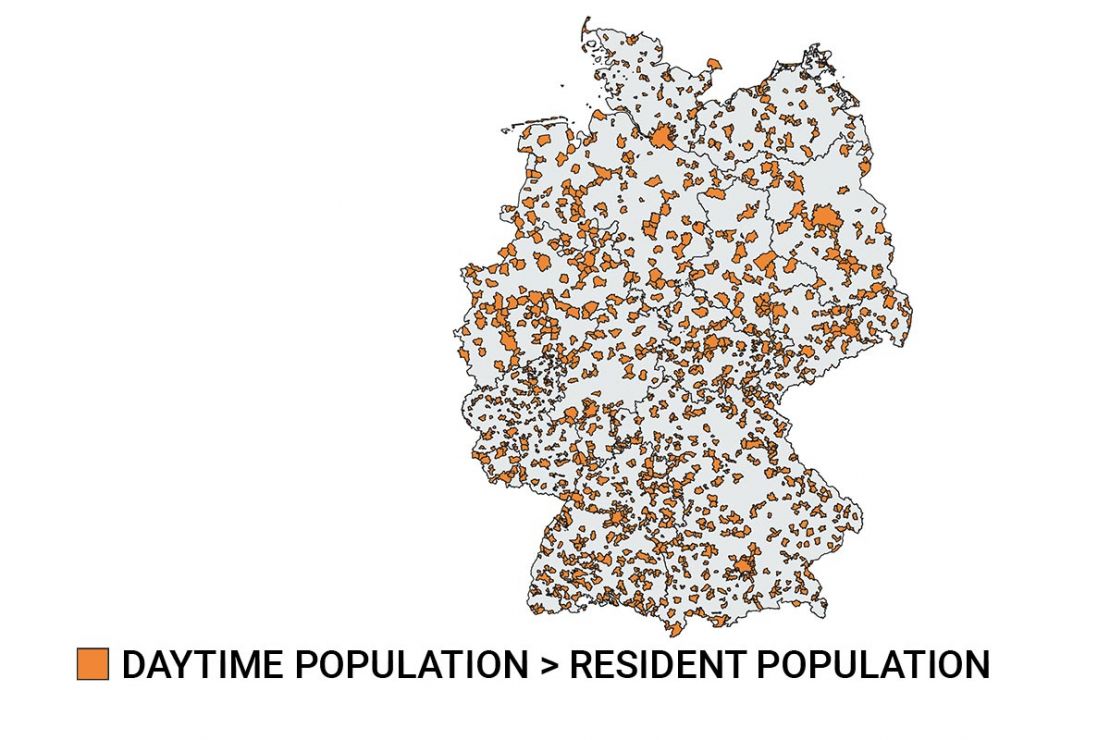 Where do many people who identify with tradition live?
An above-average number of people for whom tradition is particularly important live in the blue areas. A strong identification with tradition includes, among other things, a strong identification with homeland, honor, morality and steadfastness.
The data comes from the AZ Germany Grid product population and values. With the help of semiometry, people's attitudes towards life and values can be determined. Which values are dominant where? The semiometric model was developed by TNS Infratest.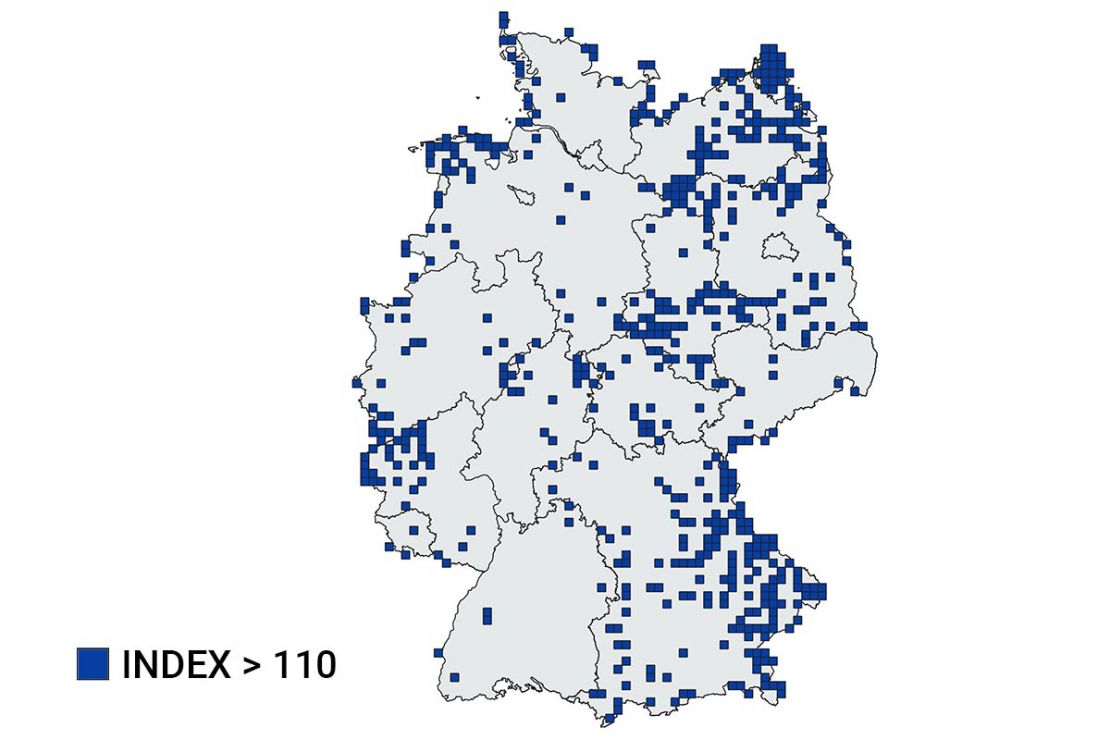 Try it out now! Request your test access to Market Data for Germany today for free with no obligation.
Where will the population in Germany grow over the next few years?
The areas in green show the municipalities that are expected to experience a population growth of more than 3% between 2021 and 2030.
It is clear from the map that lower growth is forecast for Thuringia, Saarland and North Rhine-Westphalia than for Berlin, Hamburg and the greater Munich area.

Where is purchasing power highest?
Purchasing power is one of the key indicators in geomarketing analyses. Municipalities with a particularly high purchasing power are shown on the right of the map.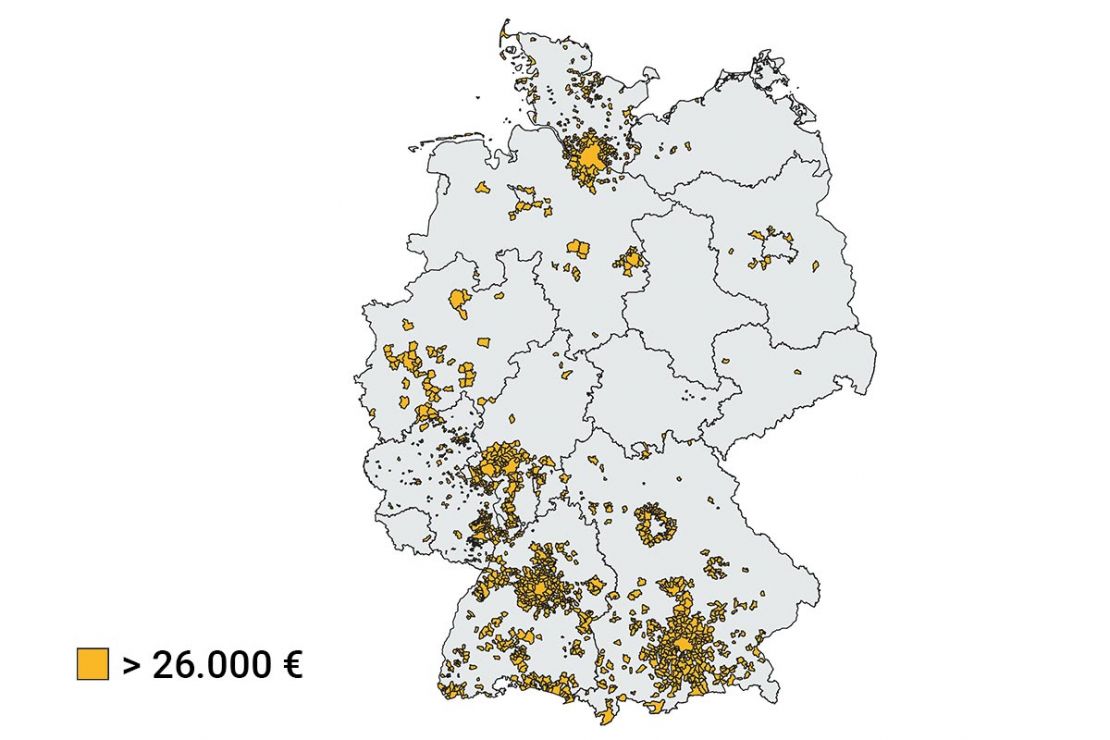 Is high purchasing power distributed evenly across the regions?
There are differences in the distribution of purchasing power. Overall, the city of Frankfurt, for example, has a high per capita purchasing power.
If the purchasing power is displayed in small-scale GEOmarkets units, the spatial differences can be seen.

Create Market Analyses with Up-to-Date Data
With market analyses, you can support your decisions in sales, marketing, controlling and expansion.
WIGeoGIS is your specialist for every conceivable demographic data. A single source for different providers offering the best price performance ratio in every granularity. We will help you decide which spatial level is right for you.
We will also provide you with the suitable WebGIS software for your analyses.

Market data for Germany: Test now free of charge and without obligation!
Test data* on demographics, purchasing power or other characteristics

Non-binding, free test
Test ends automatically without cancellation
Receive test data* as Excel or shape file
I will gladly support you, also by telephone.
* Information about the free test data: Selected test data for Germany is available for districts in Munich and the surrounding areas. The products of WIGeoGIS are intended for companies and are not suitable for private use. If you need a one-time market analysis, we will gladly make you a service offer.