Lawn mower seeks family with garden and strong purchasing power
Media Planning Uses Geomarketing: An Example
Media planers and marketeers reach their target groups with geomarketing and avoid scatter losses. All you need is user-friendly GIS software, geoanalyses and data. Our example shows how they work together and how geomarketing and data can be applied to media planning in concrete every-day situations.

Customer, where are you?
The Core Question of Media Planning
Where can I find my potential customers? Every campaign planning starts with this question. For example, when a DIY chain wants to promote the sale of a high-priced lawn mower. The target group is people with strong purchasing power who live in a one-to-two-family house with a garden. This leads directly to the next question: In which catchment areas of which branches am I most likely to find people in this target group? For an ad campaign is only worthwhile in those areas. In order to answer such questions, successful media planning uses geomarketing and GIS.

Geomarketing Analyses of the Branch Surroundings
"Travel time dependent catchment areas around branches can be easily analyzed with WebGIS software. Using small-scale geographic geometries, the tool examines the areas for relevant target group characteristics and filters out those in which the target group is strongly represented. WebGIS visualizes these areas clearly on the map. Thus, it is now clear to the retailer for which branches an advertising campaign promises the most success," explains Uwe Hain. As key account manager at WIGeoGIS, he is responsible for media agencies and marketing departments for large retailers as customers. WIGeoGIS has been developing GIS solutions for geomarketing and location intelligence for over 20 years. With geomarketing and GIS tools, large amounts of data can be easily analyzed and displayed on a map. For target group and market analyses, WIGeoGIS offers WebGIS WIGeoWeb.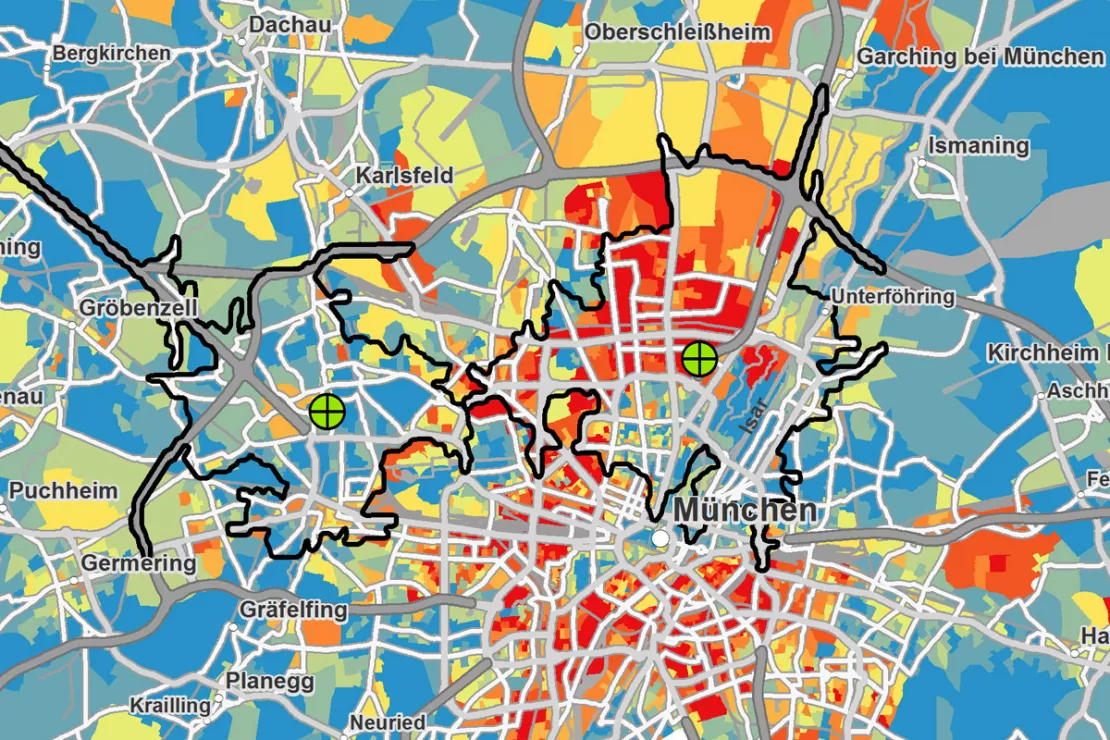 This creates meaningful maps that show media planers exactly where they can find their target group. The blue areas on the above map show where there are both single- and two-family houses with a garden as well as people with strong purchasing power, i.e. the desired target group for the lawnmower.

Which channels does the customer use to gain information?
Assessments of the catchment area are followed by further analyses. "Over the past few years new sales channels from the online and mobile world have expanded the possibilities for advertisers. At the same time, the entire process has also become more complex," says Karl-Heinz Mühlbauer of panadress, provider of data, analytics and marketing intelligence and WIGeoGIS data partner, describing the current situation. Peter Kothe of the multi-channel marketing company AZ Direct finds that "the retail sector has not yet reacted strongly enough to this changed situation." AZ Direct is also a WIGeoGIS data partner. Kothe adds: "Consumers themselves are extremely active on the different media. Therefore, the branch surroundings should also be assessed based on the channel affinity. The goal of a campaign should always be to present potential advertising to the potential customer at the right time in the appropriate channel."For the example with the lawn mower, the question arises: Should the device be advertised via banner advertising on the internet, by e-mail, with posters, by postal mail or via all channels? It is important to find the optimal channel mix for the advertisement of the lawn mower and to control it as precisely as possible. It is important to first understand which communication and purchasing channels are favored in the targeted areas. Customer-journey typologies, as developed by AZ Direct, can help.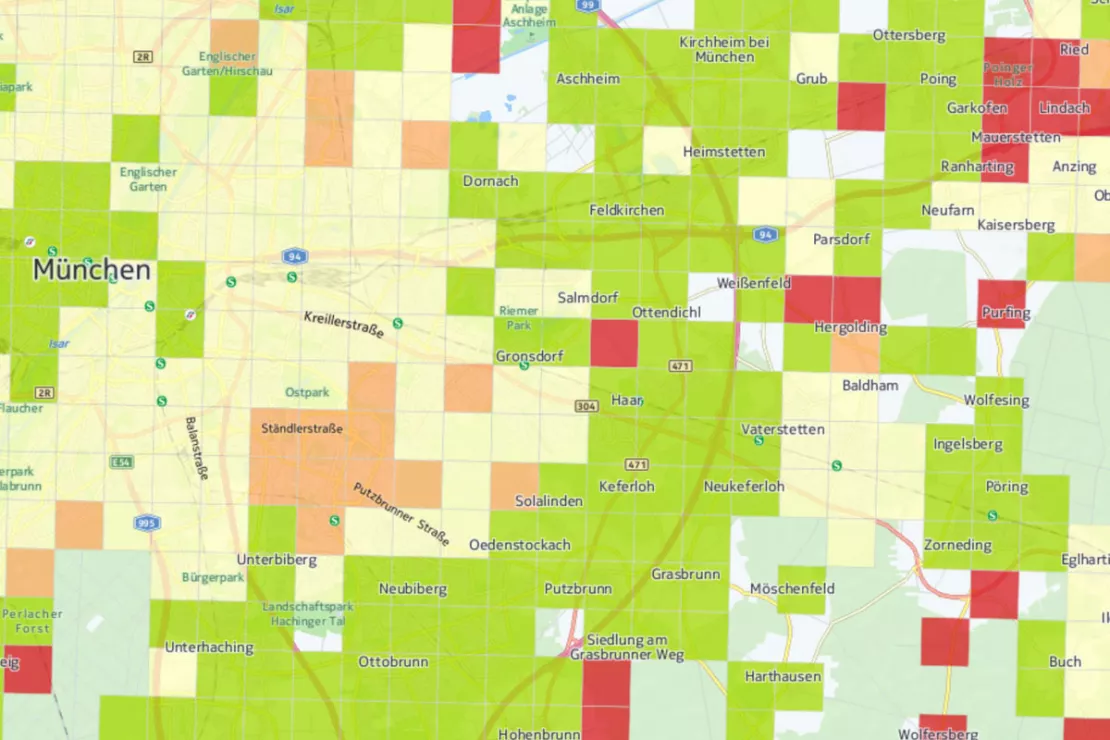 Customer journey data is displayed on the map. This makes it possible for media planners to determine for example in which areas customers prefer to shop offline in a brick and mortar store. This is exactly what the sample map above displays. The green areas highlight where there is a strong concentration of store buyers. These areas are therefore best suited for campaigns that attract potential customers to the store.

Data for channel affinity
The cross-channel database from panadress also provides information on channel preferences. "Data on channel affinities are available for specific addresses or at the microgeographical level. Mailings, such as a personal cover letter including the brochure for the lawn mower, and e-mails can be sent, for example, to specific addresses. It is different for display advertising, Facebook advertising and advertising inserts in flyers. Here, a microgeographical level is used that allows for a small-scale control," explains Mühlbauer. For example, WIGeoGIS provides data at the microgeographical level in the form of Geomarkets and the AZ Germany-Raster.

Mobile Advertising
In the future, there is another channel that will likely gain even more importance: Mobile Advertising. A limited number of businesses already use this channel today. "With mobile advertising, advertisements can be displayed precisely when a user opens a specific app and they are near a point of sale operated by the advertiser," explains Peter Kothe. Mobile ads are designed to motivate potential customers to visit and shop in a store.

Data visualization will become even more important for media planning in the future
The diversification of the channels will continue to increase. Effective use of budgets will therefore be an even greater challenge for media planning in the future. In order to cope with this, more data will be necessary and, above all, tools that can intelligently analyze and intuitively visualize that data. Geomarketing and WebGIS do just that. Thus, in the future the high-priced lawnmower will be able to find its family with garden with a highly efficient advertising budget.

Using Geomarketing in Media Planning: Request a free initial consultation
FREE initial consultation on media planning using geomarketing

Non-binding, without further obligations
By telephone or video call
Do you want to know more about media planning using geomarketing? I will gladly support you. Please contact me!