Market Data for Austria 2022/2023
Our annual update is here!
WIGeoGIS delivers market data from various providers all from a single source: Population, age, purchasing power, as well as hundreds of other characteristics. But only up-to-date data can provide optimal results for your market data analyses. That is why we update our data annually.

Why Up-to-Date Data is so Important
New homes are being built, especially in urban areas, which are characterized by an influx of population, while people are moving away from rural areas. So not only the population numbers, but also the age and purchasing power change. With geomarketing you can find target groups and analyze market penetration. In a quickly changing world, optimal results can only be achieved with demographic data that is up-to-date.
WIGeoGIS provides market data from various providers and prepares them for spatial analysis. And we work extremely hard to ensure our data is up-to-date, because we want your market data analyses to increase the success of your company!

Did you know, ...?
…that the largest percentage of academics can be found in the 1st district of Vienna?
…that in Feldkirchen in Carinthia a lot of people live alone in one apartment?
…that in the municipality of Eisenerz in Styria the percentage of people over 65 is extremely high?
…that Grameis and Unterperfuss in Tyrol are the two communities with the highest percentage of women?
…that the percentage of single people in Austria is highest in the 7th district of Vienna?
These and many more questions can be answered with our up-to-date
market data
.
Market Data Austria - Over 100 Attributes Updated Every Year
Visualized on maps, you can see the answers at a glance! Here are a few examples.
Where is the proportion of millennials particularly high?
Millennials (also known as Generation Y) are people born between the early 1980s and late 1990s. For many companies, these people represent a profitable target group.
In Austria, millennials live mainly in the area along the Danube and in the western part of the country.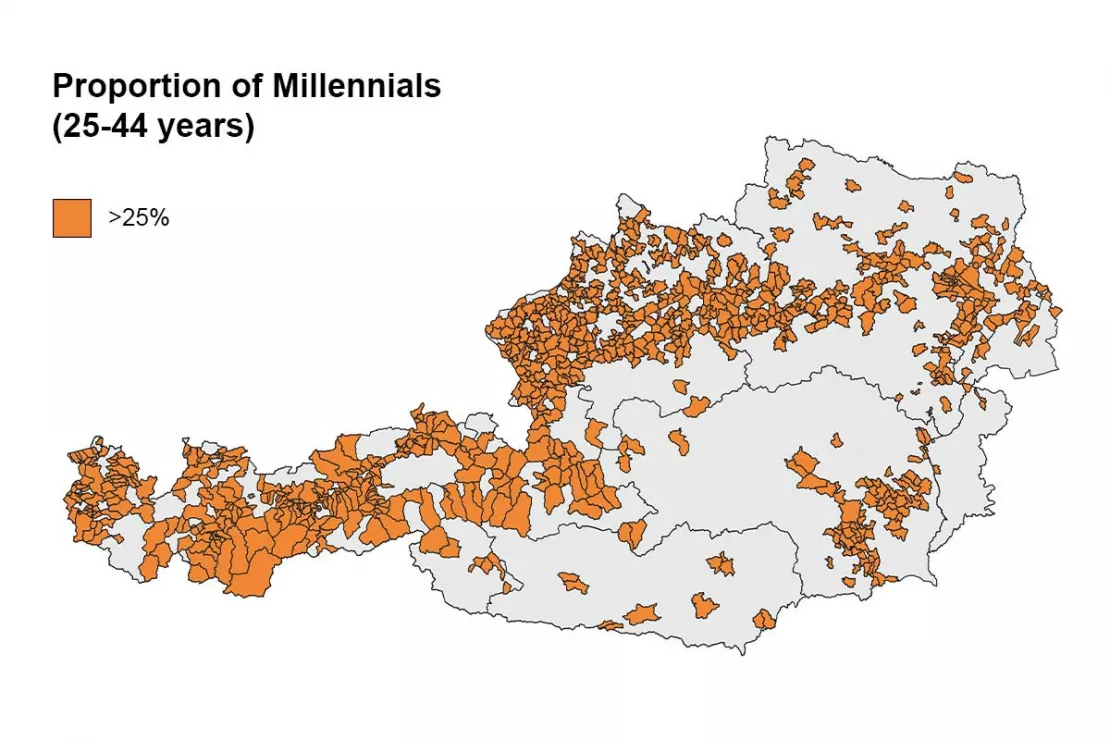 Where is purchasing power highest?
Purchasing power is one of the central analysis indicators in geomarketing. Municipalities with particularly high purchasing power are shown on the right of the map.
Are you interested in our Market Data for Austria? Request test data with no obligation.
Where do a high number of decision-makers live?
Due to their leadership positions, decision-makers are important actors in the economy.
Decision makers are:
Decision makers in large companies
Stakeholders in companies
Business owners or self-employed individuals
Executives and board members
Business managers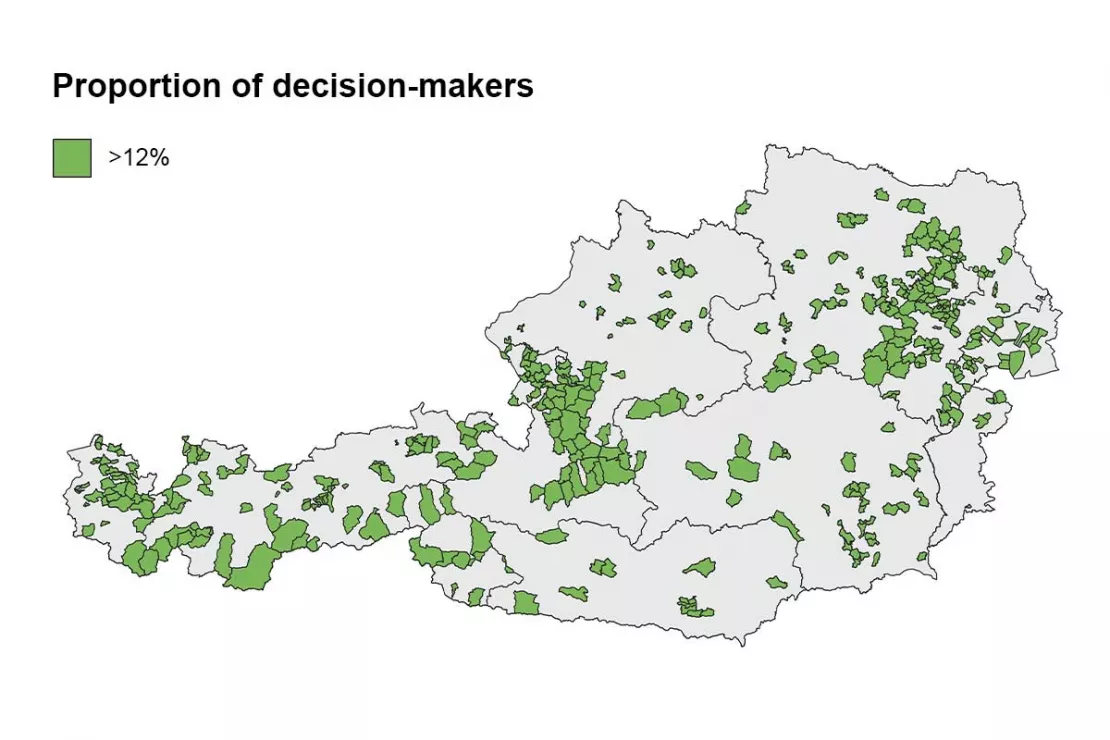 Where are the most hotels located?
Compared to other European countries, the hotel industry in Austria contributes a higher share of the total economic output.
The areas in orange show the municipalities in which the percentage of hotels compared to the total number of buildings is over 10%.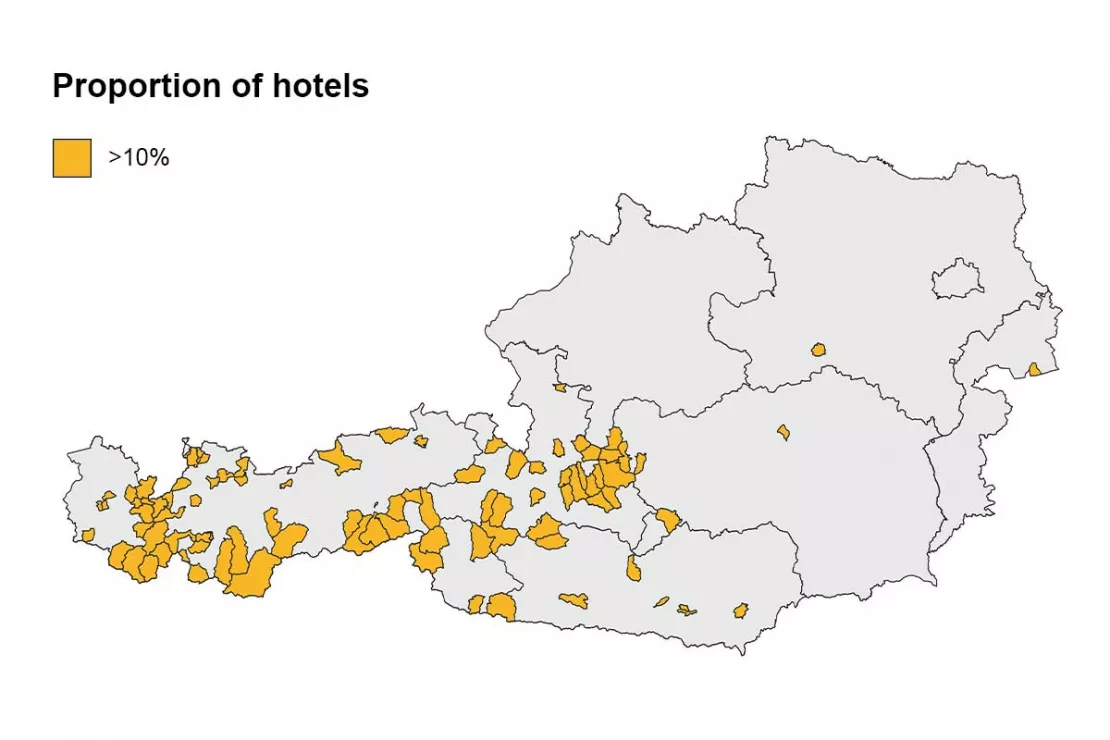 Is high purchasing power distributed evenly across the regions?
There are differences in the distribution of purchasing power. Overall, the city of Innsbruck, for example, has high purchasing power per capita.
If the purchasing power is displayed in the small-scale unit of the statistical enumeration districts, the spatial differences can be seen.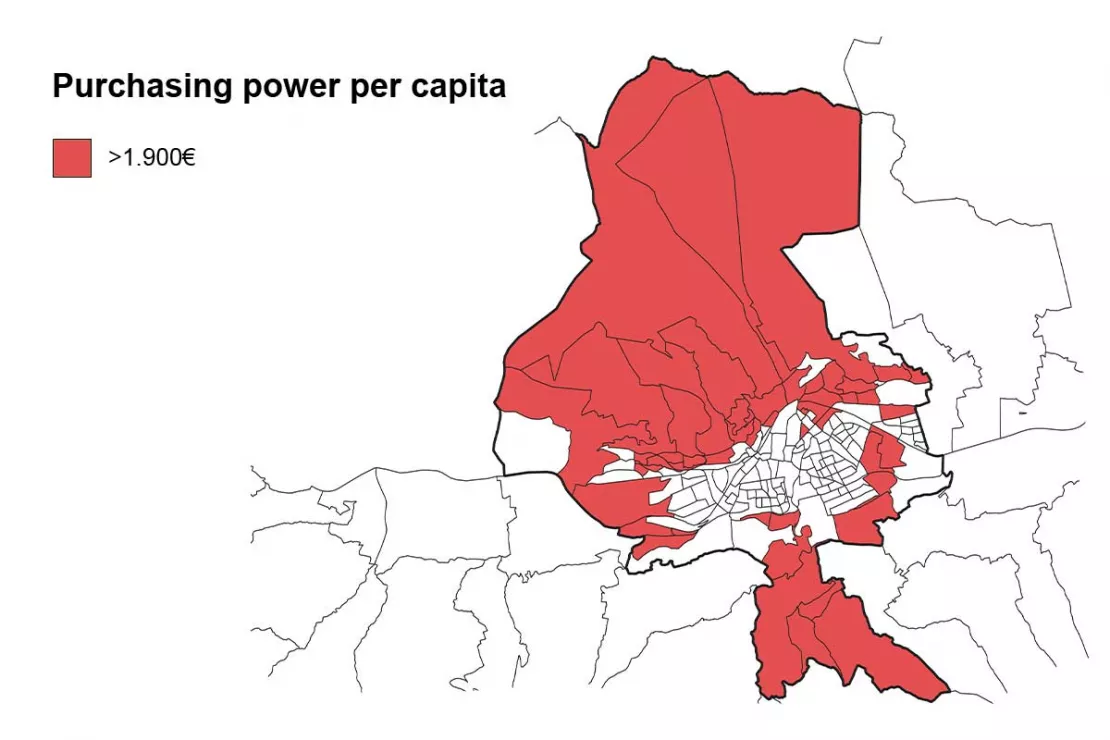 With up-to-date market data from WIGeoGIS you will find your target groups and market penetration!
Why You Are in Good Hands with WIGeoGIS When You Need Market Data
Market data for Austria: Test now free of charge and without obligation!
Test data* on demographics, purchasing power or other characteristics

Non-binding, free test
Test ends automatically without cancellation
Receive test data* as Excel or shape file
I will gladly support you, also by telephone.
* Information about the free test data: Selected test data for Austria is available for districts in Vienna and the surrounding areas. The products of WIGeoGIS are intended for companies and are not suitable for private use. If you need a one-time market analysis, we will gladly make you a service offer.