Market Data for Austria 2019
Our annual update is here!
WIGeoGIS delivers market data from various providers all from a single source: Population, age, purchasing power, as well as hundreds of other characteristics. But only up-to-date data can provide optimal results for your market data analyses. That is why we update our data annually.


Call us:
DE: +49 89 321998 0
AT: +43 1 7151987 0


Send us your question, comments or feedback
Why Up-to-Date Data is so Important
New homes are being built, especially in urban areas, which are characterized by an influx of population, while people are moving away from rural areas. So not only the population numbers, but also the age and purchasing power change. With geomarketing you can find target groups and analyze market penetration. In a quickly changing world, optimal results can only be achieved with demographic data that is up-to-date.
WIGeoGIS provides market data from various providers and prepares them for spatial analysis. And we work extremely hard to ensure our data is up-to-date, because we want your market data analyses to increase the success of your company!

Market Data for Austria 2019 Now Up-to-Date! Try it yourself and request your free test data!
Did you know, ...?
✔

... that Upper Styria and parts of Carinthia and East Tyrol are the regions in Austria that have seen the highest emigration over the last 4 years?


✔

... that there is a particularly high number of single-person households not only in the cities but also in northern Styria?


✔

... in which parts of Austria the most single people live?


✔

... that Innervillgraten in East Tyrol is the municipality with the highest percentage of large households?


✔

... that Grameis and Unterperfuss in Tyrol are the two municipalities with the highest percentage of women?




These and many more questions can be answered with our up-to-date market data. Read the details and especially look at the maps and you will see that if data is analyzed spatially with the right tools (e.g. WebGIS) and visualized on maps, you can see the answers at a glance!

Immigration/Emigration Austria 2015-2019 in Percent
It is particularly noticeable that most major cities and their surrounding areas have gained residents, while many rural-peripheral municipalities, especially in Upper Styria and parts of Carinthia and East Tyrol, are showing a decline in population.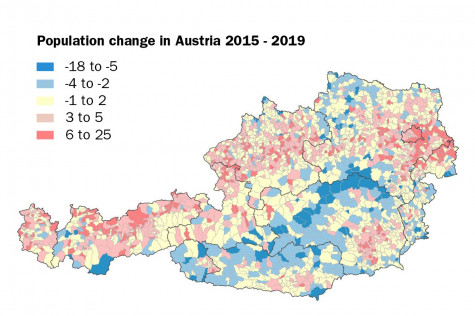 Single-person households in Austria
The map shows the share of single-person households at the municipality level. Perhaps it is not surprising that most single-person households are located in urban centers. However, it is less well known that another main area is in northern Styria.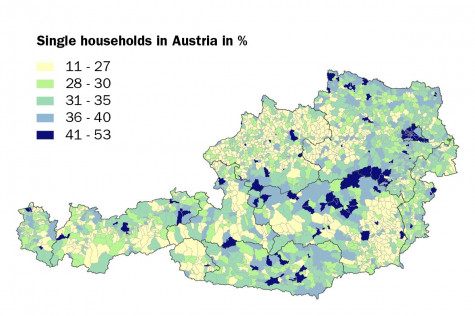 Singles in the Population
Here you can see the percentage of single (unmarried) people in the total population at the municipality level. Tyrol is known for being very Catholic. You might think the percentage would be lowest there. The map shows that the opposite is the case.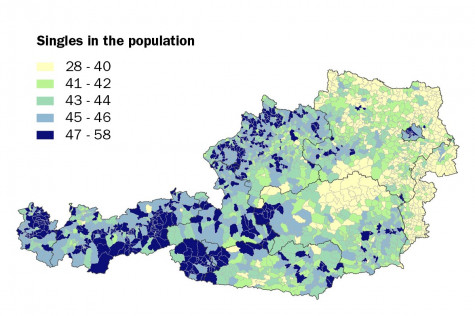 Large Households at the Municipality Level
The map shows the percentage of households in Austria with more than 6 people at the municipality level. The municipality Innervillgraten in East Tyrol has the largest percentage of multi-person households with 22%.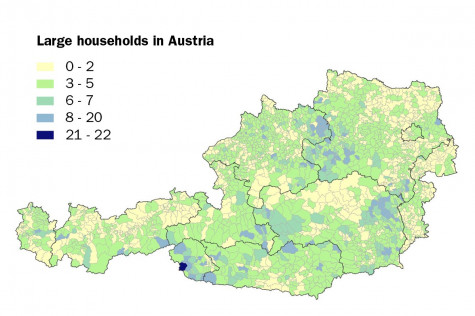 Percentage of Women in the Population
The share of women in the population at the municipality level in Austria is shown in percent. The two Tyrolean municipalities Gramais and Unterperfuss each have 59 percent more women than men. Gramais is also the least populated municipality (41 inhabitants).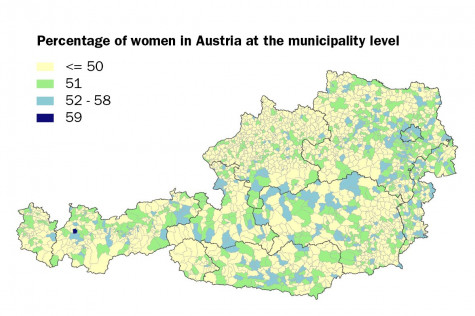 With up-to-date market data from WIGeoGIS you will find your target groups and market penetration!
Why You Are in Good Hands with WIGeoGIS When You Need Market Data

✔ We are independent: We do not produce market data ourselves, but sell data from a wide variety of providers. We are networked with every imaginable provider and have an eye for quality. As your consultant, we are committed only to your success!
✔ Best price performance ratio: Depending on your requirements, the prices of different providers can vary greatly. We know market data well and can find you the best possible offer!
✔ 25 years of experience: You do not know which spatial level is the most suitable for your market data analysis? Just ask us! We have been working with spatial data for a very long time.
✔ Everything from a single source: If you need data from more than one provider, we are your single source for all your data needs. We also take care of the licenses. That makes things easier for you. And if you require them, we also have attractive market analysis tools or GIS software for your analyses and will be happy to help you find the solution that is best for you.

Are you looking for demographic data on Austria?
"We deliver data on all common spatial levels. I will be happy to provide you a no-obligation consultation."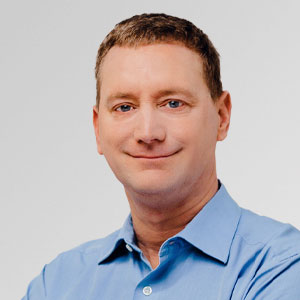 Martin ORTNER
Consultant