Geomarketing in the Industrial Sector
Plan Sales Territories & Optimize Services
Geomarketing analyses help industrial companies to optimize the structure of their sales and service territories and find ideal warehouse and manufacturing locations. Geomarketing software allows market analyses to pinpoint the area with the highest market and customer potential.

Geomarketing analyses can help industrial companies to optimize the structure of their sales & service territories and better support their sales force in achieving their targets. Companies in the industrial sector use geomarketing in the following areas:
Sales: optimization of sales territories and distributor networks
Sales force: better visit planning, shorter response times, clear performance monitoring
Controlling: identification of opportunities and risks through the presentation of KPIs on maps, sales performance analyses

Location: site selection and planning for logistics
Marketing: support of sales and distribution partners in the regional market development

Industrial companies benefit from geomarketing and mapping in many ways. Customers, sales partners, sales territories and company locations all have a spatial reference.

Sales and Controlling
Rapid Adaptation to New Market Situations
Sales
Geographic analyses show your regional market penetration and the areas with the greatest opportunities for growth in amazing detail right down to the sector or even individual products. This allows industrial companies to quickly adapt their sales territories and distribution networks to new market situations. Competitor mapping and analyses complete the picture.
Geographic analyses also help with the development of regional sales structures and with the sales potential assessment for new markets and products. The sales territories can be optimized, expanded or merged according to potential workload and routes. Thus, you can ensure your sales force spend more time with the most promising customers and less time on the road.
Sales force and field team visit scheduling

More intensive market development, faster achievement of targets and more efficient visit planning are just some of the ways your sales and field force can benefit from geomarketing software. Everything at a glance - customers and prospects. Thus, customer visists are optimally combined with new customer acquisition. This saves costs and travel time. Through the constant monitoring of their own KPIs, your employees can organize themselves better and take appropriate action independently.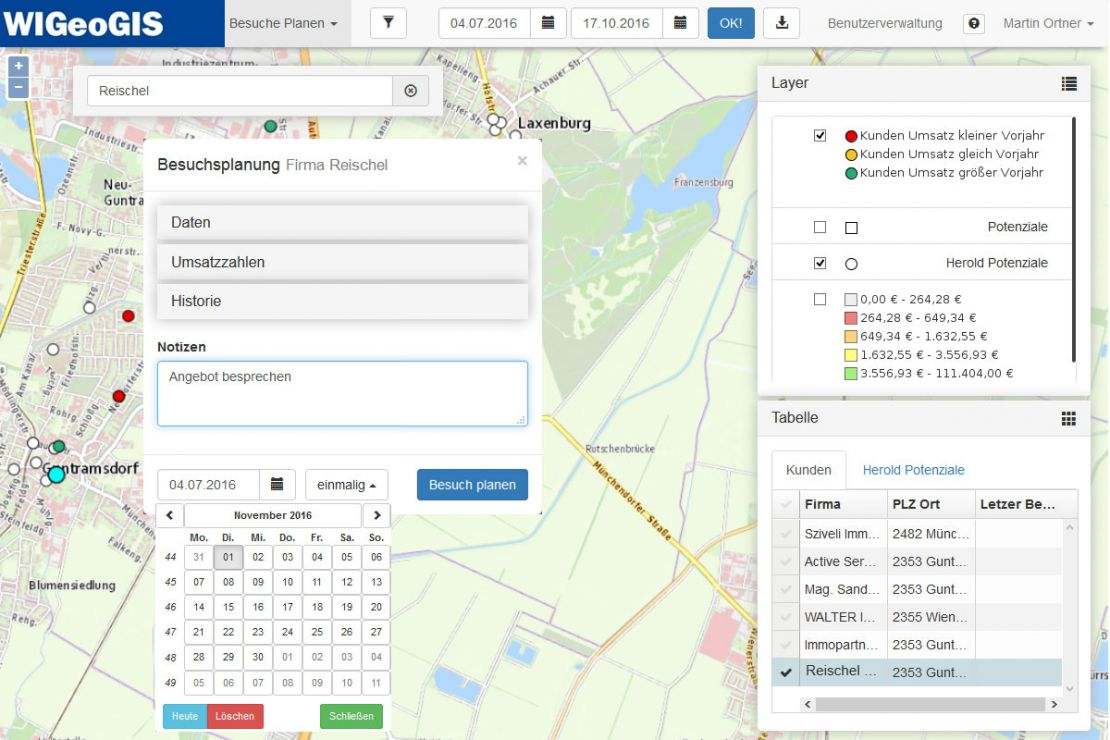 Controlling and Sales Performance Analyses

With the help of geomarketing, Key Performance Indicators can be clearly displayed on digital maps. Maps displaying color coded KPIs can serve controlling and sales for example as an early warning system to quickly determine if turnover targets have been achieved. At a glance it is clear where (country, region, area, etc.) business is running well or needs attention. If the targets are not achieved, the software sends the appropriate information. This allows you and your sales team to react more quickly and take the appropriate action.
The use of GIS software to display potential performance matrices on digital maps shows the areas in which the market is already saturated and where opportunities have been left untapped.
Location selection and planning for logistics
Industrial companies have transnational logistics and reseller networks. Geomarketing allows you to analyze and understand commodity flows. Thus, industrial goods companies can determine the ideal location in terms of logistics for storage and suppliers to ensure optimal and efficient delivery for their customers. This saves money.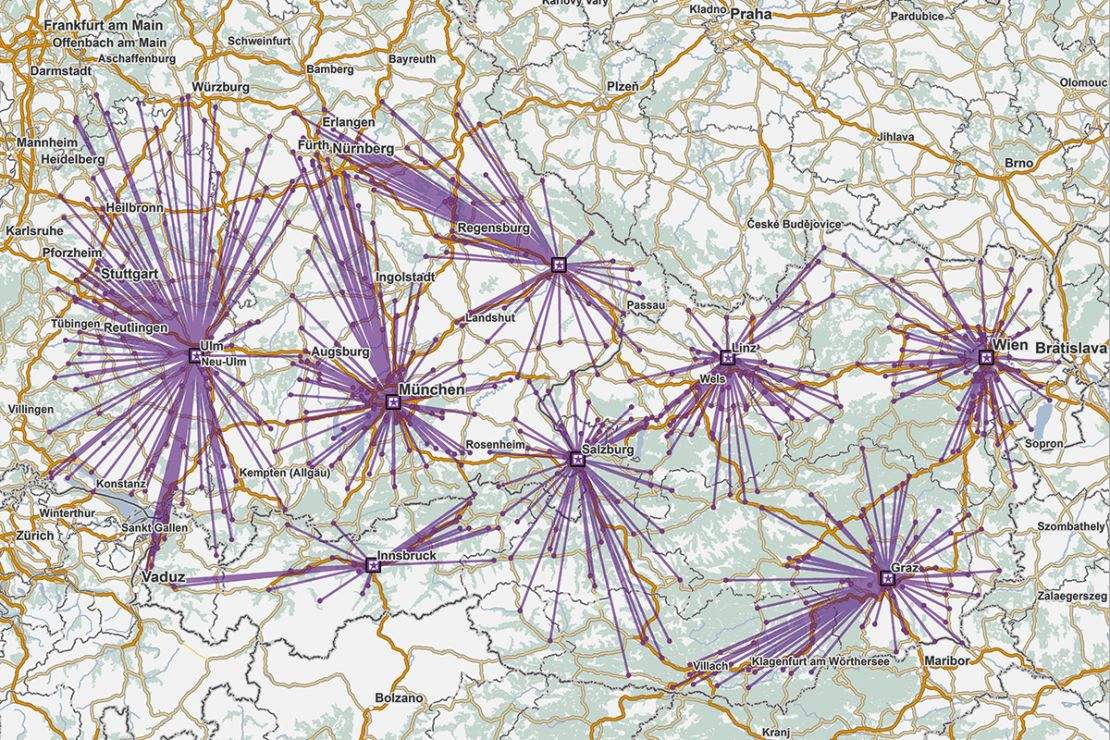 Analyzing Regional Markets
Geomarketing allows you to analyze the competition according to markets and shows where there are market opportunities and customer potential for your industrial company. The more diverse the product portfolio of a company, the more segmented the market. Geomarketing is the ideal tool for linking current KPIs with external market information such as potentials, competitors and market shares.

Geomarketing in the Industrial Sector: Request a free initial consultation
FREE initial consultation on Geomarketing in the Industrial Sector

Non-binding, without further obligations
By telephone or video call
Are you interested in the advantages of Geomarketing in the Industrial Sector? I will gladly support you. Please contact me!
FAQ
Can map solutions be integrated into existing ERP or CRM systems?

WIGeoGIS map solutions have already been integrated into various ERP and CRM systems. This makes daily analyses possible without complex import procedures. Thus, every user always has accesses to the most current, relevant information.

How can geomarketing reports help me in my daily work?

Displaying internal and external data on maps allows you to recognize spatial relationships in your market areas. The information they provide serves as the basis for operational decisions and the strategic orientation of your company, for example by identifying areas with strong potential.

Can reports for different geographical levels and users be created simply with the push of a button?

Yes. Automated reports taking your company's internal sales structures into account can be generated based on company performance indicators for every level and structure (regional, national and international). This is possible with existing extensions for WIGeoWeb.

How can I display my KPIs clearly?

The spatial representation of KPIs (Key Performance Indicators) provides you with a new perspective of your business. At a glance, you can see in what regions your customer inquiries are growing or shrinking. This allows you to quickly take countermeasures and identify weak points in sales and marketing.
Free initial consultation for Geomarketing in the Industrial Sector. We will explain how it works and what you will need!