Footfall Data for Germany
WIGeoGIS Starts Partnership with hystreet
The Cologne-based PropTech hystreet.com delivers up-to-date and accurate footfall data for more than 50 German cities. Now this data can be viewed in WebGIS from WIGeoGIS. Displaying the footfall data on the map allows it to be interpreted even faster and better.

Footfall data 365 days a year, 24/7
Not so long ago, footfall data was collected manually, just once a year for a period of one hour. The data was not very meaningful. Until hystreet.com, a spin-off of the Aachener Grundvermögen, installed laser scanners on buildings in top downtown locations. At first the scanners were only installed at properties owned by the capital management company, and later, together with partners, at numerous other buildings.
The scanners automatically measure the number of people each hour who cross an imaginary line on a shopping street. The technical solution is so sophisticated that it recognizes the direction of passers-by and distinguishes children from adults.
The data for exact hours is available online, also for mobile devices, free of charge. Peaks and flows are clearly visible. Even for flow rates of 500 people per minute, the scanner count is 99% accurate. The hystreet footfall measurements are both safe for the eyes and compliant with the Data Protection Act. Currently, data is collected at over 100 locations in Germany, and the number is increasing.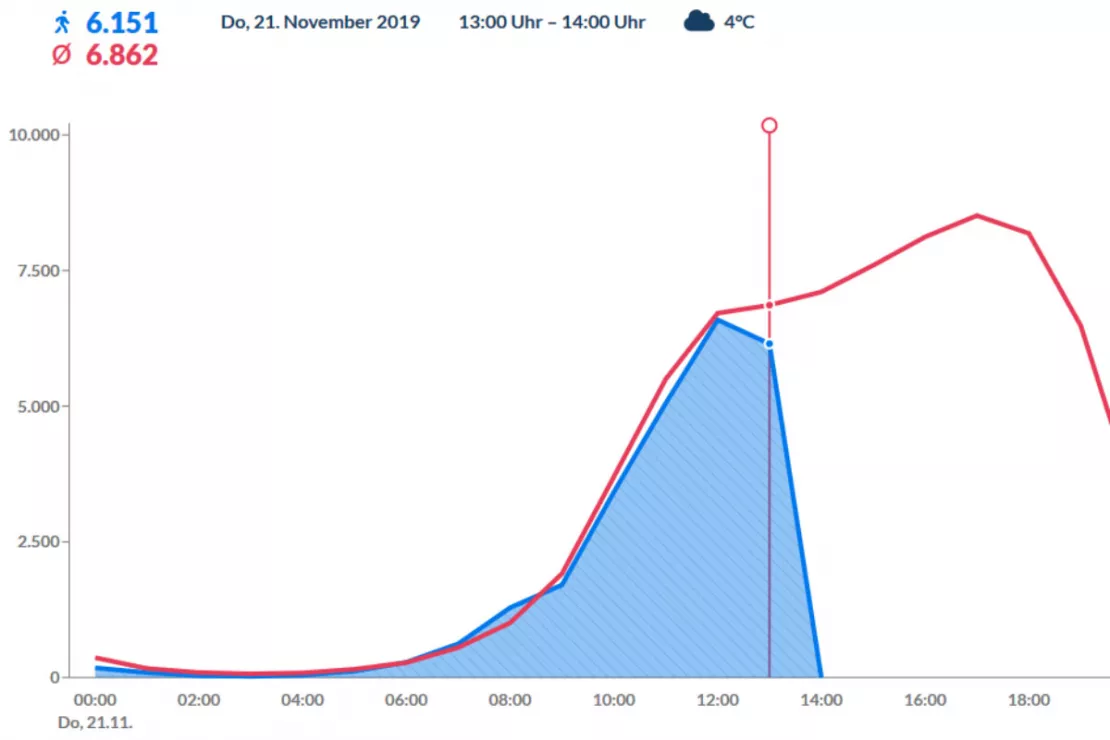 Footfall - For Whom?
Retail: Planning and analyzing sales, locations, marketing, personnel deployment
Evaluating properties for investors and owners: hard numbers rather than estimates
Urban planning and city marketing, traffic planning
These are just a few examples of possible applications!

hystreet.com and WIGeoGIS - A Congenial Partnership
hystreet.com was created because the mother of the start-up, the Aachener Grund, wanted to create a better data basis for the evaluation and administration of the properties they managed. However, it soon became clear that the data would be of interest to a much larger group of users and to the public, especially since the company primarily owns downtown properties in prime locations. hystreet.com brings transparency to the visitor numbers of German city centers.

On our own portal, the data is available as graphs for each location, complete with a history, (see picture above), as well as in the form of Excel lists. The continuous and exact measurement per day, week and year make it possible to draw many conclusions and analyze relationships. The weather, holidays, seasons and occurrences such as events in the vicinity or neighboring towns all affect footfall.
"However, much more insight can be gained if you look at the whole picture," explains hystreet.com CEO Julian C. Aengenvoort. He is thrilled with the opportunity to visualize the data throughout Germany on a map. "You can immediately see everything at a glance, understand the context and reach conclusions faster. Comparisons are easier to draw. This is not only interesting for municipalities and urban planners, but also for actors from the retail and real estate sectors who deal with many locations or objects."
"It's a classic win-win situation," says Simon Lühr, Senior Consultant at WIGeoGIS. "Via the interface in our WebGIS products WIGeoWeb and WIGeoStandort, we can now offer the footfall data from hystreet.com to our customers as well. This works out well, because for the retail and real estate sectors, a WebGIS is also a very useful tool and we are the experts in this field."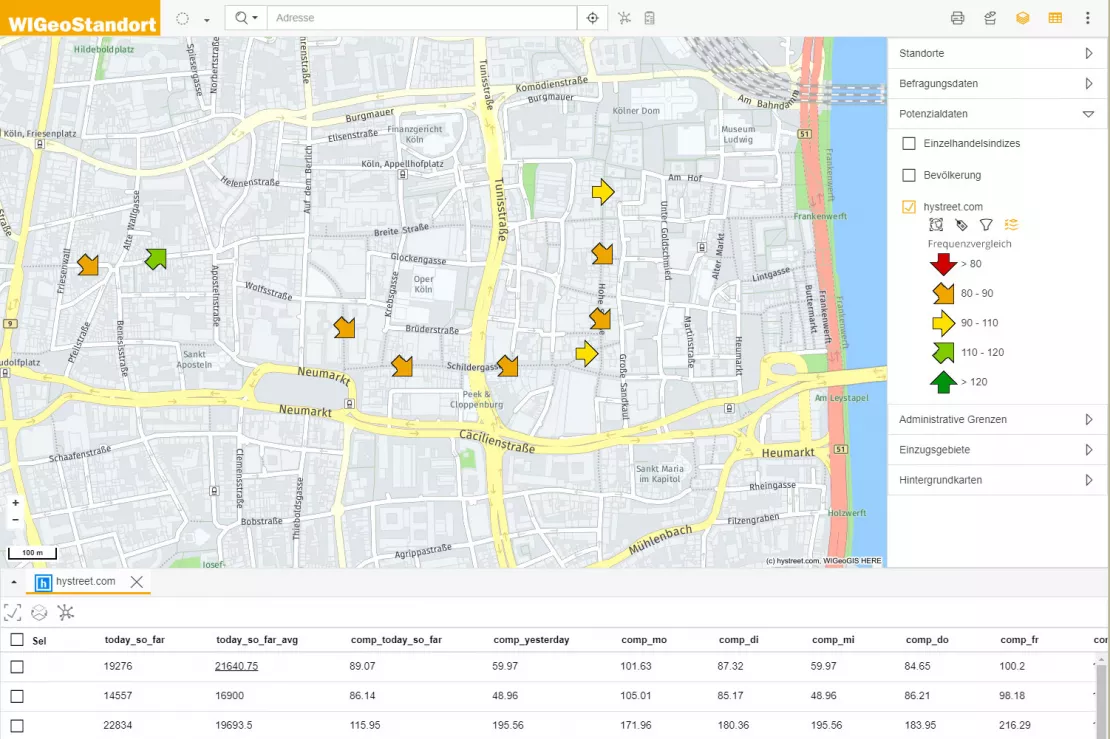 Cologne city center, current footfall data compared to the daily average. Presentation in WebGIS WIGeoStandort, available throughout Germany.

The hystreet.com footfall data is available free of charge via a preconfigured interface in all of our WebGIS products: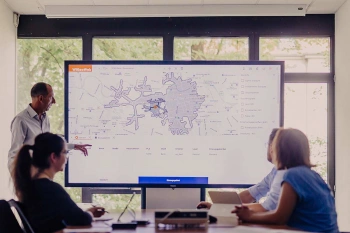 WIGeoLocation: WebGIS software for location analysis
WIGeoLocation is the modern WebGIS software for location analysis. Your location report in just 3 minutes.
Learn more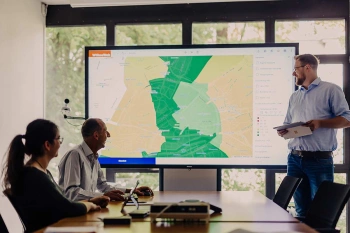 WIGeoWeb: WebGIS for Geomarketing
WIGeoWeb is your online GIS for business analysis. Interactive maps. Visualize data. Simple. Intuitive. The WebGIS for your company.
Learn more
This is What Users Say
"With the free data from hystreet.com, we determine our conversion rates every day and analyze, basically live, why more or less customers are entering our stores. As a result, we can adapt our presentation immediately. This is really valuable information."
Martin Kanngiesser, Managing Director of LPP Deutschland GmbH
"hystreet.com is an absolutely ingenious way of keeping an eye on footfall data as quickly as possible! Perfect for us real estate consultants, for expansion managers, for owners, for investors, for cities and municipalities. I would like to see even more footfall counters for an even better overall picture in the future! Brilliant, keep it up!"
Jan Wetzel, Member of the Management Board at Comfort Berlin-Leipzig GmbH
"Since the start in 2014, the city of Osnabrück has been a pioneer in laser-controlled footfall measurement in Germany with five devices. The data provides us with valuable information for development of the city center and marketing and is often requested by the press. The ability to draw comparisons with other cities, thanks to the help of Hystreet, is another milestone that promises us a great deal of knowledge!"
Petra Rosenbach, Managing Director Osnabrück Marketing and Tourism GmbH

WIGeoLocation: Fill out the form, test it free of charge & without obligation!
Non-binding, free test for 30 days

Test ends automatically without cancellation
An employee will explain the tool in a short webinar*
* Information about the free test access: Standard regions with selected data in Germany or Austria will be made available. In Germany, these regions are districts in Munich and environs, and districts of Vienna and environs in Austria. The products of WIGeoGIS are intended for companies and are not suitable for private use. If you need a one-time market analysis, we will gladly make you a service offer.