Call us:
DE: +49 89 321998 0
AT: +43 1 7151987 0


Send us your question, comments or feedback
Geomarketing Analysis with Up-to-Date Road Data
WIGeoNetwork is the Right Tool for Every Type of Network Analysis.
WIGeoNetwork is used wherever distances and travel times are important for planning. Catchment areas can be realistically assessed and markets can be analyzed according to their actual size. The extension for ArcGIS for Desktop is based on Esri Network Analyst and takes direct advantage of its functionality.
The routing networks required for the analysis are integrated into WIGeoNetwork. These routing networks are based on the highly accurate and up-to-date vector data from TomTom. WIGeoGIS supplements the routing networks with common cost and restriction attributes:

Meters and Kilometers: Lengths for distance based analysis
Minutes: Time for driving a section of road for time-based analysis
MinutesSlow: approximately 25% longer driving time
MinutesWalk: Pedestrian routing with a 5 or 3.5 km/h walking speed
In addition to general speed profiles, for example for cars or buses, the data can be supplemented with special restrictions for the opening or avoidance of pedestrian zones, private roads or ferry connections.
In addition, with TomTom Speed Profiles network analysis for specific times of day and different days of the week can be carried out based on historical traffic data.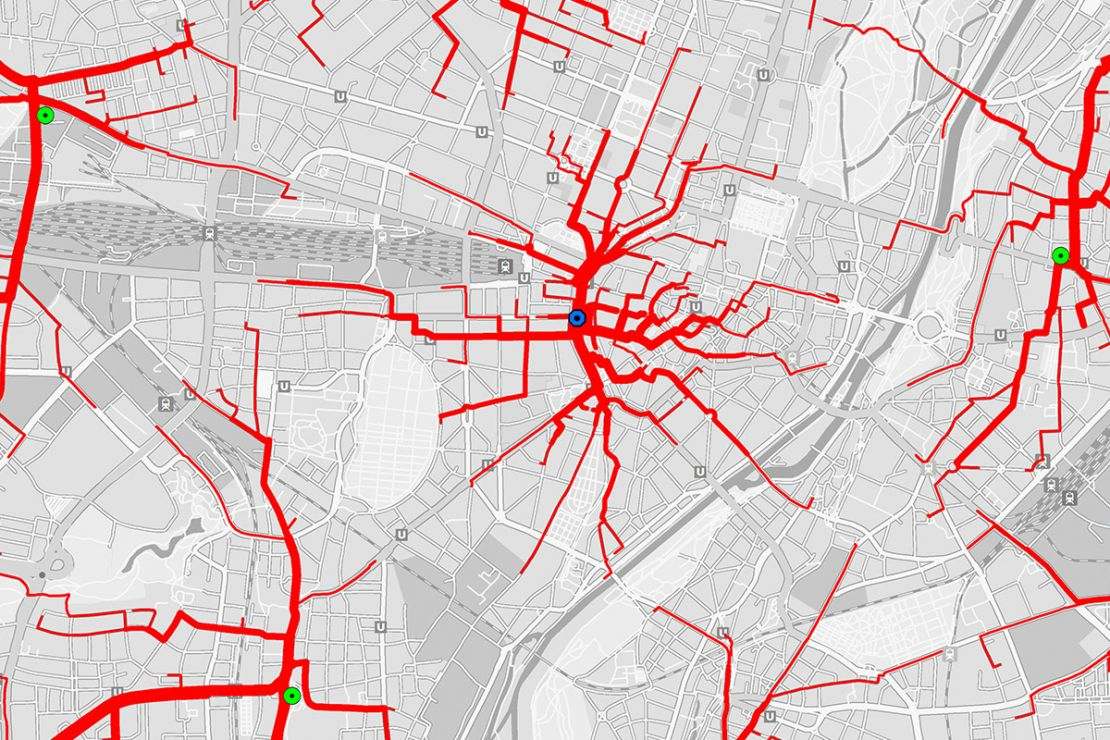 WIGeoNetwork offers a wealth of highly sophisticated analysis functions:
Service Area
Catchment areas are calculated for any time and distance interval or so-called "Drive Time Zones ".

Potential Area
The size of a catchment area is defined by a desired target potential (e.g. 10,000 residents or 15,000 households). For the calculation, potentials are "picked up" starting from the location until the desired goal is achieved.
Distance Matrix
The calculation of distances between n-points, such as between market participants or locations. Based on the results, branch densities, distance from competitors or the average distance that customers are willing to travel can be determined.

Nearest Location
This function finds the retailer locations closest to the customer.

Routing
Calculate routes between any number of stations. With the press of a button, the route is optimized in terms of time or distance. Optionally, the ideal route sequence for the stations can be determined.

Supply Tree
They aggregate the customer potential based on the customer driving routes from a catchment area to a store. Thus you obtain information about customer traffic per road segment .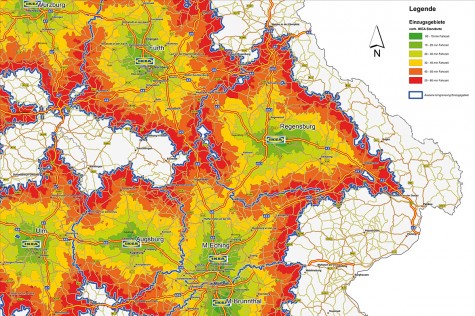 WIGeoNetwork in Use for the Project Development of New IKEA Locations
In the course of the project development, the suitability of possible locations is assessed. To do so, the planning group Skribbe-Jansen from Münster uses the WIGeoNetwork software.

Simply contact us!
Please send me more information or contact me.