Buy Data for Business Analysis and Data Science
Why Small-Scale Demographic Data Is So Important
Business analyses and results from data science can only be as good and precise as the data used for the analysis. Get to know the advantages of our small-scale demographic data.

The raw material for business analyses and data science is data. Market data forms the population and makes it possible to relate internal company data and KPIs and to enrich and better evaluate customer data.

Small-Scale Demographic Data for Business Analyses – Advantages
Our data enables business analysts and data scientists to:
Perform meaningful analyses based on an ideal population
Analyze markets in detail and identify potential
Enrich your own data (e.g. customer data)
Our market data is: up-to-date, * high quality *, diversified, available by federal state, city, ZIP Code and small-scale levels
The map on the right, for example, shows communities in which more than 50,000 gainfully employed people live.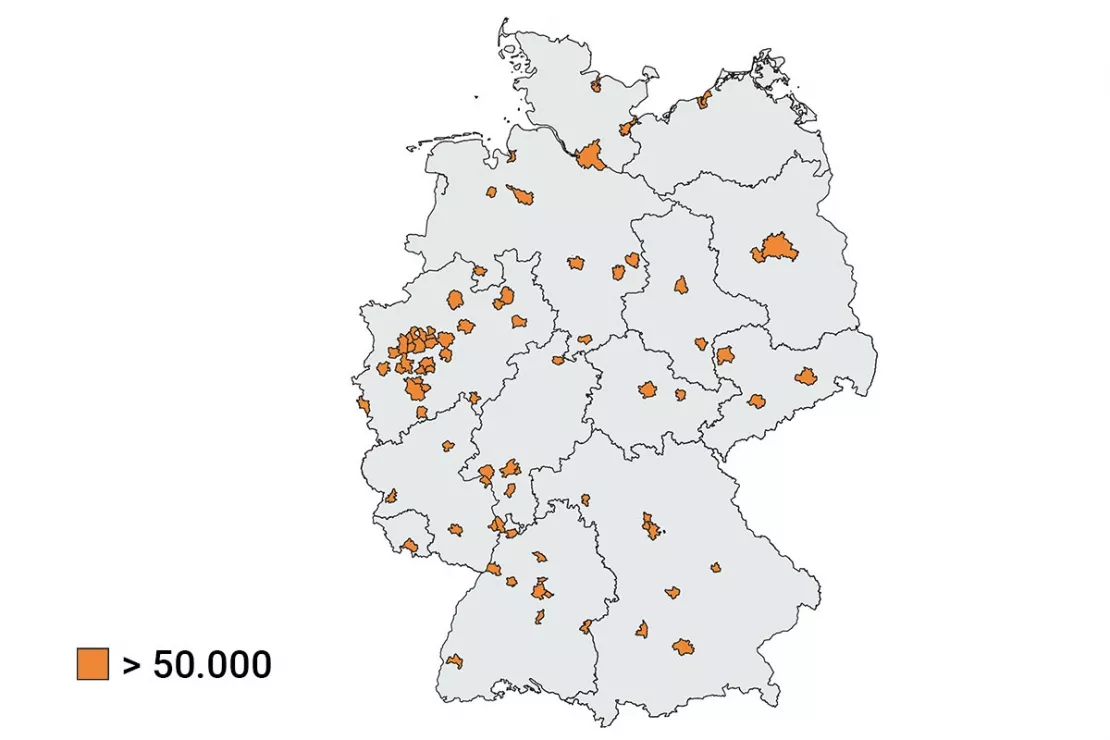 Data – The Basis for Your Business Analyses and Data Science
In addition to internal company data, external market data form the basis for business analyses. Demographic data represents the ideal population. It provides the best possible representation of the market reality. You need a population for analyses in order to enrich, relate and evaluate your internal data such as customer data.
As a data provider with many years of experience, we quickly provide you with a wide variety of data with exactly the attributes and at the spatial level that you need.
Example:
Population and household numbers
Age and age structure
Gender
Marital status
Education
Immigration background
Car class
Household structure and size
Creditworthiness
Net household income
Retail purchasing power
Consumer purchasing power
Purchasing power according to the food/non-food product groups
Building structure
Owner/tenant
Affinity for environmental issues
And many more socio-demographic factors and characteristics
What characteristics do you need? Request our free test data with no obligation!

Data with the Optimal License Model
We work with numerous data manufacturers and know the quality, attributes and all the licensing models in detail. With this knowledge, we can help you select the best data and licensing model for your needs.

Where do young adults live? A look at the demographic data visualized on a map of Germany according to ZIP Codes shows: In Lower Saxony in particular, there are many municipalities in which the proportion of young adults is particularly high.

Interested in Up-to-Date Data? Request your test data for free without any obligation!
Up-to-Date Data for Accurate and Meaningful Business Analyses
Our world is fast moving. Every day brings new changes. Grassland is rededicated as building land, communities are dissolved elsewhere, the number of inhabitants increases in the cities due to emigration, shopping behavior changes, etc. We are in constant change, and as a result the data is also always changing.
That is why up-to-date data is so important. After all, your analysis results can only be as good and up-to-date as the data you are working with. For this reason, we at WIGeoGIS continually ensure the data that we process for you is up-to-date. This is done with fixed workflows and a standardized quality assurance process.
Not Only Up-to-Date, But Also Small-ScaleData
The ZIP Code is the classic among spatial levels and is therefore frequently requested. Sometimes, however, small-scale data is also more useful for analyses and data enrichment. Yes, it can be done much more precisely. We not only provide you with up-to-date data on a wide variety of characteristics at the ZIP Code level or a coarser level, but also on very small-scale levels down to a specific house.
The bestsellers among our small-scale data are:
Geomarkets (an average of 400 households in a coherent spatial unit)
Raster cells in different sizes e.g.

250x250m (average 67 inhabitants)
100x100m (average 22 inhabitants)
With small-scale data, you can analyze more precisely and as closely as possible to reality.
Beispiel: Where do adventure-oriented people live?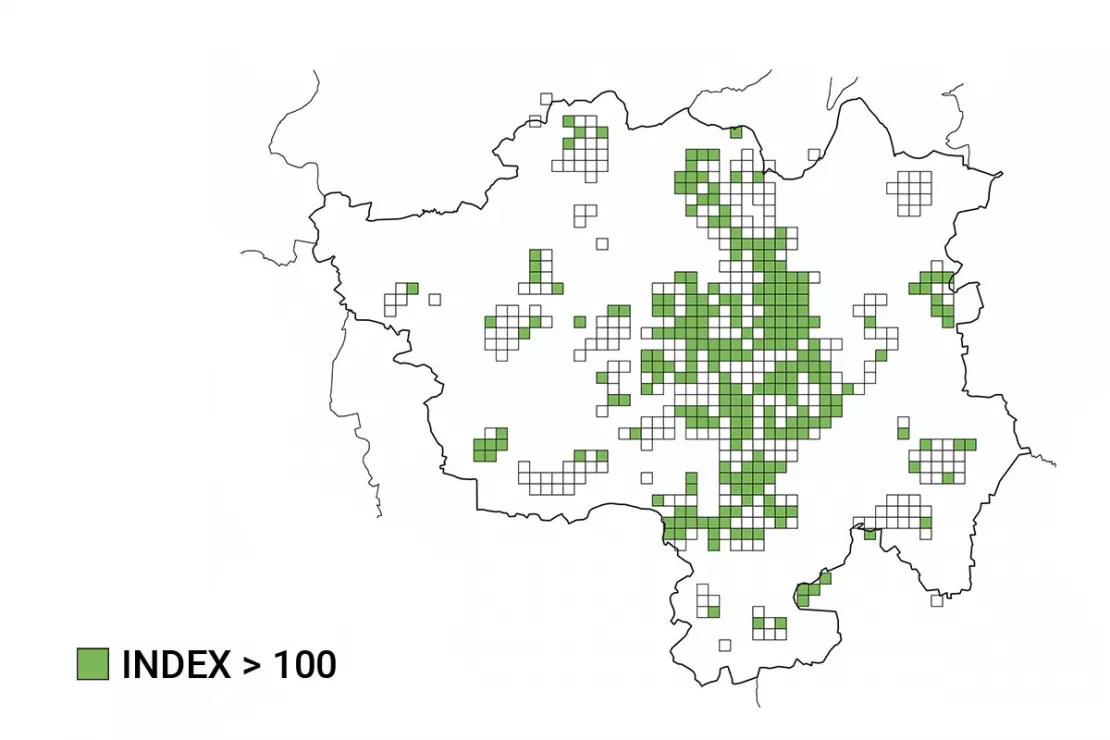 With small-scale data, you can pinpoint your target group exactly. In the example, the colored grid cells mark the areas in the city of Marburg where people live who are particularly interested in new challenges and adventures.

Example: Where do people who own stocks live?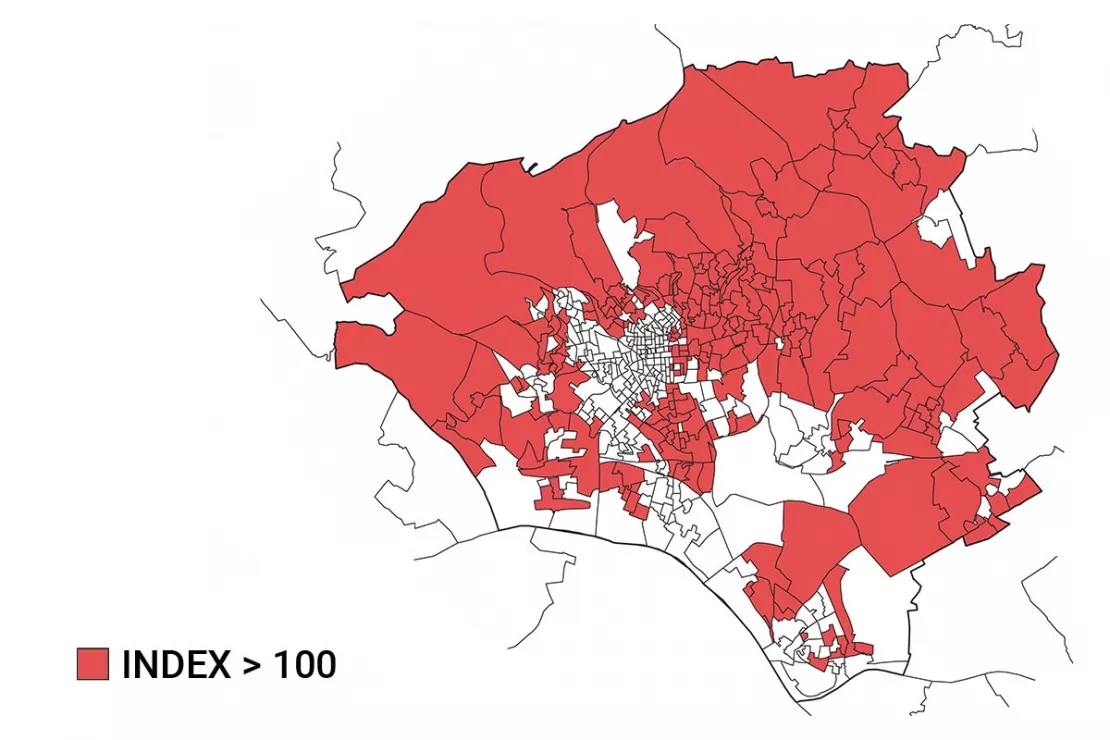 GEOmarkets are another option for small-scale data. The example clearly shows that there are many areas in the city of Wiesbaden in which an above-average number of people own stocks.

When Small-Scale Data is Worthwhile: A Practical Example
For some questions, small-scale data is extremely helpful, such as in the case of a photovoltaic company that has to better prioritize incoming inquiries.
Example: You are a data scientist for a photovoltaic company and need market data to create a customer scorecard. The data should be imported into the CMS in order to help you prioritize incoming inquiries based on the address profile. The goal is to give priority to inquiries from interested parties with a higher potential.
Characteristics: You need data with the following attributes...
Consumer purchasing power
Affinity for environmental issues
Affinity for e-mobility
Building structure
Owner, tenant
Solar system yes/no (based on the registered systems according to the EEG reporting obligation of the network operator by building address).

Performance classes of already installed systems

Suitability of the building for solar modules: Orientation, roof pitch, etc.

Spatial level: In this case, either data on a microcell level, on a GEOmarkets level or for the geo-coordinate of the center of a 100 m grid cell are of interest. Which spatial level do you want? We deliver the data according to your wishes and advise you.
Geocoding your data: In order for you to enrich your customer data with small-scale data, your addresses must be geocoded, i.e. given an X/Y coordinate. We provide the data from your BI systems with an exact geographic coordinate.


Data for Business Analysis and Data Science: Test now free of charge and without obligation!
Test data* on demographics, purchasing power or other characteristics

Non-binding, free test

Test ends automatically without cancellation
Receive test data* as Excel or shape file
I will gladly support you, also by telephone.

* Information about the free test data: Selected test data is available for standard regions in Germany or Austria. For Germany, the data is for districts in Munich and the surrounding areas. For Austria, the data is for districts in Vienna and the surrounding areas. The products of WIGeoGIS are intended for companies and are not suitable for private use. If you need a one-time market analysis, we will gladly make you a service offer.

FAQ
How up-to-date is your data?

We update our data every year in the fall.


In which formats is your data available?

Our data is available in all common formats. We deliver the data in the format you require, for example as an XLS, Json, Shape file etc.


Are your data formats compatible with BI systems and business analysis tools?

Yes! You can use our data in all common BI systems, business analysis software and GIS software.


Which data providers do you work with?

We work with numerous data partners across Europe in order to always be able to offer the data that is of the highest quality in terms of size (seen from a spatial perspective) and characteristics. Our data partners in Germany for example are AZ Direkt, GfK and Panadress, while in Austria we work with ArcAustria.