Challenge Omni-Channel Retail
How Geomarketing Helps
Consumers are ready for Omni-Channel. Retail companies are taking up the trend, but are finding themselves confronted with three challenges: Development of a long-term strategy for channel integration, understanding customer behavior and meaningful data analysis. Exactly here, GIS systems come into play because they display customer data and analyses on a map.

GIS Software Answers These Questions for Omni-Channel Retail
Where can I achieve high sales and revenues in online retail? Where in the retail business? Am I taking full advantage of my potential?
Where are there a lot of returns in online retail and where is the highest demand?
In which areas are there often searches for my products?
For which stores do customers check product availability online?
What type of consumers are my online buyers? This allows advertising measures to be optimally aligned with the usage habits of the target group.
In which stores are Omni-Channel services (Click & Collect, online product availability check, in-store return, in-store order) used most?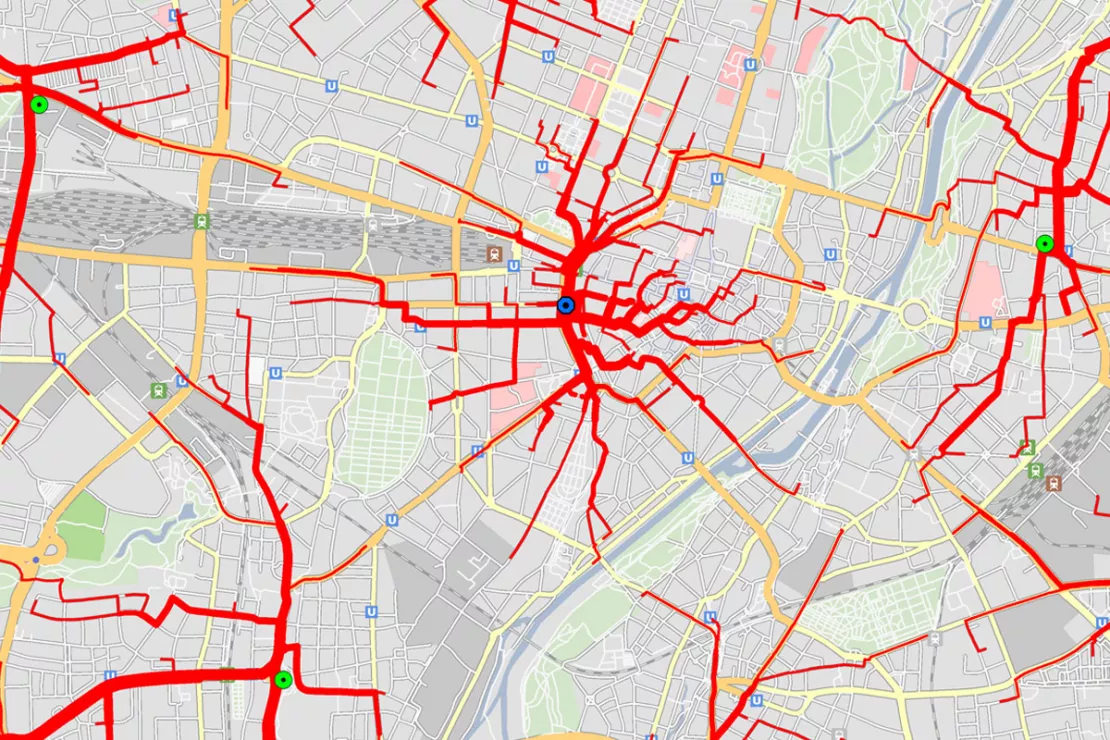 With supply trees like above, geomarketing answers the questions: Which customers use Click & Collect? Where do they come from and which stores do they use for this Omni-Channel service?

Omni-Channel Retail: Wish and Reality
Customers Want Omni-Channel
Consumers are ready for Omni-Channel retail. According to the EHI study "Omnichannel Commerce 2016", every sixth customer of Omni-Channel retailers already uses all the omnichannel services offered. When asking consumers directly, 74% say it is important to be able to shop at a retailer in a brick and mortor store, online and via mobile devices. For 71% of the customers, the ability to check product availability online is decisive for a purchase and 50% want to collect their goods at the store using the Click & Collect principle.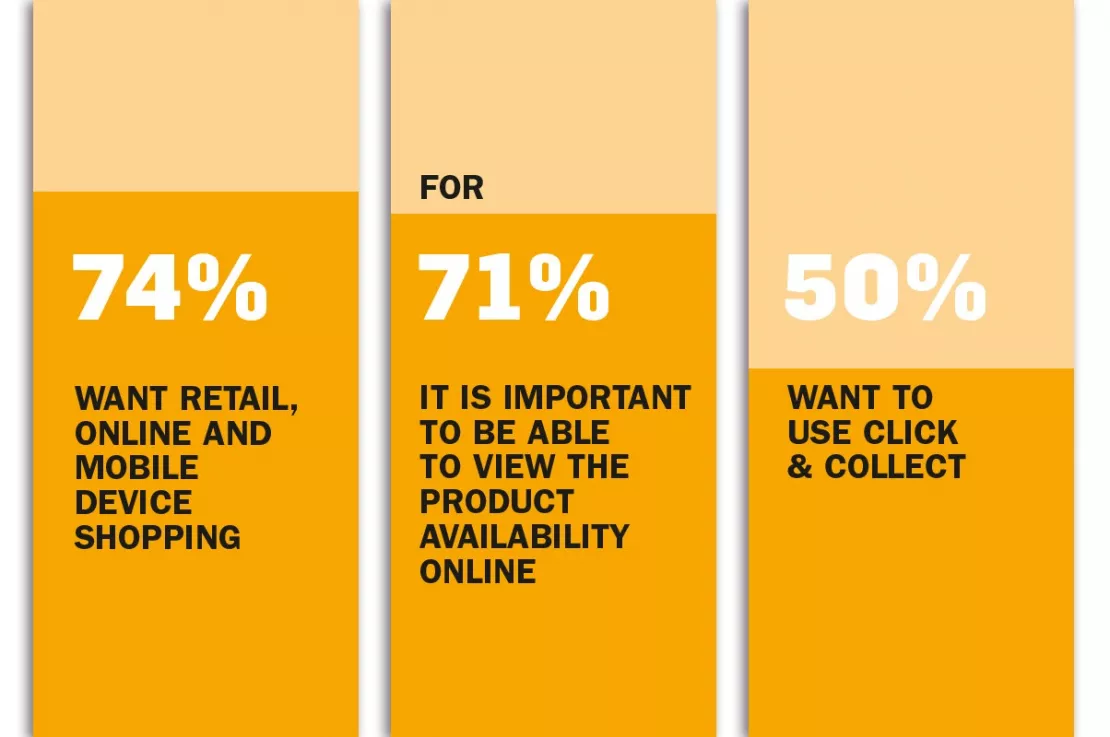 Challenges Slow Retail
The desire of the customer to make purchases through all sales channels and to be able to switch between them is still met by an unsatisfying reality. The retail sector still needs to do some catching up when it comes to Omni-Channel services. A mere 12% consider their channel integration good, only 22% offer a seamless Omni-Channel experience and only 30% analyze and understand how their customers behave in the different channels.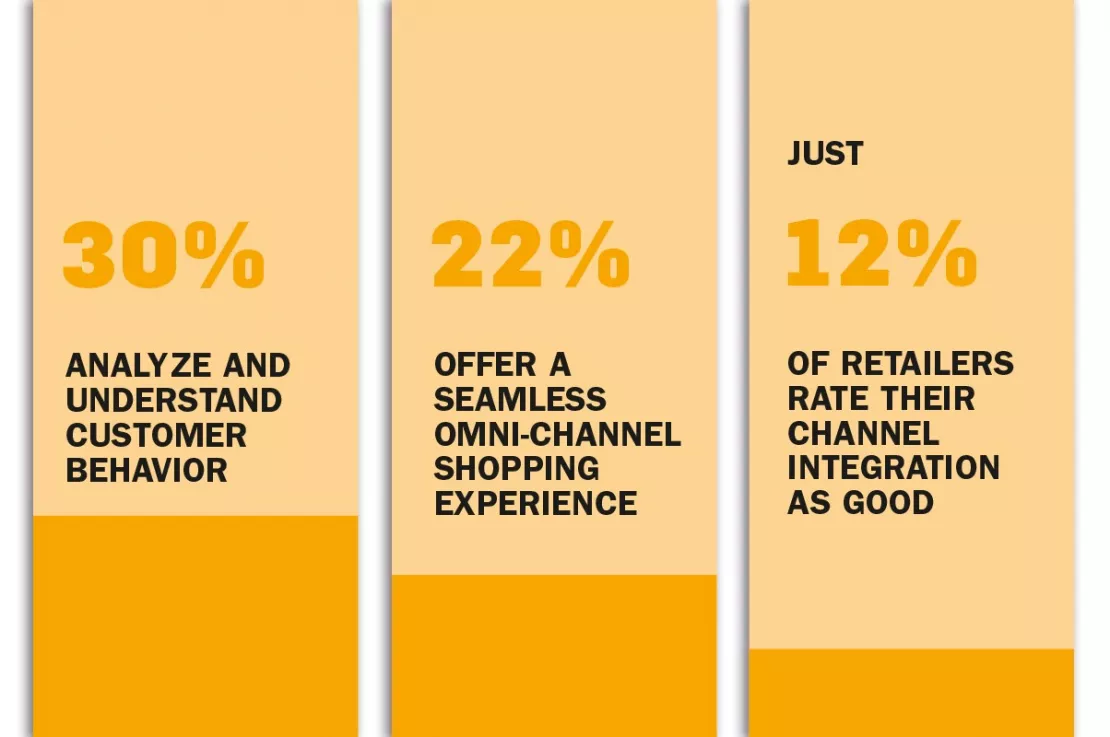 There are still several challenges that slow retail efforts for Omni-Channel services. The top challenges are:
Channel integration
Understanding cross-channel customer behavior
Meaningful data analysis
Channel integration is one of the top challenges. As already mentioned, only very few retailers believe their own channel integration is good. One reason for these difficulties is that retail companies can not fully analyze the behavior of their customers across the different channels. This is because common data analyses can not visualize actions and purchases well enough. Therefore, about half of the retail companies worldwide plan to invest in extensive data analytics and in the increased analysis of customer data.
Where do customers shop? Where online, where offline? Where do they return merchandise? Where do they buy a lot, where not so much? Where are the highest affinities for online and offline purchases? Where are offers such as Click & Collect frequently used? Questions such as these, which take location into account and have a geographical component (stores, delivery addresses, billing addresses, store finder searches) can not be ideally visualized in tables and diagrams. Geomarketing-/ GIS-Software, on the other hand, optimally analyze such data with spatial reference and visualize customer behavior on digital maps.
Geomarketing for Analysis of Customer Behavior and Channel Integration
Understanding Cross-channel Customer Behavior
"GIS systems are particularly suitable for data analysis in the Omni-Channel sector. Spatially aggregating company data and putting it in relation to market data is extremely helpful. Customer activities are clearly visualized on maps, providing information such as where customers shop in brick and mortor stores, where they shop online, where they use which Omni-Channel services, where there are a high number of returns, etc. This allows retailers to draw important conclusions for the development of their channel strategies," explains Wolf Graf, Managing Director of WIGeoGIS. The GIS software company helps a large number of retailers analyze their sales, market, competition and customer data geographically. For example, AmRest with the KFC and Pizza Hut restaurants, ANWR GROUP and INTERSPORT all rely on WIGeoGIS systems for location planning and the development of Omni-Channel strategies.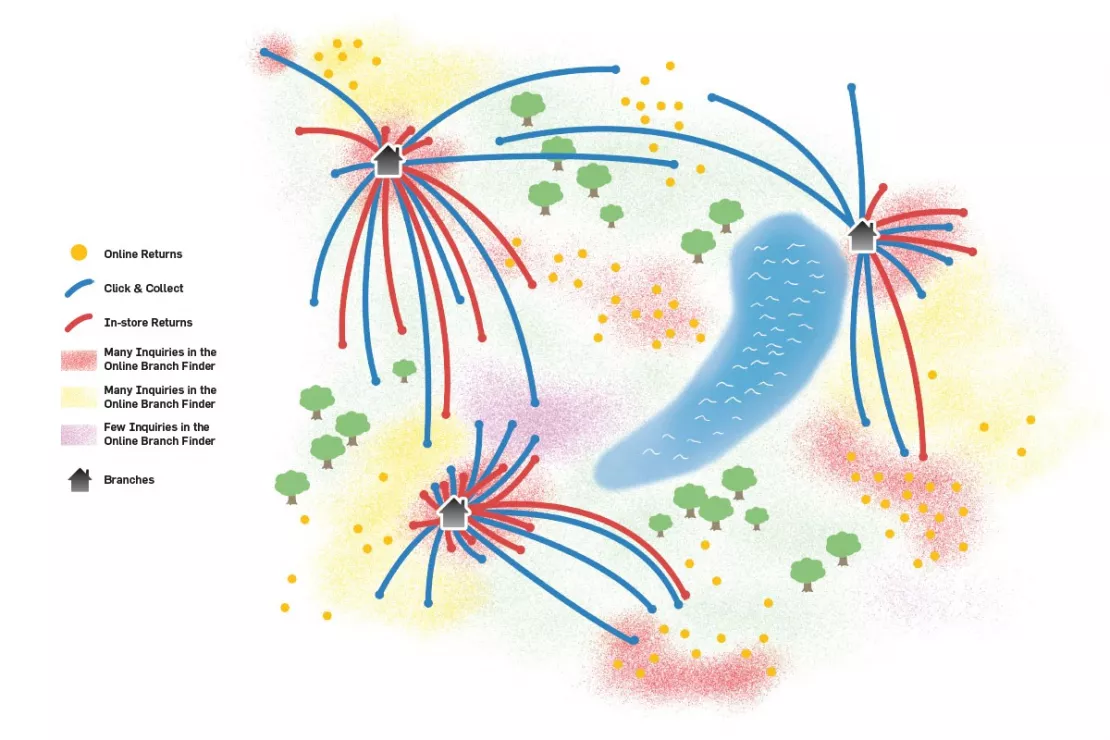 Geoanalytics Help in the Development of Strategies for Channel Integration
In order to best coordinate online sales, in-shop sales and Omni-Channel services, retailers analyze geographic data from retail stores, web shops, online inquiries and offline sales. You will gain insight into which groups of consumers tend to use which retail channels in which areas and locations, and where customers use which services, for example, Click & Collect, Instore-Return etc. The results of the spatial analyses flow into the planning of marketing campaigns and branch locations. Thus it is possible to develop a strategy for channel integration. The restaurant chain AmRest already does this.
"AmRest uses all their order requests to plan new locations, re-design their delivery areas and determine the orientation of their branches. As a result, some new locations are no longer restaurants, but only kitchens that cook for the delivery service. For the expansions, those online inquiries that can not be served play a particularly important role. AmRest is thus able to specifically open branch locations in the areas with the highest demand," says Graf. The development of such a cross-channel strategy requires cross-channel thinking and analysis systems within the company. "Retailers who already provide or plan to offer Omni-Channel services are ideally supported by a WebGIS system, both in the planning phase and in the operational business," says Graf. WIGeoGIS customers in the retail sector usually use a variant of WebGIS WIGeoWeb. The system is browser-based, easy to use and customizable for the individual company.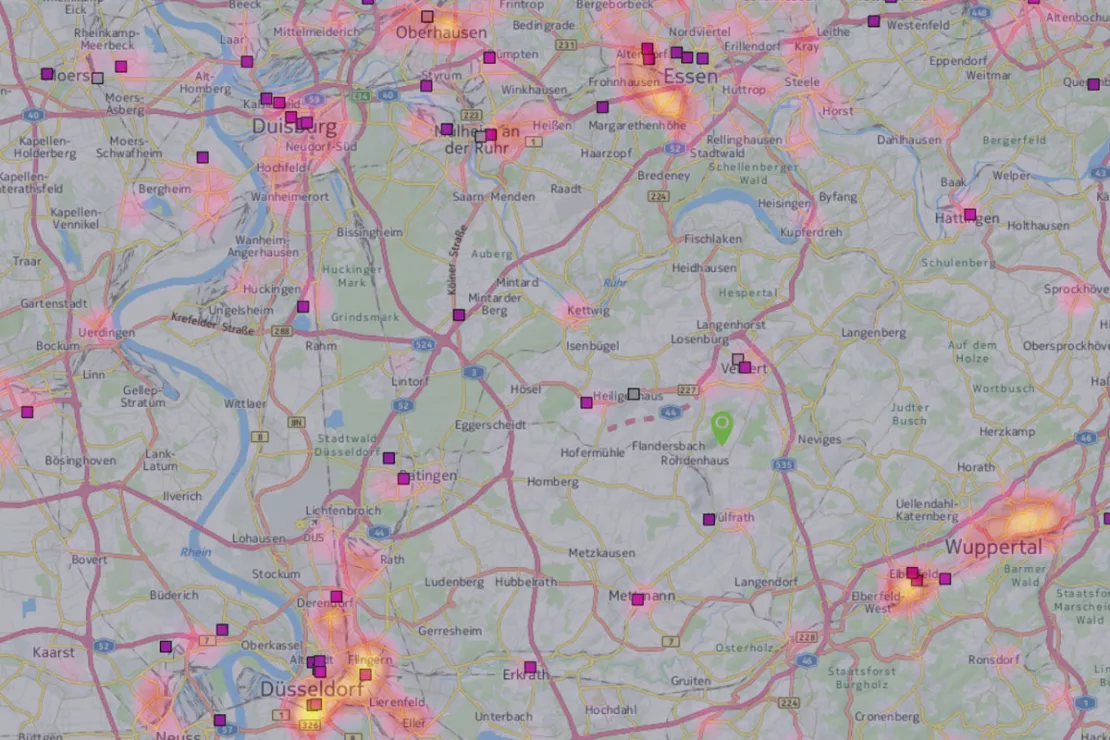 With a heatmap, the GIS software visualizes areas where there is an above-average level of online affinity. Market data for online affinity can be integrated with customer data. Thus, for example, questions can be answered such as:
Where are my online buyers located?
Do I already have a high number of online buyers in areas with a high density of online affinity or should I advertise my web shop here?
Sources:
EHI Retail Institute: "IT Trends 2015 in Trade 2015" (2015)
EHI Study "Omnichannel Commerce 2016" (2016)
Online survey by Accenture, hybris, Forrester Consulting: Customer Desires vs. Retailer Capabilities: Minding the Omni-Channel Commerce Gap (2014)
Pac: Omnichannel-Retail in Europe. Strategies, Challenges, Measuring Success (2015)
Project Retail of the Future: Consumer Survey as part of the Project "Retail of the Future" from eBay (2013)
PwC: "CEO Viewpoint 2016: The Journey to Profitable Omni-Channel-Commerce" (2016)
Geomarketing-Software for Omni-Channel Analyses
With WIGeoWeb, WIGeoGIS provides a comprehensive, browser-based WebGIS that enables all the employees involved in the Omni-Channel process to work collaboratively. The software is user-friendly and provides standardized geomarketing analysis and queries. Data can be uploaded directly to WIGeoWeb (e.g. as an Excel table) or imported via interface from all common CRM and BI systems.
For GIS experts, WIGeoGIS offers extensions for QGIS and ArcGIS.
The first step in geomarketing is geocoding. In this case, the geocoder software assigns geocoordinates to each address enabling them to be located and displayed on a map. The addresses that you geocode, for example addresses from customer cards, addresses of your online buyers or online returns etc., can then be displayed on a map. This allows you to see at a glance where a large number of online purchases or returns are made. A subsequent GIS analysis provides you with a comprehensive picture of your customers allowing you to know WHERE they do WHAT. You gain new insights that were previously buried under mountains of data and columns of numbers.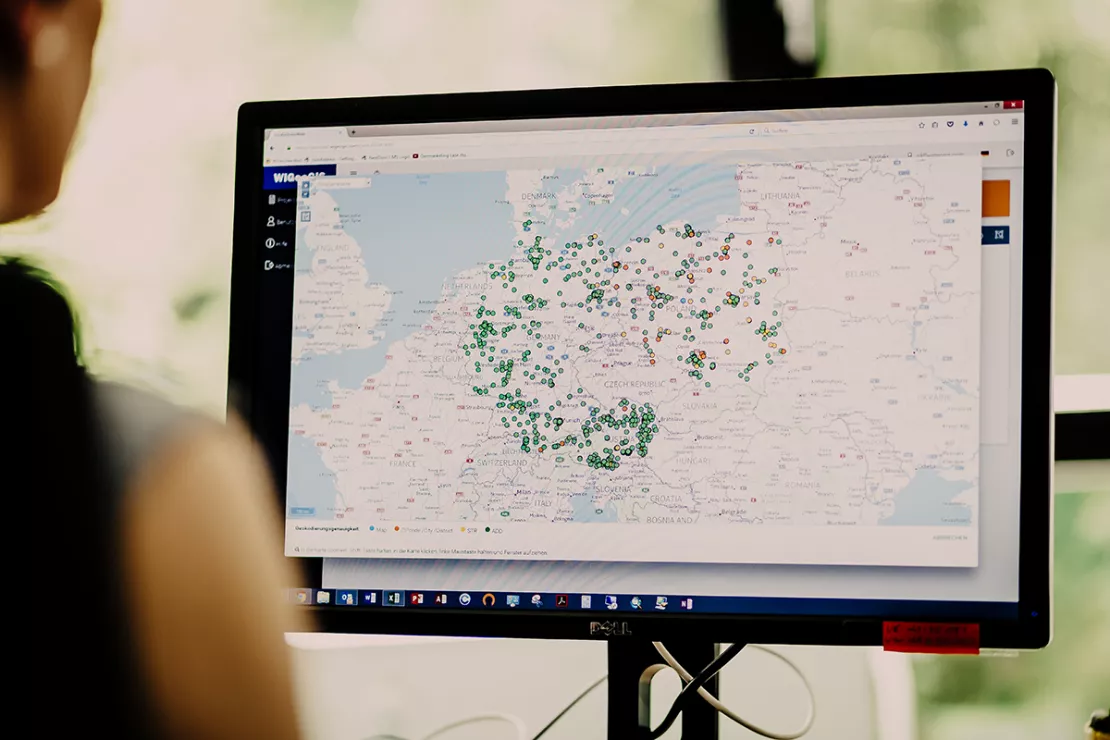 Test Geocoder JoinAddress Web for free!
Take your addresses from an Excel list and display them meaningfully on a map. Try geocoding for yourself. Simply register and geocode 400 customer addresses free of charge. And just like that you have taken your first step in geomarketing.

Omni-Channel Retail: Request a free initial consultation
FREE initial consultation on Omni-Channel Retail

Non-binding, without further obligations
By telephone or video call
Do you want to know more about Omni-Channel Retail? I will gladly support you. Please contact me!