ArcGIS Extensions for Spatial Analysis
Making the functionalities still simpler for you
With our ArcGIS and ArcGIS Pro extensions we offer practical analysis tools for recurring routines in the GIS software.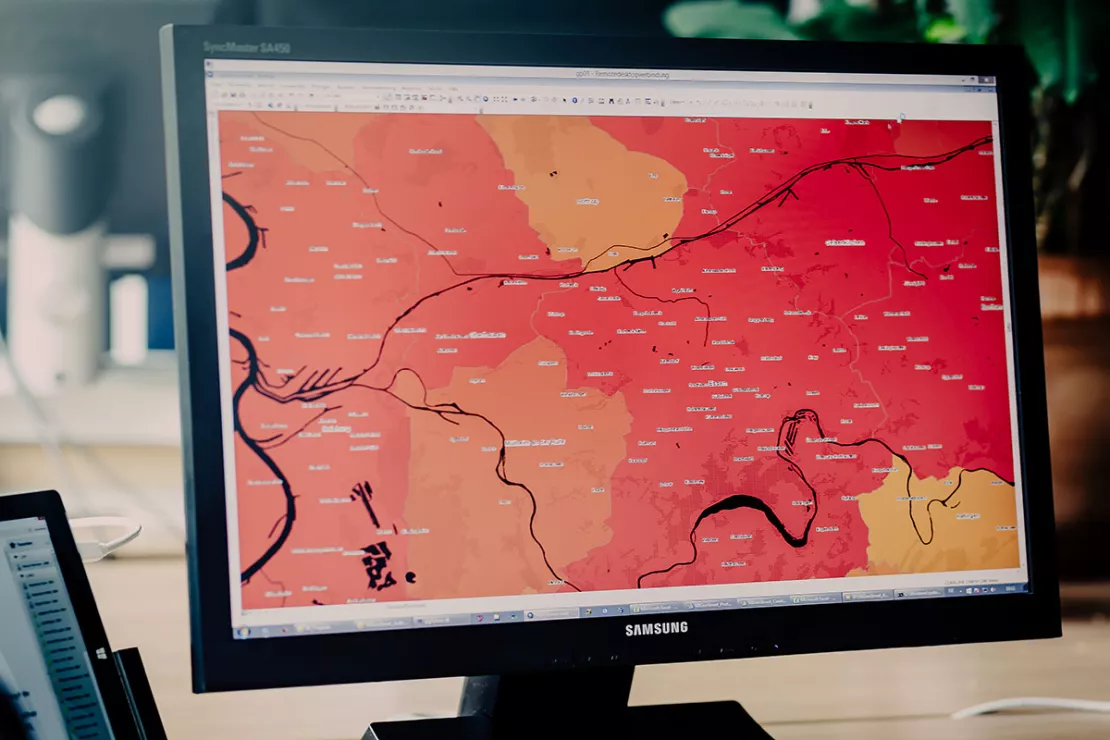 ArcGIS Extension - Unique Capabilities
Our ArcGIS Extensions
are as comfortable as possible

answer many questions of spatial relationships
improve the efficiency of your tasks with automation tools.
The WIGeoGIS Extensions offers unique capabilities for applying location-based analytics to your business practices.

With ArcGIS, you can easily create maps and visualize your data, edit spreadsheets and create layouts of your analyses to be included in your presentations. In combination with our market and geodata and the WIGeoGIS extensions, we offer a proven basis for your location-based analytics.

Overview - Extensions for ArcGIS and ArcGIS Pro
ArcGIS Extension

Features
ArcMap

ArcGIS Pro

WIGeoNetwork

Extension for every type of Network Analysis with Up-to-Date Road Data


✔




✔



WIGeoProfil
Extension for spatial data inheritance and potential analysis


✔




✔



JoinAddress Extension

Extension for address search and geocoding of addresses and databases


✔




✔



WIGeoHuff

Extension for gravitiy analytics and location analysis


✔




✔



WIGeoWeb Loader


Extension for data integration in WIGeoWeb

Publish or update data directly in WebGIS
Upload and download layers


✔




✔



WIGeoReport
Extension for automated Reporting


✔



—

ArcGIS Extension with Up-to-Date Road Data - WIGeoNetwork
WIGeoNetwork is the right tool for every type of Network Analysis
WIGeoNetwork is used wherever distances and travel times are important for planning. Catchment areas can be realistically assessed and markets can be analyzed according to their actual size. The extension for ArcGIS and ArcGIS Pro is based on Esri Network Analyst and takes direct advantage of its functionality.
WIGeoNetwork offers a wealth of highly sophisticated analysis functions:
Service Area:

Catchment areas are calculated for any time and distance interval or so-called "Drive Time Zones ".

Potential Area:

The size of a catchment area is defined by a desired target potential (e.g. 10,000 residents or 15,000 households). For the calculation, potentials are "picked up" starting from the location until the desired goal is achieved.

Distance Matrix:

The calculation of distances between n-points, such as between market participants or locations. Based on the results, branch densities, distance from competitors or the average distance that customers are willing to travel can be determined.

Nearest Location:

This function finds the retailer locations closest to the customer.

Routing:

Calculate routes between any number of stations. With the press of a button, the route is optimized in terms of time or distance. Optionally, the ideal route sequence for the stations can be determined.

Supply Tree:

They aggregate the customer potential based on the customer driving routes from a catchment area to a store. Thus you obtain information about customer traffic per road segment.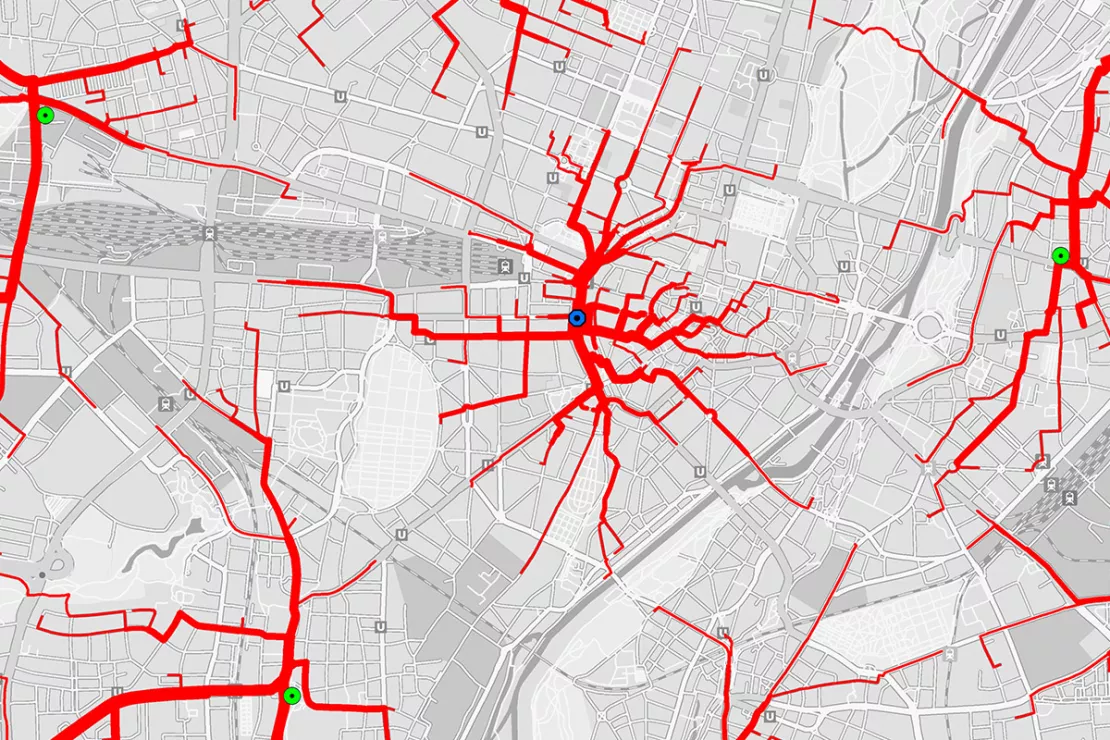 The routing networks required for the analysis are integrated into WIGeoNetwork. These routing networks are based on the highly accurate and up-to-date vector data from TomTom. WIGeoGIS supplements the routing networks with common cost and restriction attributes:
Meters and Kilometers: Lengths for distance based analysis

Minutes: Time for driving a section of road for time-based analysis
MinutesSlow: approximately 25% longer driving time
MinutesWalk: Pedestrian routing with a 5 or 3.5 km/h walking speed
In addition to general speed profiles, for example for cars or buses, the data can be supplemented with special restrictions for the opening or avoidance of pedestrian zones, private roads or ferry connections.
In addition, with TomTom Speed Profiles network analysis for specific times of day and different days of the week can be carried out based on historical traffic data.

ArcGIS Extension for Potential Analysis of the Highest Quality - WIGeoProfil
WIGeoProfil is the ArcGIS extension for spatial data inheritance and potential analysis.
For almost every geomarketing analysis, the GIS user is faced with the challenge of having to inherit potentials: Key figures, e.g. socio-demographics or consumer behavior, from different sources and thus often based on different spatial geometries must be transferred to a central analysis layer.

The potentials are entered into the analysis as points, lines or areas and are translated into uniform spatial units. These can be existing borders or your own sales area structures. WIGeoProfil can also be used to create neutral raster geometries.
The HotSpot analysis makes it possible to identify hidden potentials. By combining and weighting individual layers of information such as age, purchasing power or affinities, different scenarios are simulated.You determine which values are entered as positive or negative into the analysis.
The density map that is then generated clearly displays the areas with the highest potential.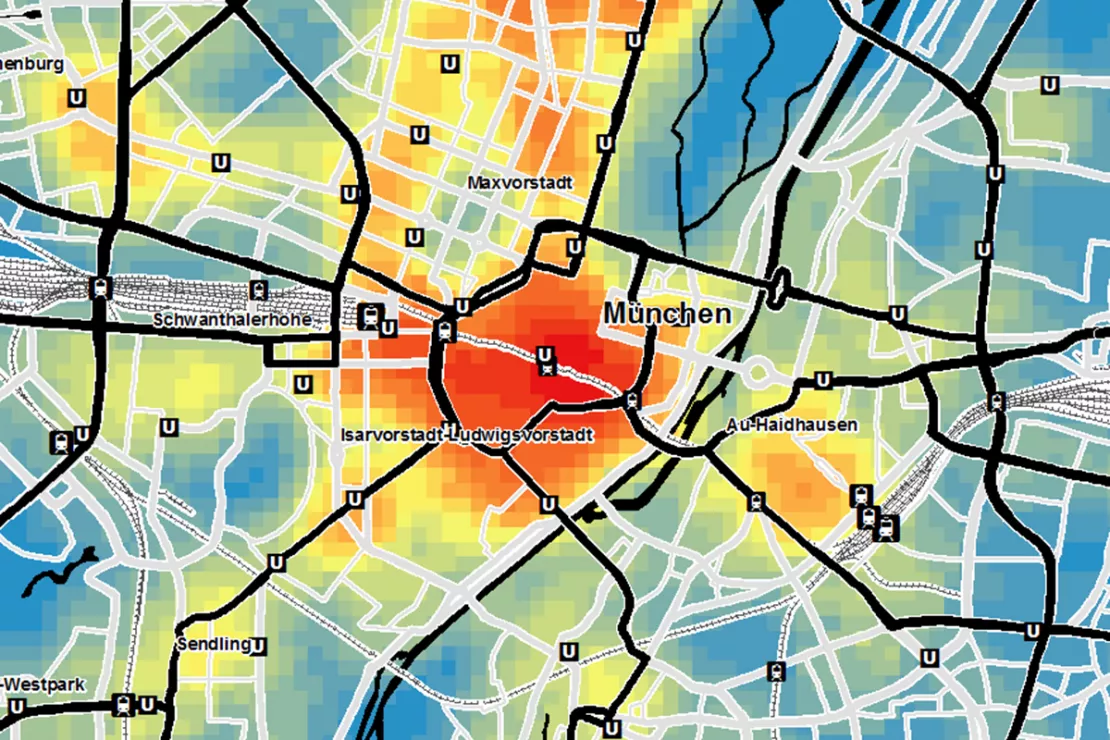 The ArcGIS Extension offers comprehensive functionality for Spatial Analytics:
Generate raster:

WIGeoProfil creates raster cells of any size as squares or hexagonal honeycombs. They represent a neutral and comparable spatial unit.

Potential spread:

WIGeoProfil transfers potential using various distribution functions on a basic geometry limited by a maximum radius.

Potential inheritance:

Function for transferring absolute and relative values to the base geometry, taking into account the cut area or line percentages.

Identify HotSpots:

Interactive weighting of up to six parameters with an immediate display of the results on the map.
ArcGIS Extension - The Comprehensive Reporting Tool WIGeoReport
WIGeoReport is an ArcGIS Extension and Supports Automated Reporting
With WIGeoReport, you can automatically prepare your analysis results as a report with maps and spreadsheets. For a large number of objects, such as retail locations, individualized result reports are generated for each respective location. The data can be easily edited in Microsoft Excel.
Thanks to its high level of automation, WIGeoReport is a reliable tool for the recurring creation of map series. Lengthy work steps are eliminated and your maps are given a uniform "look and feel".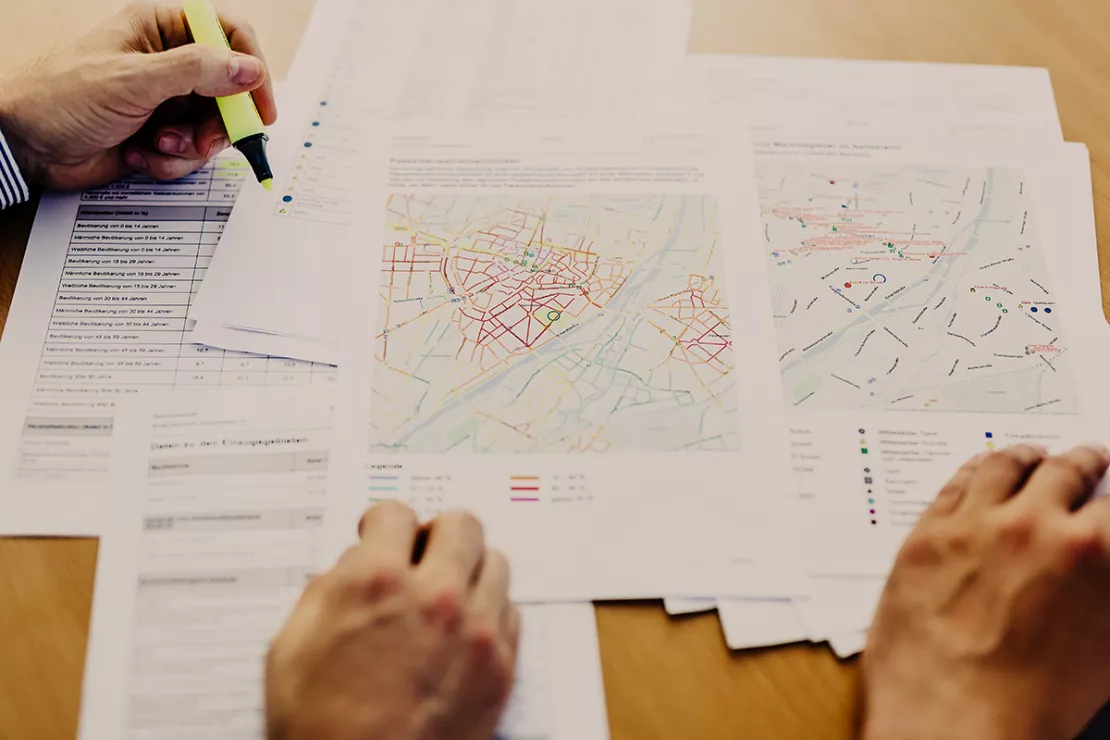 Map Printing and Reporting
Create map series as PDF, JPG, BMP or PNG files. Additional settings allow you to customize the design of each map. Add text elements that dynamically adapt to the respective reports and define filters for the map contents of the reports.
Prepare Data in Excel Reports
Export data for every location to either a prepared or new Excel document. Numerous settings allow the data to be specifically placed in the document.
ArcGIS Extensions: Request a free initial consultation
FREE initial consultation on ArcGIS Extensions
Non-binding, without further obligations
By telephone or video call
Are you interested in the advantages of ArcGIS Extensions? I will gladly support you. Please contact me!