Data on Online Affinity and Online Purchasing Power
Find target groups, estimate market potential for online and brick and mortar retailers
Online use and online shopping are now a staple in most people's everyday lives, as is shopping at the corner shop and reading the newspaper. Online behavior therefore influences many areas of companies that are active in the B2C business. Online usage data from AZ Direct and RegioData help you to localize target groups and estimate market potential for your retail activities.

Localization of Target Groups for Online Affinity
You want to know where to find people who use the internet intensively? Then data on online affinity will help. AZ Direct offers this feature for Germany and RegioData offers it for Europe.
AZ Direct: Online Affinity for Germany in 5 Versions for 100 Meter to 500 Meter Grid Cells
AZ Direct defines the feature online affinity from a combinatorial view of household composition, online transactions and customer journey types. The feature generally describes online usage and summarizes areas such as the use of online journalistic media, information behavior when purchasing, shopping online, etc. This determines the degree of online affinity. The percentage of people with a specific online affinity can be displayed for each cell. Areas can be analyzed in 100 meter, 250 meter and 500 meter grid cells.

Online Affinity: Specifications
The AZ Germany-Raster uses the following specifications for the characteristic of online affinity:

No online affinity
Low online affinity
Middle online affinity
High online affinity
Very high online affinity
Highest online affinity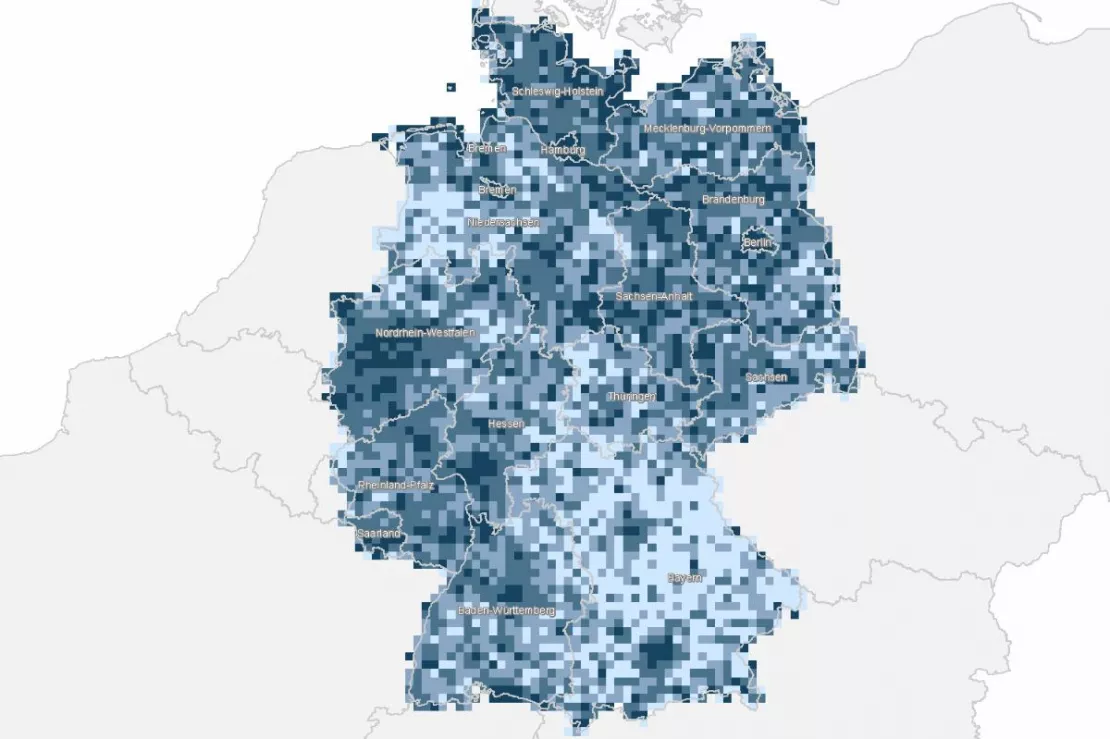 RegioData: Small-Scaled Data on Online Affinity Europe-wide
RegioData also uses a number based ranking system for online affinity that reflects the intensity with which the resident population (aged 15 or over) uses the internet and online services. The regional online affinity is provided as an index, where 100 corresponds to the respective national average. A region with a high interest in using the internet is given an index higher than 100, while areas displaying less web affinity are given a value less than 100. The calculation model used by RegioData to determine the online affinity of the resident population per spatial unit takes four factors into account:
Socio-demographic and spatial structure and the resulting consumption or online behavior.
Ability to make use of online services, such as technical infrastructure, network infrastructure, restrictions on online offers.
Actual use of online services, in particular online shopping and social media activities.
Regional prosperity level (purchasing power, consumer spending).

Deviations from the average usage per spatial unit are calculated on the basis of the factors that have been individually calibrated for each country and displayed as an index.
For the European countries, the data is available at a ZIP code level, but also on more detailed spatial level. For Austria the data is available for smaller Statistical Enumeration Districts (average 1,000 inhabitants).
The delivery period for RegioData online affinity data is approximately four weeks from the time the order is placed.

Online Purchasing Power for Estimating Market Potential in Retail
Online shopping has become an indispensable part of retail business. Businesses must therefore also consider online affinity and purchasing power when structuring their branch networks and location assessments. This is not possible without data on online purchasing power. WIGeoGIS now offers businesses the RegioData online purchasing power data.
RegioData online purchasing power data is based on RegioData purchasing power and online affinity data and provides a clear overview of regional spending levels in euros. In addition to the regional purchasing power and online affinity data, the RegioData consumer spending data is also used. Based on all this data, it is possible for retailers to analyze how much purchasing power potentially flows into online and brick and mortar retail locations in a specific catchment area. Purchasing power can also be assessed by product group. This provides retailers with valuable information for evaluating a retail location.
The data on online purchasing power from RegioData is available for Austria at the Statistical Enumeration District level and for all other countries at the ZIP code level.
The delivery period for RegioData online purchasing power data can be up to four weeks from the date the order is placed.
Online Purchasing Power Data: Test now free of charge and without obligation!
Online Purchasing Power data for Germany or Austria*

Non-binding, free test
Test ends automatically without cancellation
Receive test data* as Excel or shape file
I will gladly support you, also by telephone.
* Information about the free test data: Selected test data is available for standard regions in Germany or Austria. For Germany, the data is for districts in Munich and the surrounding areas. For Austria, the data is for districts in Vienna and the surrounding areas. The products of WIGeoGIS are intended for companies and are not suitable for private use. If you need a one-time market analysis, we will gladly make you a service offer.