Delivery area planning by Engel AG with the Web GIS

Call us:
DE: +49 89 321998 0
AT: +43 1 7151987 0


Send us your question, comments or feedback
Interactive delivery area planning by Engel AG with the Web GIS
The Web GIS creates high insights for planning, visualization and optimization of locations with assigned distribution areas.
Engel AG has successfully managed unaddressed and partially addressed delivery of advertising media for 30 years now. This media agency for household marketing supports their customers in numerous campaigns. Engel AG has high requirements regarding customer orientation and transparency. They therefore use their own web GIS: myGEO. During the development of this web GIS, Engel AG worked with WIGeoGIS as a professional and reliable partner.

The classic method of delivering brochures to letterboxes continues to remain one of the most popular advertising channels. The retail trade in particular enjoys using this proven medium. Over the course of the last few decades, the market has been characterized by ever greater budget orientation and therefore an enormous drop in prices. At the same time, the demands on service orientation and service quality have risen. Reliability, technical equipment and expertise, together with flexibility, are the key words in everyday agency life to ensure a campaign is successful and to bind customers over the long term. Fulfilment and campaign results are not the only things that need to be generated.

"Precise data analysis and perspective-based evaluation of potentials are increasingly coming to the fore in order to optimally utilize advertising budgets and adapt them where appropriate. The customer`s desire to be able to interactively view and process delivery areas for campaigns and branches, together with company aims for the greatest possible transparency, allowed Engel AG to perceive the necessity for a separate web application", said Markus Engel, CEO at Engel AG. The development of a web GIS was therefore initiated.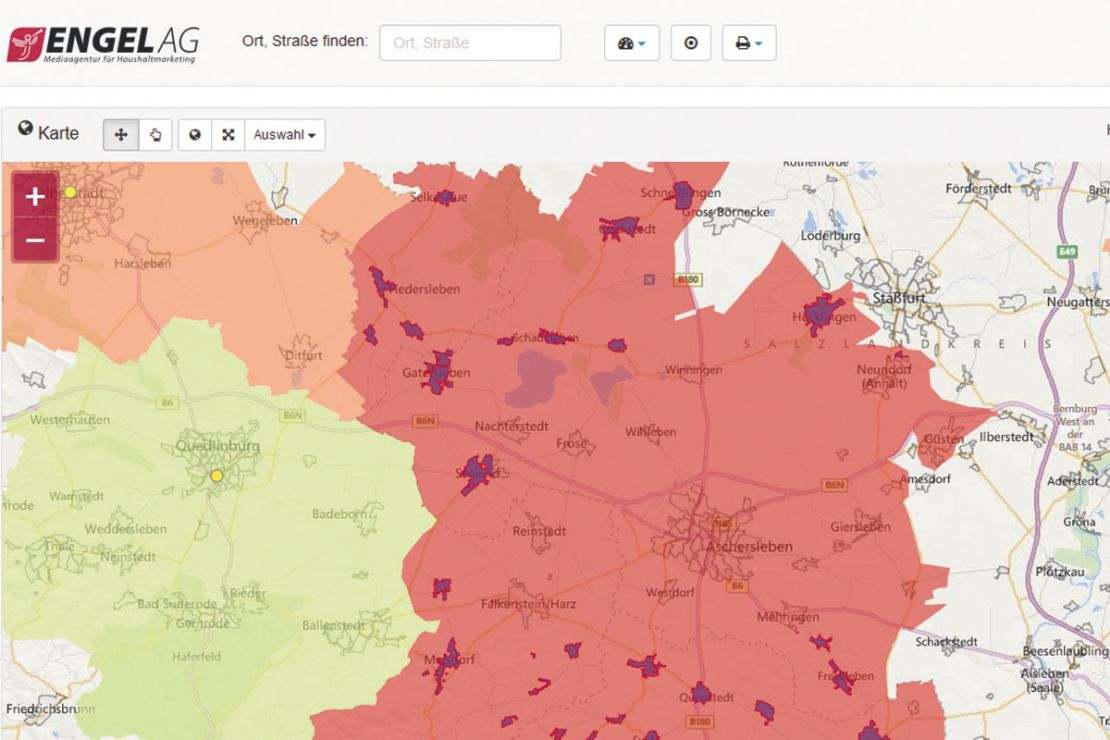 User-friendly and intuitive media planning webGIS "myGEO"
This gave rise to myGEO. This Web GIS clearly offers added value for planning, visualization and optimization of locations with assigned distribution areas through the clearly structured graphical design and user-friendly intuitive handling. It comprises two user and administrative components that ensure smooth use of myGEO due to their logical separation. Engel AG customers can view, edit and save the distribution areas of their locations online on the user side. The total number of households - essential for delivery campaigns - is permanently displayed for the selected location and automatically updated when areas are changed. This enables a rapid overview of potentials and possible area optimization, and a quick comparison of various project locations. It is also possible for the user to export a PDF directly from the web interface once finished.
This obviates the need for time-consuming exchange of documents. It is also important to note that the module can be integrated in existing external customer portals. While the user component in myGEO primarily offers transparency and planning ability for delivery areas, the administrative component deals with the quality-orientated administration of customer-specific projects.
The application allows quality management employees to view the actual distribution areas of all existing Engel AG customers with the assigned numbers of households at GEOmarket, residential area cell or postcode level. This enables fast, effective and specific processing of customer complaints, and such processing can be tracked at all times.

The best partner for web GIS development
Engel AG found the best partner in WIGeoGIS for the fastest possible development of myGEO. The task was to design and program a web GIS module for standardized and automated area planning. It was not only the technical know-how and professional behavior at WIGeoGIS that was impressive. Decisive factors in the decision to use WIGeoGIS were also based on the confidential cooperation with the joint partner and data supplier panadress marketing intelligence, and the use of the well-known Esri platform. Markus Engel sums it up positively:"The myGEO product was developed after careful consideration following its conception as an ambitious project. Today, numerous Engel customers use and are satisfied with our in-house web GIS".