WIGeoStreet
Digital Maps Based on Up-to-Date Geodata
WIGeoStreet provides the optimal map visualization for your GIS analyses

WIGeoStreet: Detailed Geodata for All of Europe
For Universal Use in Your Company
The vector map WIGeoStreet is based on the MultiNet database of the navigation data provider TomTom; Based on this geodata, WIGeoStreet covers practically all of Europe. All the data is available locally for use in your company environment without the need for an interface for any external map services.
Thanks to the exceptional depth of information and the attractive layout of the digital map, you will enjoy optimum orientation at any scale. WIGeoStreet is available in a variety of preset layouts. Thus you can quickly visualize the geodata as a gray scale, B/W or color map.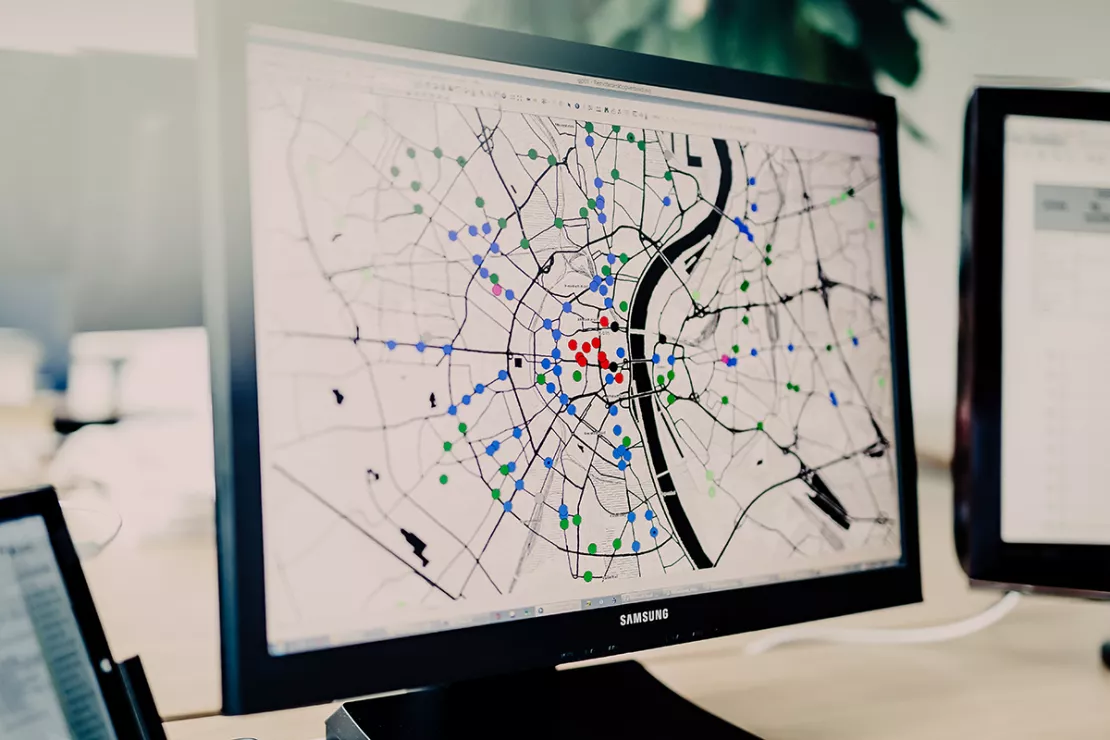 WIGeoStreet vector maps are suitable for every application where the display of detailed and accurate spatial information for an entire area is necessary. WIGeoStreet can be used in geographic information systems, operations control systems or internet applications.
Each individual layer of the WIGeoStreet digital vector maps can be used for spatial analyses, be it the road network for network analyses or administrative borders for assessing potential. The geometries serve as the basis for individual data collection. Thus you can integrate your own zones within existing borders.
The geodata is updated once a year.


Thanks to the TomTom database, the WIGeoStreet digital vector maps are guaranteed to provide up-to-date, quality information.

Characteristics & Contents
WIGeoStreet includes numerous digital information layers that can be individually displayed or hidden on the map. The content of the geodata is perfectly tailored to your needs. For example, the following layers are available:
Administrative and postal borders
District borders for large cities
Classified road networks
Railways
Motorway junctions and interchanges
Points of interest (e.g. train stations, airports)
City and district centers
Developments such as industrial and residential areas
Land use such as parks and forests
Water bodies


In addition, advanced geoinformation can be supplemented in vector form, for example with precise address points and traffic information. Market data from other suppliers can be linked to the geometries.
If required, WIGeoStreet digital vector maps are also available in a raster format.




WIGeoStreet: Test now free of charge and without obligation!
Test data*: Digital maps and road data
Non-binding, free test
Test ends automatically without cancellation
I will gladly support you, also by telephone.

* Information about the free test data: Selected test data is available for standard regions in Germany or Austria. For Germany, the data is for districts in Munich and the surrounding areas. For Austria, the data is for districts in Vienna and the surrounding areas. The products of WIGeoGIS are intended for companies and are not suitable for private use. If you need a one-time market analysis, we will gladly make you a service offer.

FAQ
For which countries is WIGeoStreet data available?

WIGeoStreet is based on the geographical raw data from TomTom (MultiNet) and their global coverage. The standard WIGeoGIS offer includes all the European countries. If required, individual packages can be created for any of the countries available in TomTom.

In which data format is WIGeoStreet provided?

WIGeoStreet is provided in an ESRI vector format file geodatabase (FGDB) and already includes defined layer files for convenient loading of individual layers including the visualization requirements. This allows you to quickly prepare finished maps for use on desktop PCs, server applications and even mobile devices.

What are the advantages of WIGeoStreet over web-based map services?

WIGeoStreet is installed locally, so it is not necessary to access external services. This offers advantages in terms of data security as well as performance. The local data installation allows maximum flexibility in terms of the desired viewing options (show or hide individual layers, customization of the color design, projections, etc.). All the data can be processed according to GIS standards and can be used for the collection of additional data. Thus you can integrate your own zones within existing borders for example.

How much disk space does WIGeoStreet require?

WIGeoStreet for ArcGIS is provided as a compressed file geodatabase (FGDB). The compressed data currently requires about 1.2 GB for Germany, 250 MB for Austria and about 350 MB for Poland. The range of data required is similar for other countries with comparable sizes and populations.

Is WIGeoStreet suitable for producing high-resolution printouts?

Yes, it is perfect for high-resolution printouts. Since WIGeoStreet is vector-based, it is possible to create large-format, high-resolution printed maps, e.g. with ArcMap or ArcGIS Pro, that can then be printed or plotted. At any time during the process you can hide individual map elements or change how they are displayed.

Is the WIGeoMap raster map still available?

Yes, WIGeoMap is still available. However, there are now a number of other possibilities to better create raster maps and integrate them into GIS systems. For example, the Tile Cache toolset for ArcGIS for desktops/servers and the open source solutions GeoWebCache or Geopackage. So-called "vector tiles" offer the best of the vector and raster worlds and are a very attractive display option, e.g. for ArcGIS Pro. Please contact us if you are interested in raster maps for your applications.