WIGeoWeb SalesNet
Software for Sales Territory Planning, Sales Reporting and Performance Analyzes
WIGeoWeb SalesNet spatially analyzes key sales management figures and visualizes them on digital maps. You can monitor and control online your sales activities. The WebGIS software also helps you to optimally plan or restructure your sales territories.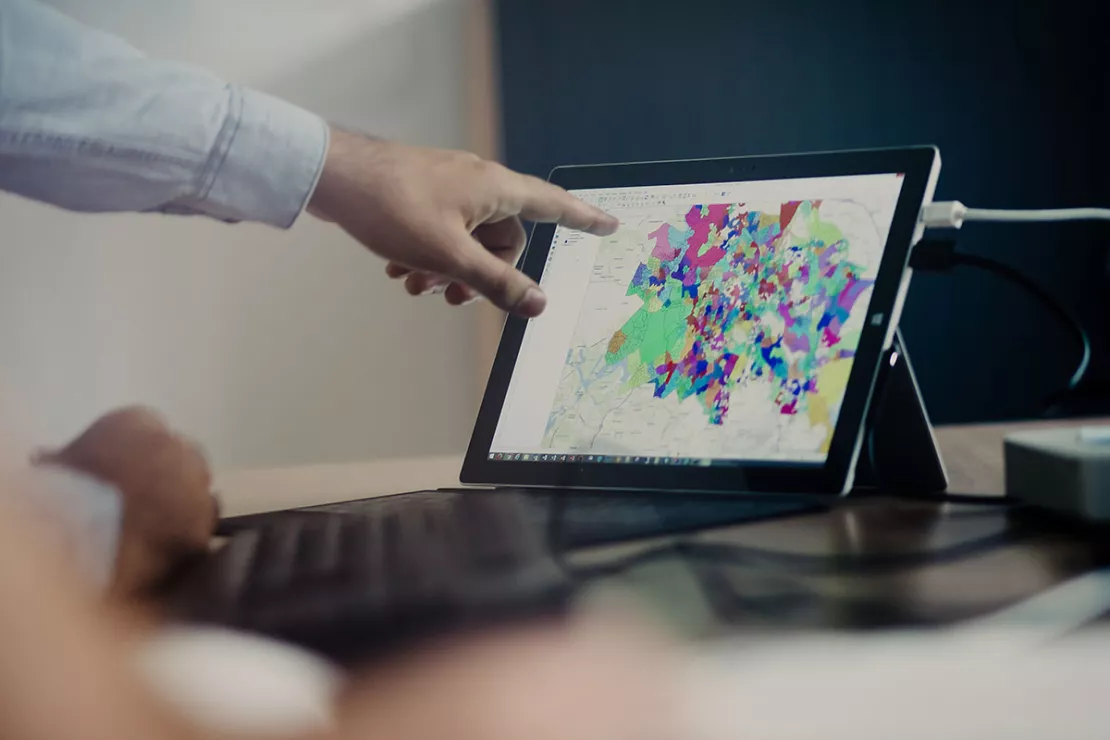 Benefits of SalesNet
Geographical analysis of key figures for sales operations and management

Visualization of KPIs and regional market and product potentials on digital maps
Automated map-based sales reports
Planning, optimizing and simulation of territory structures
Collaborative work through role and rights management
Interfaces for ERP and CRM systems
Simple and intuitive operation



Transparent Monitoring of Sales Performance
WIGeoWeb SalesNet Analyzes and Monitors Sales Performance on Every Level
The software displays your sales figures and sales performance consistently on every level, from the sales territory of the individual sales representative up to the highest level.The color scheme allows you to see at a glance where and who has achieved their goal or is performing poorly. This allows you to immediately identify where action is needed. Ad hoc analyzes serve as an early warning system.
With SalesNet, you can visualize customers and potentials on interactive maps.The software displays density maps, tables and territory reports on performance relevant data.

You benefit from the advantages of a modern WebGIS: Intuitive geographic analyses anytime, anywhere, available for a large number of employees and compatible with tablets for viewing on the go. WebGIS stands for a Geographic Information System (GIS software) that runs in a web browser.
Attributive filters (e.g. categorisation by medical specialists or products) and geographic selections (e.g. by cities or regions) help you to recognize specific regional characteristics. The so-called drilldown function enables a hierarchical navigation through your sales structure: You decide if you want to view entire sales territories or regional hot spots and which key figures should be displayed.
WIGeoWeb SalesNet is customized and implemented specifically for your company.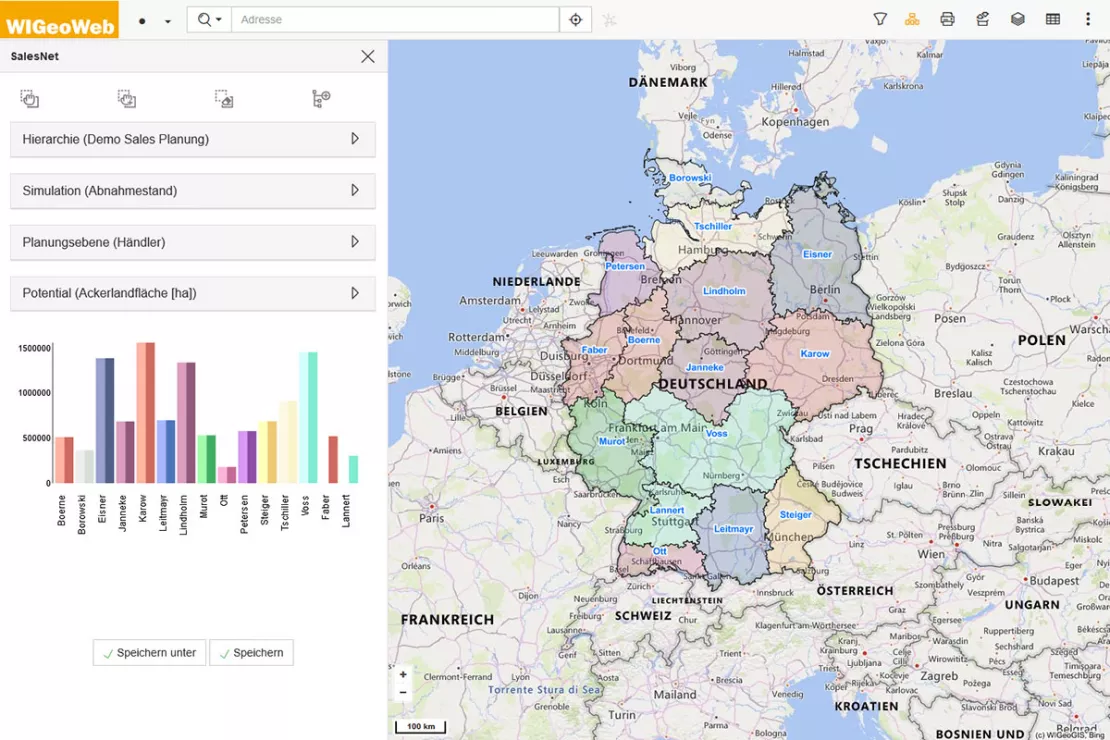 Integration with ERP and CRM and Excel Upload
ERP and CRM databases can be easily integrated with SalesNet. This means all the relevant data is readily available at any time. If your data is in Excel spreadsheets, you can upload it directly to the software.

Comprehensive Reporting
The reporting module automatically generates standardized reports as needed or as a batch process. Every time the company or market data is updated, process routines can be started that generate and send reports in batch mode. This means no time is lost manually generating and distributing reports.



Territory Planning Made Easy
Companies often have to restructure their sales territories for different products and sales channels, make adjustments to sales territory boundaries and customer allocations. This often involves a process that lasts for several months.
WIGeoWeb SalesNet speeds up and simplifies these planning processes considerably. When the territory re-structuring is completed, SalesNet automatically adjusts the map-based reporting system to the new territory structure.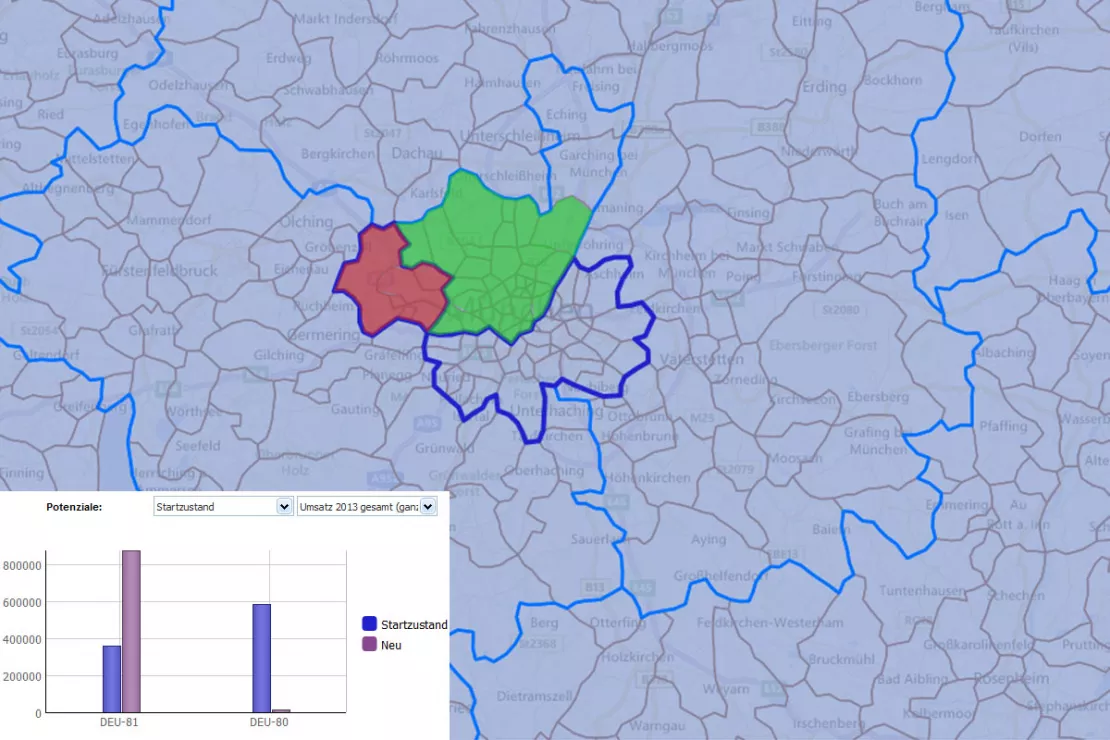 Simulate New Sales Structures Efficiently
SalesNet allows you to simulate different planning scenarios. The planning approach can be based on the region, product or customer. "What if scenarios" calculate the impact of the restructuring on every level based on the necessary KPIs.

Collaborative Work by Individual Rights Management
Every participant can access the simulations for the territories and contribute to the restructuring. This increases acceptance. The joint development of a new territory structure is supported by hierarchical and spatial role and rights management.

Automatic Adjustment of Reportings
SalesNet informs everyone involved as soon as the restructuring is complete. That way everyone can see the new sales territory structure and get straight to work. The SalesNet reporting is automatically adjusted to the new sales structure. The WebGIS software calculates all the key figures based on the changed structure.

Sales territory planning: Request a free initial consultation
FREE initial consultation on sales territory planning
Non-binding, without further obligations
By telephone or video call
Do you want to plan your areas optimally? I will gladly support you. Please contact me!