Pharmaceutical and Healthcare Industry
Geomarketing Solutions for Greater Market Transparency
Geomarketing is ideally suited for sales force and territory management, potential analyzes, location planning and category management in the healthcare and pharmaceutical industry. Spatial analyses help to implement effective measures.

Geomarketing Supports Pharma Sales
The path to the customer always leads through the doctor or pharmacist.
Increasing turnover and improving sales activities is an ongoing concern for sales and regional managers. Pharmaceutical companies are faced with special challenges, because the path to the customer is never direct. It almost always leads through a doctor or pharmacist.
That is why it is extremely important for pharmaceutical companies to identify the right doctors and pharmacies. In this case right means those doctors and pharmacies with the highest prescription or sales potential. But how can pharmaceutical companies find such doctors and pharmacies? This is just one of the questions that can be solved with geomarketing.
Geomarketing provides a number of versatile solutions for pharmaceutical sales:
Strategic analysis for the pharmaceutical, OTC and healthcare markets using geomarketing
Identification of physicians and pharmacies with the highest sales potential
Sales territory and sales force planning with geomarketing
Targeted sales pitches based on specific customer and patient potential
Performance monitoring of sales force appointments with geomarketing
Monitoring and management of sales activities with geomarketing
Competitor mapping and market observation
Market Analyses
Strategic Analysis for Pharmaceutical Companies with Geomarketing
A thorough market analysis is the basis for every successful sales strategy.For sales, the more complex the market, the more important the role geographic analysis plays.
Geographic analyses help pharmaceutical companies for example to find where their target groups are located, where untapped potential lies and where the competition is strong.They provide important information for the development of action plans, marketing activities and sales structures.
Pharmaceutical companies can carry out very precise regional market analyses with the help of geomarketing software: Be it on a sales area and sales region level or even for specific locations, such as a single pharmacy, medical center or clinic.
Microgeographic data on demographics and socio-economics, such as the age distribution in the catchment area, provide information on feasible market and patient potential.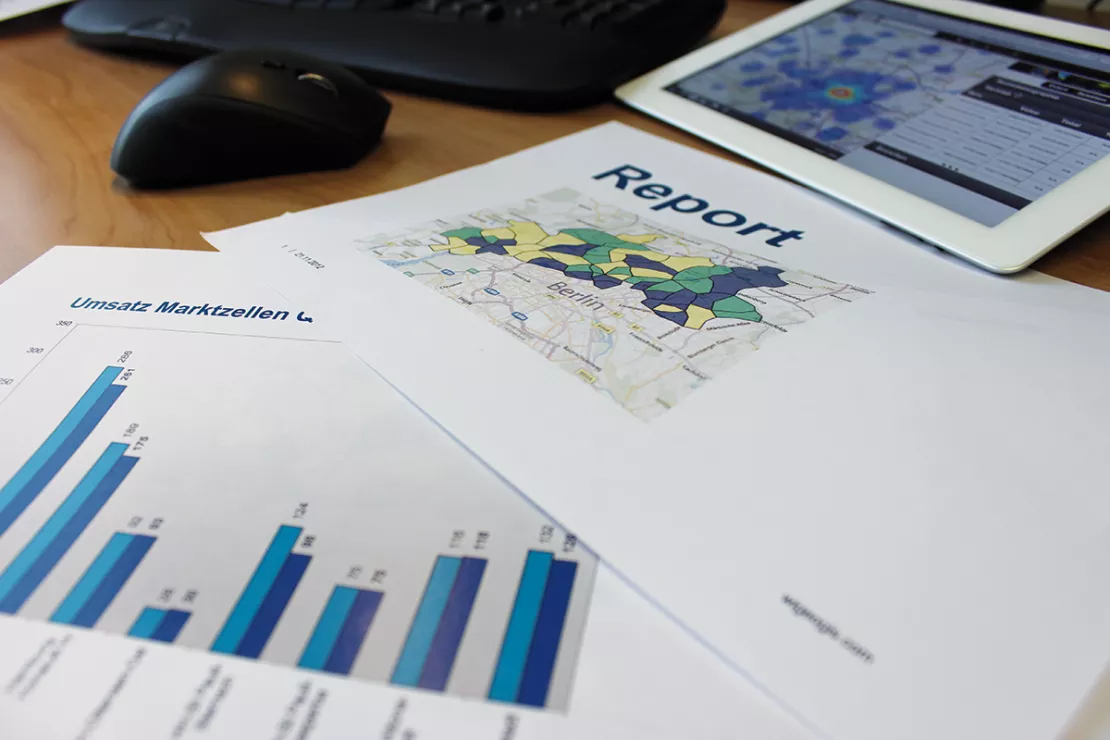 Geomarketing analyses of regional potential also help answer the following strategically important questions:
Identification of physicians and pharmacies with the highest sales potential
Sales area and sales representative planning
Onsite consulting according to patient potential
Performance monitoring of sales representative appointments
Monitoring and management of sales activities
Competitive analysis and market observation
Category management
Geomarketing software allows pharmaceutical companies to quickly query and evaluate strategic data. By displaying the results on maps, spatial patterns quickly become clear, revealing such things as regional sample sizes for certain medical conditions or prescriptions for certain products.
With the help of microgeographic information, even individual doctors and pharmacies can be analyzed. The analysis results thus make it possible to develop highly targeted sales activities.
Since it is possible to save analyses as preset standards, they can be performed again quickly and easily. This saves a great deal of time, specifically for reporting.
Sales Potential
Identification of physicians and pharmacies with the highest sales potential
For pharmaceutical companies to achieve sales success, it is critical that the sales representatives speak with the right doctors and pharmacies. In this case right means those doctors and pharmacists with the greatest sales potential. The sales representatives therefore have to know who writes the most prescriptions and which pharmacies have the highest sales for the relevant product segment.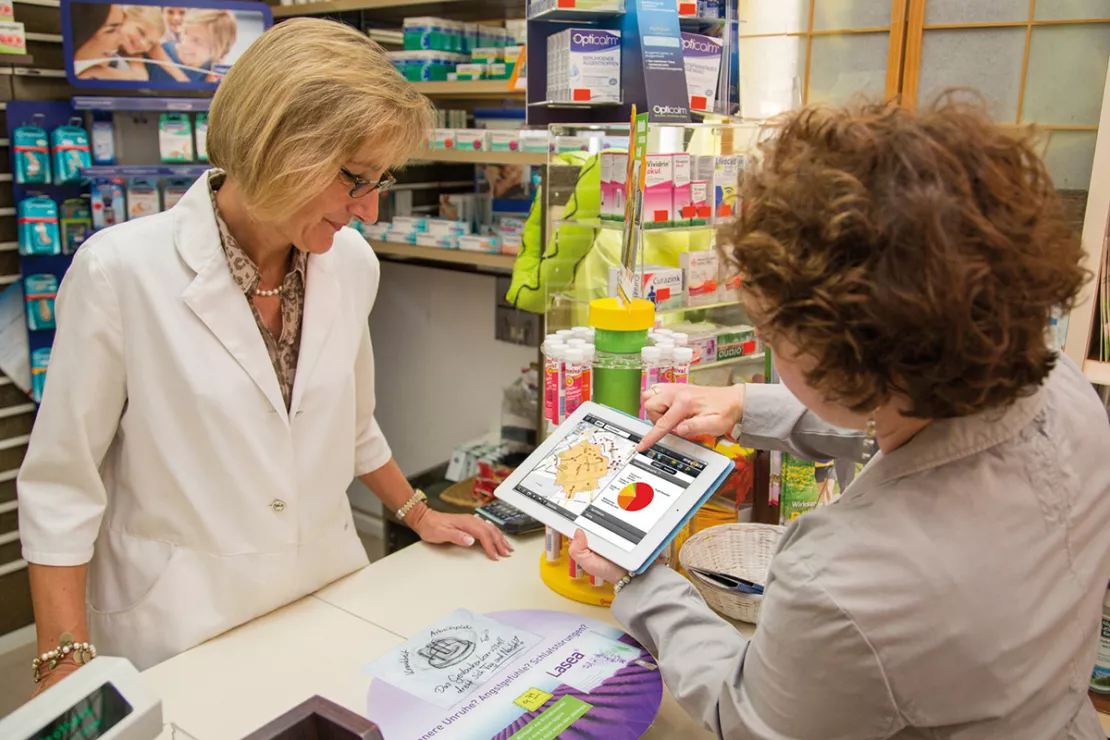 Identifying Doctors and Pharmacies with the Highest Potential
Which doctors and pharmacies represent the highest sales potential for pharmaceutical companies depends entirely on the product range and sales targets.
Example 1:
It is known that people over 60 years with low incomes tend to suffer from diseases of the cardiovascular system or diabetes. For pharmaceutical companies that sell such medicines, specialized centers and health care clinics are therefore not the only sources to offer high sales potential. Diabetologists and internists with offices in low-income residential areas with an elderly population are also very relevant contacts.
Example 2:
The pharmaceutical company wants to stimulate sales for their medications to help with menopausal symptoms. In this case, they should know the location of gynecologists and pharmacies serving a large number of women between the age of 45 and 60.

These doctors and pharmacies that offer the greatest turnover potential for such products can be quickly and easily located with the help of specific analysis models and geomarketing software or a geoinformation system (GIS). In addition, the GIS also combines company data and external data. Based on spatial proximity, the GIS calculates potential and generates sales forecasts.
The analyses take a variety of spatial data into account:
Prescription volume of doctors
Pharmaceutical market data
Results from field surveys
Direct sales
Demographic and socioeconomic data of the living environment
Other environment factors, such as employee density, public transport, public facilities and other footfall generators are also taken into consideration as quality characteristics in the evaluation of locations.
Competition and Market
Geomarketing Competition Analyses and Market Observation for Pharmaceutical Companies
Through market observation and competitive analyses on maps, pharmaceutical companies regularly evaluate the performance of the competition in the market. Geomarketing software thereby ensures systematic and detailed analysis results.
Pharmaceutical companies can use geomarketing for market observations and competitive analysis to:
Obtain information that is as complete as possible on the achievable customer and patient potential in their own territories and that of their competition
Gain information on the sales activities of their competitors and assess their effectiveness
Critically analyze and assess their own regional sales activities
Determine action plans
Find facts to support decisions on restructuring and expansion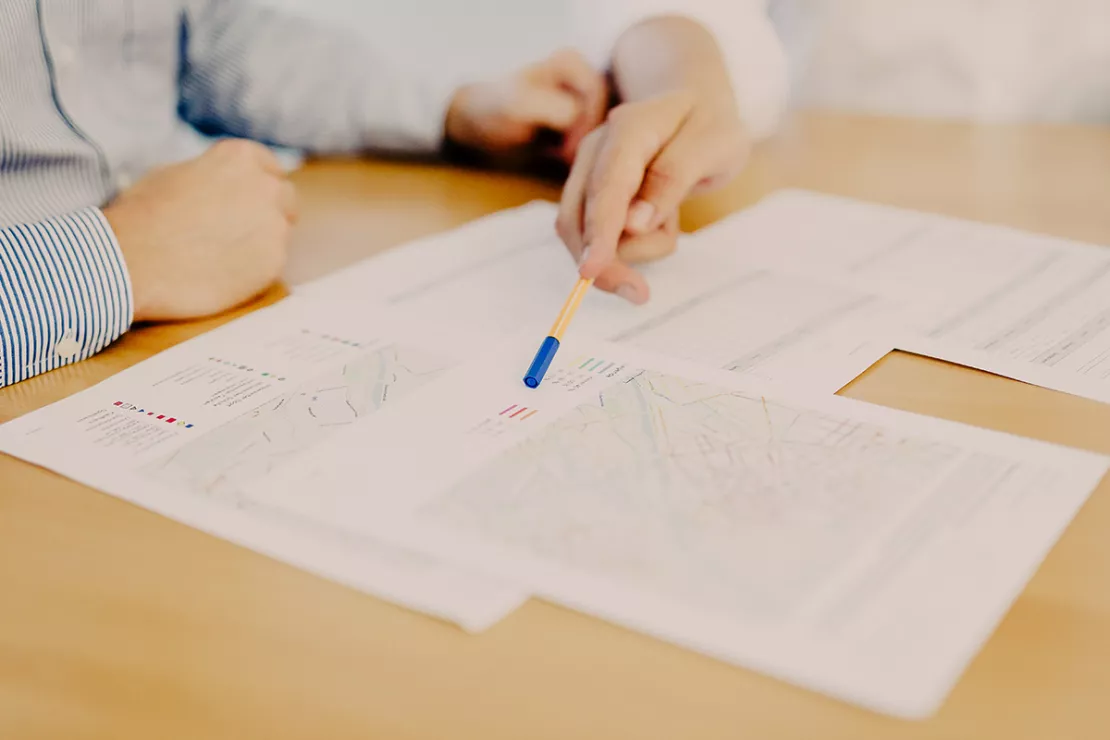 External and internal data combined and consolidated with spatial data form the basis for competitive analyses. The geomarketing software calculates areas and uses simulations to obtain as holistic a portrait of regional market areas as possible.
Example:
A pharmaceutical manufacturer sees that sales for their blood pressure medication have declined significantly over the past month. Sales for a competitor's product, however, have increased. This development is not concentrated in certain sales areas. The phenomenon occurs at certain points spread throughout the entire market, in other words at certain doctor's offices.
An analysis of the customer groups reveals that the decline in sales is occurring among general practitioners, but not among endocrinologists and cardiologists. Therefore, it must be a product-specific marketing campaign from a competitor especially targeting general practitioners.
The pharmaceutical company must therefore react differently than they would for a decrease in sales in just a single sales area. The pharmaceutical company could only gain this insight through a competitive analysis based on geomarketing.
In this way, pharmaceutical companies are able to obtain information about the development of their competitor's sales according to:
Territories / regions
Products
Indicators
Customers (doctors, pharmacies)
The geomarketing mapping software displays the results of the competitive analysis on maps. Thus, it can easily be seen at a glance where the competition is particularly active or slowing down.
Geomarketing tools in the healthcare and pharmaceutical industry: Request a free initial consultation
FREE initial consultation on geomarketing tools in the healthcare and pharmaceutical industry

Non-binding, without further obligations
By telephone or video call
Are you interested in the advantages of geomarketing tools in the healthcare and pharmaceutical industry? I will gladly support you. Please contact me!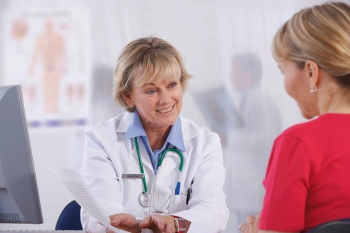 Upper Austria General Medical Council: Doctor finder online and mobile
Where can I find the nearest eye specialist who has office hours this next Monday and accepts my health insurance?
Learn more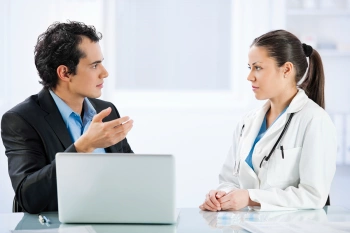 Sales Optimization by Geomarketing from pharmaceutical companies
To increase sales and improve sales activities is ongoing issue for sales and regional managers. Companies are faced with unique challenges.
Learn more