Knowledge Day Vienna 2019
The Geomarketing Event: A Look Back
Current knowledge, efficient networking: Increase business success with geomarketing. Experts gave an overview of data, methods, software and future trends.

Data, Tools and the Knowledge of How to Work with Them
In a nutshell, these three things were the subject of this year's geomarketing specialist conference held by WIGeoGIS in Vienna.
Data knows no boundaries, and neither does our Knowledge Day!
Over 100 participants accepted the invitation to join us for the well-established and popular event on May 15th, 2019.
Contemporary formats and the pursuit of innovation, both elements of the corporate DNA, were also the focus of this year's conference. The new events Geo Slam and Knowledge Café as well as the strengthening of transnational exchanges provided an even more efficient transfer of knowledge.
Thus, the two events that previously took place at both WIGeoGIS locations in Munich and Vienna were bundled into one location. The goal behind this was to bring together the German-speaking geomarketing community in one place. This promotes international contacts and encourages people to broaden their horizons.
If you would like to learn more about WIGeoGIS products and geomarketing, simply contact us and we will be happy to answer all your questions!
Happy to Travel to Vienna
"I think it's important to talk to users from other industries and then think about how to adapt their ideas for my own needs. There was even more of that this year thanks to the talks with the Austrians, so the concept has flourished. I missed the city tour the evening before, but I was able to join everyone at the wine tavern. It served as a kind of ice breaker where you could make initial contact, making networking even easier."
René Abicht, Summer & Goßmann Media-Management GmbH (Aschaffenburg)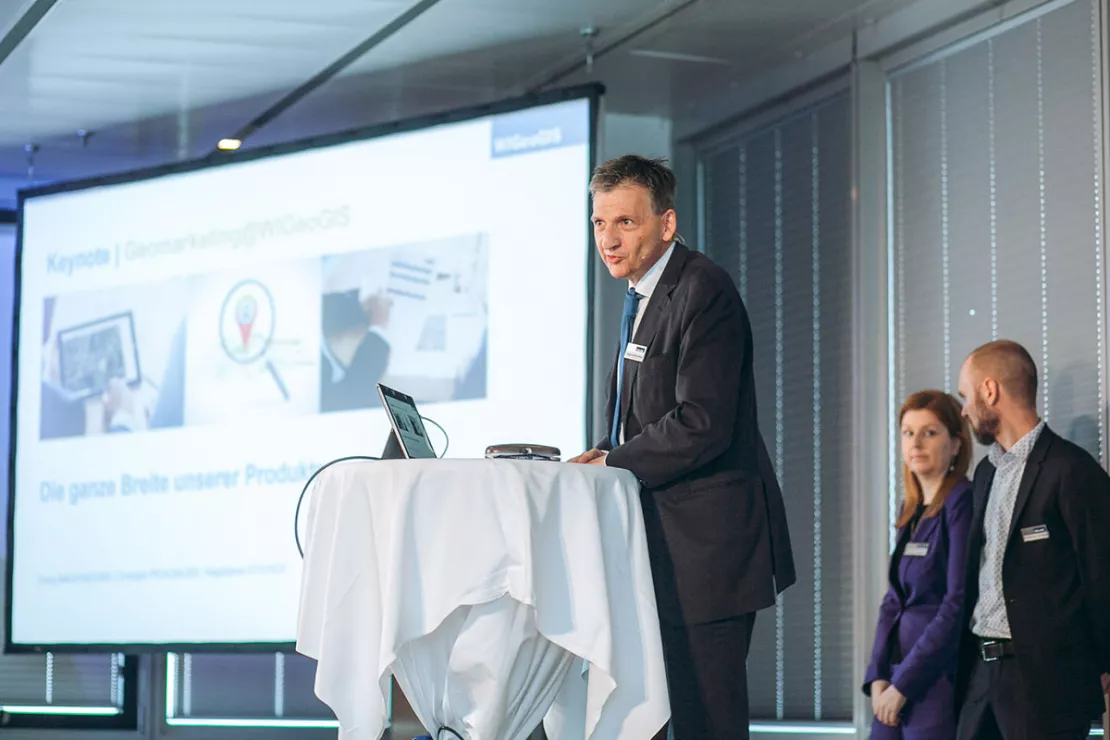 Keynote: Decision Security through Data Analysis
There are data sources in every business, but they often lack the knowledge of how to use them. WIGeoGIS CTO Georg Magenschab presented the basics of geomarketing, even drawing in beginners new to the material. He presented the three most important products from WIGeoGIS: the geocoder JoinAddress as well as the two universal tools WIGeoWeb and WIGeo QGIS.

Geo Slam
Inspired by the format of the Science Slam, which aims to explain complex content in an easy-to-understand manner, four experts gave an insight into their work and shared their personal vision for geomarketing.
Motion Data Analysis from Hyperlocal to Global
"Even now, the small-scale analysis of customer flows in, for example, supermarkets or bank branches, enables us to provide extremely exciting answers to questions about sales and marketing."
Anita Graser, Scientist @ AIT Austrian Institute of Technology GmbH, researches the use of motion data.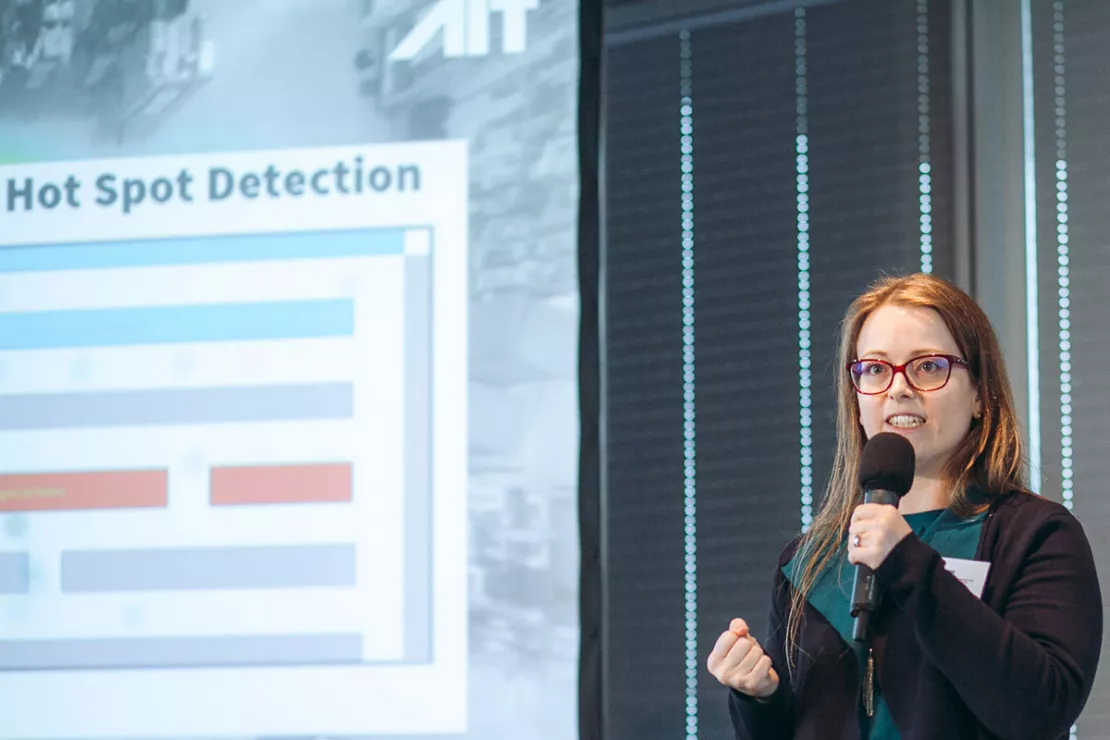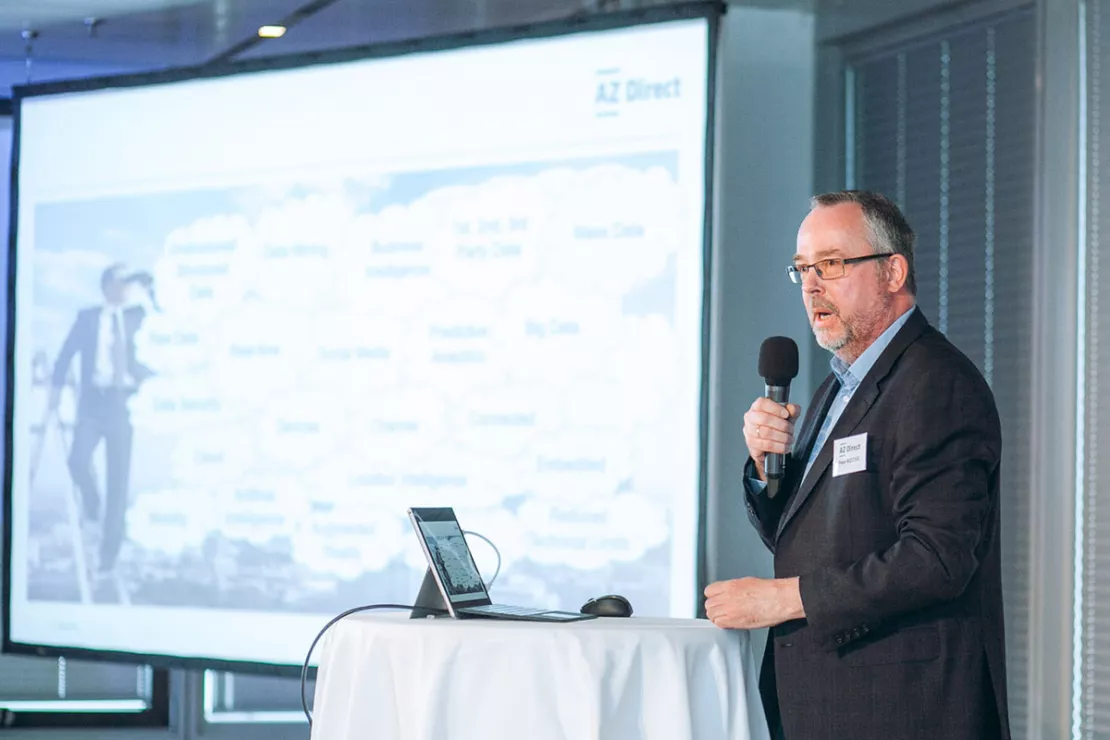 Nihil sine Geo
"It seems there will be no geo-revolution, but geo-infiltration is on the rise. The framework conditions are changing faster and faster, but the goals and areas of application for geomarketing remain. Geo (data) scientists will still be needed, geocomponents will become more integrated, mandatory standards in enterprise software."
Peter Kothe, AZ Direct GmbH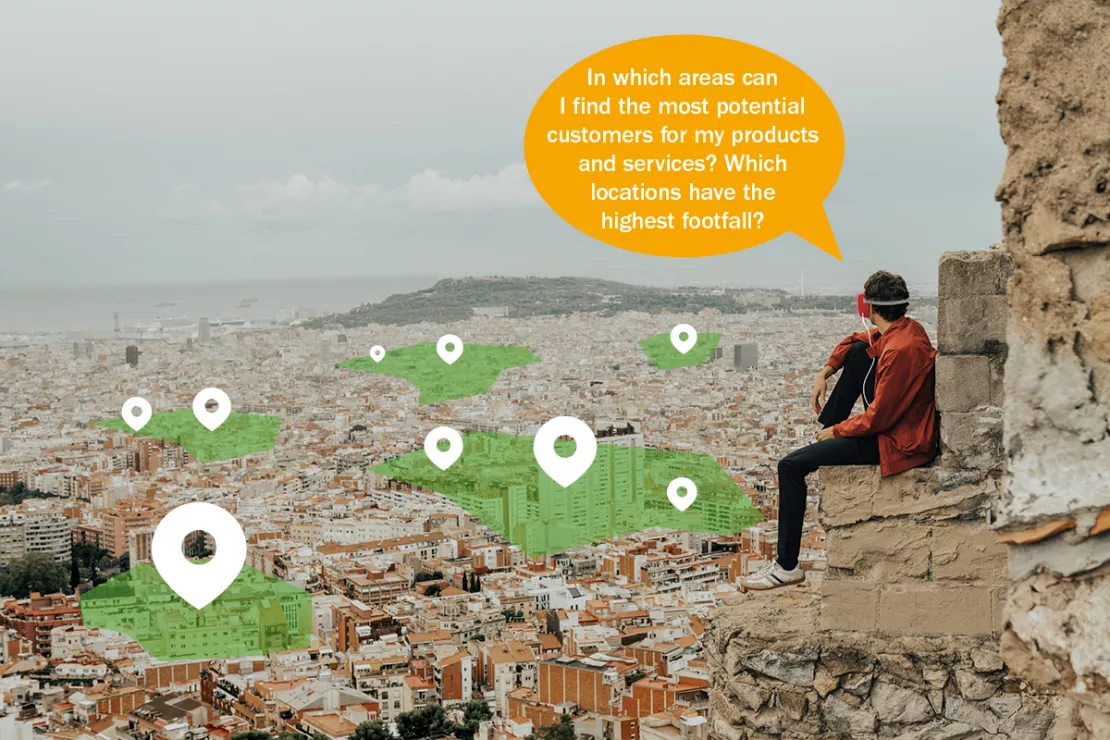 Augmented reality with integrated geodata - a look through the data glasses is enough to find target groups and determine market potential. Is it a vision of the future or will it soon be a reality?," asked Peter Kothe during the Geo Slam.

Spatial is Smart
"In the future, we will rarely have to explicitly recommend the use of GIS systems and geoinformation science. It will simply be taken for granted that these functions are available to us.
Petra Staufer-Steinnocher, Institute for Economic Geography and Geoinformatics, Vienna University of Economics and Business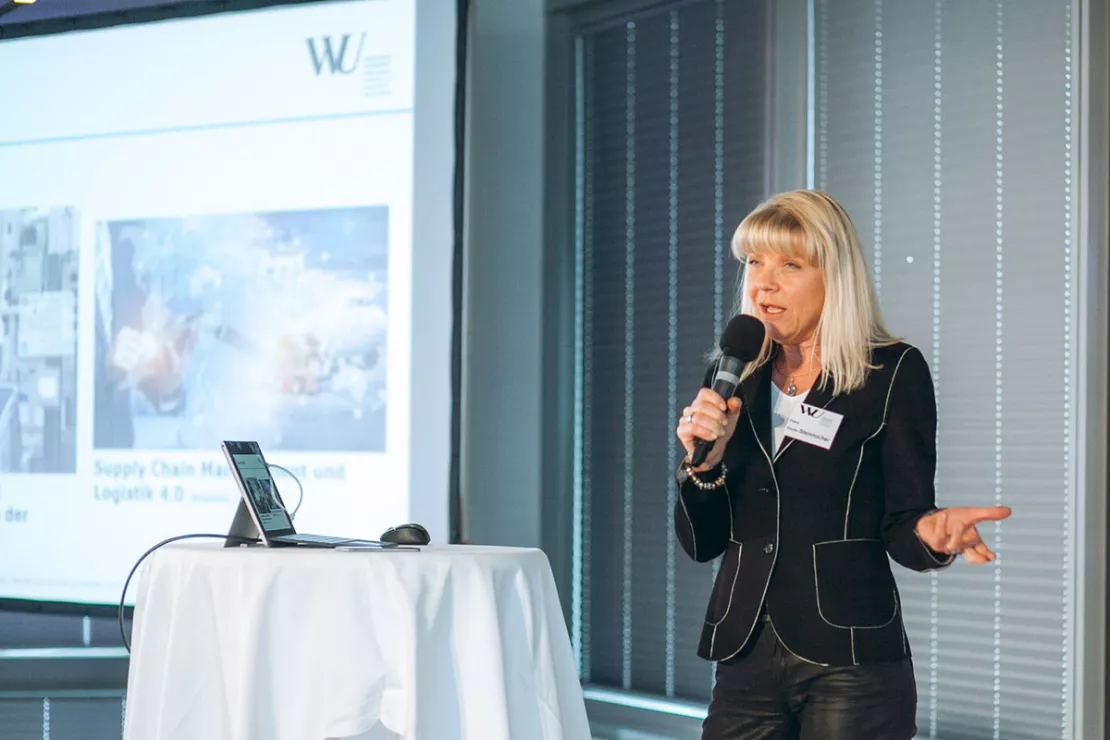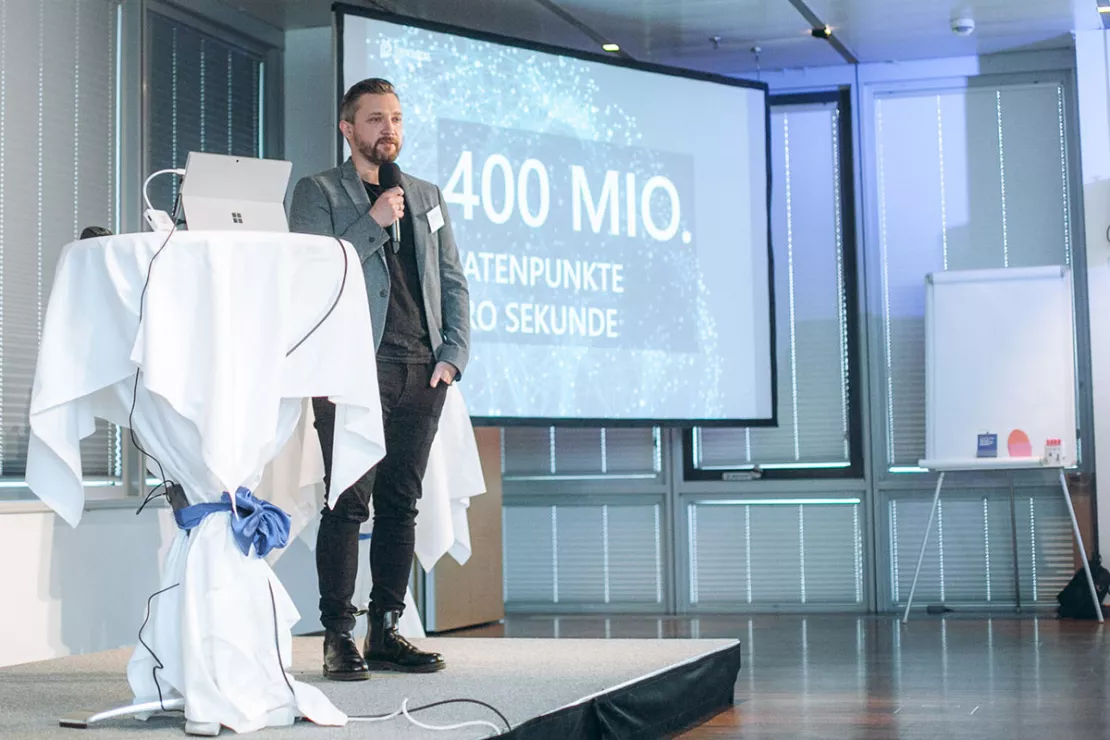 Geomarketing Will Become Geo Intelligence
"I see an evolution from geomarketing to Geo Intelligence as an interface between data science and geo-analysis."
Raffael Weber, BRANDLOCAL GmbH
The Knowledge Café
After the lunch break, the participants split up at the 8 stations of the Knowledge Café. There were eight topics to choose from, with examples and speakers from different industries. In two rounds, everyone chose the topics that interested them most.
WIGeoGIS employees and long-standing partners gave keynote speeches and moderated the subsequent lively discussions. The interactive format and the small groups ensured an intensive transfer of knowledge and even better networking. A short report from two stations provides an insightful example of the success of the event.
Table 4: Smart Data or Lost Data - Data Treasure Trove or Data Cemetery?
Ralf Nachbaur, panadress marketing intelligence GmbH, and Marc Urner, WIGeoGIS, asked about the success factors that make it possible to actually make a treasure trove out of the famous "21st Century Gold". The sheer volume of data still does not add value capable of turning big data into smart data, meaning data expertise is needed.
After defining what it is you really want to know, on the one hand it is about selecting the right, relevant data, and on the other hand it is about a suitable structure and a certain level of automation in data acquisition and processing. When interpreting the data, knowledge is required, and ultimately, it has to be distributed in the company.
One conclusion reached in the workshop was that companies need to develop a data strategy. Especially in large companies, there are often many "data pools" that actually belong together, but do not communicate with each other. Linking the data intelligently is still a major challenge for many.
Table 8: From Project Idea to Marketable Product - How WIGeoGIS is Researching the Future of Geomarketing
Kai Barenscher, WIGeoGIS, and Shahin Sharifi, TU Delft, explored the potential benefits of social data, which is generated daily in immense quantities. They clearly demonstrated the amount of potentially valuable information in simple street pictures like those from Google Street View, and discussed the strengths and weaknesses of such possible analyses.
As a spin-off of the Vienna University of Economics and Business, WIGeoGIS has research and development in its DNA. The research project Social Glass, which Shahin Sharifi is conducting in cooperation with WIGeoGIS at the TU Delft, is developing tools with which social data can be used to draw meaningful conclusions about a functioning urban coexistence.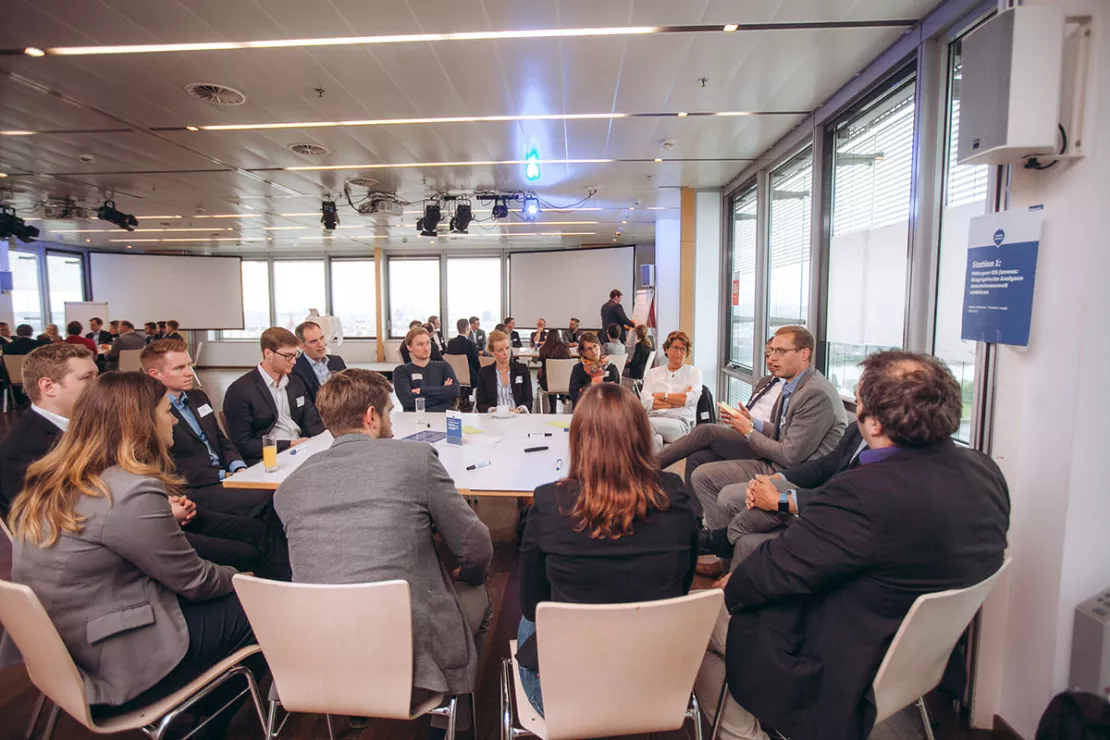 The 8 tables of the Knowledge Café ensured an intensive transfer of knowledge and even better networking.

This is What Our Visitors Had to Say
"For me it was a very good mix of lectures and exchange in small groups. The Café tables were varied and exciting, because you could talk to other companies and get to know the participants better. I am taking home several business cards as well as specific tips for QGIS applications."
Kerstin Adensamer, Vienna Chamber of Commerce
"I was in Munich last year and will definitely come back again. You get ideas and inputs for your own projects and how to use the GIS system, as well as gaining completely new perspectives. I would have liked more time at the Café tables."
Patrick Gondek, Lensing-Wolff Pressevertriebsgesellschaft mbH (Dortmund)
"In the past, we often made suggestions as GIS experts and everyone else said: That is too complicated. What I have taken away from the lectures and talks is the feeling that Geo is still growing. It is coming out of its niche and others in the company are beginning to understand more and more what you can do with it."
Simone Ortner, Österreichische Post AG (Vienna)
We thank all our guests for coming and for the fruitful exchange! Write us and tell us what you liked and what we can improve even more. Your feedback helps us to continue to improve.
WIGeoGIS products*: Request a free initial consultation
FREE initial consultation on WIGeoGIS products

Non-binding, without further obligations
By telephone or video call
Do you want to know more about WIGeoGIS products? I will gladly support you. Please contact me!
* The products of WIGeoGIS are intended for companies and are not suitable for private use. If you need a one-time market analysis, we will gladly make you a service offer.