The New QGIS 3
The Universal Geomarketing Software is Now Even More Intuitive and Powerful
The new generation of QGIS stands out with an improved user interface and many new useful features. The practical extensions from WIGeoGIS, which allow you to even better use QGIS in your daily work, are now also available in version 3.

Call us:
DE: +49 89 321998 0
AT: +43 1 7151987 0


Send us your question, comments or feedback
WIGeo Q ... what?
For those who do not yet know QGIS: The "GIS" in QGIS stands for Geographic Information System and is the basis for your professional spatial analysis. Whether location, market penetration or target group analysis, geomarketing helps you make the right decisions for your company.
QGIS is a desktop-based, open source software with a worldwide community that you can use without any license fees. With WIGeo QGIS we offer you extended functions as well as all-round support: From installation assistance to training to market and geodata for your specific needs, you get everything from one source and benefit from our many years of know-how.
Click here to find out more about WIGeo QGIS.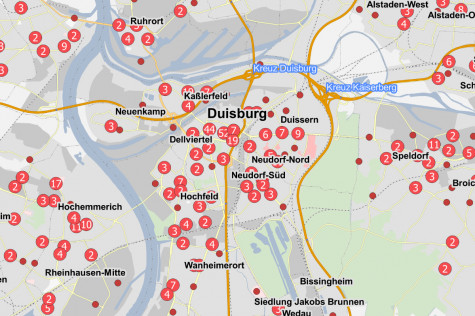 QGIS 3 - What's New?
Faster, better, easier is the simple answer to this question. We are excited!
The QGIS developer community has given the universal GIS software more than a new coat of paint.
Image: Business cluster in Duisburg, an innovative QGIS function



Intuitive User Interface
The user interface has been completely redesigned and is now even more intuitive. For example, where before there were six different ways to upload different data formats, everything is now done with a single button.

64-bit Application and Background Processes
The conversion to 64 bits brings additional power and thus speed. It is now possible to run processes in the background. This means that instead of waiting in front of the screen for a calculation to finish, your geomarketing tasks now run in the background allowing you to continue working "in the foreground" as normal. Annoying forced breaks are a thing of the past.

Automate Processes With the "Model Builder"
The ability to create process chains that was already in version 2 has now been significantly improved. This allows you to more efficiently handle recurring tasks that consist of multiple steps.
Example: You want to geocode an address, calculate a catchment area and sum up potentials and display the result on a map. Now, you only have to create the model once and then in future you can process everything in a single step.

Processing Toolbox - Many New Features
The existing toolbox functions were revised and improved. It now offers many new functions.
Only two examples are mentioned here: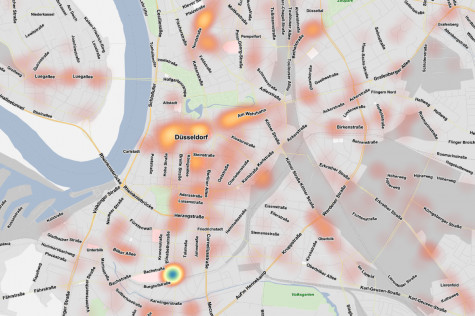 Heatmaps
Using heat maps to visualize and analyze the density of points.
Image: Density of the trading locations in Dusseldorf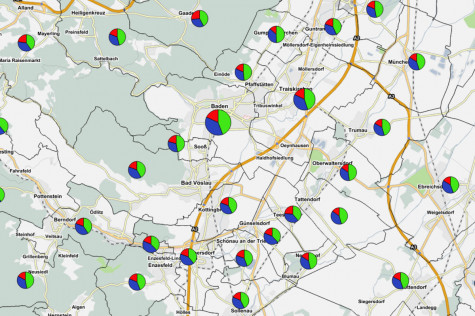 Diagram Tools
Use the new Diagram Tools to create diagrams such as box plots, bar graphs and histograms from data tables.
Image: Here you can see the age distribution at the community level south of Vienna. The size of the pie charts shows the population in the community.

Read more about the new features in this blog post by our Australian GIS-colleague North Road.
WIGeo QGIS Update 3.0
We at WIGeoGIS have been busy too and have updated our extensions. All previous extensions are now also available for Version 3.0 and future versions:
Address Search
Add background maps
Calculate catchment areas
NEW in WIGeo QGIS 3: Calculate Distance Matrix
With this extension you can calculate all possible routes between points A and B with time and distance (many-to-many scenarios). Optimize your route planning and increase your efficiency and profitability!


NEW: If you use the Model Builder to automate frequently recurring processes, you can now integrate the WIGeo QGIS extensions into these processes as well.

WIGeo QGIS - The Solution for Your Geomarketing!
"I am pleased that we can now offer WIGeo QGIS in an even more powerful version. Simply contact me for a non-binding consultation!"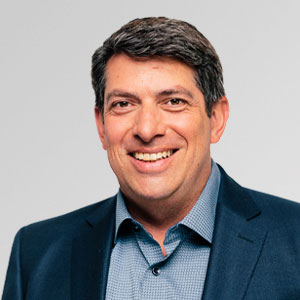 Uwe HAIN
Key Account Manager